You can never be sure of the fact that whether or not someone is observing you for any kind of evil purpose while you are surfing on the internet. Yes, this can be the first move of thousands of fraudulent whose ultimate vicious will is to thieve from any kind of security faults that persist with your online activities. This kind of cyber-crime often expresses as spear phishing. Today, we are going to learn about the ins and outs of spear-phishing with an explanation and its working method.
What is Spear Phishing?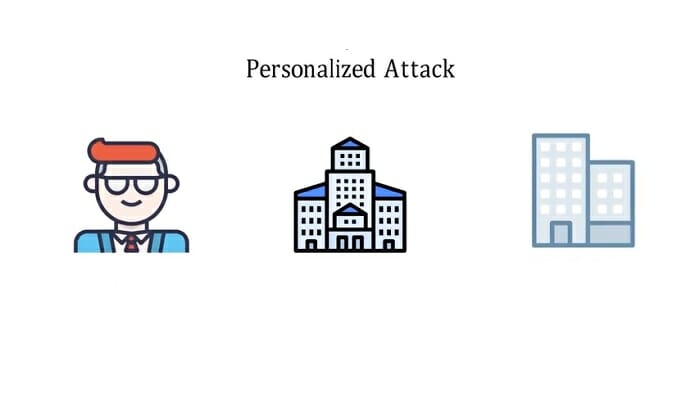 Spear phishing is one kind of phishing attack meaning a cybersecurity breach that targets specific individuals. This type of cyber-theft requires the following, analysis, and whereabouts of individuals for retreating valuable information as such credit card number, bank account, social security code, pin, password of the social networking site, etc. Thus spear-phishing incurs a huge amount of financial loss. You can learn more about how you can prevent a phishing attempt by reading this article.
Not only an individual but also any organization can be destroyed with the use of spear-phishing just like a Whaling Phishing attack. Anyone especially the upper-level executive officers might be traced closely by the cyber-criminals for gathering important data and files regarding organizational strategies. It causes heavy monetary loss and also the reputation of the company can be hampered.
The hackers use e-mails, phone calls, text messages, or ransomware, or malware to lure people to give away personal details. Most people do not pay heed to what contains in the spam mails; if they see a link attached to the mail, often they just click on it without even thinking. That's how the users are redirected to the spoofed website where one may give away the login credentials of his/her thinking the site as the legitimate one.
Is Phishing and Spear Phishing Same?
The answer is no; spear-phishing falls under the category of phishing which is a more generalized term. Phishing is targeted towards mass without closely following any individuals. On the other hand, spear phishing is an individual attack with gathering knowledge of the person in advance. This also requires a complex technological mechanism for a successful attack. Where general phishing involves only sending spoofed e-mails to thousands of people, spear phishing is related to mailing the person with full knowledge of him/her.
How does One Give-Away Information?
Many have got a bad habit of sharing personal information on social sites like Facebook, Twitter, and Instagram. If you provide the email account, phone no., residents, birth date available for unknown persons, and then this open information can trigger the hackers and cyber-criminals for following you. Also, your colleagues, friends, and family members might be involved with such crimes that you are unaware of. They can easily get personal information about you and use it for a financial hack. Lack of security measures on your computer is another way for exploiting an individual regarding his/her websites' passwords or pins.
How does Spear Phishing Work?
Spear phishing (like general phishing) works mainly through e-mail. A specific individual is sent spoofed mail which seems to him/her as it must be coming from a site that is known and trusted. This is done by using the same logo and wordings as the legitimate ones. One misses out on any spelling error of the address if he/she is not careful enough. The mail often contains the direction of emergency action- you must reset your password for avoiding any mishaps to your bank account or ATM card– this is of course a trick. Upon giving invaluable information either by replying to the spam mail or entering the provided link, the individual's property, money, or even the identity itself is lost to the hacker. This method of thieving can also be carried out through a phone call or a text message.
Spear phishing largely depends on the mistakes of the users. In spite of its persuasive nature for alluring individuals to take the bite, one can remain safe from it by simply ignoring any unknown mails and also by carefully reading the message.
Conclusion
As spear phishing attacks an individual with proper analysis and acute mechanism, it causes greater damage than any other phishing just like Trap Phishing, etc. Your carelessness is responsible for your loss. Do not give any chance to cyber-criminals by completely opening up yourself on the internet world.