The winlogon.exe process is a critical part of the Windows operating system where it is always running in the background and is in charge of various critical systems.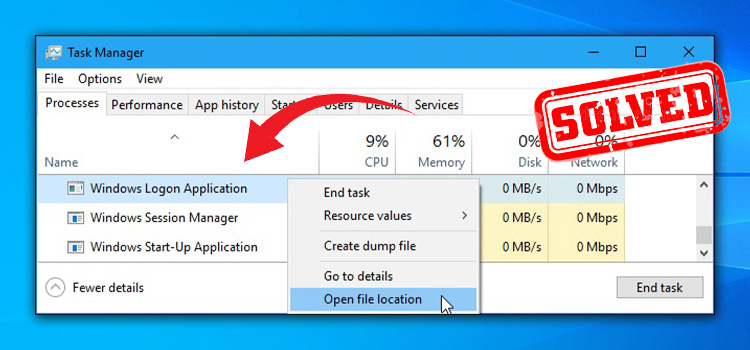 What Is Winlogon
WinLogon stands for Windows Logon. Windows Logon is a part of the Windows authentication utility. Windows Logon is an application that handles a variety of important functions related to the Windows sign-in procedure. 
The program saves the user profile to the registry, allowing users to access the keys that are unique to each account. Furthermore, Windows Logon is in charge of overseeing user keyboard and mouse activities, as well as locking user PCs and activating screen savers after a period of inactivity. 
Winlogon has a number of responsibilities such as-
Window Station and Desktop Protection
Winlogon secures the window station and its associated PCs to guarantee that they are properly accessible. In general, this implies that the local system has full access to these objects, and an interactively logged-on user has read access to the window station object and complete access to the application desktop object.
SAS routine dispatching
When Winlogon encounters a SAS event or a SAS is supplied to Winlogon by the GINA, it adjusts the state appropriately, switches to the Winlogon desktop, and invokes one of the GINA's SAS processing routines.
Standard SAS recognition
Any GINA that recognizes the conventional Ctrl+Alt+Del SAS should utilize the Winlogon support supplied for this purpose. It has special authorization into the user32 server to monitor SAS events. This SAS event information is made accessible to GINAs by Winlogon for use as their SAS.
User Profile Loading
Users' user profiles are loaded into the registry when they log in. In this manner, the user's processes may make use of the special registry value HKEY_CURRENT _USER. This is done automatically by Winlogon after a successful logon.
Screen Saver Authority
Winlogon analyzes keyboard and mouse activity to decide when screen savers should be activated. After activating the screen saver, Winlogon continues to monitor keyboard and mouse activities to determine when to exit the screen saver. If the screen saver is set to secure, Winlogon considers the workstation to be locked.
When there is a mouse or keyboard action, Winlogon calls the GINA's WlxDisplayLockedNotice function, and the locked workstation resumes its behavior. If the screen saver is not secure, any keyboard or mouse action ends it without informing the GINA.
Can Winlogon be Disabled
This procedure cannot be turned off. It is an essential component of the Windows Operating System and must be active at all times. In any case, there's no reason to disable it because it only requires a little number of resources in the background to execute vital system operations.
If you attempt to terminate the process through the Task Manager, you will see a notification stating that doing so "Ending this process will cause Windows to become unusable or shut down." If you ignore this notification, your screen will go black, and your computer will not react to Ctrl+Alt+Delete. 
This is because the Winologn is responsible for handing the Ctrl+Alt+Delete operation of the system. So there is no recovery for the system from this point onwards. You need to restart your PC again to continue to use it. 
Where Does the Winlogon Reside?
Winlogon.exe may be found in the C:\Windows\System32 folder. On Windows 10/8/7/XP, known file sizes are 507,904 bytes (33 percent of all occurrences), 286,720 bytes, and 42 more variations.
Could the Winologn be a Virus?
The Winlogon process is always running in the background of your operating system. If you want to verify that your Winolog is running properly then go to Task Manager & find Windows Logon Application. Right-click it and select "Open file location". It would take you to the directory C:\Windows\System32 directory containing the winlogon.exe file.
While this file is certainly not a virus, there's a small catch here. If you find Winolo.exe in any other directory then that most certainly is a virus or malware. It's camouflaging itself as part of this process in an attempt to blend in. High CPU or memory usage by winlogon.exe is another red flag, as this process should not consume much CPU or memory under normal circumstances.
Always protect your system with the best possible anti-virus software & run a full diagnostic of your system. Your antivirus software should remove it. 
Frequently Asked Questions
What is the "If you see this running on your PC, you have malware" scam?
There are a lot of tech support scammers that point out that Winologn is a virus & you should remove it immediately. They do so to get your attention & to get your money as a part of their scamming tech support. Restarting your PC will be enough to get you fixed.
Conclusion
Malware programmers disguise viruses through different names nowadays. Tech scammers pull the advantage off this & say that you should delete it. Then they just restart your PC to say they fixed it. Don't fall for these scammers & make use of Winlogon knowledge.