Microsoft has added some awesome features in their latest Windows 10 fall creator updates. Microsoft is giving you a vast field to enjoy Mixed Reality, faster gaming experiences, improved painting tools and much more. Windows 10 is more creative and enjoyable now! Wanna you check them? You are one step away to enjoy. Now I will describe what's new in Windows 10 fall creator update one by one. Let's start!
What's New in Windows 10 Fall Creator Updates?
Microsoft has now given you the scope to enjoy the videos, photos, games, paintings in totally different and more interesting way in fall creator update. Security system, browsing, sounds all are improved now. Let's go check them!
Windows Mixed Reality and Mixed Reality Viewer
I think this is the most amazing feature Microsoft has added in their latest fall creator update. You can enjoy thrilling experiences here. Microsoft just wanted to confirm virtual reality experiences for their users and it has been a blast! Actually what it is and how to use it? Okay, let's discuss.
You can enjoy 3D gaming experiences here, travel to an interesting place out of your reach, attend popular events and what not!
In a word, Windows 10's mixed reality will give you a complete taste of all kinds of virtual realities.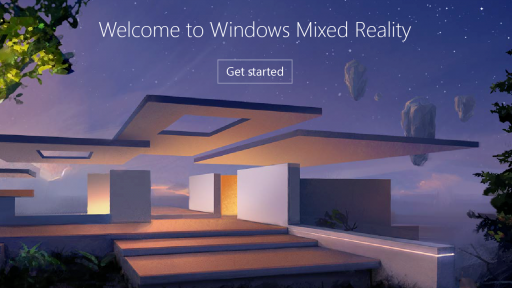 How to get started?
At first, go to This Link. Here you can find a compatibility checker. Download it and check whether your Pc's ability is enough to enable this. You will get a clear idea there about Mixed Reality enable computers' configuration.
Then you need some extra devices like headphones and motion controllers. You can find many headphones and motion controllers of different brands like Hp, Dell, Lenovo etc. Just try anyone within your budget.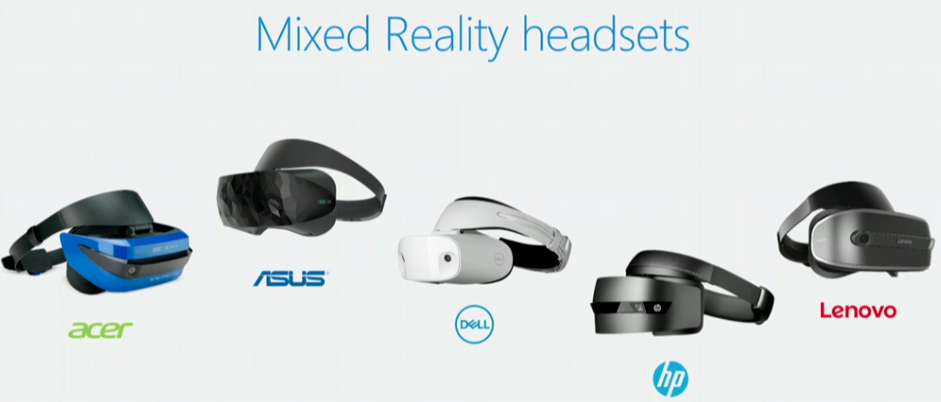 After everything gets done, go to This Link and you will find different types of apps. Download and enjoy!
Now comes Mixed Reality Viewer. In Mixed Reality Viewer, you can enjoy 3D objects.
You can create 3D objects from Paint 3D or collect 3D pictures from this Link.
You can collaborate 3D paintings or pictures with the objects taken through your PC's camera(Or Old smartphone camera). This is amazing, huh?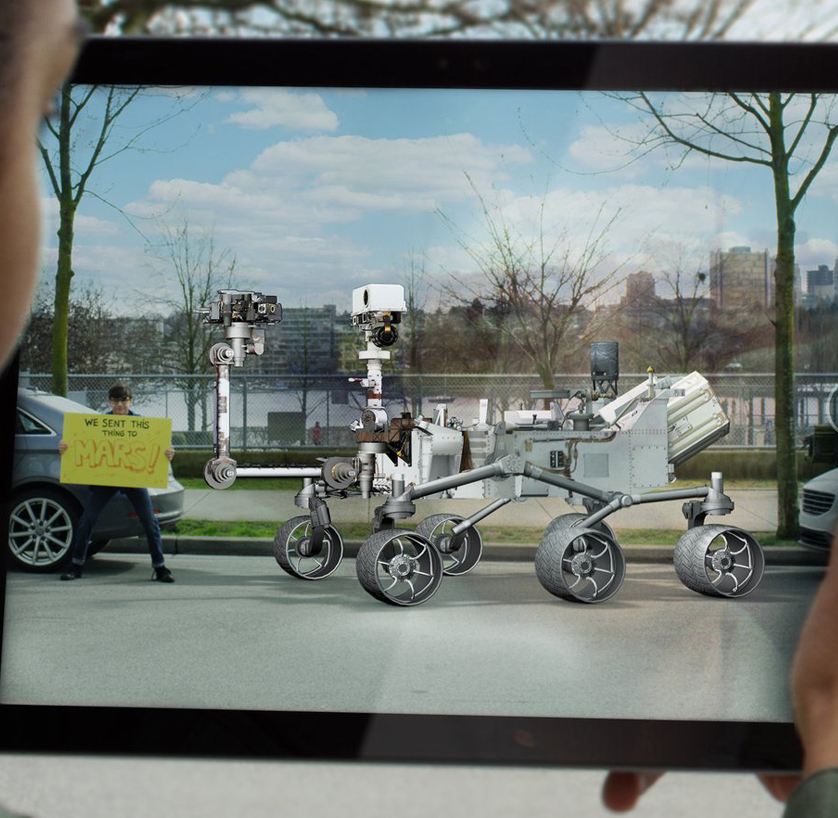 Go create your desired 3D objects and enjoy them with Microsoft's mixed reality viewer!
Paint 3D
This is one of the remarkable changes happened in windows 10 fall creator update. Now you can paint and customize your images in various ways. Microsoft has made paint 3D artificial intellectual.
 There is tool here named Magic select. You can select a portion of an object from your picture and vanish them.
Vanishing a certain part is not anything new. We can do it by Photoshop or other image editing tools, Huh? So what's special in Paint 3D?
When you are editing an image in Paint 3D, you can remove an object or a certain part in a such a manner they were never here!
When you are removing an object from a picture, Paint 3D is enough intelligent to fill up the removed background in such a manner it seems nothing was there. It observes the full picture and then manages the removed background as well nothing seems weird.
You can add a picture or an object into another picture as well. You can paint in Paint 3D and it's a good alternative to your photo editing software.
But a lil bit problem lies! Paint 3D's magic Select tool's performance varies from picture to picture like when you are removing an object from a picture, it can mess filling the background in some cases. Then the whole editing goes wrong. But most of the cases, its performance is okay.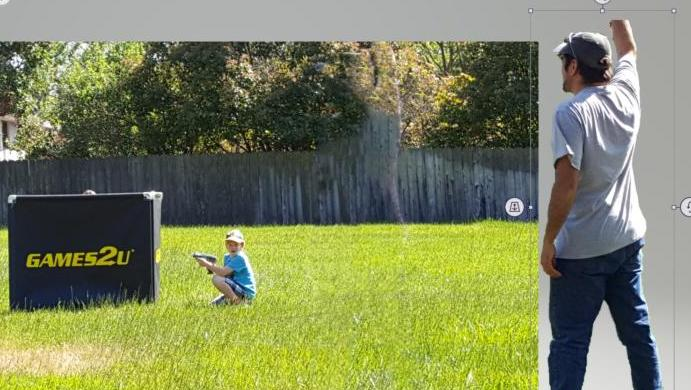 My People
This is another amazing feature available in Windows 10 fall creator updates. Let's see what's special in it.
You can pin your favorites contacts from Skype and Mail and access them easily.
You can chat or share a file with your pinned contacts via Skype or Mail. This is nothing special! But when you are chatting or sharing files with those pinned contacts, you just have to click on them, you don't have to open Skype or Mail.

You can access your most important contacts more quickly than before and sharing is easier now. Just drag files onto the pinned contacts.
Microsoft has added emoji keyboard for making your conversations live and attractive. I will discuss Microsoft's emoji Keyboard later. Keep going.
What's special in My people?
Hei, you can think this is a normal feature! Who will use this when everyone sticks on Facebook, messenger, WhatsApp etc. But see,
It's a tool for your easy access to some of your most important people. You can contact them just by one click, you don't have to open the corresponding apps.
So, it's better if you have to contact some people for like business purposes or whatever. Microsoft just wanted to make your communications better and easier.
Though many people found it not helping, you can give a try!
Emoji Keyboard
Though Microsoft is a little bit late to remember for an emoji keyboard, this time in windows 10 fall creator updates, they have finally added an emoji keyboard. We have to use Facebook's or twitter's emojis or any third party emoji keyboard for using any emoji.
I found this distracting. Now you can use those emojis from Microsoft's emoji keyboard. You will find this new emoji keyboard great. Even you can search for emojis there. This made conversations on online and my people community spicier.
If you want to find emoji keyboard,
Press (Windows + 😉 button and you are done!
Go check it!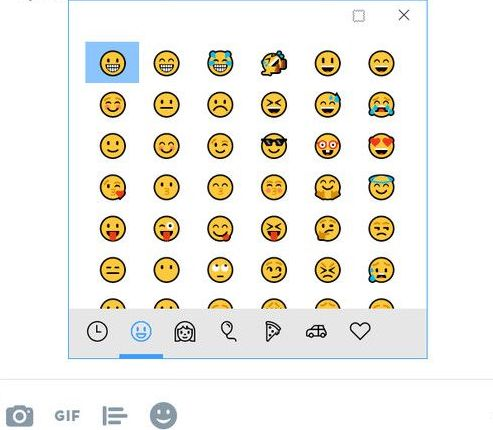 Microsoft Edge Improvement
Microsoft Edge browser is now more updated and you will find many more amazing changes in Windows 10 fall creator updates.
Personalize your eBooks: Microsoft edge has now become a PDF and ebook reader and not only that, you can annotate your books in different ways. You can add highlights in different colors, copy text, add comments or underline texts. You can personalize your books with more improved viewing and navigations.
Pin your favorite website: You can now pin your most favorite and important websites in your taskbar. You can see the icon of that website and easily access the website. The process is simple. While you are browsing a website, if you want to pin it in the taskbar, just go to menu ( three dots in the upper right corner in edge browser) and select 'Pin this page to the taskbar' and the site icon will appear in your Windows Taskbar.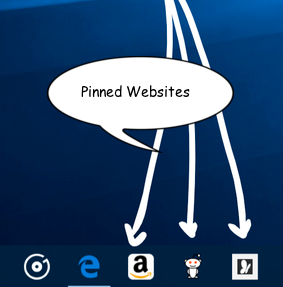 Full-screen mode: Now you can enjoy full-screen view while browsing via Microsoft edge. You have to press F11 or go to Menu  (three dots in the upper right corner of edge browser) and Click on the full-screen icon. If you want to close your full-screen view, just repress F11 button or click Restore in the upper right corner.
Edit URL: Now you can edit your favorite URL in Microsoft edge. Just go to favorites and right-click on any, then select 'Edit an URL'.
Better look and smarter view made Microsoft edge more attractive than many browsers.
Here few faq answered related to Microsoft Edge
Better Gaming Experience
Now time for the gamers. You can now enjoy more smooth and gaming fluent experience in Windows 10 fall creators updates. Let's see what Microsoft has added for you this time.
 There is a new option here, Game Mode. You can easily toggle Game Mood for the current running game you are playing from the Game bar. Game mood made your access to your games easier.
You can now find a new option 'Xbox Networking' in settings under Gaming. You can check your network connection and quality when you are multiplayer games or use voice chat. Even you will find Mixer performance much better than before. If you are broadcasting to the mixer, you can find the stream sources.
In Taskbar, you will find information about your graphics and gaming systems. You can get attached to the information of your gaming hardware performances easily form taskbar. I will discuss Task Manager GPU tracking later in this article. Keep in touch!
So, what are you thinking now? Microsoft wanted to ensure you the best gaming performance. I myself think so. Go give a try now!
3D Effects in Microsoft Offices
It seems Microsoft wants to give their users 3D access in everywhere! Yes, it's happening. Now you can use 3D effects even in Microsoft offices in their latest Windows 10 fall creator update. Let's go check them.
 You can now work with 3D objects in your PowerPoint presentations, Excel, Word documents. You can give your documents 3D shape now.
Microsoft gives you access to View, create, resize and rotate objects with a 360-degree rotation handle.
You can add 3D contents from your created objects of 3D paintings or anywhere you wish.
You can make your PowerPoints presentations more attractive and animated as you can arrange the slides in the 3D model and different types of amazing transitions between slides. Microsoft has added new types of transitions in fall creator update.
See, I said windows 10 is now more fun, Huh? Go enjoy it!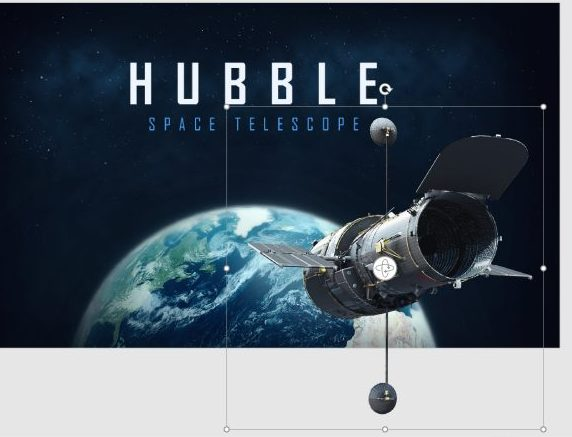 Photos
Microsoft's official 'Photos' app isn't looking like as before anymore. There are many more exciting features have been added and you can do whatever you want to do with your photos now. Let's go.
 You will find an option 'Story Remix' in 'Photos'. You can select one or more photos and video clips and create movies, slideshows or albums with them.
You can create your personal stories, mix your videos and photos, edit them as you wish, cut and share it.
You can add themes, soundtracks, different kinds of transitions to make a complete slideshow with your photos and videos.
You can add many animated and 3D effects to make your remix videos more exciting. If you are a surface owner, then you will find Microsoft is giving you access to add digital ink in your photos and video clips. Keep in touch for my briefing about surface users pen and touch updates.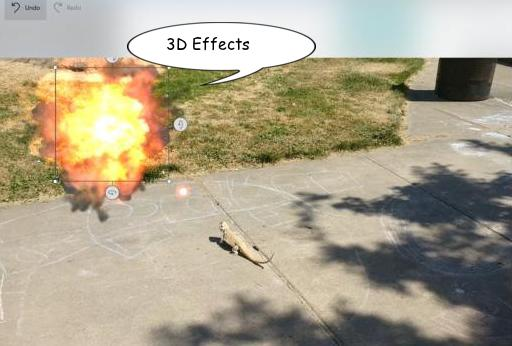 Touch updates for Microsoft Surfacers'
Are you a surface user? Then come to follow what Microsoft has added specially for you in their latest fall creator updates.
Pen and touch features have been improved a lot than before.
You will find a new touch keyboard. It has the ability of text prediction and auto corrections. You can access the emojis easily now.
You can type over voice commands. Not only that, you can do many other kinds of stuff over voice command. Things are so easy now.
You will find the option of shape writing on the touch keyboard now. Chatting or typing is more customized now!
You can write as much as you want in the input section. Selecting, copying the texts are now easier than before.
You can browse your computer using your Pen. If you cannot find your pen by any chance, then there is an option 'Find My pen' shows where you last used your pen.
Microsoft Store
Have you seen the new logo of Microsoft store? Yes, Microsoft store is now on your door for your betterment. Microsoft just wanted to keep their users in touch with all kinds of online needs! That's why they are offering you those awesome features!
 If you want to buy any products from Microsoft or their partners, Microsoft Store is the best option for you.
You will find hardware, software, entertainment apps and many more in MicrosoftStore.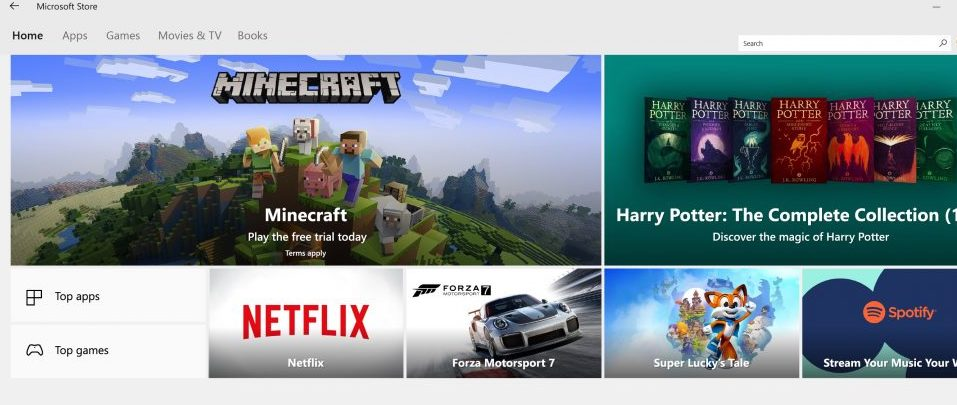 OneDrive Files On-Demand
It's a great improvement in fall creators update. You will find how easily you can store files on the cloud and access them now.
 When you are backing up your files on OneDrive, you can now use them in offline so easily.
There are two types of files, Online only and offline. When you are using an online-only file, you can use it just like other files of your pc and it won't use your disk space.
When you need an online-only file from OneDrive, just double-click on it and download it. After using it, you can make it online again and thus you can free your disk space. You can also make a file available offline always.
Apps can access the file from OneDrive. You will be notified if something like that happens and you just have to confirm the download process.
You don't need to sync full folder to access a file from one drive. Just double-click on the file you need.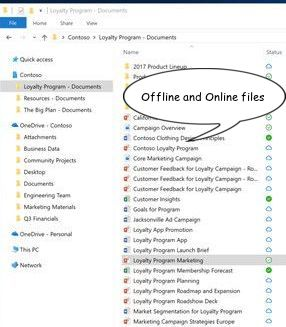 Security
Microsoft's security system is good enough always. This time you will get some extra protection from different types of security threats.
 Microsoft's by default antivirus Windows Defender is now more improved. You will be provided instant coverage against virus attack via cloud protection.
If an application wants to change any file in a harmful manner, then it protects it and you will be notified instantly. You will be notified if any malicious and unauthorized software is about to be installed on your computer.
Nowadays ransomware attacks are the most dangerous security threats for users. Microsoft has updated their security system to protect you from those unexpected ransomware attacks. Windows Defender is now capable of checking many of those ransomware and other security threats.
Task Manager And DPI
Microsoft has improved their Task manager panel. This is especially useful for the gamers. Let's take a look what is happening.
There is a GPU option under performance where you can find your GPU performance and memory usages.
You can now access and control your processes, background tasks more easily. What is happening on your PC is now a matter of a glance.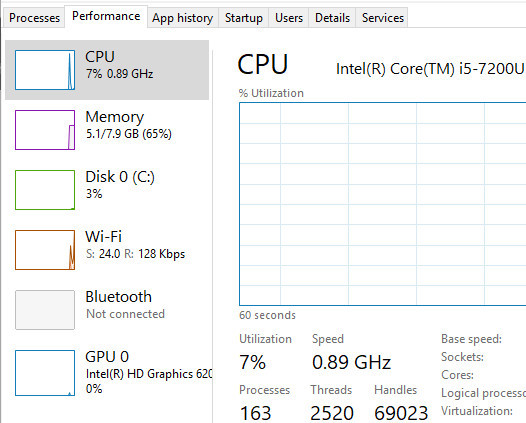 Now comes the DPI thing. This will be helpful if you are using a second monitor or an extra monitor with your laptop. If you are using a high DPI monitor like 3K or 4K monitor, then you don't have to log out anymore to fix the blurry apps. The New DPI improvement will fix the blurry desktop apps and other DPI problems. But still, there may you have to face this blurry fact for some apps.
Headphone and Sounds
You will find better headphone and sound quality in fall creators update. You can manage your system sounds in the more customized way. This is exciting for gamers and music lovers.
The most interesting thing is you can now control volume for different apps individually. Like you can play a song in lower volume than the game volume while you are in gaming!
You will find a new sound feature named Windows Sonic under Sounds in the notification area. This new feature is amazing as it supports Dolby and surrounds sounds. If you use headphone a lot, then you will find this new sound effect helpful.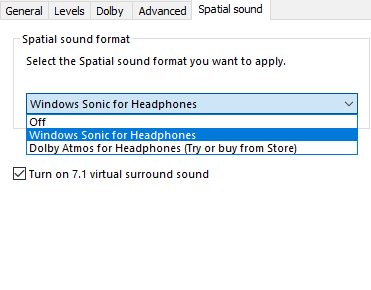 Cortana
Microsoft has made some changes in Cortana. Cortana is now more useful.
Now Cortana can shut down, lock, sign out, restart or sleep your pc over your voice command. Other features like search over voice commands are still available. But if you don't like Cortana then you have an option to stop her, till now the feature is available.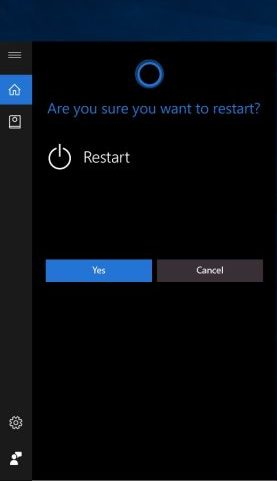 Fluent Design
Microsoft is working on their designing systems for better performance for their users. They have introduced some of their Fluent Design changes in their latest fall creators update. Microsoft may implement their full fluent design project in their next update. Let's check what's new here.
 Microsoft's fluent design changes can be noticed in their software and user interfaces. They have improved light, depth, motion, scale designs to make changes in their products.
This flute design changes made the process of resizing apps easier and includes various effects like blur effects, transparency in start menu etc. The notification bar is now more attractive and easier to access.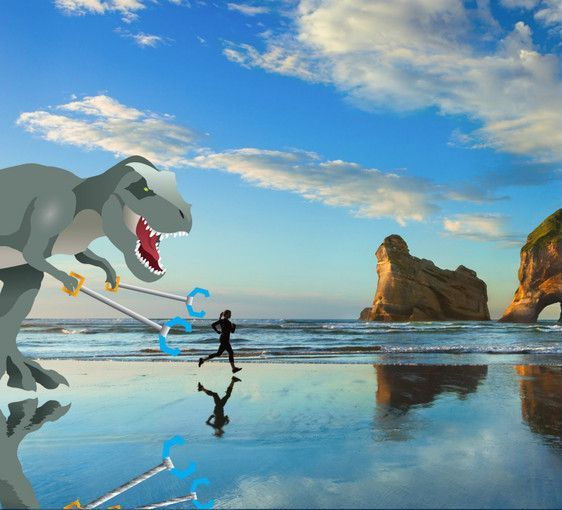 Some other Amazing Features
You will find these following features exciting as well.
Currency Converter: There is a new currency converter included in the calculator. It works even in offline. This simple tool is handy if you are for a business purpose.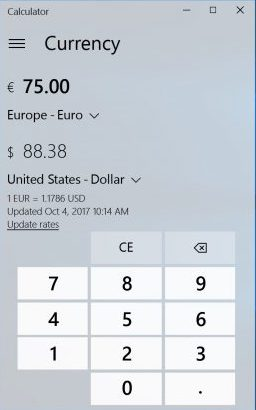 PDF viewing: You can now read PDF documents more easily. You can rotate and adjust file layouts for your convenient.
PowerPoint Clicker: Now you can use your pen as your PowerPoint clicker. Just simply connect your pc via Bluetooth and start using your pen as PowerPoint clicker.
Password Recovery: Now you can recover your password from your lock screen. You don't have to log out anymore in case you forget your password.
Conclusion
So, you have seen significant changes have been placed in fall creators update. Some features are exciting. Microsoft wanted to fix the bugs placed in their previous updates and confirm the best experience for the users in their latest fall creators update. See, I said Windows 10 is now more fun ! Go enjoy the awesome features!