Windows 10 has become a popular OS for PCs, tablets and smartphones. It's running on over 400 million devices. Here, in this article, some windows 10 problems will be discussed with their corresponding solutions. If you are a windows 10 user and facing a problem or about installing windows 10, then the article is for you.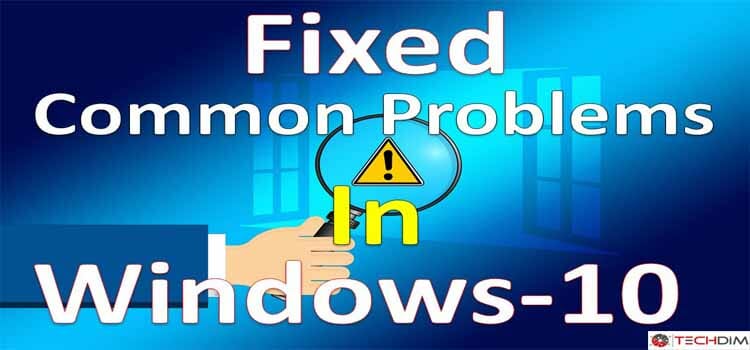 1. Storage Problem:
When you will install windows-10, it won't automatically clean the old version if you update it using Microsoft windows update tool or update it from windows 7 or else versions. The old version will still remain in the system named a file 'windows.old' and it'll take disk space of your system. It will eat up a lot of space of your C drive which is annoying. Really a problem, right? Don't worry there is an awesome solution.
Solution: How to Delete Windows.old Folder
This is very simple to delete the windows.old folder. Just go to windows built in feature 'Disk cleanup' and remove the unwanted files. Follow the steps below for more details.
If you want to permanently delete your previous OS, then you have to go to Windows Start button and search 'cleanup'. A 'Disk Cleanup App' will appear and you have to open it.
After opening Disk Cleanup App a pop-up window will appear asking you to select the drive where your OS installed on (This is usually C drive).
Then you have to select 'Clean up system files' option on the bottom left. This time you will find 'Previous Windows Installation(s)' Select and delete it. You're done.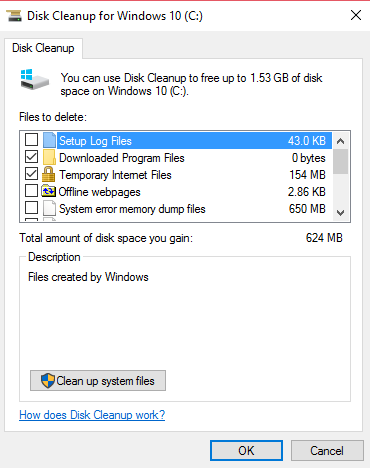 2. Automatic update and restarting:
One of the most annoying problems caused by Windows 10 is an automatic software update and then restarting, even this can happen at such a moment when you are really busy with an important work with your computer.
Solution: How to Stop Automatic Update and Restarting
To stop this, just go to Settings > Update & Security>Advanced Options.
Select Notify to Schedule Restart. After doing this once, you will get rid of this problem. This time the system will ask for your confirmation while it needs a reboot and you can choose whether you want this instant or later.
3. Windows 10 can not be upgraded:
Windows have been seen that, many users are facing trouble to upgrade the latest version of windows-10 (The windows 10 fall update).
Solution:
Go to windows Start Menu and type 'winver' and hit enter. You can see a build number, if it is 10586.XX: then, you have latest version already installed, otherwise not.
If you have not the latest version installed, then download 'Media Creation Tool' from HERE Open it and click install (see the picture below). Almost all of your current setting will remain same after installing the latest version.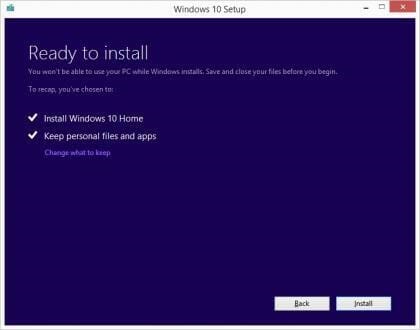 Problem-4: Privacy issue:
In Windows-10, your computer might be sharing some data which may make you closer to the hackers as cyber-attacks are increasing nowadays. By default, some privacy setting in Windows 10 are as configured that it seemed not to be safe and hope you already know it is possible to sync windows 10 settings
Solution:
First of all Go to Start Menu->Setting->Privacy
Here you can your computer is sharing many data such as camera, microphone, not only that many new installed app can be in this list. So, you should frequently check this list and confirm that you want to share those. If not, then turn off.
One more thing is that, windows-10 shares Wifi password across all windows 10 devices on same account. For better privacy, you should turn this off. Then go to Start Menu->Setting->Network and Internet->Wifi->Wifi settings. Then turn off all the options here. You're done.
5. Problem with playing DVD:
If you use windows 10 OS, you might be facing trouble playing DVDs' as Microsoft did not create a default player for DVDs'. If you have VLC installed, then this won't be a problem for you.
Solution:
Download Windows DVD Player from HERE but the problem is it costs £11.59.
Moreover, you can download VLC from HERE which is totally free.
6. Background Data usage:
Windows 10 can use data invisibly when you are connected to a portable hotspot. If will use more data to update apps which may not that much important to update instantly.
Solution: How to stop Background Data Uses in Windows 10
To make this turn off, go to Settings->Network and Internet->WiFi->Advance option->Set as metered connection. Then turn it on. It will prevent the system to automatically update apps, screen tile etc. when you are connected to the portable hotspot. But this won't work when you are connected to Ethernet.
7. Pop-Up in Edge:
In Edge browser, you will see frequently pop-up windows when you are willing to visit a website. This really an irritating problem when you are browsing on Edge.
Solution: How to Stop Pop-Up in Microsoft Edge
To turn on the Pop-up blocker, go to Edge browser, click on the tree dots right hand side of the address bar, and then click setting->View advance setting-> Block pop-ups and turn this on (see the picture below). You're done.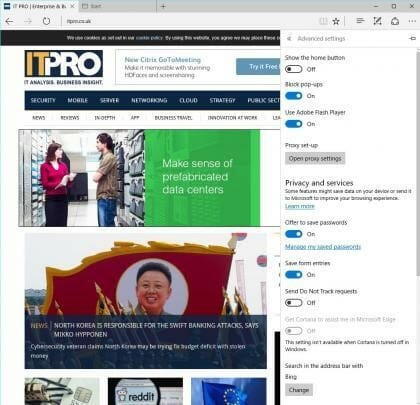 8. Lock screen:
In windows 10, when the screen is locked, you can see a picture and you have to enter your password again to back in the system. If you're impatient, this may seem much irritating to you.
Solution: How to Get Rid of Windows 10 Lock Screen
If you want to disable screen lock, then go to Start Menu, search 'regedit' and run Registry Editor.
Go to HKEY_LOCAL_MACHINE\SOFTWARE\Policies\Microsoft\Windows. You will see a key named 'Personalization'.
If you won't see Personalization', select the Windows key, right click on it, New->key and rename it 'Personalization'.
Right click on 'Personalization' key and select new, then select DWORD (32-bit) Value. Select new value #1 and rename it NoLockScreen. Double click on it and make value 1 and click OK. Restart your computer and you're done.
9. Touchpad Problem:
Many users have noticed that in Windows 10, their touchpad is not working properly or not at all but the touchpad is working on windows 7 or windows 8.
Solution: How to Get Rid of Touchpad Problem in Windows 10
First of all, you have to check whether there is any key in your keyboard that can turn off your touchpad.
If it is not, then go to Devices-> Mouse & Touchpad-> Additional mouse options. And then a new window will appear. Then go to Device Settings->Devices and make sure that your touchpad is enabled.
If none of these works, go to Device manager (Windows+X), select Mice and other pointing devices and update drivers. This should make it solved.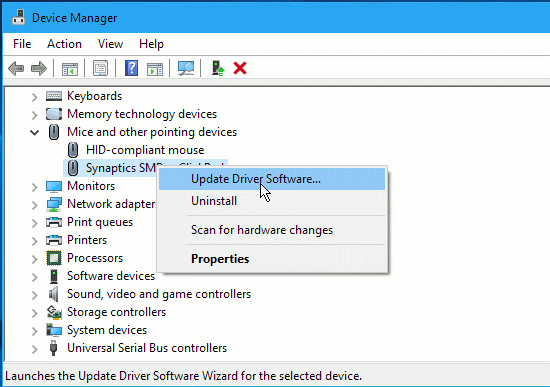 Problem-10: System requirements:
If you want to install windows-10, then your computer must have to be enough power for running windows-10. So make sure that your system fulfill windows 10 requirements.
What is Windows 10 System Requirements?
Windows 10 system requirements are little bit high then windows 7 and other versions you know. The system requirements are –
A processor of 1GHz or faster;
1GB (32-bit) or 2GB (64-bit) of RAM;
16GB of free drive space;
Microsoft DirectX 9 graphics device.
To see your computer's capability, go to Control Panel ->System and Security-> System.
A lot of people are now upgrading from windows 7 to windows 10, Hope this post will help them a bit.
Conclusion:
These are the common windows 10 problems faced by the users. In this article, we have given some solutions to the corresponding problems to make windows 10 more user-friendly. Also, if your PC is not working at all after doing all the possible things, we suggest you do a reset to factory settings.