You may be tired of rejecting unknown and unwanted calls that disturb you while you are busy in work at the office or in asleep or are you in search for Best android call blocker apps to block unwanted calls in 2018?
You are living in the digital age, and it's time to be modern with modern technology. Android technology is one of them, and Android Smartphones are allowing us so many facilities to do. As an example, you can block unwanted call or SMS from the unwanted user. You can block undesired calls and SMS With the help of third-party apps if you do not want to accept calls or SMS from someone.
In different cases, if you don't want to miss calls and SMS from an unwanted number and see the list of rejected calls while you are free from work then another option is just to silence the call. But technically it isn't a call-blocking method though the result is pretty much the same. You only have to set a silent ringtone on your phone, then attach it to numbers you don't want to answer, and your phone will stay quiet when they call. Silence mode would be another solution for you.
Although nowadays many Android Smartphone has built-in call block feature, it is not enough to block all incoming calls very well. For this logic, you can use a third-party call & SMS blocker application. Google Play Store provides you hundreds of call blocker apps, most of them are free to download, and we have selected the Top 8 best Android Call Blocker Apps. Hope you will identify the chosen one as your demand.
Also Read- Top 9 best Parental Control Android Apps to Secure Your Children in 2018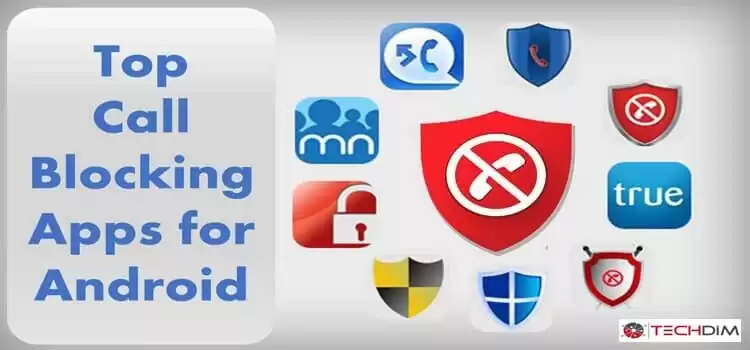 TOP 8 Android Call blocker apps to block incoming calls
1. Calls Blacklist – Call Blocker:
"Calls Blacklist" works as both a call and SMS blocker. This app offers you with a mess-free and an easy to use interface so that you can focus on blocking unwanted callers rather than spending the time to understand the functions of the app itself. It can quietly block calls and messages from unwanted and anonymous or unknown numbers.
The target users of this app are those who don't want to spend much time to maintain a blacklist. This app has a straightforward way to block calls and messages. You can activate any of the predefined blocking options as like All Calls, Unknown Numbers, or Private Numbers.
Features in short offered by app developers:
It can Block calls and SMS using blacklist.
It can Block unknown and private/ hidden numbers.
It can Block calls from any phone digits.
Block a range of numbers using the "Begins with" option.
It can utilize as a barrier to avoid SMS from alphanumeric numbers.
Use "Whitelist" to prevent the block of certain people.
Save/load blacklist.
Show Icon in the status bar can be turned on/off.
Show notifications of blocking calls or turn them off.
Robust call blocker and SMS blocker.
"Schedule": specify a time to block calls or messages.
"Log" of blocking.
⇒ Download link: Calls Blacklist – Call Blocker
2. Call Blocker: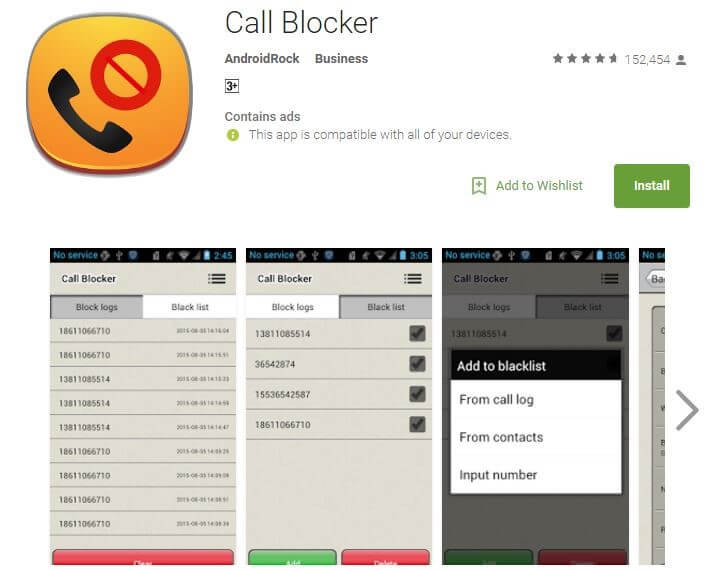 The developer of Call Blocker app is AndroidRock, and it does not cause a lot of battery discharge like other call blocker apps because it is a flimsy app and also doesn't consume a lot of ram storage and CPU resources.
Call Blocker app can refuse unwanted calls by default. If you have been irritated by spam calls from the online seller, or if you want to ignore calls from anyone, you can just put the number to blacklist and let Call Blocker do the rest.
Features in short offered by app developers:
Blacklist, add numbers to blacklist to block, and It's FREE!
The whitelist is the collection of phone numbers that don't need to stick.
Call logs stores Rejected phone numbers for future use.
Block modes:
Reject Blacklisted numbers.
Allow whitelist (that means Block calls that is not in whitelist)
Block all type of calls
Block unknown numbers (that means Block calls that is not in contacts list)
"Call Blocker" is a suitable app for those Android phones that have limited RAM and CPU resources to run an app carried with a lot of features and functionalities.
⇒ Download link: Call Blocker
3. Call Blocker Free: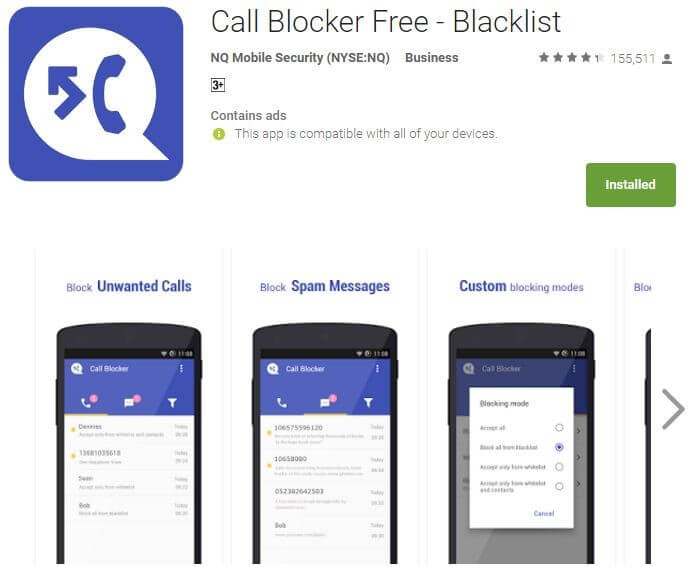 There is another call blocker app that doesn't put any pressure on your phone's RAM and resources named as Call Blocker Free. Its key advantages are its Lightweight and easy to use and Low power and CPU consumption.
Apart from maintaining a blacklist, you can even create a whitelist of those numbers that you never fail to notice any important calls. Whitelisted contacts can always connect with you. You can also pre-configure the app to notify you whenever this app blocks an incoming call.
Features in short offered by app developers:
Prevent unneeded calls and messages: Multiple blocking modes are available at your choice
You can add unwanted numbers to the blacklist.
The whitelist is a list of important phone numbers that can always reach you.
Detect and stop one-ring scam: This app prevents possible phone scams.
Additional features
Three options to deal with prevented calls
Notifications after blocking
⇒ Download link: Call Blocker Free – Blacklist
4. Mr. Number-Block calls & spam: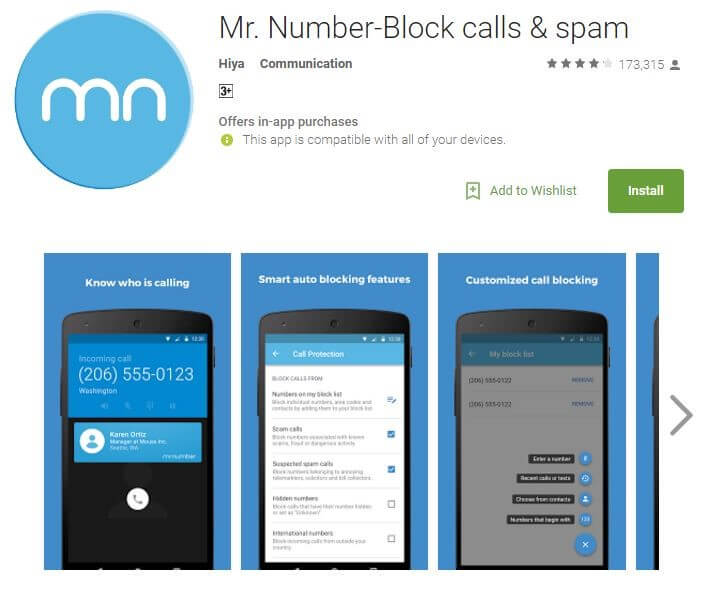 Mr. Number is an app that not only blocks unwanted calls it also identifies & stops spam, scam, and fraud. After installing this app on your phone, you can reject calls and SMS from any phone number. You can also come to an end the telemarketers to waste your busy working time. This app has an extra option for an unknown and private number which can obstruct the call. It has come with some automatic features including automatic caller lookup for all digits. As a result, you can reject the numbers by checking the call history. You also can warn the spammers.
From my point of view, "Mr. Number" is the strongest call blocker on the google play store. It can block calls and SMS texts from unknown numbers, and all types of numbers in the world. You can send them a recorded voicemail Keep the content of blocked texts or trash them. You can communicate with other users when you get a spam call or text SMS. You need to add 'Suspected Spam' to your block list, and Mr. Number blocks those spams automatically.
Features in short offered by app developers:
Blocks calls and SMS texts from an unexpected person, an area code from the entire world.
Put an end to debt collectors before they waste your valuable time.
Intercept calls from private/unknown numbers and hang up or send to voicemail
Investigate spam calls and SMS texts to notify other users.
Automatic caller lookup for all numbers in your phone's history so you'll know whom to block or not.
⇒ Download link: Mr. Number-Block calls & spam
5. Safest Call Blocker:
"Safest Call Blocker" is a perfect call blocking app that offers you to block all the incoming calls from those numbers that are unknown to your contact list. So, now it is clear that, if this option enabled on your phone, this app blocks all the unsaved numbers in your contact permanently.
The app lets you add numbers using wildcard entries so that you can block a particular series of numbers.
The interface of this app is straightforward. You can manually select and add a phone number to blacklist from logs, contacts. In the App Settings, you have very minimum options to choose from, and there is no untidy collection of things.
Features in short offered by app developers:
Block Unwanted Calls: Block all from the custom blacklist. Block all calls from those Not in your Contacts list. Block Private & Unknown calls.
Wildcard Blacklist: Use the character # to create broad ranges of blocked number. Example: 1-800-###-#### will block all 800 numbers.
Personal Blacklist: This app blocks All numbers from the personal blacklist.
 Notifications After Blocking: Show Notification after blocking a call.
Clean Phone Log: Blocked numbers will stay out of your call log.
Blocked Calls Don't Ring: Don't be bothered.
⇒ Download Link: Safest Call Blocker
6. Truecaller: Caller ID, SMS spam blocking & Dialer:
Truecaller is one the best app to search any mobile number and its caller ID, and it allows users to block unexpected calls and SMS. It declares that it has verified number database which is world's largest. This app can detect a numbers user of any countries and can block numbers from unwanted callers and service operator.
Besides all, this app requires Internet service or Wi-Fi connection to enable all of its features. With the help of internet connection, this app collects data from your phone and send requests for caller ID of a number from its database. Truecaller can also block them preventing you from being disturbed by unnecessary call rings.
True caller is Truly a Caller that is surprising 100 Million hearts, and it has  4.5 Star rating in google play store submitted by more than 3.9 Million people.
This App performs as a phone dialer replacement, so when it is necessary to contact someone privately then try using this exceptional App that is a lifesaver. You can get numbers from your phone book, or call history, or even type in the desired number. You also receive notifications within the App.
It is free of cost and available on Google play store. It is another best call blocker app for android 2017. I am using this app and like it very much.
Features in short offered by app developers:
Truecaller is a Powerful Dialer:

The world's best Caller ID database will identify an unknown caller by name.
It also Blocks spam and telemarketing calls.
See saved names from another user of unknown numbers in the call history.
Flash messaging – Share location, emoji & status in a flash to your friends.
Using internet service Know when and which friends of you are free to talk.

Smart SMS app:

Automatically identify every unknown SMS.
Automatically block spam and telemarketing SMS.
Block by name and number series.

The Truecaller has full dual-SIM support!
The Truecaller will not upload your phonebook to make it public or searchable.
It can scan any number with your camera and find its name on True Caller.
It has Improved protection from spam SMS.
⇒ Download link: Truecaller: Caller ID, SMS spam blocking & Dialer
7. Blacklist Plus – Call Blocker: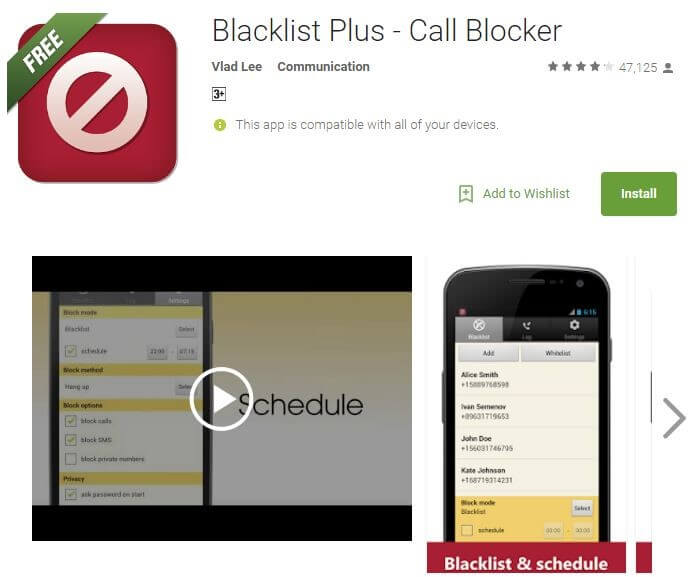 Blacklist Plus is an easy and efficient way to block unwanted calls and SMS. It is both a call and SMS(Short Message Service) blocker app. This app has three main tabs, which are the blacklist, log, and settings. Blacklist is the main menu where you set up the individual numbers you want to block, and the log records any call and message activity on your phone. This app reserves "settings tab" for the applications internal and external settings. You can manually add numbers to the white list or black list of contacts and call logs.
There are more than one blocking modes available in this app.
They are as –
"Blacklist": all except whitelist, all except contacts, all numbers, and disabled mode.
"Blacklist": This Feature prevents any numbers added to it.
"all except whitelist": This mode blocks all numbers except those added to it.# "all except contacts": This mode blocks all incoming calls and messages.
"all numbers": This option completely blocks all numbers.
"disable" This mode turns off call blocking service.
With this app, you can quickly hang up any unwanted call or SMS instantly.
This call blocker app also offers a broad range of features for managing the blocking.  As examples the option to block hidden numbers, an option to turn off notifications and protect the app with password (though it's only available in the PRO version).
Features in short offered by app developers:
It has a Whitelist feature.
Adding a broad range of numbers into the black and white lists for blocking and unblocking.
Options for blocking calls.
Blocking hidden or private numbers.
Journal of blocked calls and messages.
Setting up a user password to prevent unauthorized access (only available in the PRO version).
It is a powerful call blocker and very easy to use and stable.
It has a user-friendly interface and a variety of settings.
⇒ Download Link: Blacklist Plus – Call Blocker
8. Call Control (Basic spam Blocker):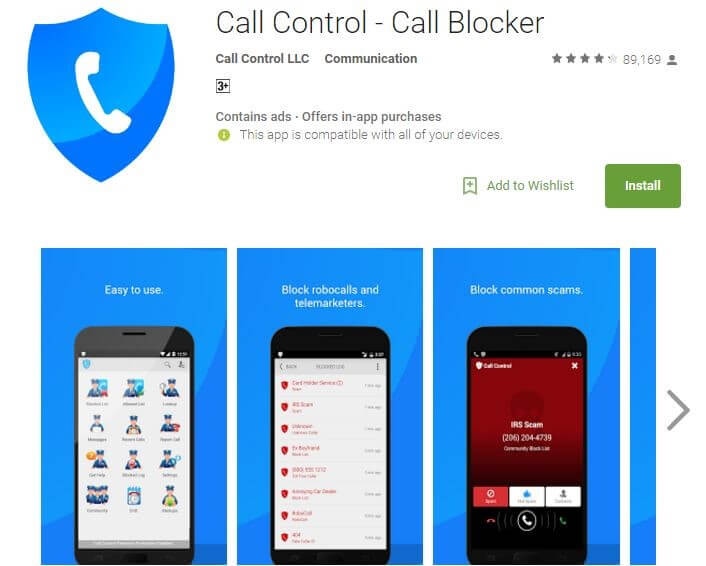 More than thousands of spammers and scammers across the world are making spam call. You need to protect your Android device from those calls. So, don't let them waste your valuable time and provoke you. Reject calls from unwanted source with following few steps.To do this, you have to install "Call control" app and select the spam calls then the app will do necessary steps automatically.
Call control app is developed by  Call control LLC. It has a personal blacklist, and it will offer you to avoid the call from unwanted numbers by adding them to this list. Built-in caller ID of this app will help you to find the identity of an unknown caller. You can activate "Do not disturb mode" for few hours or a selected time.
Features in short offered by app developers:
As like all call blocker app, it Blocks unnecessary calls and text messages.
Spam calls blocker: download & install the app, and then you are protected from spam automatically.
Enhanced Caller ID: Know who's calling you even if you don't have the number saved as a contact.
Personal Blacklist: Block calls from any phone number or area code all over the world.
Do Not Disturb Mode – Easily schedule when you don't want to receive calls.
⇒ Download Link: Call Control – Call Blocker
Sometimes it could be very annoying to accept calls or SMS from the unwanted or specific number While you are at the meeting in the office or busy with some more necessary works. And you are looking for a blocking app who will prevent this type of calls.
Conclusion
These above-given lists are the Best Android Call Blocker apps for Android to block unwanted calls in 2017. From hundreds of apps it is tough to find which is best for you, For this reason, to help you to get relax from this problem, we have just make a proper list with advantages, disadvantages, and features of the top 8 Android Call Blocker Apps. There is no doubt that every app is powerful enough to block calls in their way. You only need to find out your chosen one as your demand among them.