Most computer user uses MBR disk drive widely from the past to nowadays. But if a user wants to save more and more data in the hard disk, the hard drive will run out of space with time goes. He would buy a new hard disk of larger than 2TB emerge to satisfy his needs. But MBR disk does not support more massive than 2 TeraByte; It also does not allow UEFI boot and more than four primary partitions. So GPT disks become the trend and the only thing you need to do that convert MBR disk to GPT disk. One thing is that Microsoft hasn't offered a more straightforward solution to this problem even in Windows 10. One of the main challenges that a user face while converting MBR to GPT is that conversion is possible from MBR to GPT without any data loss or damaging the Operating System? Is there any easy solution which can convert MBR to GPT free in Windows OS? The answer to both questions is yes. In this article, we will discuss How to convert MBR to get without losing your data. Let's look the following content, this will help you most.
How to Convert MBR to GPT on Windows Operating System:
To solve or to make it usable again the "protective partition" issue on a GPT formatted partition, there are two specified methods available.
Using Windows Disk Management tool (data loss occurs).
Using Disk part utility from (CLI) Command Line Interface with some codes.
Using Third-party software (like Mini tool, Ease US, AOMEI)
Convert MBR disk to GPT disk with Windows Disk Management: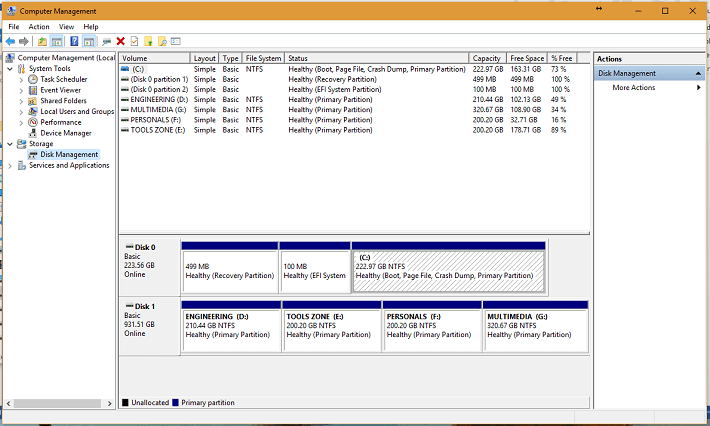 Right-click on "My Computer" icon on Desktop view and Left-click on "Manage" then "Disk Management." on the left side column. It will show you all of your disk drives attached to your computer.
If the MBR hard disk drive shows any partitions or volumes, then Right-click over a partition on the disk and then choose "Delete Partition/ volumes" to delete all volumes and set the drive as Unallocated space.
Place your mouse over the MBR styled disk that you want to change into GPT disk click Right button and then choose "Convert to GPT disk."
Warning: This process deletes all of your previous data. So don't do this if your data is essential.
Using Disk part utility from (CLI) Command Line Interface with some codes.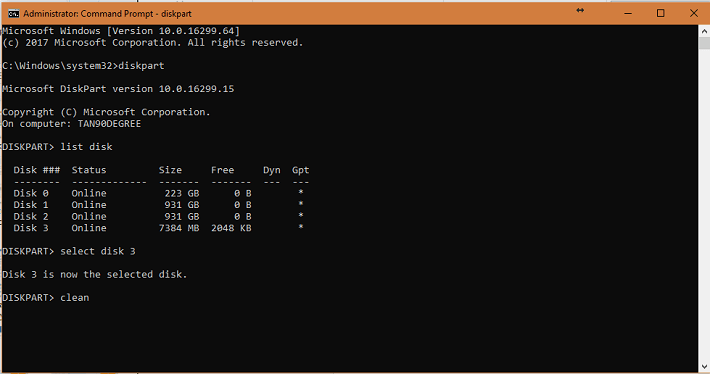 Open CMD or command prompt window by pressing Win+R on your keyboard.
Type Disk part (in small letter) into cmd window and press Enter.
Type list disk (as written) and press Enter. Then make a list of the disk numbers you want to convert as like disk 1, disk 2.
Type select disk DiskNumber just like "select disk 1."
Now type clean and press Enter.
After hitting the enter key, the clean command will entirely delete all volumes on the selected disk drive.
at the command prompt window, type "convert GPT" (GPT must small letter). It will convert the selected hard drive into a GPT styled disk.
Finally, You will get the confirmation message into command prompt window.  Now Disk Management will show your drive as unallocated space. Create your new GPT partitions using Disk Management window.
Precautions: If your hard drive has essential data then Backup all of your data in another computer before converting the disk from MBR to GPT because these steps will destroy your data.
If you do not want to lose your data, Then you have another process using Command Line Interface (Gptgen).
Convert MBR Disk to GPT Style Using Gptgen (Command Line Interface)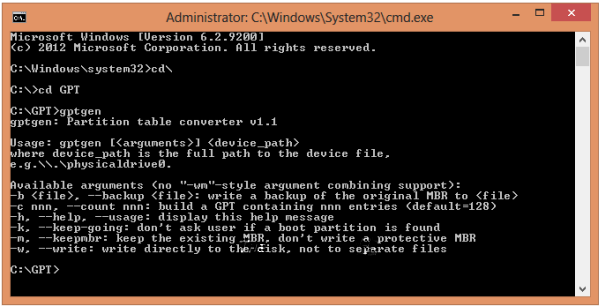 "GPTGEN" is the "Command Line Interface" based special tool like "diskpart" that can convert MBR to GPT without losing data from your hard drive. It's a pervasive tool and specially designed to non-destructively convert hard disks partitioned in the ordinary "MS-DOS style" MBR scheme to use a GUID partition table but a bit complicated to run.
Open CMD or command prompt window by pressing Win+R on your keyboard.
Type "gptgen" into cmd window and press Enter.
According to the tool's 'readme' file, the syntax of the CLI code is "gptgen [-w] \\.\physicaldriveX," Where X in "physicaldriveX" is the disk number reported by the Disk Management console.
Convert MBR disk to GPT style without data loss using Third-party software (like Ease US, Mini tool, AOMEI)
Now I will introduce you some software which will convert your disk MBR to GPT or vice versa without losing data. You can use one of them without any hesitation. Keep in mind that this article is not a review of that software. You will know how to do it by that software only.
1. Ease US partition Master-Free edition
Step-1. Download Install Ease US partition Master-Free edition and open it. This software will show you the MBR disk drive in its file explorer.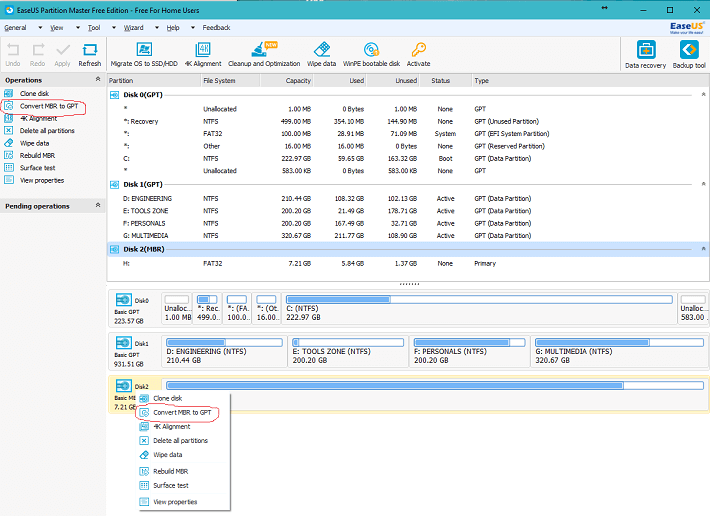 Step-2. Right-Click on the disk which you want to convert then choose "Convert MBR to GPT" (red mark on the image above).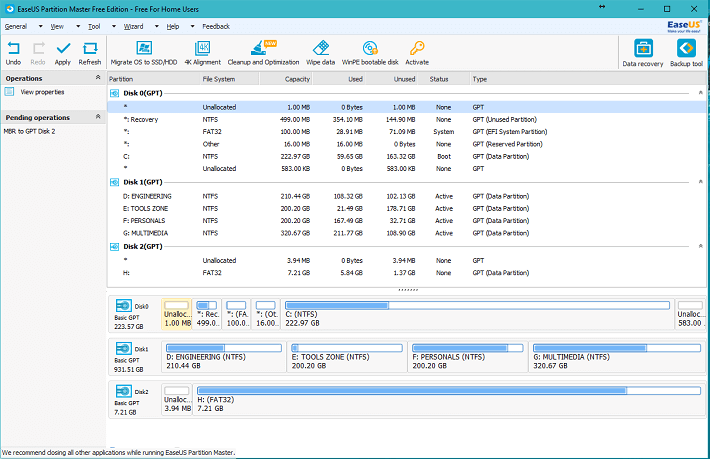 Step-3. Then Click Apply. (Tick mark on the top-left on the of the window).
Step-4. It will appear pop up window of confirmation. Clicking on "Yes" the process will start. There is another option as "Shut down the computer after changes are applied." Uncheck this, nor the software will shut down your PC.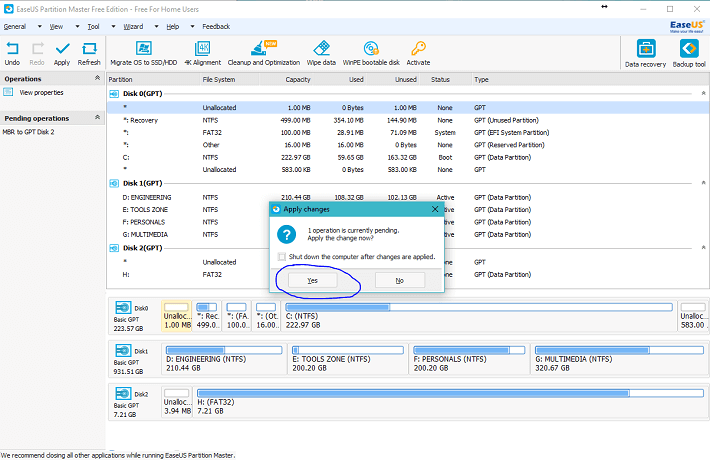 Step-5. Finally, the software will start the process and show you the conversion process. The newly converted drive will have some unallocated space ( less than 5 MegaBytes).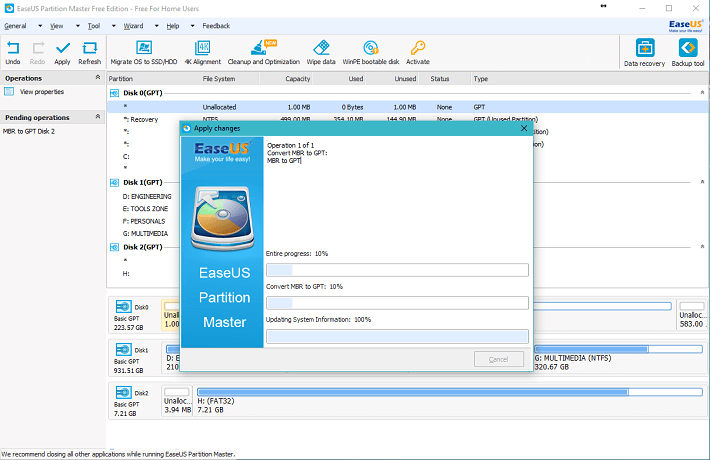 All data is safe with Ease US Partition Master -Free edition. It is the simplest way to convert an MBR disk to a GPT disk without any data loss. So Don't hesitate just do it if conversion is necessary.
Download link: Ease US partition Master-Free edition: https://www.easeus.com/partition-manager/epm-free.html
2. AOMEI Partition Assistant Standard Edition
As a Standard Edition of this software, AOMEI provides many specially designed features for performing some complicated disk problems which are nearly not possible to do reasonably. Converting MBR to GPT or vice versa is one of those tasks. As for the function of "convert MBR to GPT," This magical tool can settle it very quickly and securely. It also has a clear demonstration with its visual interface on how to do the operations of the hard drive. Just download and install the partition management software to convert your hard disk drive to GPT without losing data.
Necessary steps to follow: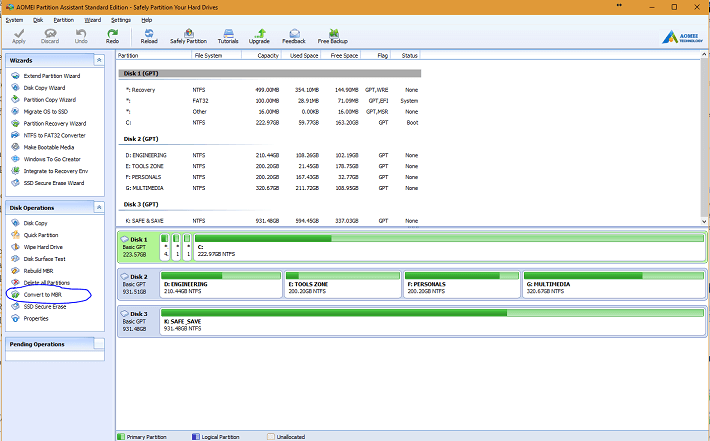 Step-1: After installing safely, Open AOMEI Partition Assistant Standard Edition, and right-click on the mouse over the disk you to change to MBR and then choose to "Convert to GPT Disk" or you will find this feature on the left column of the software window, just click it.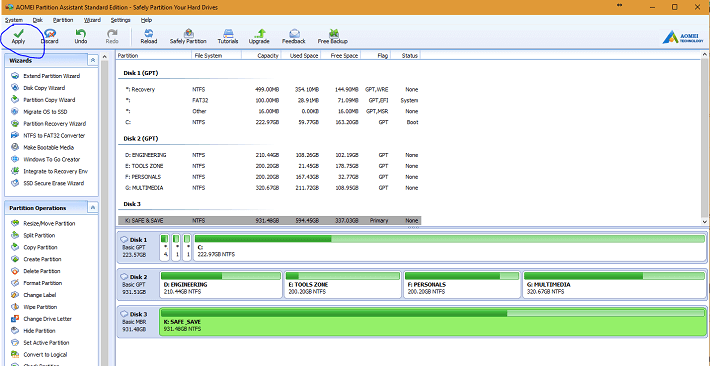 Step-2: After appearing a new pop up window click OK to continue the next operation.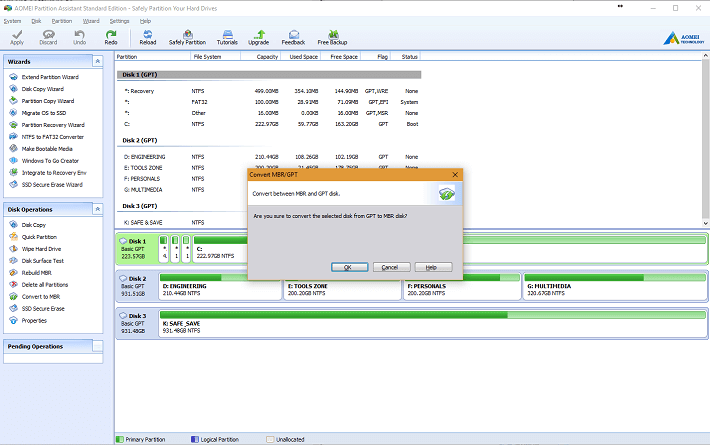 Step-3: The pop-up window will preview your selected disk converted condition into GPT. Here you can discard also, but to operate subsequent processes finally, click Apply on the top-left of the window.
You should know that MBR disk style can only support up to 2TetaByte disk partition size. If you have a disk of larger than 2TetaByte, then you must go for GPT partition style must. AOMEI Partition Assistant Standard Edition can give you a great support to convert MBR to GPT in that case without losing any data from your hard drive.
Download link: https://www.disk-partition.com/download-home.html
Conclusion
By Windows Disk Management, Diskpart and command can only understand the conversion between MBR and GPT, but they can not manage data safely. In that case, AOMEI Partition Assistant, Minitool and Ease-US will not cause data loss while converting MBR to GPT. This tools not only change MBR to GPT but also it has many amazing hard disk management features.
Windows 10  launched a new MBR2GPT Command Line Interface based Disk Conversion Tool in Creators Update v1703, and the System32 folder contains "MBR2GPT .exe". Microsoft designed it features to convert a "Windows Operating system owned computer" from legacy BIOS (Basic Input/ Output System) to UEFI (Unified Extensible Firmware Interface) disk partitioning safely and non-destructively.