Windows keeps a bunch of temporary files to provide a shortcut and to help the operating systems in performing many tasks in the smallest time possible. These temporary files are cache which is not some type of neologism for computer users. Learning to clear cache in Windows 10 can be beneficial for many users.
If you encounter slow-downs, C Drive red bar, or any unusual behavior on your Windows 10 computer, clearing superfluous cache can be the exigent first aid. Although, this is only a temporary solution, as software or the operating system itself repopulate those cached files when needed. So, cleaning up the cache occasionally but not daily is an apposite step.   
Several types of caches are stored in different locations of your computer. To delete these cached files, you can adopt different ways. If you want to learn how to clear cache in Windows 10, you have arrived at the right corner of google.
What is Cache?
Cache refers to the temporary files that a program or the OS uses for faster response. Cache memory is fastest compared to other memories and often known as static RAM.  It's a time cutting storage mechanism for faster system response.
This can be a dedicated portion of the main memory or a separate high-speed storage device and can be both hardware or software. Caches are either a track of previous requests or a copy of some existing data. The cached files can be texts, web pages, or images.
Necessity and How to Clear Cache on Windows 10
Though the purpose of cached files is good, it may cause some issues as well. It is beneficial only when you have enough space on Memory and free RAM. Cached files accumulate and use up a huge space on the disk, causing disk usage, slowdowns etc.
This occurs often that these large files get corrupted and hence interferes with the PC operations. This may lead to the well-known phenomenon of Windows 10 blue screen of death or any other problems like unwanted slows downs.
For example, when you visit a website browser cache downloads a copy of that and stores. This helps to load the page faster the next time you visit the website. For webpage developers, this may not be a blessing as the new version of the page may not be loaded.
So, to clear the cache on Windows 10 occasionally is a viable idea to help the system run smoother, troubleshoot problems, and also retrieve some disk space.
Clear Temporary Files on Different Locations
The first step to clear cache in Windows 10 is you have to run some simple commands on Windows Run and that will reveal the temporary files stored on different locations of the computer. First, go to the Windows search bar and search "Run" app and open it up. Alternatively, you can simply use the keyboard shortcut "Windows+R". Also, you can right-click on the Start icon and open it up from the appeared list.
Now on the run search box, you have to type the command "%temp%" and tap enter.
This will lead you to the location where all the temporary files of applications are stored. Select all of them using "ctrl+A" and delete all the files there. There some files cannot be deleted so continue the process by skipping those files. Also, if this says you have to provide administrator permission to go ahead, select continue for all.
Then, again open up the run box and this time type "temp" and hit enter.
This will lead you to the list of Windows temporary files and just like before you have to delete all those files. Don't worry, these things will repopulate automatically in case of need.
Now, for the last time go to the run box again and this time go ahead by typing "prefetch".
This will lead you to the prefetch area. Delete all the files there too following the process before. Don't forget to empty the recycle bin after this cleaning up process.
Clear Windows Old Installation Files
First, you have to go to the windows search bar and find out "Storage settings".
When you have opened it up, you will see an option showing temporary files and how much space these occupy there under the local disk. Click on that and wait for a moment to complete scanning.
When the scanning is completed, you will see a bunch of files that you can delete if you wish. Here you will find previous unnecessary Windows installation files on the list. These files occupy quite a substantial amount of space on the disk. Select it to remove and there you will see some locations are by default selected that contains the file that is not needed anymore. So, select all other files you want to delete and then hit on "Remove files".
Clear Software Distribution Download Folder
First, go to This PC and find out the folder where you have all windows installation files stored. Normally these files are found in the C drive. Now from the C drive open up the "Windows" folder and find out the "Software Distribution" folder.
There on the list, you will see a folder named "Download". In this folder normally automatic Windows update files are stored. When windows have already installed these downloaded updates, these temporary files remain there in the download folder and use up some space in memory though you don't need them anymore.
If you remove these kinds of stuff, these files will be downloaded anyway automatically if needed. But to delete these files you need to be logged into an admin account. Select all these files and delete them with a click.
Run Disk Cleanup
First, from the search bar find out the "Disk Cleanup" and click on that. This is your cleaner manager of the computer. You can do this alternatively by entering "cleanmgr.exe" in the windows run box.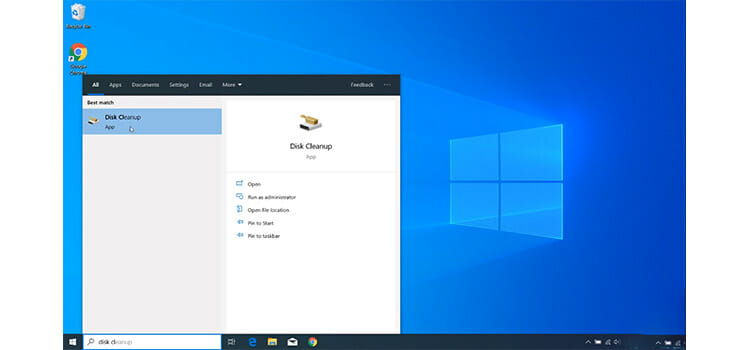 Then a dialog box will be loaded on the screen. From the options, you can select any disk you want to clean up and hit okay. For instance, we will be cleaning the C Drive on the computer. Alternatively, we can also extend the C drive.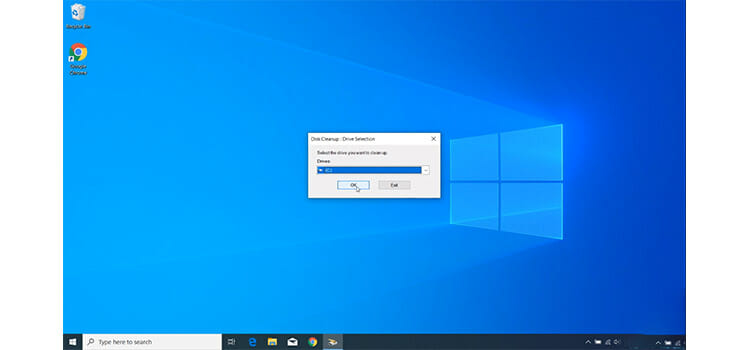 Shortly after that, a window will pop up. There on the top, you will see how much space you can clean up. You can scrutinize the locations and decide which locations you want to tidy up. After making your selection of unwanted file locations, you have to hit on the "Cleanup system files". Then tap on "ok" on the disk cleanup box.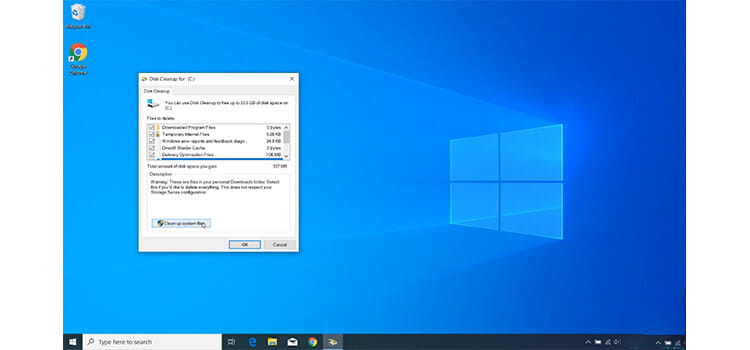 Now, wait for the process to complete. After that, the previous window will pop up once again, and you have to hit ok there. After you press "Delete Files", the disk space will free up. You can run this process multiple times to clean up more and more until you notice there is nothing to delete.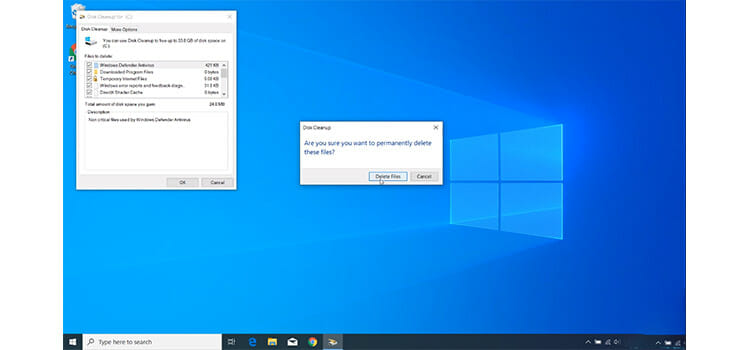 Clear Microsoft Windows Store Cache
In this location, the windows store temporary installation files for windows store application. After the installation of these files is done once, it's okay to delete the temporary installation files. This also resolves if there is any issue installing certain apps from the windows store.
To start the process, you have to first search "CMD" on the search bar and right-click on the "Command Prompt" from the search result. Now select "Run as administrator" from the appeared options.
Now a command window will appear. There you have to type the command "wsreset" and then hit the enter key. Now wait for some time with patience and a process will run in the background.
This same thing can be done by opening up the windows run box as mentioned before and typing the command "wsreset" there. If your Command Prompt is full of lines that make it tough to do the specific task, then you have to clear the Command prompt.
After a while, the Microsoft store will pop up and that will indicate the process of clearing the windows store cache is now complete. The windows store will be reset after this process is finished and resolve any problems there.
Clear Media Cache Files
In this location media editing applications, for example, Premiere Pro and Photoshop Store temporary media files. This cache may contain files in the megabytes to several gigabytes range and the size depends on how much media content created on the computer. For example, if you frequently edit videos and photos, you can anticipate that a large space is occupied there with these temporary files.
To start up the procedure, first, go to your computer folder and open up the C drive. There you have to next open your user account by going to "Users". After going to the user account, you have to open up the "AppData" and then "Roaming".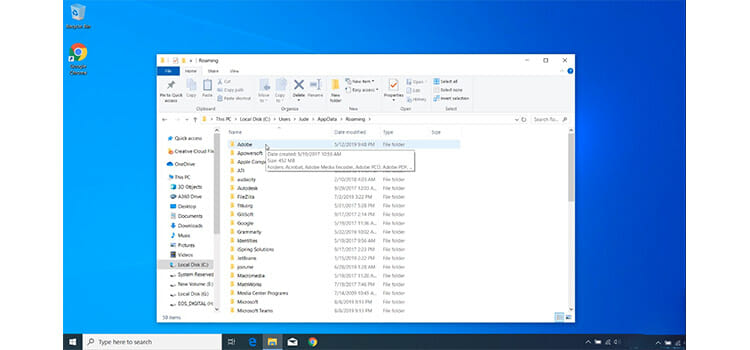 Depending on the media-editing application you use, you have to take the next step. For instance, in this pc, the application is adobe packages premier pro-photoshop and after effect, so we will go to Adobe. Next, let's select "Common" and there is a folder called "Media Cache". There you can see all the temporary media files stored and we are going to select all of them and delete. Don't forget to further remove these deleted files from the recycling bin.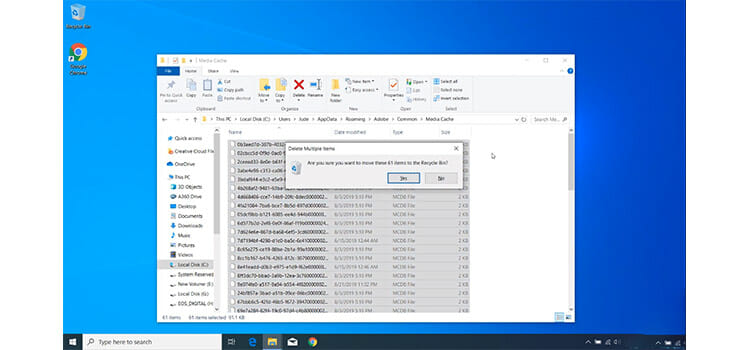 Clear Unnecessary Restore Points
You can automatically or manually delete the current restore point time-to-time and then select a new one if there is no issue with the computer. This is necessary because most of the current restore points keep gathering up data over a longer time and thus using up a good amount of disk space.
First, search restore point and open up the "Create a restore point" option from the search results.
After that, a window will pop up showing the by default restore point set on C drive where windows installed. Here, you have to keep the C drive selected and click on "Configure".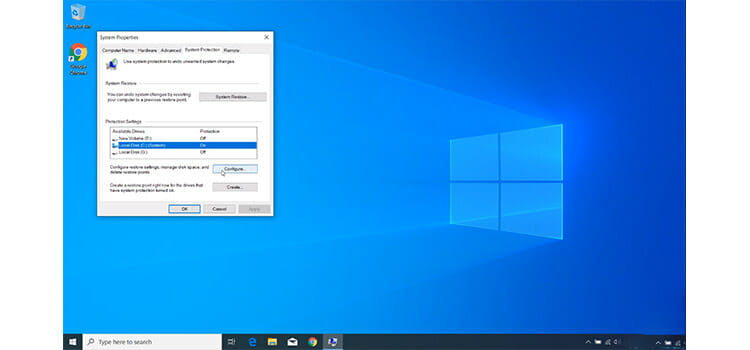 Then there you will see another window showing the occupied space. To create a new restore point, there click on "Delete", "Continue" and then close the window.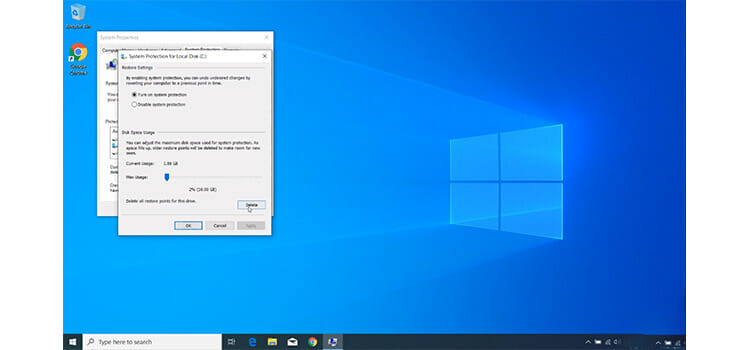 Now click on "Create" and name the new restore point. To keep track of how old the restore point is, you can save this using the creation date as the name. then wait a few seconds for the process to complete.
Remove Browsing Data and Cache
Well, this one is often overlooked but has a pretty good impact. Not only these free up the memory, but this also increases the speed of the browser.
To clear browser cache, you have to first open up the browser you use as default. In this case, we will show you how to clear Google Chrome data and cache and the process is pretty much the same for all other browsers. Now if you press "ctrl+H", this will reveal your browser history.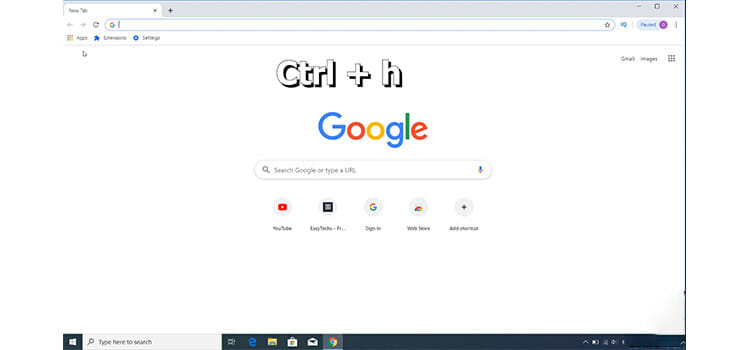 On the left panel, there will be an option saying "Clear browsing data" and select this one.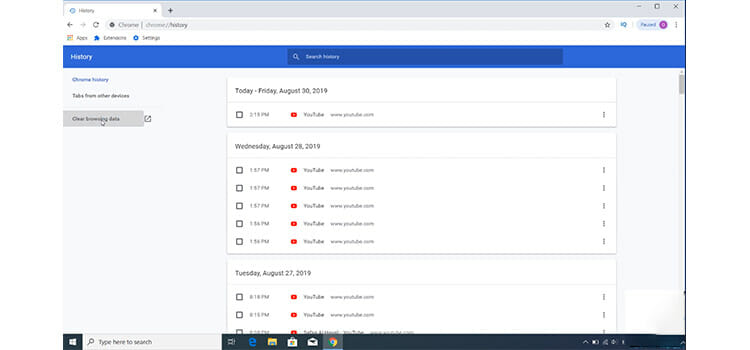 A dialog box will pop up and there go to the "Advanced" tab. There you will be shown a list of data that you have permission to delete. There on the top side drop-down menu, set it to "all-time". Now, select the things you want to clear and unselect the options you would like to keep. After you are done with the selection, hit on "Clear data".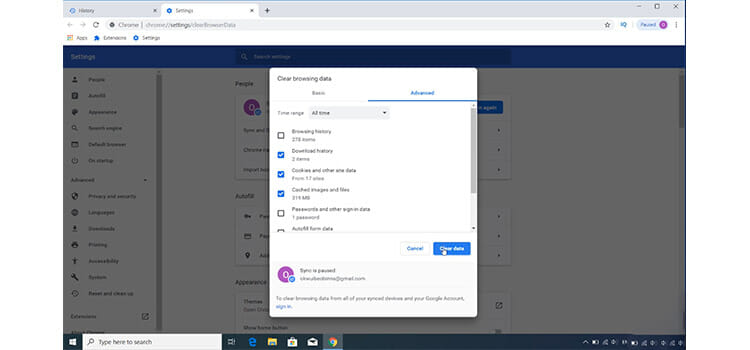 Clear DNS Cache
To do this, go to the Command Prompt and run it as an administrator following the process mentioned above. Then you have to type the command "ipconfig/flushDNS" on the administrator command prompt box and hit enter. This will flush the DNS and get rid of the cache inside there as well.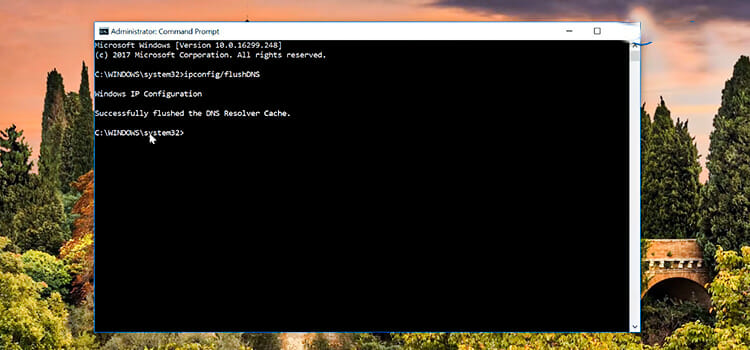 Clear File Explorer History
Files explorer keeps the history of folders you frequently use to help you out. If you don't need the file explorer history, you can clear this up. To do this first open up This PC and there tap on "View" at the top of the window.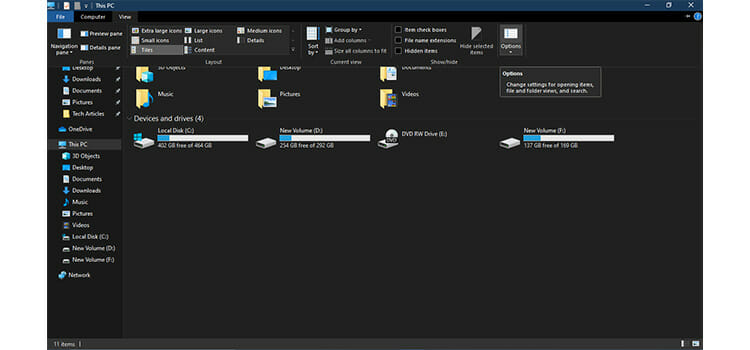 Next, select the "Options" located at the rightmost of the row of options that appeared. Now, under the General tab select "Clear" and then all the history of file explorer will be gone.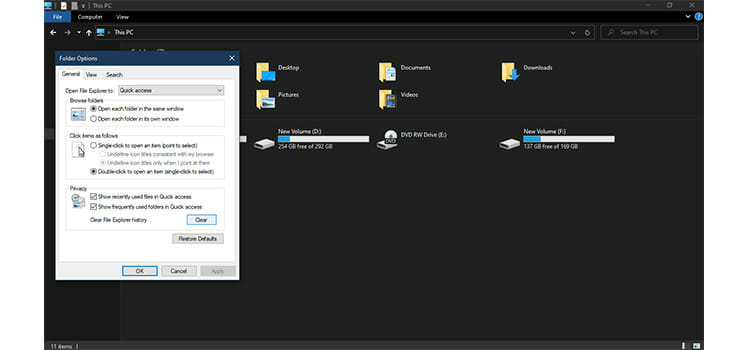 Clear Location Cache
To start up, find out the Location Privacy Settings from the Start menu. If you go there and scroll down, you will see an option under the Location History group that enables you to clean the history of locations. Just select "Clear" and get rid of the unnecessary location cache.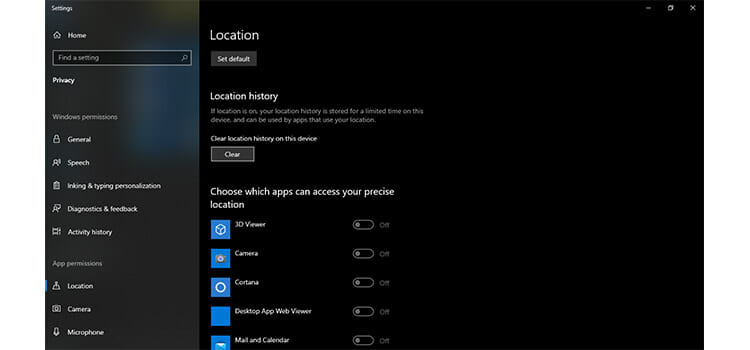 Automatically Remove Caches
There's a bunch of straight forward software available there for clearing cache automatically. These will save you time and complete the task for you. All you need is just a couple of mouse clicks and cleaning caches will be taken care of. Below we have mentioned two software that we anticipate might be helpful for you.
CCleaner
MiniTool Partition Wizard
Wrap Up
Windows caches are kept to upgrade the system performance but on the other hand, it is often profligate and superfluous. In this article, we have discussed so far how to clear the cache in Windows 10.
Here we have mentioned some common types of caches stored on windows 10 and their compendious clearing procedure. So, don't hesitate to remove these cached files and tidy up some disk space of your computer for better performance.