If you are a Mac user, you probably don't feel the necessity of cloning the HDD(Hard Drives) to an SSD(Solid-State Drive) because you don't have an HDD in your computer. But if you are not a Mac user rather a windows user then if you feel that your PC takes a long time to boot up, then you have an HDD installed on your PC. Generally. Most of the computer has HDD in them. Solid-State Drives are much faster than Hard Drives. If your operating system is installed in SSD then your PC will boot up quickly. The software that is installed in the SSD starts quickly too. The read and write speed on an SSD is quite faster too. But they are quite costly too. But if you have an SSD or if you think of migrating to SSD from HDD and want to know how to clone HDD to SSD, I recommend you to go through this whole article.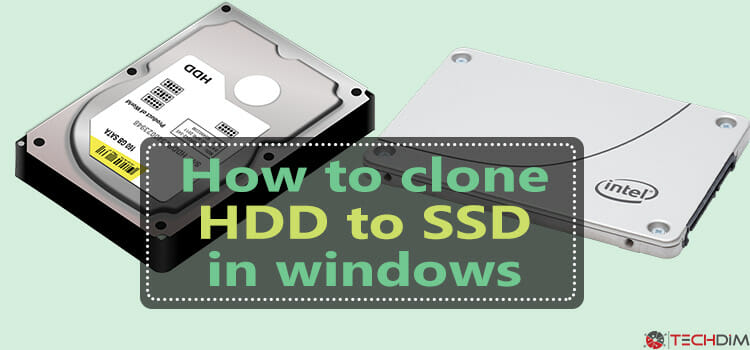 Things That You Need While Cloning HDD to SSD
Here are the things that you will need when you are going to clone HDD to SSD.
An SSD: At first, you need an SSD. Though the SSD is much faster than the best HDD, it is costly than the best HDD too. So, you should take a good look at the storage size depending on the data you have on the HDD.
A cloning Software: There is a lot of cloning software on the market which allows you to clone a storage device to another. Among them, we will use "AOMEI Backupper Standard" software. This software clones not only the existing data on the disk but also can clone deleted data by providing a "Sector By Sector" option. It is suitable for both the 32 bit or 64-bit windows version.
A USB to SATA Adapter: This adapter allows you to connect the SSD via USB port of your computer. But if you are a desktop user, you can skip this rather you can install the SSD as an internal drive(Secondary). It works much faster than using the USB-to-SATA adapter.
A screwdriver: Finally, the only thing you need is a screwdriver. Pick one then works with your computer. A standard Phillips-head screwdriver will do.
How to Clone HDD to SSD
Here the necessary steps are provided that you can follow to clone your HDD without any issues. Follow them and clone HDD to SSD with ease.
1. Checking the Storage Device's Drive Format
If you are going to use a hand-me-down SSD, then you should check the drive format of the Hard drive and the Solid-State Drive. Hand-me-down means a second-hand SSD that has been formatted. But if you have a brand new SSD then, you don't need to check this.
There are two types of drive formats for storage devices. They are MBR(Master Boot Record) and GPT(GUID Partition Table). If you have gone through windows XP or 7 and Windows 8 or 10 installation, then you have probably faced some problems with the drive format. MBR was used in Windows 7 and earlier where GPT started to be used in windows 8 and 10. But in windows 8 and 10, both MBR and GPT drive formats work.
In order to use a pre-used SSD, you have to make sure that the SSD and the HDD are of same formats.
To know the drive format of your Hard Drives, follow the steps:
Run the "command prompt" app from the Start menu or press windows key and the holding the key, press R on the keyboard. In the text field, type cmd and press enter. This will take you to the to command prompt app.

In the command prompt, type "diskpart" and press enter. A new command prompt window will open.
In the Disk Prompt, type "list disk" and press enter. It will show you the list of drives that are installed on the system. If there is a '*' sign in the GPT field, then the drive format is GPT. If there is no '*' sign, the drive format is MBR.Above picture shows that there is currently one drive is installed on my system. And the drive format is GPT.
Now, you have to ensure that SSD has the GPT format too. To do that,
Connect the SSD via USB-SATA-Adapter. Go to command prompt app like before and type "diskmgmt" and press enter. A new disk management window will open. Select the SSD and right click on the mouse. Select "convert to GPT" if the drive format is MBR. Otherwise, you don't have to do anything. Read more – How to Convert MBR to GPT without Losing Your Data
If the target disk is a dynamic disk, you have to convert the dynamic disk to basic disk.
2. Backup Data
You should backup the data that are stored on the SSD. Though the data will be covered from the SSD after the cloning, there is a possibility to crash the data. So, we recommend you to backup the important data to an external storage device.
3. Start Cloning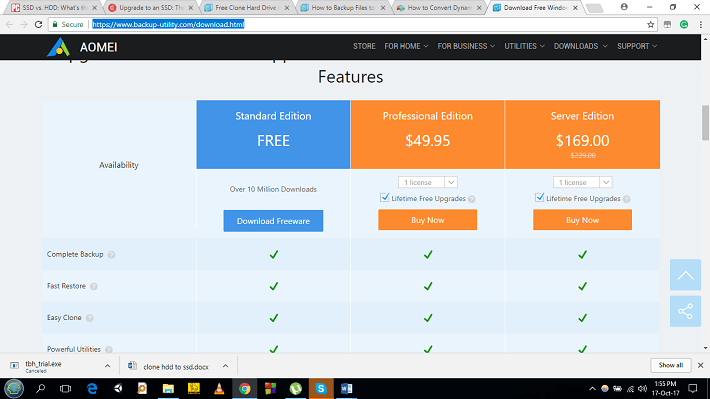 Step-1. Download the AMOEI Backupper Standard software from here(link- https://www.backup-utility.com/download.html). You will find standard, professional and server addition there. We suggest you get the standard version for this task. After finishing the download, install it as any other software.
Step-2. Open the AMOEI Backupper and from the left sidebar, click Clone and then choose Disk Clone.
Step-3. Now select the select the drive that you want to clone(Source Drive). Here, the source drive is Disk0. Now click next and continue.
Step-4. In this window, select the target drive. It can be an SSD or an HDD. But here, it is an SSD. Now click Next.
Step-5. In this window, you will find two options on the right lower side of the. Select "Start Clone". In the left side of this window, you will find three options. Before start cloning, do the following things:
To resize partitions for using full capacity, select edit the partitions on the destination You should do this when you are cloning a small hard drive to a relatively larger hard drive.
To clone all the HDD (Used space and not used space), select "Sector by Sector Clone". It takes longer time. If you clone by selecting this, you will not be allowed to resize partitions on the destination disk. But you can resize partitions after HDD cloning is completed.
If you are cloning a larger HDD like having the storage of like 500GB to a relatively smaller SSD having the storage of like 250GB, don't select "Sector by Sector Clone". You can do this if and only if the storage of the source HDD is equal or larger than the destination SDD.
But we recommend you to select "Align partition to optimize for SSD" because it improves the performance if the destination disk is an SSD.

Step-6. When you see the progress bar is 100%, you can click finish. Your HDD cloning to SSD is just finished. You can exit the software now.
Physically Swap Your Current Drive
You have already done the major part. Now you just need to replace your Hard Drive(HDD) with the Solid-State Drive(SSD).
Turn Off the Computer as usual.
Whether you are a laptop user or a desktop user, just locate the hard drive of your computer. Remove all the screws so that you can uninstall the hard drive from your PC.
Most of the SSD comes with a Hard drive adapter so that the SSD fit in the computer easily. If you haven't the adapter, don't bother. Just install the SSD on your computer. The process is simple. Just do the reverse process of uninstalling the HDD.
Put your HDD in a safe place for backup. You can use the HDD as an additional storage via USB-SATA-Adapter.
After that, just put the screws as before. Then boot up your computer as you generally do.
Frequently Asked Questions
Does cloning a drive copy the OS Files? 
Yes, if you are cloning the entire HDD including the C drive then the OS files will be copied without any issue.
Can I clone HDD to SSD using USB?
Yes, you can clone HDD to SSD using USB. Connect your SSD to the USB port and start the cloning process easily.
Summing Up
It is quite simple to understand that SSD is a better option than HDD. It is sometimes annoying when the computer takes a lot of time to boot up or to open a software. Using SSD instead of HDD is the solution. Again, hard drive often crash because of having moving parts and being affected by the virus. Being a bit costly, you can move to SSD from HDD. But how to clone HDD to SSD? This article has already given the solution to it.