Have your Windows gone wrong after an update? Are you facing difficulty with your PC after installing some games or software? Isn't the Windows working properly after updating the drivers? And you want to go back to the previous state of your PC before you made those changes. Then this article should be beneficial for your assistance with a certain Windows troubleshooting tool called system restore. It is a useful process for reverting to the point when no change was made; thus eliminating the causes which were responsible for the disturbance of the Windows. We are going to learn how we can use system restore step by step. The process is almost the same for Windows 7, 8, and 10.
What is System Restore?
The process of system restore allows Windows to create a system point that indicates the previous state of the Windows before the changes were made. System restore does not make Windows go back all the way to the original state; or in other words, it does not undo all the changes that you made since installing the operating system. Rather, system restore enables Windows to go back to a certain point or state of the system.
You may update Windows or drivers on a regular basis; also you must have installed applications/ software for various uses; updating system drivers is also a common routine for you as well as most other users too. When you perform these activities on your Windows, sometimes it may land on some error or some issues can be aroused. You must have tried to fix the issue by uninstalling and deleting the update; this simple method might not fix the issue from the root level. System restore is an excellent tool by which your Windows should be able to go back to the previous state before the updates were done.
Remember that the system restore won't work like backups. It will only bring back the software or system files that were missing after a certain update; it won't restore any hard drive files. Another thing, you may have to uninstall some applications manually even after doing a system restore if you don't feel the necessity of them. System restore won't fix the virus and malware issues; you have to deal with these things in a separate manner.
How to Configure a System Restore?
System restore is by default turned on for the system drive which is the drive(c). However many users report system restore to be turned off for all the drives. If the latter is found on your device you will have to configure the system restore manually. You can also turn on/off system restore for any particular drive (c/d/e). The whole process is provided below for Windows 10 although one can follow these steps for other versions of Windows too; there isn't much difference.
1. Go to the Windows search bar below-left to the screen and search for 'restore'. You will find 'Create a restore point (from Control Panel)' after writing a few letters; click on it.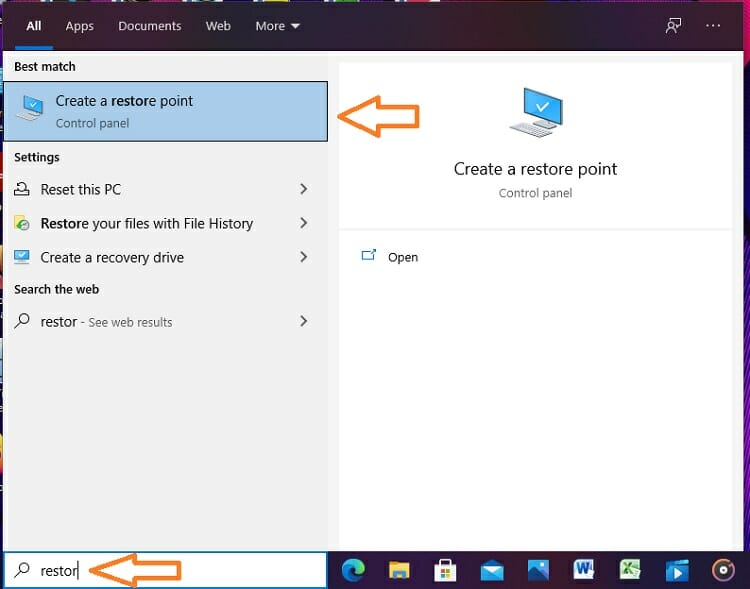 2. You will be redirected to the 'System Protection' tab under 'System Properties' automatically. There you can see all the drives available and their status on or off in terms of the protection.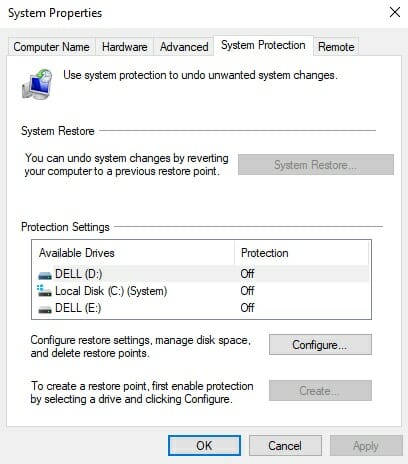 3. You can configure system restore for any of the drives. Let's start with drive(c); click on drive C and then hit configure.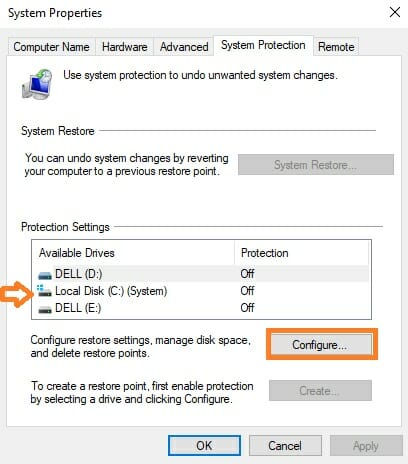 4. Under a new box you will find a turn on/disable system protection; hit the former one. You can also see a slider that is used for determining how much disk space you will allow for system restore. You can adjust to the memory amount required. Next, click on 'Apply' and then 'OK'.
There is an extra thing in this section; you can delete older restore points so that enough space is created for a new restore point. For the first one or two times, you don't need to worry about it.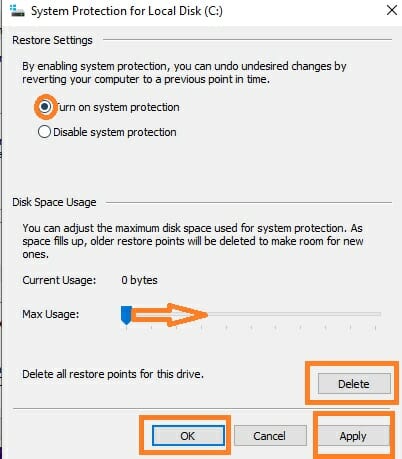 This is the process for configuring system restore. If you want to enable system restore for the drive (d) or (e), follow the same process.
How to Create a System Point?
The next step is creating a system point before the actual restore. Follow the steps one by one-
1. We continue with the drive (c); click on it and then hit 'Create'.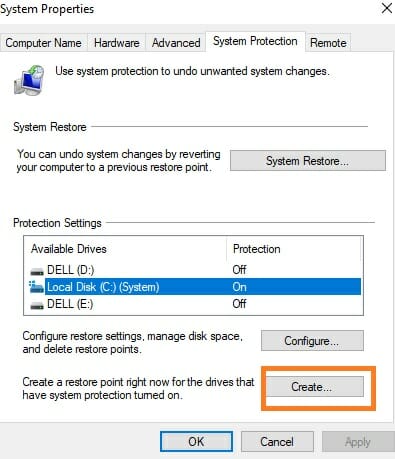 2. Name the restore point whatever you like. The naming is done for you to remember the restoration later. Next, click on 'Create'.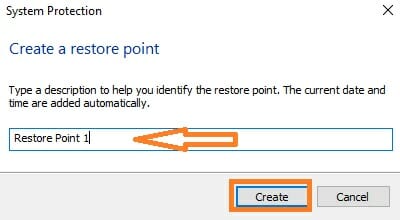 3. It will take a few seconds to create a restore point. Don't worry even if it takes one or two minutes. After successful creation, you will see a box popping up; click on 'Close'. The creation of a restore point is done.

How to do a System Restore?
The following process is the main steps for carrying out a system restore-
1. Go back to the original system protection tab. As we are showing for disk (c), click on it and then hit 'System Restore'.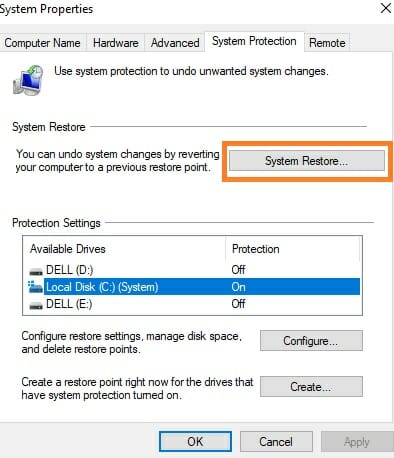 2. A box will pop up showing a basic introduction of system restore; click 'Next'.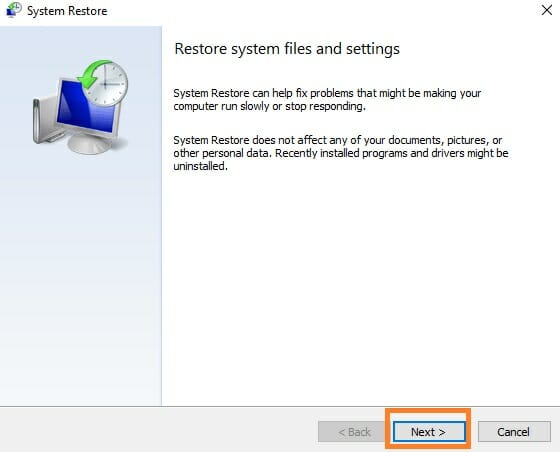 3. You will be able to find your previously created system point here; click on it. Then you might want to see which programs will be affected in the process; for that hit on Scan for affected programs. If you don't care, then simply hit on 'Next' button.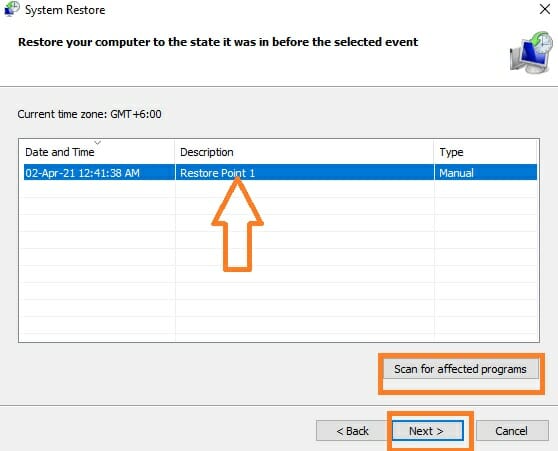 Let's also see what is there on the list of the affected programs. There are two sections here; one section contains a list of programs that will be deleted after the restoration; another section contains another list of programs that will be reinstalled during the process. So, you should always backup your important files and programs. Close the box when you are satisfied with the matter that the installation/deletion of the given programs won't affect you badly.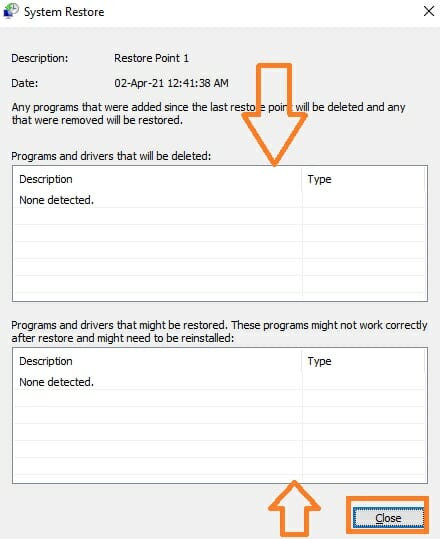 4. After you click on the 'Next button of the previous step, you will be directed to the final step. Here, the Windows is demanding final confirmation; click on 'Finish'. Then your PC will be restarted while the system restoration process is going on. It will take 15 to 30 minutes to complete the system restore.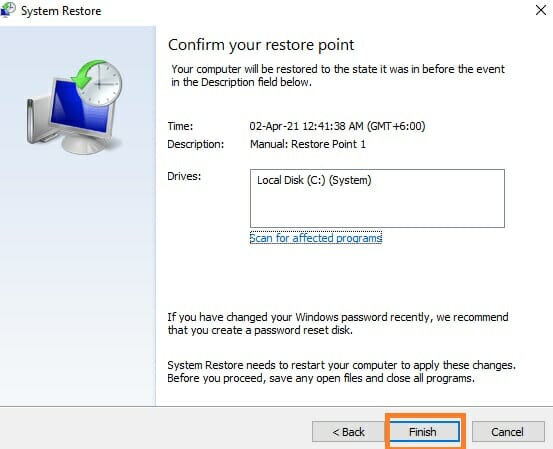 Conclusion
Windows tends to do a system restore automatically once a week especially after a major change in the system. Also, Windows takes update automatically which is good in some cases, but you may sometimes don't want it. But if you want to do it manually after may be facing some errors on Windows system, then just follow the method mentioned in this article. Another important thing, system restore is a tool that can be used not only for Windows but also for android, mac, PlayStation, or other devices.