Apple's Photos application for iPhone has a little-known functionality that helps you to generate a PDF document from a collection of photographs quickly and comfortably. The files on your iPhone are most definitely in a number of file types (such as HEIC, JPEG, PNG, and so on). The majority of these file types are compliant with all major platforms. For paperwork documentation, classwork, or other special uses, you will need to save photos/images to PDF just like you do on your computer. The Portable Text Format, or PDF, is a widely used file format for presenting documentation that is independent of applications, computers, and operating systems. In this article, you will get the A to Z instruction to save images as PDF on iPhone.
As a result, PDF is ideal for exchanging some kind of paper with the confidence that it would be rendered exactly as expected for the user. You'll learn two ways to convert your images to PDF documents on your iPhone in this step-by-step guide.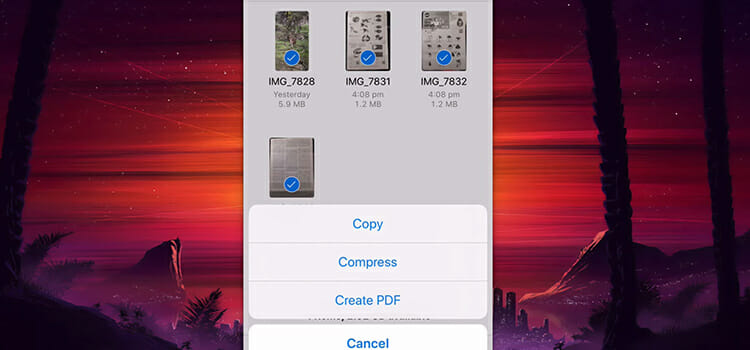 USE THE PHOTOS APP TO Save Images as PDF on iPhone
Several options to save images as PDF on iPhone are available in the Photos program on your iPhone or iPad. Here you will get the step-by-step procedures to save images as PDF on iPhone. So let's get started. You can easily restore your iPhone from iCloud by following some easy methods.
By using the Files app on your iPhone, save images as PDF on iPhone
Converting pictures to PDF on the Files app is even more simple than on the Photos app so you don't have to deal with any Share Sheets. Furthermore, the converted images would be saved in the same place as the originals, adding to the ease. To organize digital photos on the computer in an efficient manner, follow this link.
The only issue is that the Files software may not provide links to your image archive. This method is better for saving downloaded photos, screenshots, and scanned documents directly into the Files program.
You can easily save images as PDF on iPhone from Files. The picture, however, must be stored under Files. So, if you already have photos in this folder, proceed to the next stage. You will see how to enable these third-party cloud providers within Files whether they are in Drive, Dropbox, One Drive, and so. Follow this article to know about the top five free pdf readers that you can use.
Alternatively, to transfer photos from Photos to Files, follow these steps: Within Photos, select the ones you want to use. After picking images, press the Share button, and a Save to Files option will appear in the share sheet, allowing you to add photos to the file app.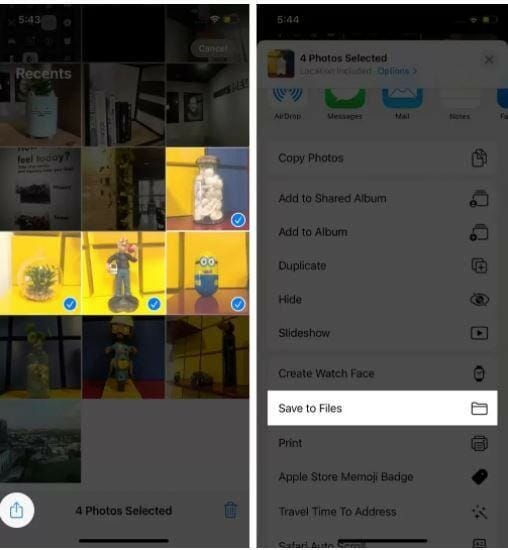 Now that that's out of the way, here's how to make a PDF from photos on your iPhone.
At first, go to the Files folder and locate the image in the Files folder.
To create a PDF from a single image, you have to hold down the image for a long and select Create PDF. You can easily split pdfs into multiple files too.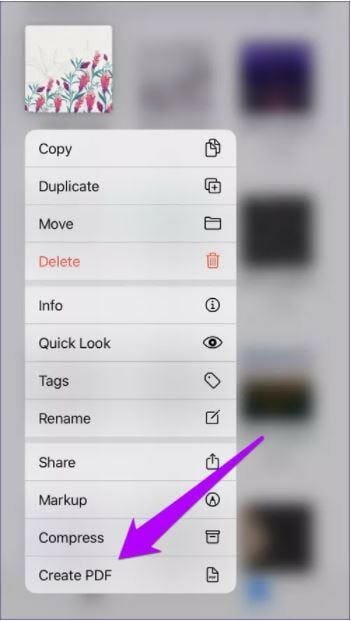 The converted PDF file will be saved in the same folder as the original. After that, you can preview it, submit it to another app, or upload it.
When you translate several images to PDF, the Files software organizes them alphabetically or numerically. You will rename the files in the order you wish them to appear before converting them, unlike the Photos app. That's very cool.
At first, you have to rename the images so that they show in the translated PDF file in the correct sequence. To rename a file, hold it down for a few seconds and then tap Rename. To apply the new file name, tap Done.
Once you've finished renaming the files, switch to collection mode and choose the photos you want to convert. Then, at the bottom of the page, press the three-dot button.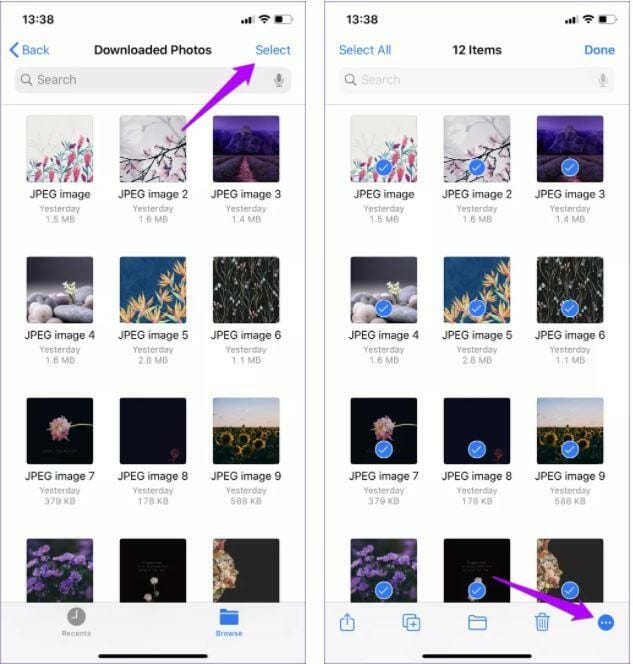 Tap Create PDF from the menu that appears. The transformed PDF file can then be found in the same place. It's possible to preview it, transfer it to a new location, or swap it with other apps and connections.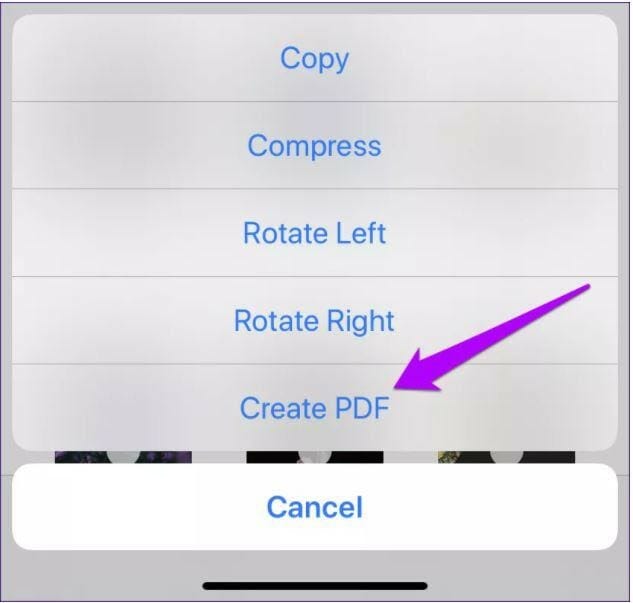 The Photos app does not enable you to export multiple photographs to PDF in a specific order. Simply copy them to the Files app, rename them as required, and convert them.
Using Printer Options to transform a photo to a PDF on the iPhone
This approach does not necessitate the printing of a photo. Instead, inside the Print Options screen, make a pinch-out motion. Surprisingly, this operation would translate the image to PDF format, which you can then share, copy, or save to local storage and even post the pdf on Facebook.
At first, go to the Photos app, and then open the album in which you have the photo that you want to convert. Click the thumbnail for a long time now and hit Share on the background menu.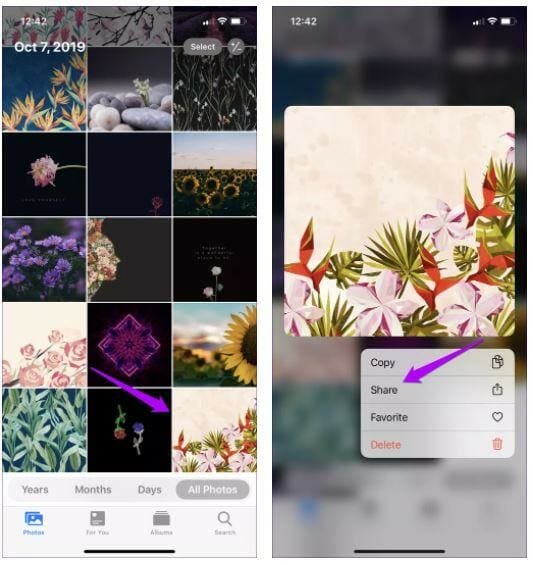 Enable selection mode(by tapping at the upper-right corner of the screen to Select) if you wish to view different images. Then choose the objects you want to convert before tapping the Share button.
On the Share Sheet, tap Print. Perform a Pinch Out (or Zoom In) motion on the Printer Options screen that appears next. The image will be translated to PDF format right away. If you picked several photographs, they were all compiled (and combined) automatically.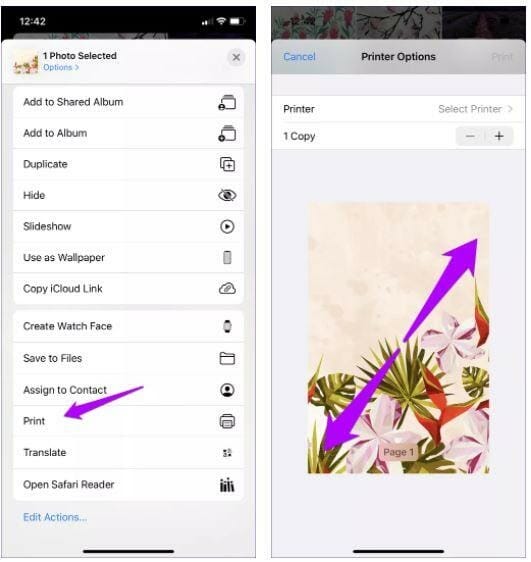 Select the Share option. After that, you can exchange the PDF or store it locally (tap Save to Files).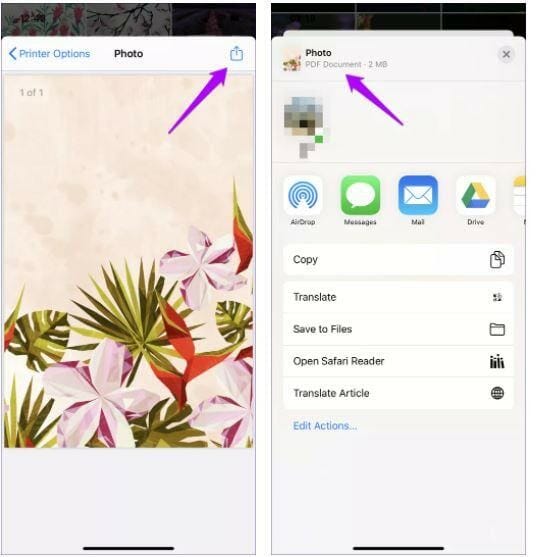 That was pretty straightforward, wasn't it? The next process, on the other hand, is much simpler.
Open Books to convert an image into a PDF
Another simple way to transform images into PDF format is to share them with the Books app. If you have iCloud syncing enabled for the Books app, this method automatically saves converted data, which you can use on other iOS devices.
To convert a picture, open the Photos app and long-press the image you want to convert. Pick Share from the coming menu.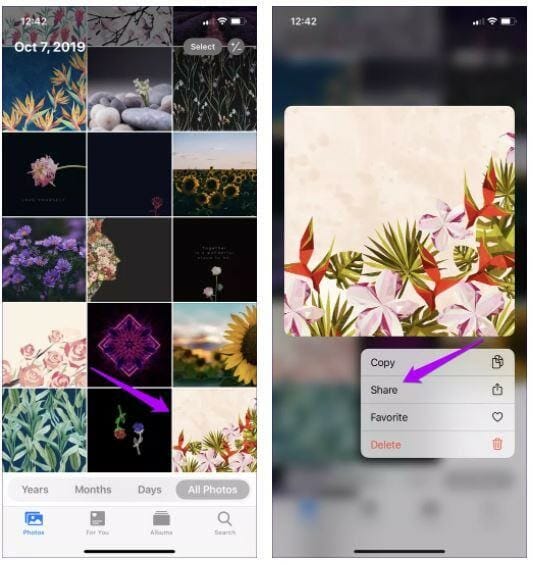 If you want to transfer several objects at once, go into selection mode, choose the images you want to convert, and then tap the Share button.
Tap Books in the upper row of the Share Sheet. The picture or photos will be automatically translated to PDF, and the PDF file will appear in the Books app's Library folder.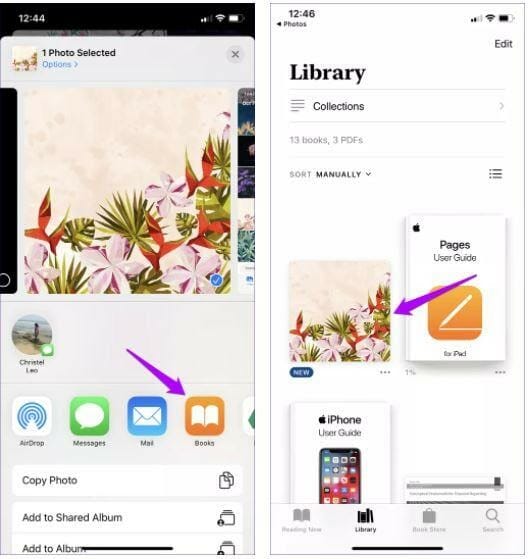 If the Books choice isn't visible, swipe to the right of the Share Sheet and tap Further to include it.
You will then choose from a variety of options. You will access, rename, annotate, and mark up the PDF, as well as share it with other applications and contacts.
On the iPhone, the ability to convert photos — especially scanned documents — to PDF format is fantastic. The approaches mentioned above are obviously inconvenient at times. However, they defeat the intent of trying to download third-party ad-filled software from the App Store. Apple deserves a lot of credit.
Converting Images to PDF using Third-Party App
You may also use applications from third parties such as PDF Expert.
Using PDF Expert if you want to convert the image into a PDF. You can transform any file into a PDF document on your iPhone. If you didn't yet do so.
How to make an image into a PDF: This is the following
At first, download the app and launch it.
To connect the converting file, tap the blue plus sign at the right. The Photos and Files application, your device, or cloud storage allows you to imported an image.
Click here… Further information on the file.
To convert to PDF, choose Convert.
This is it! This is it! You're ready for your file.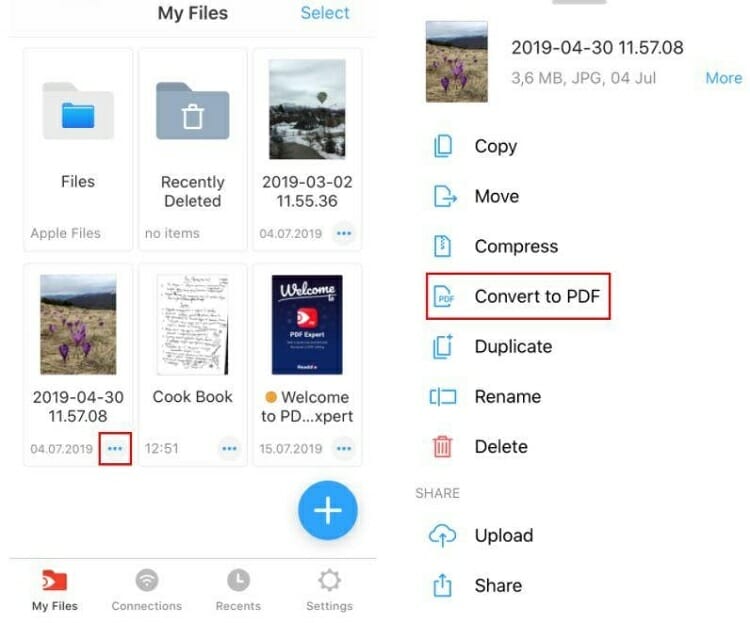 Converting photos in iPhone to Editable PDF
The two methods listed above will enable you to translate images into a PDF file on your iPhone but don't let you pick, copy or modify the text in a PDF file. This job needs a skilled PDF writer. Using an iPhone text scanner application, you should link to this guide for converting images to PDF on an iPhone iPad. It not only scans the paper PDF on your iPhone directly, but it also creates a PDF file from your camera roll or document library's current photos.
Conclusion
There are many benefits of using PDF, which is obvious. It works for any operating environment, electronics, or software. As a result, many iPhone users tend to save their photos in PDF format. Sending photographs as a PDF ensures that the user receives the images in their original format. Fortunately, there are a few ways to store a picture as a PDF document. However, for the purposes of this post, we have looked at some simple approaches for saving images to PDF. You can also easily merge pdf files and encrypt and decrypt them and reduce the file size easily on different platforms.