Any attempt to send a file that is bigger than the limit allowed will result in an error notice. This size restriction can be circumvented in several ways, through the use of file-sharing services or the compression of large files.
If you email a large file, you will be restricted by Outlook's file size restrictions. Having this limit stops your laptop from repeatedly attempting to upload extremely big attachments that surpass the upload limitations of the majority of Internet services (ISPs). The default combination maximum file size of Web email accounts, including Outlook.com, is 20 MB (MB), whereas the default cumulative maximum file size for Enterprise accounts (professional email) is 10 megabytes (MB)
What Is the Outlook File Size Limit
As a result of mail server limits, all editions of Outlook including Office 365 are limited to a maximum attachment limit of 20 to 25 MB by default (MB). 
This restriction makes it tough to be productive notably in the work, where you will need to employ a specialized file transfer service to distribute large data files to your colleagues. You may need to contact your IT department for assistance. 
If you decide to try to deal with this problem on your own, the internet has a plethora of alternative answers, including the following: 
Uploading files to OneDrive and sending the link to other people 
Your computer's registry is being modified to boost the upload maximum size. 
Before transmitting files, it is necessary to compress them. 
Sending many emails after dividing up a large file into smaller pieces
Whereas the options listed above will assist you in solving your issue, they are difficult and demand a significant amount of time simply to deliver one file! Ideally, you should be capable of transferring huge files straight from inside Outlook with little difficulty. The files you send and receive really should be protected in some way.
How to Send Large Files Through Outlook
TitanFile's Private Send add-in allows you to effortlessly circumvent the data size limitation and send massive files in all editions of Outlook as well as Office 365, including the most recent ones. 
Beyond the ability to attach huge files inside Outlook, the TitanFile also provides email encryption to assure that no cyber attackers or organizations have access to information.
Step 1: First, you have to sign up in TitanFile. You have to go for a free trial. You don't have a credit card for this.
Step 2: Install the Secure Send add-in by downloading it from this link and following the installation guide. After you've installed the add-in, you'll notice two new options on the menu bar of Outlook. One is "Attach Large File" and the other is "Secure Send," which are depicted in the figure below.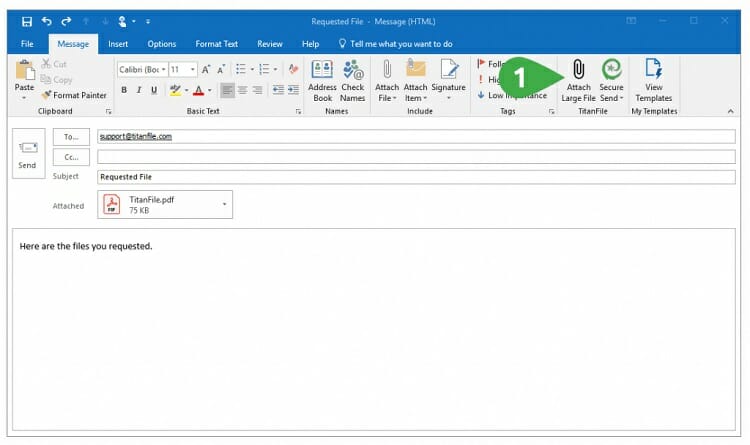 Step 3: Fill the page with a contact, headline, and text as you usually do.
Step 4: If you want to add a file that is bigger than 25MB, hit the "Attach Large File" option to complete the uploading process. TitanFile's lightning-fast upload speed allows you to upload terabytes of data in minutes, so there is no need for waiting long. (if your internet connection is fast enough)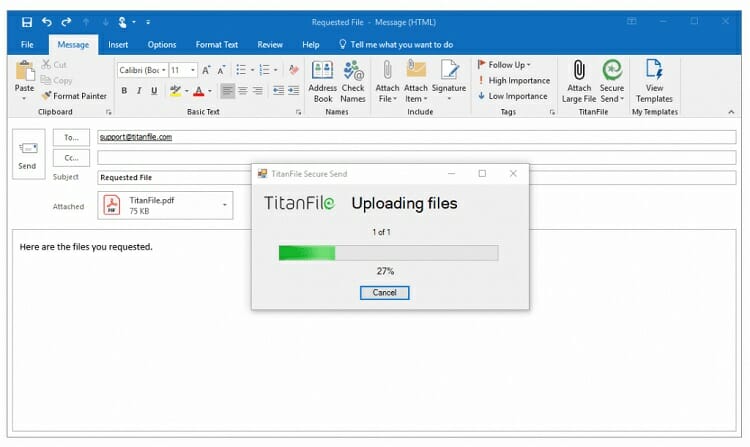 Step 5: Now, click on the "secure send" button for sending the recipient a protected Outlook email.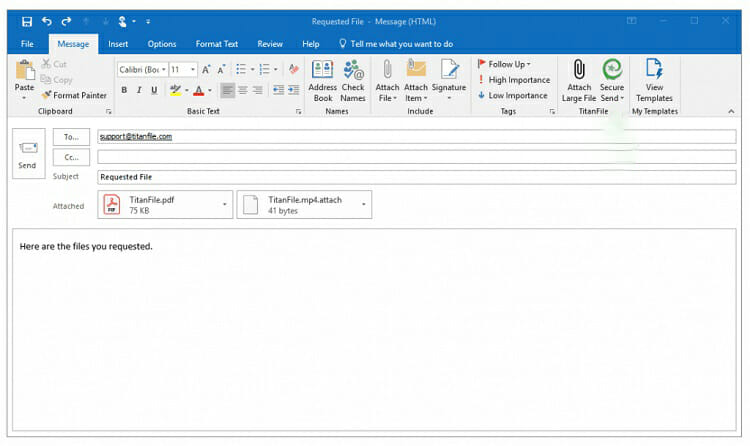 Your receiver would then get an email with a link that will allow them to safely view the files.
Straight from Outlook, you also can safely transfer huge files to all of your friends in a secure manner. There is no longer any need to rely on any of the massive file-sharing techniques.
How to Attach any File to Your Email in Outlook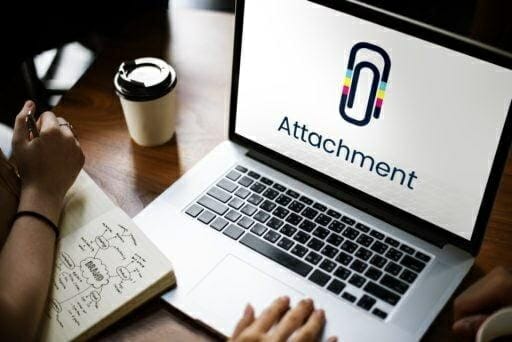 To add a file to such an email, you must first perform the following steps:
Step 1: First, you have to write a message.
Step 2: To begin, make sure the Insert tab is selected. The peak of the program window should be visible if it isn't already. As an alternative, you can hit the keys Alt + N to bring up the Insert window instead.
Step 3: Select the file you need to attach by clicking on Attach File then navigating to it. Simply files one by one from the list which displays, or navigate to the location of the file on your computer. You can add many files at the same time by holding down the Ctrl key and clicking on all of the files you wish to attach for identifying them.
Step 4: Finally, click on the Open or Insert option.
The drag & drop method is the quickest and most convenient method of attaching a file. 
If your document is not kept on your laptop, but rather on a file transfer server, sending it through Outlook will not be an issue. Be aware that Outlook may inject a file link to download into your message, and therefore that it will not be a genuine file attachment.
To upload a file by a file-sharing server, follow these instructions:
Then select Browse Web Locations to locate the service you're looking for. 
Select the files to be shared and press the Insert button. That is all there is to it.
There are many other email service suppliers around the world, each with the greatest text limit set ranging from 20 Megabits to 25 MBs. Microsoft Outlook stops working the user's optimum text fixed size at 20 MBs, which is very straightforward. However, if your mailbox allows texts up to 25 MB as well as the file is typically greater than the default 20 Megabit maximum, you will have the option to increase the optimum document size in Outlook to around 25 MB.
How to Increase Attachment Size Limit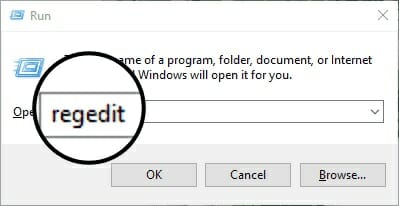 First, you have to press the Window key +R on your keyboard.
Then, once you open the Run window, you have to type "Regedit" in the dialog box and then, hit Ok or press Enter.
You have gained access to the central hub of your computer and now need to modify some small adjustments.
Now, you have to copy the following address in the registry editor.
[Computer\HKEY_CURRENT_USER\Software\Microsoft\Office\16.0\Outlook\Preferences]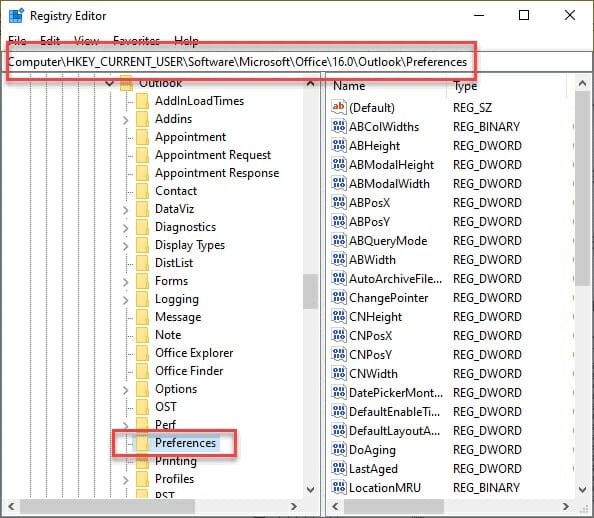 Now, you have to locate the MaximumAttachmentSize value File and then, you have to double click on it.
MaximumAttachmentSize is not always available in the location where it should be. Follow these procedures to add the folder on your computer:
Select Edit from the registry editor's drop-down menu. 
Enter the following information: New and then DWORD Value, and after that, File added [name the file MaximumAttachmentSize], and finally press on the Enter button. 
Double-click on the Maximum Attachment Size value File.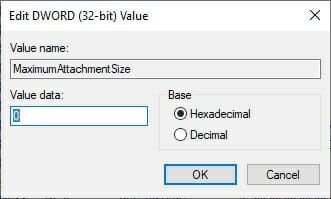 This Value data allows you to upload a file of any size; when you keep it empty or 0, you will effectively deactivate the document limitations in Microsoft Outlook software. 
In the lack of the MaximumAttachmentSize setting, the preset size for Microsoft Outlook remains 20 MB per file. It is necessary to provide your chosen attaching size limit in KB after the MaximumAttachmentSize parameter.
For example, if you want to fix the fixed size to 25 MB, you must enter the number 25600 in the text box and then select the decimals option. 
Conclusion
Many email services offer cloud storage to their customers, which enables you to attach documents larger than the network supplier's limit and have the file instantly uploaded to the cloud. If you are utilizing Outlook.com, this enables you to effortlessly upload files and documents and share a link to a file via email, which is one of the most useful features of the program. 
If the length of the emails you are attempting to send is not supported by either the receiver or the web server, your email will not be delivered.