Have you ever felt that it would be awesome if your computer has more than one monitor so that the visual effects of your PC can blow your mind? If you are a gamer or a developer then you have already felt the necessity of having an additional monitor on your PC. But the question is how to setup dual monitor on your PC. By the end of this article, you will face no problem with setting up a dual monitor on your PC.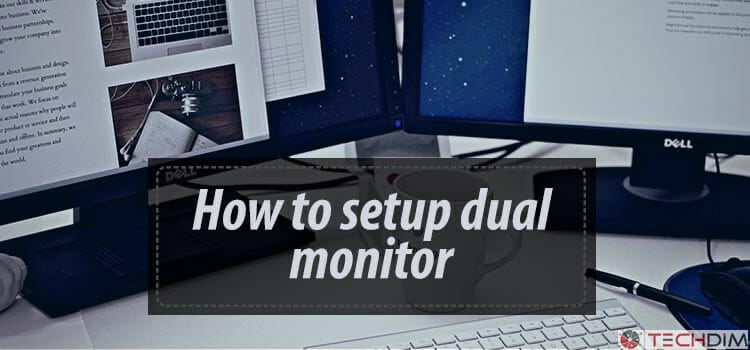 Why Use Dual Monitor?
You may be a gamer or a developer or a general PC user. It is obviously helpful to have an additional display on your PC. Suppose you are a developer, then it will be easy to switch on to different options during developing. Or you are a gamer. Then there is no need to tell the necessity of having a dual monitor because every gamer wants a bigger display for a better visual experience. Actually, most of the users want additional displays not only for getting better visual experience but also for the convenient use of the different software.
Check Necessary Things Before Installing Additional Monitors
Before adding the additional monitor, you should check for your graphics driver, monitors, connectors etc.
Graphics Driver
Your computer may have different graphics cards like Nvidia, AMD or Intel. If you have already used your graphics card through your PC and you are just going to add an additional display, then you probably might have installed drivers for your graphics. But if you are not sure of that then check for your graphics card's driver. You can do this in many ways. But I suggest you go to your graphics card's manufacturer website and look for your driver and install it. If you have already installed the driver, then it will not be necessary.
If you are a windows user, then you probably don't need to do this manually. Just check your driver update. If you have not installed your graphics driver, it will find it for you. Then install it and restart your PC. You will feel the difference between the past and the present visual effects.
You will not face a problem with adding an external display. But if you want more than one additional displays, then it is a matter of concern because of the limitations of the graphics drivers. Nvidia, AMD or Intel don't support the same amount of displays. For example, some graphics card support up to four additional displays. Again, you may be a laptop user. Then, you cannot add more than two additional displays because of the drivers' limitations.
To check for your driver's support on installing additional displays on your PC or laptop, go to your graphics card's or laptops manufacturer's website. You will find all the information there. But generally, you will not face any problem with installing an additional display on your PC. The limitation of the driver will be concerned when you try to install more than one additional displays.
Monitors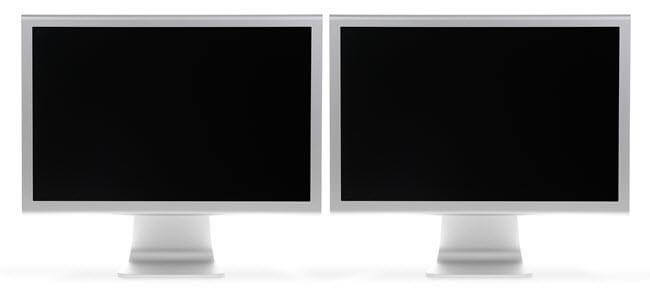 Check for the resolution.
To connect two monitors to your PC, first, you have to get two monitors! But the question arises that do the monitors have to be same? The answer is, no. They do not need to be same. You may have fully two different monitors. But obviously, two monitors having the same configuration will give you the best viewing experience. The problem with running two different monitors is the resolution. At the time of moving programs to a monitor from another monitor, it will automatically resize the window according to its resolution. So, if you are going to use two different monitors, just make sure that both of them support same resolution.
check the connections on the back of the monitors.
It is not necessary to have multiple inputs on your monitors. But it is necessary to have two different inputs for the monitors. Suppose, one monitor has DVI input, then the other monitor needs to have either HDMI or DisplayPort, or VGA input. But if your graphics card has two same outputs, or you may have two graphics cards installed on your PC, then your monitors don't need to have two different inputs.
Generally, most of the monitors have multiple outputs for a different connection. Nowadays, monitors generally come with three connections. They are HDMI, DVI, DisplayPort.

But cheap monitors generally have fewer connections. But it is not a problem if your monitor has the input connection compatible with the output connection of the graphics card.
Suppose, a gaming graphics card has dual DVI-D, one HDMI, and one DisplayPort. Using this graphics card, up to four monitors can be connected to one PC. So, it is easy to understand that graphics card's output determines what types of connections you need on your monitors.
Cable to Connect
Now, you know that you need different connectors for different inputs of the monitors and outputs of the graphics card. There are different connectors like DVI, HDMI or DisplayPort connectors for one monitor. You will connectors on the basis of connection of the monitors and the graphics card.
How to Setup Dual Monitor
Switch Between Display Modes
In Windows 7 or later, you will find four display modes available. You can access this by pressing Windows + P. Then you will find four options in a sidebar. They are:
PC screen only: This will use only the primary monitor.
Duplicate: This option allows the secondary monitor to show duplicate desktop.
Extend: Both the monitors are combined to act as an extended desktop.
Screen Second Only: This option will use only the secondary monitor.
Configuring Display Settings
In this section, I'm going to talk about configuring dual monitors settings in windows 10. Because windows 7 basically has fewer features available in Windows 10. So, if you not a Windows 10 user, you can skip the settings that are not available in your System. Otherwise, all the settings are same.
Now, connect the additional monitor to your PC.
Then, follow the instructions below:
Go to desktop and right click anywhere. From the options, click on Display Setting.
Now, click on Identify to show the numbers on corresponding display. Labeled as 1 is the primary and 2 is the secondary display.
Displays can be rearranged by clicking and dragging the numbers box.
You can make text and other content larger by using the scaling slider. Do it, if you feel the necessity of it.
In the orientation section, you will find four options. Between them, use landscape or portrait to change the display orientation if you want.
You can switch the display modes from the multiple displays option.
From this window, you can configure the windows night light feature by adjusting the screen temperature.
Hide the Taskbar on Displays
It is sometimes annoying to have all apps listed with their names on the duplicate taskbars. In Windows 10, you can make changes to them too.
To do that:
First, right-click on the taskbar.
Then, choose Settings.
Scroll down and find Multiple Displays.
Now, Turn off or toggle the show taskbar on all displays option.
There are also two further options. From these, you can define what to display on the taskbars. If you choose "all taskbar" from Show taskbar buttons on, all pinned and open app on both the taskbar will be shown.
Frequently Asked Question (FAQs)
How can I run dual monitors in single resolution?
Ans: Navigate to Display settings and find out the appropriate available resolution and set it on both the screen.
How can I save a dual monitor background?
Ans: Go to display settings and select the background you want to set wherever you want.
How can I move the desktop's icons to secondary monitor?
Ans: Just drag and drop the selected icons from the primary monitor's desktop to the secondary monitor.
How can I disable double screen?
Ans: Go to display or screen settings. From there, disable the second screen.
How can I change screen orientation for monitors?
Ans: Think every monitor as a separate monitor. Then, go to display settings like before and change the orientation of the displays which you want.
How much does it cost to setup dual monitor?
Ans: All you want is an extra monitor and probably and dual monitor graphics card. The cost will vary according to your choice. If you want a larger display then the cost will be extended.
How does keyboard work in a dual monitor setup?
Ans: Keyboard generally provides inputs to the application in focus. It doesn't depend on whether the program is on the primary or on the secondary monitor.
Summing Up
Dual monitor setup is generally preferable for gamers and software developers. But it is good for better visual experience and convenient use of many programs like photo editing or animation software. This article has already given the solution of the question on how to setup dual monitors on your PC. I hope, now you have enough knowledge on setting up the dual monitor in your PC.