While both optical storage and magnetic storage come under secondary memory of the computer system, there are some significant differences between the two, mainly based on the method they use to store files. Magnetic storage to some extent is invisible to most users as it is generally mounted inside the device. Most users are not expert enough to open up their laptop or CPU to view the glimpses of a hard drive, but it is part and parcel of the storage function. Although optical storage is more common in the eyes of general users, it is becoming obsolete in recent times with the advent of more advanced storage media. Whatever the case be, we will shed some light on the optical storage vs. magnetic storage conundrum both in terms of how they are made up and how they function.
What is Magnetic Storage?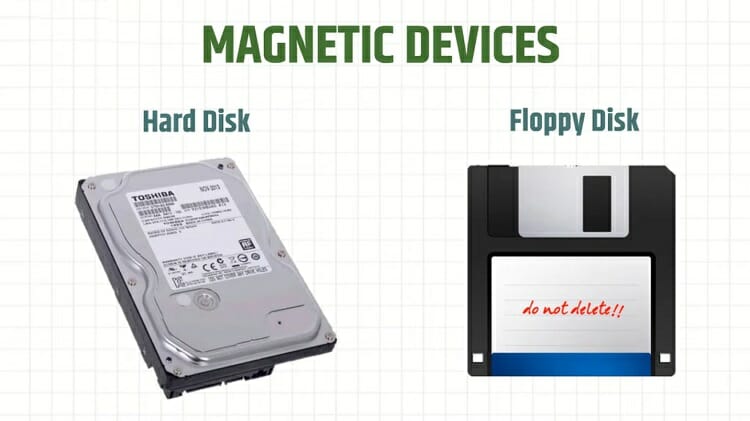 As the name suggests, magnetic storage is made up of a magnetic field and electromagnetic charge that is used to store files. Generally speaking, magnetic storage is one kind of secondary memory that is manufactured with the use of circular metal plates. The magnetic substance is coated on both sides of the plate. One thin circular sheet is put on above another sheet and thus creating a gramophone record look-a-like object.
When we talk about magnetic storage, we mean hard disks and at best floppy disks. Data are stored on the circles of the hard disk known as tracks. Each track is again subdivided by sectors. The storage capacity of each sector is 512 bytes. As we know, computers can only understand 1 and 0 as part of the binary number system; data and files are saved on the magnetic storage depending on whether or not any track is responding to the magnetic field.
A Floppy disk or diskette is made up of magnetic coating on the plastic material. Its storage capacity is very low and this is the reason why it has become obsolete and flash drives replace floppy disks.
What is Optical Storage?
Optical storage is a portable medium that uses the principle of light to store data. The optical storage is manufactured with plastic material and aluminum. A laser ray is impressed upon the body of the optical storage to create tiny holes that are known as pits.
CD, DVD, Blue Ray DVD are the most common types of optical storage. While CD ROM can store only up to 700 MB, the capacity of DVDs is much greater- from 4.7 GB to 17 GB. You would need CD and DVD drives mounted on the system to use these optical storage devices. The latest optical medium i.e. Blue Ray DVD has the largest storage capacity up to 100 GB.
10 Differences Between Magnetic Storage and Optical Storage
Differences between magnetic storage and optical storage can be drawn from many aspects, viewpoints, and perspectives. Before jumping on to the differences, we must know that both the storages share a common thing- both the storages are secondary memory. Thus, they are not as fast as primary memory as such RAM and ROM. On the other hand, being the secondary memory, magnetic and optical memories can store a huge amount of data. Knowing all the basic facts about the memory system, now, let's focus on the issue of magnetic storage vs. optical storage.
1. Method of Storage
Optical storage uses light to store data. On the other hand, magnetic storage uses electromagnetic fields to store data.
2. Smallest Division
The smallest division of magnetic disk is called 'sectors' and while the smallest division of optical disk is called 'pits'.
3. Data Changing Ability
Magnetic storage can be used to write, re-write and record data as many times as users wish. But you cannot re-write data on a CD-R (Compact Disk Recordable); you would need to use CD-RW to remove and re-write data multiple times.
4. Capacity
The storage capacity of the magnetic disk (hard drive) is much greater than the optical disk. Nowadays, you can find magnetic disks capable of storing data into terabytes (TB) that can be unimaginable with CDs and DVDs. Floppy disks are the exception in this case though.
5. Types
Types of magnetic storage are- hard drives, floppy disks, ZIP disks, etc. On the other hand, different types of optical storage are- CD, DVD, Blue Ray DVD, etc.
6. Speed
A magnetic disk spins much faster than an optical disk. Generally, the speed of typical hard drives is around 10000 RPM, DVD around 1500 RPM, and CD much lesser towards 500 RPM. That's why magnetic storage can retrieve and process data much faster than optical storage.
7. Need for Driver
You would need an additional driver (CD driver or DVD driver) for the operation of optical disks. As far as the magnetic storage is concerned, it is mounted on the system and you do not need the extra driver to use it.
8. Portability
Optical storage is portable, thin, and very easy to handle. You can carry an optical disk from one place to another, one computer to another, one person to another without much hassle. But you cannot do the same for magnetic storage as it is mounted inside the system.
9. Effect of Magnetic Field
Data stored on optical storage are not damaged by the magnetic field. On the other hand, data can be lost in the case of magnetic storage with the incursion of the magnetic field.
10. Replication Ability
While optical storage can be replicated many times, the same is not true for magnetic storage.
Conclusion
There are actually many more differences one can draw between optical storage and magnetic storage, we have compiled the 10 most obvious ones so that you can understand clearly the makeup and functioning of the two storage types. On one hand, magnetic storage is good for storing larger data volumes; on the other hand, optical storage works well from the point-view of portability. You would need both types of storage media for different reasons and needs.