Any applications downloaded from the Microsoft Store can continue to function in the background, such as data downloads and Live Tiles that can use features on Windows 10. But how do turn off apps that running in the Background?
Although these functions are fine in certain cases, applications that stay running in the background (even though you haven't launched them) will adversely impact the battery life, impair network capacity, and occupy device resources. Fortunately, if it is not necessary for you to maintain, Windows 10 has a built-in tool to disable apps from running in the background to do it. By using various methods, you can block a software program that is not permitted to use your internet.
Again, in the case of smartphones, for most smartphone applications the daily procedure involves background operation. This continuous operation makes them functional whenever you need them and even supports other applications. Often, the Android smartphone begins to slow down or drain the battery very fast, so you can find out what is going on with background applications.
One of the most annoying aspects of any Android phone is when the battery drains quicker than anticipated. Finding a battery and plugging in immediately after a complete charge overnight is often a depressing experience. If you're about to solve your battery problems, a simple suspect might be to blame. Here's what you need to do to master relevant applications.
These applications will drain your battery and valuable resources, but your issues may be caused by a variety of factors. Any application can be improperly optimized, contain malware, or merely contain a bug. What you need now is a little know-how, and you'll be living a charged life in no time.
We will demonstrate how to interrupt applications from operating in the background to aid in such troubleshooting. When you locate and fix the dilemma, you can still turn it back on. The following example employs Windows 10 as well as Android 10 and refers to previous models. We'll take you through the measures to keep applications from running in the background in this Windows 10 and smartphone tutorial.
Are you looking for some free juice? Let's get started on the issue we're trying to solve.
Turn off Apps Running in the Background in Windows 10
There are two ways of stopping apps from running in the background in Windows 10. They are
Using Privacy Settings
Using System
Turning off Apps Running in the Background by Privacy Settings
Go to the Settings menu.
Choose "privacy" from the drop-down menu above.
Open "Background apps"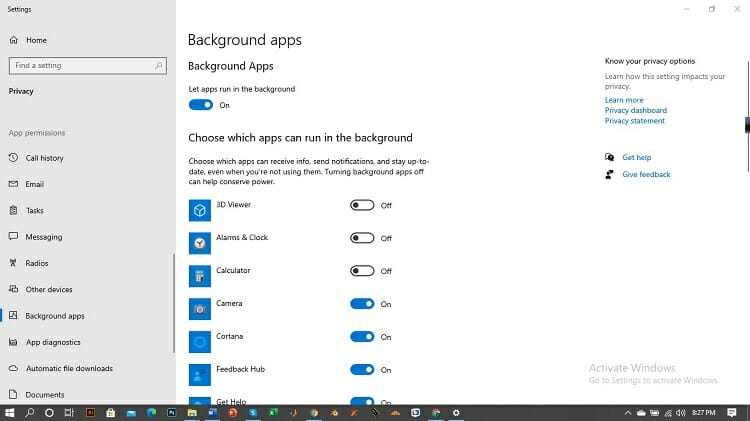 In the "Choose which applications you want to have running in the background" feature, disable the toggle for the ones you do not want to use. Again, you can select all the apps from the background apps option by toggling the switch 'Let apps run in the background'.
After completing the instructions, you will continue to use the applications normally, but when you close them, all operations will be stopped before you relaunch the program.
Turning off Apps Running in the Background by Settings
With this method, all you need to do is to use the Battery Saving Mode. By enabling this mode, the background running apps can be prevented from running in the background. Generally, this feature works automatically when the battery charge remains only 20 percent. But you can manually turn on this feature at any time and can prevent the background app from running.
Open the Settings menu.
Select System.
Select Battery.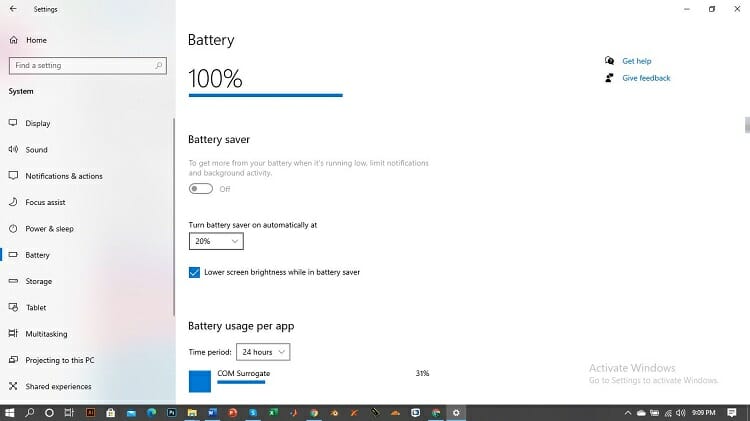 Turn off the Battery saver status before the next charge toggle switch under the "Battery saver" line.
Quick advice: Battery saver may also be activated by clicking the battery icon in the corner below right and by clicking on the battery saver option.
None of your apps will run in the background after the steps have been completed, while the function is available.
These guidelines exist only for Microsoft applications you have purchased. You have to manually shut the program to make sure that the program doesn't start running because you choose to interrupt classic programs from accessing background services.
Turn off Apps Running in the Background in Smart Phones
There are several ways like from settings or from recovery mode to turn off apps that are running background on Smartphones. So let us get into this topic and find out the ways of solving this problem.
Update Your Operating System
A newer version of Android, beginning with Pie, restricts apps in the background by using machine learning and conserve battery or efficiency. This "Adaptive Battery" functionality is smart enough to decide the applications you can make use of regularly or seldom depending on your history of use and is capable of pegging their power draw accordingly.
Examine Battery Use
Since the existence of your battery is so critical, your Android OS is tracked well. Only go to Settings > Battery > Battery Use to view the apps that blend with power. Two decimal points on what drains your battery are given a detailed list. The applications are either broken into a system or non-system applications or by software and hardware for even simpler purposes, depending on the computer and software.
The more applications you use, the higher they will be on the chart. Look for applications of less than a small amount of your battery that you don't remember. Any program that uses more than a few percent is worth exploring — there would be five to four percent savings. Something that is a Google device or program is definitely not a matter of interest and is just natural to Android and Google Mobile Services.
Check the Status of Operating Systems or the Statistics of Processes
By heading through your device's developer choices, you can double-check the applications are actually operating. Here's how to go through it.
To unlock the Developer choices, go to Device > About Phone > App Details > Create a number and tap it seven times. If you already have Developer Options available, the System sheet will take you straight to it. Alternatively, you can use the search bar to look up the Build number, which will offer you the direction and enable you to go straight to the control. Config > About computer > Program details > Build number can appear on a Samsung Galaxy.
If prompted, enter your PIN code. You are now a developer that will be informed through notification. Depending on your Android update, go to Settings > Developer options and search for Running services or Methods, statistics.
In Android 6.0 Marshmallow and later, you'll see live RAM status at the top, along with a list of applications and their associated processes and services that are currently operating underneath. It demonstrates utilities in operation by default.
In older versions of Android, you'll see a chart of Process Statistics. The percentage next to each one shows how often it works, and you can tap on it to see how much RAM it needs.
These controls help you to search for unusually active applications, even though you don't use them often. You're searching for a third-party app or bloatware that's been added but isn't being used that's working in the background a ton more than it should. You don't want to play with a lot of machine systems and Google applications. If you don't know what this is, just type it into Google to see what pops up. Android advises you to be vigilant when modifying controls on applications and utilities that are operating in the background, as unexpectedly stopping processes may trigger crashes or malfunctions. Once you've found some problematic applications, you have a few choices for dealing with them.
Temporarily Disable Background Apps
Right now, there are many options for interrupting an app from running in the background, and it might be sufficient to fix the immediate dilemma. Only be mindful that these background processes can restart the next time you open the software or another app accesses it.
Swipe up on your phone's latest applications icon to close any program individually. This does not, though, mean that their background services and procedures would cease to function.
If you have an Android 6.0 or higher smartphone, you can go to Settings > Developer options > Running services and tap on active apps to avoid them (see screenshot in the previous section). If an app can't be halted easily, you'll get an alert.
You can compel an active app to quit in older Android versions (before 6.0) by heading to Settings > Developer options > Operation statistics and clicking on it.
You may force an app to quit in older versions of Android by going to Settings > Apps or Settings > Applications > Application manager, selecting an app, and then tapping Force stop. Settings > Apps & alerts > App data > [App name] > Disable or Force stop is the sequence in Android 10.
Permanently Disable Background Apps
Three solutions are available to you to ensure that an application does not start-up in the background. They are: You may interrupt the application, or put it in the "Do not start", "Random,", or "Always lock" to always be your desired behavior.
The only way to eliminate an app by keeping it out of memory while keeping it going is to uninstall it. To extend an app, press and hold the icon as it is illuminated, then hold the mouse or finger on the app before an extended window shows the words 'Delete' on the top of the app window. Tap somewhere outside of the window to close it, and then either transfer the app to the background or tap the "Delete" to clear the program."
Alternatively, extend the button and keep it until an 'Application details 'Application' shows in the middle of the device until the [+] symbol appears, then release. If you choose "Expand," you will be presented with a screen where you will be offered to disable the app or force it to quit. If you try to take some action until the expansion is complete, you will get an alert that the app will misbehave.
From Samsung, open the Configuration > Program Manager and finder and find the problematic software. After doing so, press the button at the end, and then delete the problematic app. If the software was preinstalled, so you may not have the ability to uninstall it. However, you would have been able to disable it to avoid it from operating in the background.
Greenify and Titanium Backup are great tools for boosting the battery life of your smartphone. If you're able to root your Android, you should try these applications. They will assist you in the process of hibernating and shutting down applications that consume little to no energy while you aren't using them, guaranteeing outstanding efficiency and maximizing battery life.
Extended Activities
Although it's difficult to remove certain applications you don't want to keep, there are many ways to keep them in check that you might not have known about.
Tap the Menu icon and tap on Data use to see which users are utilizing the internet's background data and the length of time they've been using it. You can choose to prohibit apps from utilizing mobile data to sync while Wi-Fi is open, however, they would fall back on using your wireless connectivity if data are required.
If you are using Android 6.0 Marshmallow or higher, you will be able to access Settings > Permissions in the Privacy menu. Browsing the list of permissions like the above to investigate if certain applications require it will get away with requesting too much of your phone's location. If you systematically remove rights, you do so more, you may be able to further decrease the number of active processes. On the other side, you may be interfering with a system or allowing it to fail. If you're running an app built for an earlier version of Android, you will be warned about permission use issues. You should still grant permissions for an app to use the following Android settings if you have a problem.
Don't use task management software. They will pose more challenges than they are expected to fix, and are unable to fulfill their guaranteed efficiency boosts. You are doing nothing but loading and operating another software for the moment; this won't affect programs that are still running in the background. When Android wants to do this, it does so. We've found that it does, but it's easy to do yourself as well.
Conclusion
This completes the task of shutting off background applications. And these methods are more than capable of performing the mission. So, go ahead and perform these procedures; you will succeed and will not be sorry. It's something we are fairly certain of. So best of luck and make the most of your situation.