It is undeniable that free driver updater software is not much available when there is the word free contains. Neither all of the driver updating free software are reliable for proper Windows run. So, it is very tough for many inexperienced users to explore the right thing to depend on. If you want to find and update drivers manually, you can check this article. Unupdated drivers and Windows versions can lead to certain error codes. I hope my article on the topic of Free Driver Updater Tools in 2018 will assist those who are in search of the right thing. Here I will explain all about the driver updater. For that, I made a list of ten best driver update tool and their pros and cons that can help your system work seamlessly.
You may know that what is an updater tool but this explanation will give you more clear thoughts. A driver updater tool is an essential software component that helps you to update some or all of the device drivers installed in the Operating System (OS) for your computer hardware. For example, you've bought a new device like Bluetooth or a Printer or Graphics Card. To make those tools work correctly with your Personal Computer or laptop, you'll have to install or update the existing drivers on a regular basis. To do this, you'll have to install drivers from the official manufacturer site, and for this, you have to know the exact model & ID of your device and your operating system parameters. But if you only install a driver updater tool then the software will do all the things. Just need an internet connection of average speed and a mouse click on the driver updater tool. It will find and download then install the right driver for your device.
A driver is a software that makes a connection and exchange data between hardware and Operating System on your Computer. You will often face some problematic issues when your system device drivers have become outdated and have difficulty responding to your digital commands. To solve this complication, you should update device drivers installed on your system. It will be the easiest way to use a driver update tool to update all drivers with one click on a Windows computer.
Note that the main problem in some free driver updater tool is there always need an internet connection to check which driver will fit your device. Sometimes those tools try to install multiple unrelated programs during setup but its good that there are also offline versions that do not use internet connection.
10 Free Driver Updater Tools
1. DriverPack Solution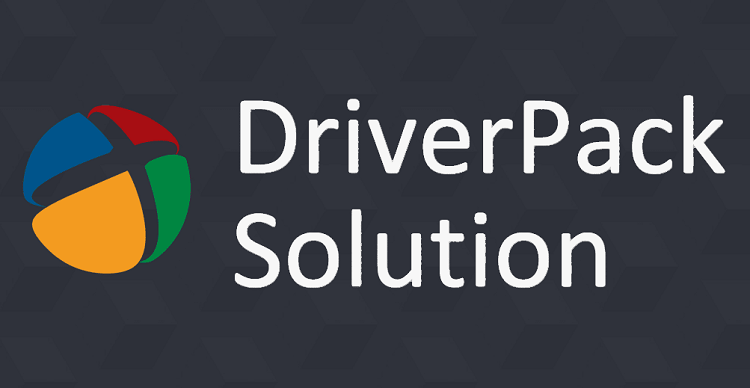 DriverPack Solution is a free driver updater tool. It detects the proper device drivers that your personal computer or laptop needs and then downloads and installs them for you with just a few clicks. There is no need to click on any wizards or installation prompts. It has all the driver updater tool features you'd expect and works flawlessly with all Windows OS(Operating System) like Windows 10,  8, 7,  Vista, and  XP. It's entirely portable, and you can launch its files from any folder on your hard drive or flash drive. You can also install all the needed drivers at one click. It will show you the driver version of the current and the one that it can download to replace the older one.
DriverPack Solution can even work if you don't have a working internet connection. Only you need to download the DriverPack Solution Offline version which includes all the drivers in it, and then install drivers on the computer that needs it. The Diagnostics section shows the necessary system information about your personal computer.
This driver updater also has a bulk software downloader that suggests programs you might want to add to your computer
Pros & Cons of DriverPack Solution At a Glance
Pros:
It's effortless to use.
It is a lightweight program and connects to the internet for free online driver updates.
Also, Supports automate downloading and no-prompt installs.
Quick downloads.
Both Potable and Online version.
Bulk downloads of needed software.
Has an offline version that includes network drivers if you don't have an internet connection
Cons:
It has no option for scheduled scans.
Includes a tool that can download its recommended software, if you accidentally click it and get it will download the programs, you don't want.
Sometimes It seems slow while detecting drivers.
It Cant hide drivers from showing up in future scans
2. Driver Booster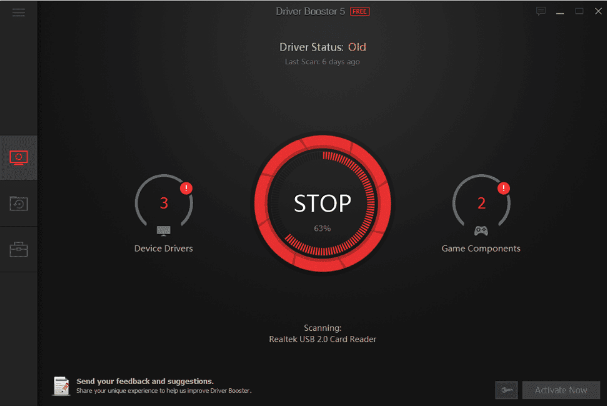 Driver Booster is a free driver updater program compatible with all Windows Operating System, and It has an automatically checking option for outdated drivers on your computer on a scheduled basis. It creates a restore point before installing a device driver. If something goes wrong while configuring updates, you can roll back to the previous state. In setting options, you can minimize some of its wizards and hide the popup messages and install the drivers in the background of the desktop. It shows the version number, release date & size in the Driver Details window that can help to identify information about new driver before an update. "System Information" tab will show details about the computer and operating system.
Pros & Cons of Driver Booster At a Glance
Pros:
It installs the drivers swiftly.
It can uninstall and roll back drivers if you have any problem while updating drivers.
It has an option to restore specific point for future before a driver is updated.
There is no limitation on the number of drivers that can be downloaded and updated.
It's also able to ignore a device so that no updates will show for the specific device.
It can scan automatically for new updates on a daily, weekly, bi-weekly, or monthly basis
It contains an extra option to delete installation data after an update so that the hard drive can remain free of space.
Cons:
The paid version has more function than the free one.
The main problem with this updater tool is it must have an internet connection to work better even to scan driver version for driver updates properly.
3. Free Driver Scout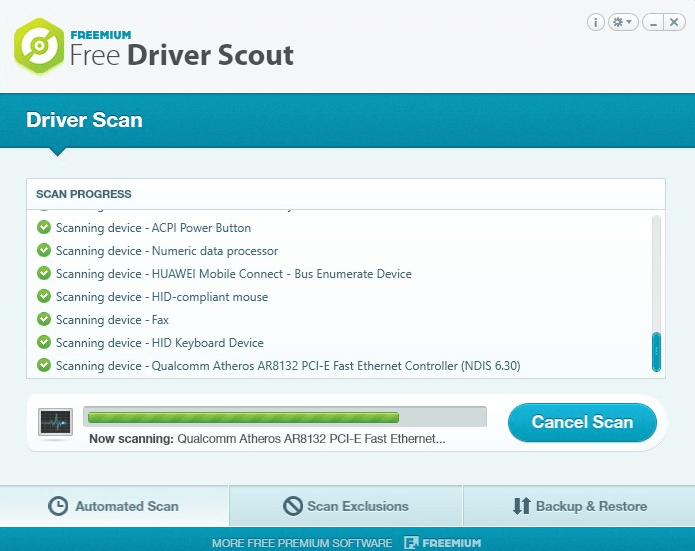 Free Driver Scout is a tremendous driver updater tool which allows real automatic updating option. It gathers and installs device drivers for Windows 8,  7, Vista, and  XP. Though it has no official support for Windows 10, it seems to work fine. If you wish, You can upgrade your Windows 7 to Windows 10. 
This program does not need any user input to search for a required update, download the updates, and to install them on your machine. Auto-cancellation function is for excluding a specific driver that you don't need to update. Free Driver Scout can backup drivers from downloaded scrapes and restore some or all of the installed drivers in future for free. This software has s unique feature called "OS Migration Tool" that will help you to download drivers for different Operating System that means if you are running Windows 8 it will help you to download drivers for Windows 10 and save them to a new location.
Pros & Cons of Free Driver Scout at a Glance
Pros:
Installing any program in this tool is easy.
There is no need any user input to install any updates.
Secure Backup and Restore Option
It allows Manual and Scheduled scans.
It is also custom-configurable to install & download automatically.
It supports Bulk software downloads
Cons:
This tool can't detect as many outdated drivers as other software does.
Tries to install multiple unrelated programs during setup if you are not going to stop them.
4. Snappy Driver installer

Snappy driver installer is a powerful freeware driver updater tool that's a little bit like DiverPack Solution." It allows you install drivers and keep updated them on your Windows computer. It comes with some fantastic and reliable features.
It can use without installing software on your computer. You can also carry the downloaded drivers on a portable drive and copy all contents to another computer. It also provides a lot of themes and supports multiple languages for operating and a better user experience. It's not problematic for both 32-bit and 64-bit versions of all Windows Operating System.
Snappy Driver Installer shows duplicate and invalid drivers for your PC. It can locate and open INF file and shows available driver's release date, version number and also for installed drivers. Drivers packs are downloadable through a TORRENT file with the SDI full download. This portable driver updater allows you to manage your drivers or update them via Flash drives without installing a program. Driver update from offline version is remarkably fast because it has no internet connectivity issue and downloads delay.
Pros & Cons of Snappy Driver Installer at a Glance
Pros:
All downloads run through the program itself, so you don't need to use a web browser and show the download process.
2.It downloads device drivers to use offline for future.
It's entirely portable, so there is no need to install this on your personal computer.
This program creates a System Restore Point before device driver installs.
Snappy Driver Installer does not show any advertisements though its free.
It has no restriction on download speeds and limits to the downloads and uploads.
It Supports bulk driver downloads and installs like other programs.
Cons:
Has no a scheduled check option that checks for updates.
2.It creates a little confusing issue to use.
 5. Advanced Driver Updater

Advanced Driver Updater is a simple and trouble-free driver updater software that finds outdated and uninstalled drivers for your whole system and devices attached to it, and updates them for best performance. Systweak Software develops this updater tool; Advanced Driver Updater is a useful software to update drivers on your laptop or personal computer. Just install it, and then it would figure out outdated drivers after that it seeks user prompt to update those drivers.
In addition to this, If a new driver does not work as it supposed to then the "Driver Exclusion" option eliminates that driver from the list. "Backup and restore" feature is more functional than other updater tools. You can take a selective backup and restore them whenever you need.
The software supports multiple languages such as English(US), French, Spanish, Italian, etc. and runs under Windows 8.1; Windows8; Windows 7; Windows Vista; Windows XP and also Windows 10 without any conflict.
Pros & Cons of Advanced Driver Updater At a Glance
Pros:
Update only Outdated Drivers
Driver Exclusion List is a fantastic feature.
"Backup and Restore" is more functional.
Scheduled Driver Scan and notification of new update in time.
Full Compatibility with Latest Operating Systems
Cons:
Shows advertisement in the free version.
This program is not portable.
6. Driver Talent

Driver Talent is a very easy to use device driver updater program that searches the internet for official download links of internal & external devices of your laptop or personal computer through a program. The previous name of this software is  DriveTheLife.  The software can detect the outdated, broken or missing drivers and fix the issues with one mouse click. The Free version shows you only available drivers but does not download automatically.
It also views the size of a downloadable driver, its release date, and version or ID number before you attempt to download it so that you can be aware of what you are downloading. There is available an offline version of this software that includes network drivers and easy to install.
The whole program will install on your computer in less than five seconds, and it ensures the top speed of your internet connection while downloading, which is very helpful for a fast update.
Pros & Cons Driver Talent At a Glance
Pros:
The interface is simple, clean looks nice.
This program installs itself very quickly (less than 5 seconds).
It takes full download speeds.
It downloads all/selected drivers directly through the program.
Before updates and uninstallations, it backs up the previous drivers of PC.
It's quite easy to use and has no advertisements.
Cons:
It does not support bulk downloads as like some driver updater tools do.
It Can not modify the automatic scanning schedule.
7. Device Doctor

Device Doctor is a straightforward and easy to use driver updater software that there is no requirement to install anything. It can be downloaded as a regular desktop program or as a portable one and run from a portable hard drive or flash drive. This software has schedule scan feature to check for outdated drivers. One problem is that it has no automatic download feature and it redirects to a website or link to download manually. It saves the downloads in a folder outside of Device Doctor in zip format. An unzip software like 7zip or WinRAR can extract them to be ready to install drivers. Another problem with this program is you can download one driver per day in the free version. This software also does not show any pieces of information about new and existing drivers, and this is a worse side.
Pros & Cons of Device Doctor 
Pros:
This software downloads all/selected drivers within the program.
Device Doctor occasionally updates its database to support more devices
It scans for drivers in a short time and very easy to use.
It checks for new updates on a schedule when the program is in idle mode.
The Portable version of this software is available to download from its website.
Cons:
The free version limits the download numbers (one device driver per day).
It Does not work unless you have an active internet connection.
It does not show any version number or release date of a needed driver update.
There is no restore point option of previous drivers before updating with new drivers.
An advertisement appears every time the program closes.
There's always a short delay before downloads begin and Do not install the driver automatically. There's still need an extraction after downloading it.
 8. Driver MAX

DriverMax is a free driver updater Windows program that supports many extraordinary features like automatic installing, daily and weekly schedule scans, backup of all device drivers. DriverMax can find device drivers for Windows 10, 8, 8.1, 7, Vista, and XP if it is available. All driver updater programs update old drivers, but Its specialty is that it can backup and restore all or selected drivers, roll back them it also detects unknown hardware.
Based on Test results, It is sure that DriverMax discovers a lot of outdated drivers than every other updater program from our list. But the main problem of DriverMax is that it can only download two drivers per day and ten drivers per month and just one driver is downloadable at a time.
Pros & Cons of DriverMax At a Glance
Pros:
Fully automated installations after download.
Take user permissions to create a restore point before installing device drivers.
It can detect unknown hardware attached to the computer.
Setup never installs unnecessary programs for PC.
It can create a backup copy of all your drivers and restore them whenever needed.
A custom option ensures that it will install only selected drivers.
Cons:
It's limited to a few areas.
It has download restriction (Two drivers per day and ten drivers per month).
Must need an active internet connection to find download links of outdated device drivers.
This program restricts to download more than one driver at once.
9. Driver Easy

Like others, Driver Easy is another driver updater program with some extraordinary features. It is free for both personal(one user only), and commercial (multiple users in a license) uses. It supports pretty much every version(32-bit & 64-bit) of Windows ever.
Schedule a scan is the standard feature of Driver Easy to check for outdated drivers and it requests permission to the user to download a device driver update. Scheduled Daily, weekly, monthly, even every time you log on to Windows it checks for an update and no need to open an external browser to download updates but the speed of downloading updates through Driver Easy is remarkably slower than other programs in the list. Without an active internet connection, it can show hardware information and scan for driver updates. The online version of the program has no extra feature like the offline version.
Pros & Cons of Driver Easy At a Glance
Pros:
It also works when you have no active internet connection.
Personal and Commercial use both are free to use.
The program downloads all device drivers itself without any external browser.
Driver scanning is high-speed.
Schedule scan feature to check for outdated drivers.
Not a big download size.
Cons:
Download speeds of drivers are very slow.
The free version is not accessible to many essential features, and you have to pay for them.
It doesn't support Bulk downloading.
Installing driver updates is always a manual task.
10. DriverIdentifier

The outlook of DriverIdentifier is very simple, but it is handy and beneficial free device driver updater tool. The software is easily accessible from a portable HDD( Hard Disk Drive) or Flash Drive, and even works without an active Internet connection. It finds drivers for Windows 10, 8, 7, Vista, and XP. Developers of DriverIdentifier says that they have 27 million device driver on their download server. After completing a full scan, it saves the list of drivers to an HTML ( Hiper-Text Markup Language) file. DriverIdentifier website makes a cross-reference the scan results with their server databases to update the drivers when you connect your computer to an active internet connection.
Device drivers that need an update to the newer version will have an Update link (where can you find the download link) next to them. It's very annoying that you must create a free account at DriverIdentifier website to download driver updates. Moreover, its auto checking is very bad.
DriverIdentifier Pros & Cons At a Glance
Pros:
A portable version of the program is Available.
It doesn't require an Internet connection while scanning.
DriverIdentifier never tries to install unnecessary programs during scanning.
It's effortless and easy to use.
It shows useful details about the driver updates next to their names.
Cons:
Automatic and Schedule check for outdated drivers is absent in the program.
Need a complete registration for a free account with DriverIdentifier to download device drivers.
Must visit a download page with an external browser to gather driver updates.
My Suggestion and Conclusion
It's very urgent to keep your Windows drivers always updated for both the Computer System and the external devices you use with it. So it's better not to avoid the need for driver update
If you're not interested in the backup/restore options of previous drivers and other settings and screens that some similar driver updater tool have then Driverpack Solution is probably one of the most straightforward driver updater programs I've ever used. There's  more similar software that's also pretty simple to use, but all are not so lightweight and zero settings. As I mentioned before it has an offline or portable version that includes all drivers.
Or you may try out these best free driver updater tools enlisted here and make your personal computer run so comfortable like never before.