We use some operating systems in our computer such as Windows, MAC, etc. Linux is one of the popular operating systems we can use. Linux is an open-source system that we can use in any operating system. There are many applications of files that are the part of Linux operating system. To use or access those files on our PC we have to mount Linux in the file system of our PC. So, What is Mounting in Linux? Here is the perfect article for you.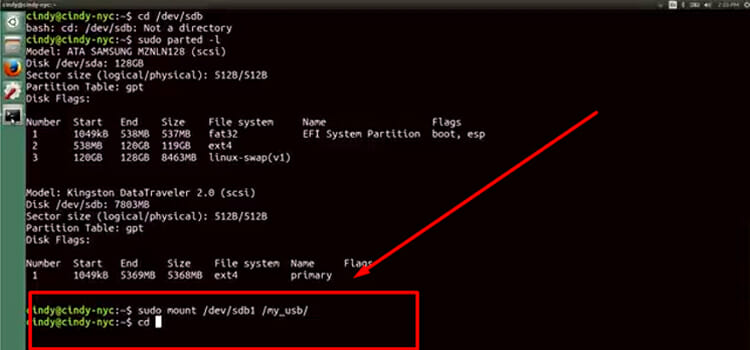 What is Linux?
Linux is one of the most popular operating systems which is open and free. Linux is basically software that controls all the software of the computer. The creator of the system is Linus Torvalds. It is also called 'Linux kernel'. If we use software from another operating system there can be a version of Linux. Linux has almost all the necessary software like other operating systems such as different editors, word processors, etc. But in some fields, Linux is different than other systems. The main difference is it is free and open for all to any kind of things. If you know the technique you can easily work with this.
There are many distributors of Linux. It has many kinds of software on its list. The core pieces are different than others. For that, you can easily customize the software according to your choice. You can also use this opportunity in your web browsers and word processors. This system can give chance to choose the main component of graphics and others.
Linux is very flexible. Most of the webpage on the internet use Linux because of its high security and flexibility. Nowadays many companies choose it for their work such as Red Hat, Canonical or Ubuntu, etc.
What is Mounting?
Mounting means mounting any storage device or additional file system according to the user's choice. Mount is a command that can attach any storage device or file system in the directory of the PC and make them accessible. After mounting the file system or device, you can find this specific file system in the dictionary tree of the PC. If we want to access any file from a particular location, the location is called a mount point. But What is Mounting in Linux? Go through the next sections to find your answer.
Why Does Anyone Want to Mount the File System in Linux?
Generally, file systems are used to organized files on PC in their storage according to their kinds. It is also called a dictionary tree as it works as a hierarchy. In order to access the file system in the particular operating system, you have to mount the type of file system in the dictionary and inform the operating system about it. Root dictionaries contain all the dictionaries and here we mount another. It is termed with the forward-slash to name it under any dictionary. So it is done to let the operating system about the new file system and access Linux.
How To Mount in Linux?
Mounting in Linux is to attach an extra file system of Linux in the previous dictionary tree of the file system in a computer. For this, we have to know about some things.
To do this at first you have to inform the present operating system about the location of the directory tree where you will mount. So you have to log on as the root of the directory. If the directory is placed earlier, you don't have to log in as a root user.
Then you have to create a folder. In this specific, you will have all the mounted files to get access easily. They can be any other media that are external such as floppy disk, CDROM, a hard disk, a USB, etc according to your choice. For this, you have to name the file system under the root dictionary. It comes with forwarding slash '/'.
After that, you have to choose the mount point for the mounting. A mount point is generally an empty dictionary under the dictionary tree. In this, you will mount the external file system for future access.
Using Command Prompt
You can use Command Prompt to process all the work for mounting. For this you have to follow the steps.
At first, you have to open the Command prompt/ Terminal on the PC. You can search it on the bottom left corner of the PC and then select this.
Then you have to write the following command in the same format
mount [OPTION…] DEVICE_NAME DIRECTORY
In this way, the mount point is found for the directory and it becomes the root directory. For example, if you want to attach the '/dev/sdb1' file system to the '/my USB' directory you have to write the command.
sudo mount / dev/sdb1 /my USB
You can also set the file system type by typing the command.
 mount -t TYPE DEVICE_NAME DIRECTORY     
Also you can set other options
mount -o OPTIONS DEVICE_NAME DIRECTORY
Conclusion
Mounting is necessary to access any kind of file system easily on a computer. Linux operating system is quite popular nowadays. Most of the web servers run on Linux OS. So it is important to attach this and get easy access of this type easily in your computer with any kind of operating system you use. Before this, you have to get a clear knowledge of this process of mounting. This article concludes the terms and procedure including this in an easy way. After reading this, we hope you know all about What is Mounting in Linux and its other whereabouts.