Purchasing or upgrading the Windows OS requires a product key to activate Windows. But even after activating, you might see the error message telling you to re-activate Windows. This usually happens if you have not purchased the license key directly from Microsoft.
Because genuine Windows keys do not expire. You only purchase them once and it stays active forever. However, there are some instances where a Windows license key does expire.
Here in this article, we will discuss why Windows license keys expire and what will happen if it does expire.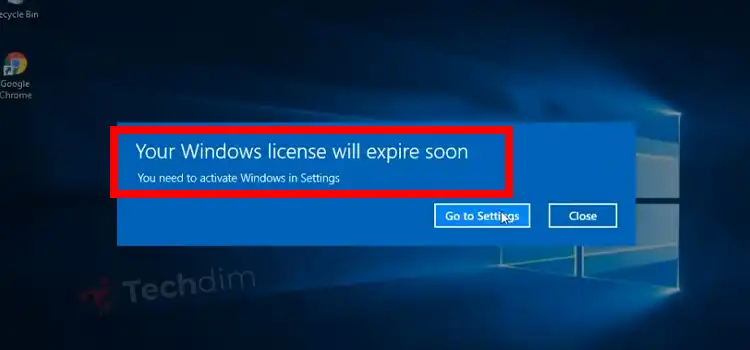 Why Do Windows License Keys Expire? 
As stated above, the genuinely purchased Windows keys do not expire. They do not have a limit to how long you can use that version of Windows. But in some instances where you might see the message telling you to re-activate Windows –
If your key was purchased from any other source than Microsoft, it will tell you to re-activate Windows after a set period of time (could be a month or a year). You will then have to re-activate it or purchase a genuine key so that this doesn't happen again.
In case of upgrading and changing the Windows version, this message could pop up as well. For example, if you were using Windows 10 Home and then upgraded it to Windows 10 Pro, Microsoft will consider this a different version and you will need to buy another key to activate it.
There are three types of license keys – Retail, OEM, and Volume keys. OEM keys are bound to your motherboard. So, if you have changed your motherboard, it will tell you to re-activate Windows.
What Will Happen if Windows License Keys Expire?
If Windows is not activated or the license key has expired, you could face several issues. Some of those are –
Limited features.
Limited personalization.
No security updates.
No patches and bug fixes.
Persistent notifications about activating Windows.
The riskiest are not getting security updates and bug fixes. This could cause your computer vulnerable to virus attacks. It could also cause your PC to slow down and crash.
Everyone wants to decorate their PC to their liking. It reflects one's personality and taste. So, the limited feature and personalization options can be quite annoying as well.
And the notifications about activating Windows as well as the "Activate Windows" watermark is also one of the biggest nuisances about license keys expiring.
Frequently Asked Questions (FAQs)
Can a Windows license key be reused?
If the license key is a retail key and was bought separately, then you can reuse it as many times as you want since these types of licenses are transferable.
Can I use Windows 10 without a key?
Yes, you can use Windows 10 without a key. You do not need a key to install or use Windows 10. You only need it to activate the product.
Conclusion
In conclusion, Windows license keys do not expire as long as it was bought genuinely from Microsoft. But if you still see the message for re-activating, it is best to contact Microsoft support. We hope we were able to help you with your queries regarding the Windows license key. If you need further assistance, please do not hesitate to contact us in the comments section.