After continuously using the internet through your PC's ethernet port, you have suddenly discovered that the ethernet port stopped working. So, since then you are not able to use the internet. Now, you are wondering if there are any possibilities or ways for adding WIFI to your motherboard.
Well, the answer is yes. You can install a WIFI card into your motherboard, all you need is to buy a PCIe WIFI card. And we are here with a proper guideline that will assist you to add WIFI to your motherboard.
So, without any further ado; Let's begin.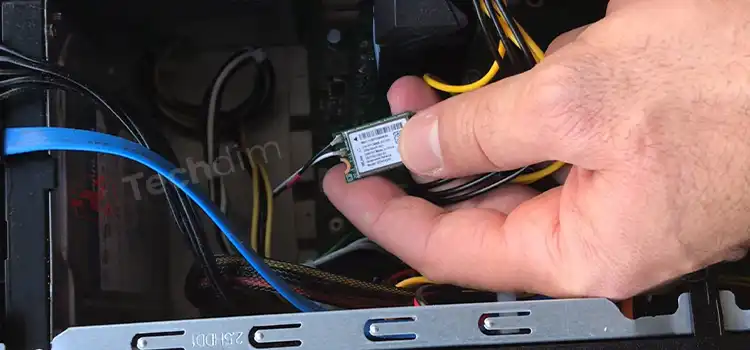 Step-by-Step Guide To Install WIFI Into A Motherboard
There you will find some new and high-end modeled motherboards that come with a WIFI card. If you own an old modeled motherboard and don't have any other option to connect your RIG to the virtual world, then a PCIe WIFI card can be your entrance ticket into the virtual world.
The first condition of adding WIFI to your motherboard is, your motherboard must have PCIe or M.2 Key-E slot. Without that, you won't be able to add a WIFI card to your motherboard. And you won't need others' assistance while adding WIFI to the motherboard. Just follow the steps below –
Step 1: Turn your PC off and detach all the cables and peripherals. Now, take out the motherboard.
Step 2: Now for PCIe or M.2 key-E slot on your motherboard. Basically, the WIFI card is installed in the PCIe x1 slot but if your mobo has not PCIe x1 slot then you can use it in another PCIe slot.
Step 3: The PCIe x1 is the shortest PCIe slot, so look for the shortest slot with the I/O panel. Also, the PCIe x1 is generally written beside the PCIe slot on the motherboard. Now, remove the expansion slot cover from your PC's back panel.
Step 4: Now, insert the WIFI card. Now push gently until the card fits in the slot.
Step 5: Now, reassemble your PC and install the WIFI driver. Basically, a CD comes with a WIFI card. If you don't have a CD drive then you can download it from the manufacturer's website.
Now, you have installed a WIFI card to your motherboard successfully.
Alternative Solution: USB WIFI Adapter
If you find out that PCIe or M.2 Key-E is not available on your motherboard or your bank balance is not giving you the company you need then you can use a USB WIFI adapter as an alternative option. A USB WIFI adapter nearly cost half of a WIFI card.
Frequently Asked Questions And Answers
Is a WIFI card better than a WIFI adapter?
Yes, a WIFI card is better than a WIFI adapter. A WIFI card can provide a reliable and stable connection where a WIFI adapter fails to do that.
Can I use a WIFI card in M.2 Key-B?
For cellular connectivity, you can use M.2 Key-B but for WIFI you will need to use M.2 Key-E slot.
Can I use a WIFI card in a PCIe x8 slot?
Yes, you can use but it's not ideal work to do. Because these slots are for the GPU and SSD card. If you use a WIFI card in an x8 slot then there will be no option for the GPU and SSD and also the number of these slots are less than other PCIe slot.
Conclusion
Hopefully, now you have the guideline and know how you can add a WIFI card to your motherboard. The process is very easy to follow. And if you are willing to buy a non-WIFI motherboard and planning to add a WIFI card later then it is suggested to buy a motherboard with WIFI because it will cost you the same.
That's all for today. For any further queries, you are most welcome to our comment box. Gracias!