One of the most fun things Google has ever created is the SketchUp program. With this software, you can start your initial 3D design phase and later on progress to a bigger platform. Some even still use it since it is handy and nifty at the same time.
But after 2012, Trimble Inc. bought SketchUp from google and made it into a more prominent 3D design software. And if you are new to it, you won't find any option to edit your 3D text.
Today we are going to talk about how to edit 3D text in SketchUp to make your life a little easier.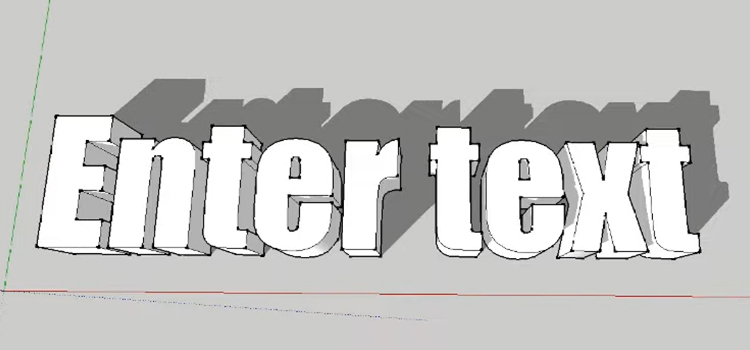 Step-By-Step on How to Edit 3D Text in Sketchup
To edit your 3D text in SketchUp, simply follow the steps below.
Step 1: Open the SketchUp program.
Step 2: Go to the Window menu.
Step 3: Click on the Extension Warehouse.
Step 4: Type in "3D Text Editor" and search.
Step 5: Install the 3D Text Editor from the publisher Thom Thom.
Step 6: Now to enter an editable text, go to Draw Menu and click on the Editable 3D Text option.
Step 7: Type in your text and save it. Now when you want to edit the text, simply right-click on the text and choose edit from the drop-down option. 
Tip: You cannot edit 3D texts that are already on your past projects which you used the SketchUp tool to write. But the texts you will input using this editor's tool can be edited later on. 
Frequently Asked Questions (FAQs)
How do I use 3D text tool in SketchUp?
To use the 3D text tool in SketchUp, simply click on it and a window will appear. You will be able to write on the empty space and it will generate a 3D text of your liking. You can also change the font, style, and size of the text. Then when you are ready to place it on your design, click place and the window will disappear. The text will be on the screen and you can drag it to the place you want. You can also press Esc to start over in the 3D text box.
How do I edit text in SketchUp layout?
You can simply double-click on the text layout to edit the text in SketchUp.
How do I engrave 3D text in SketchUp?
To engrave a 3D text in SketchUp, enter a negative value (-6) in the Extruded Box right under the Height section. Explode the group after placing the text in the box by clicking it and selecting Explode. You will have engraved text after clicking Place.
Conclusion
SketchUp is not only a fun app to start your 3D designs but also offers professional options. Learning all the hidden options in it will benefit you later on with your project and work.