Recently, I have downloaded all my email messages from my Gmail account by Google Takeout because I decided to switch the email account. So, to get my essential messages in my new account, I was head to transfer the Mbox file into my new account. I was way much surprised seeing the size of the Mbox file as it was almost 3.1GB. Then, I decided to import only the important one rather than transferring the whole file. I have had to open the Mbox file in Thunderbird.
After opening, I imported the required emails to Microsoft Outlook from Thunderbird to add it to my new email account. If you don't know how to open MBOX in Thunderbird and how to import it in Outlook, don't worry, you are going to know. How? Read the following.
Here, I am going to show how to open the MBOX file in Thunderbird, Microsoft Outlook, Android, and on macOS. If you want to import the file into Gmail, here are also ways for that. And if you are looking for a free or paid software to open MBOX, just go through the writing, hope you will get your query.
What is a Mbox File
The Mbox file is the acronym of the mailbox, which is basically the storage of email messages. In a Mbox file, all messages are saved one after another with a header "From" in a single file. Previously, a software named Unix was needed to view the Mbox file. One can download the messages from his/her email account if wishes for by Google Takeout. However, if you still don't have a Gmail, learn how to properly set it up here.
You can download all the folders or specific folders as per your desire. The downloaded file is saved as .mbox format. It is easily compatible with some email applications other than Unix, such as Mozilla Thunderbird, Apple Mail, Eudora, Entourage, etc. You might need to filter spams.
The attachment with the email messages, even if the media content like audio, video, or any other file format also remain in that Mbox file.
How to Open Mbox file in Thunderbird
You may have already done this type of thing like opening DMG files on Windows, etc. To open the Mbox file in Thunderbird, we have to go through some steps. At first, Download Thunderbird Email Application from any web browser on your computer and install it on. Then, launch Thunderbird and set it up. From the add account wizard, click Cancel. From Set up An Account option, choose Newsgroup. This account needs an Identity that will appear to others who receive email from it. So, in account wizard, you need to set up Identity.
Put a User name as per your wish and an email address, e.g., [email protected] when prompted. Now, enter the name of your news server (NNTP), e.g., Server, and click next. After giving a name in the account name box, the created account will be viewed to verify the information. If you are already a thunderbird user, then start from here.
1. By clicking Options and then Account Settings, go to the Local Folder where thunderbird stores information.
As shown in the picture, copy the Local directory (Click ctrl+a> ctrl+c). Leave Thunderbird.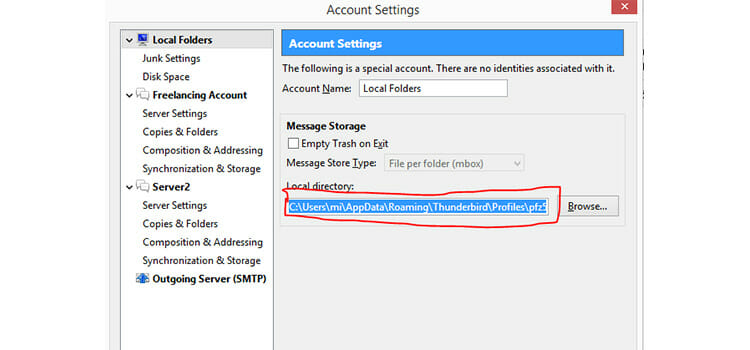 2. Now, go to the Windows Explorer, usually named as This PC, and paste the address in the address bar as follows.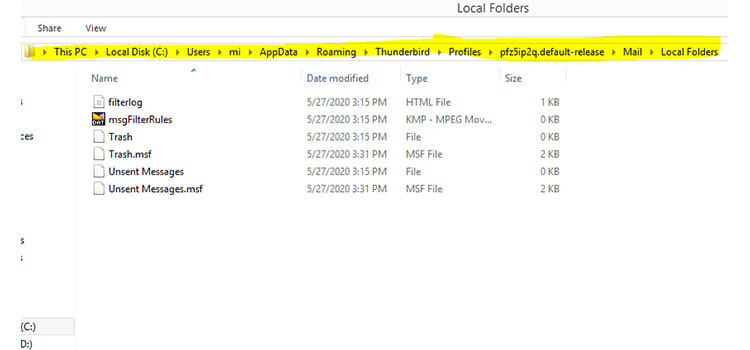 3. Copy the desired mbox file and paste it in the Local directory that you found in the previous step.
4. Again, open Thunderbird by click on the icon twice. The mbox file will be shown under Local Folders.
5. Click on it to view the email messages within it.
How to Open Mbox File in Outlook
You can find MS Outlook in your Office 365 or Office desktop package. You might have tried to open the Mbox file in Outlook but failed because Outlook doesn't support opening the Mbox file directly. It supports the .pst format to store the file. So, what can you do? You may follow the steps below and try further to open it.
As we know, there must be two solutions to anything, i.e., manual and automated. We will show both. Firstly, go for the manual one.
How to Open Mbox File in Outlook from Thunderbird
In the previous module, I have shown you how to add a Mbox file in Thunderbird. If you want to view an email of the Mbox file in Outlook. Simply do as follows-
1. Open Thunderbird, and you can see the Mbox file in the local folders. Click on that folder, and the emails are shown in that. Select the email you want to open in Outlook and drag it to any of your desired folders in Outlook. But, be sure that you are logged in with your email account in Outlook.
After dragging the file in Outlook, it will look like it. Click on it to view.
How to Open Mbox File in Outlook Using Converter
As we know, Outlook doesn't support the Mbox file but support the PST file. So, we can convert the Mbox to .pst file to open it in Outlook yet in a smart way by some software. While converting the file, you definitely want to choose the best converter. Still, in this context, we can't say any one of these converters best. Because every software has pros and cons, we have to see the reliability through the demo version. I can mention the name of some software such as-
Systool MBOX Converter
Softaken MBOX to PST Converter
Kernel for MBOX to PST
Gaintools MBOX Converter
Betavare MBOX to PST Exporter
Datavare MBOX to PST Converter Expert, etc.
You can check out the software and try its demo version to choose which one meets your requirement. You can also search on your own to find more software name regarding this.
Now, I am going to show the conversion of Mbox to PST and show how to open Mbox in Outlook using the demo version of Systool MBOX Converter below-
Open Systool MBOX Converter and then from the navigation-window, Select Add File from the left side of the screen, and then the following window will open. Choose MBOX Files and then click Next.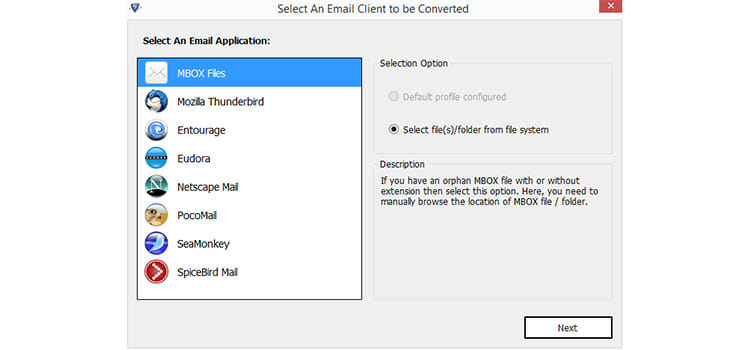 Click Export and choose the folder in the mbox file which you want to import in Outlook.
Export as PST files and change the location as per wish.
Open Outlook and click File and then Open & Export. Now, click Import and Export and choose Import from another program or file and click Next.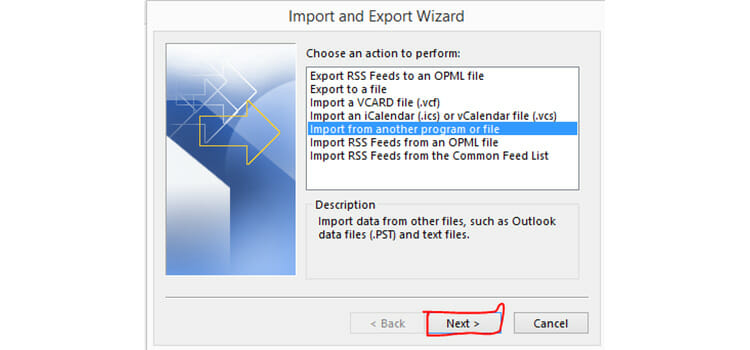 Now, Choose Outlook Data File (.pst) and click Next.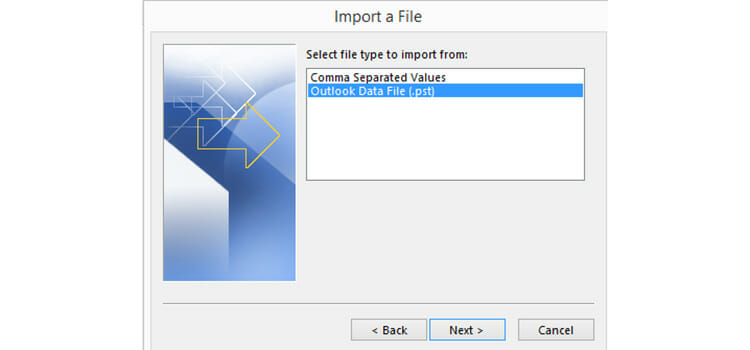 After browsing for the folder where the converted file is saved, click Open to import the file in Outlook.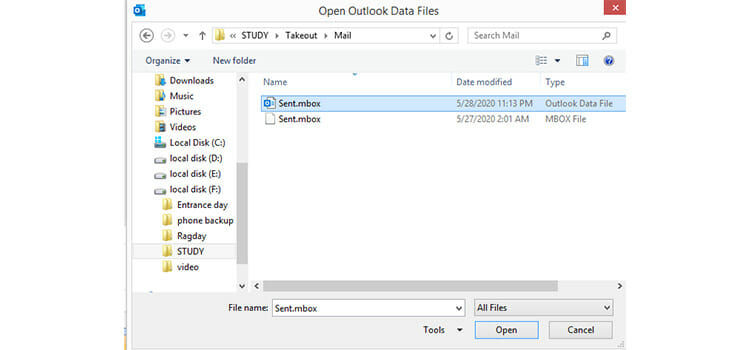 Emails within the file will be added to the email account after doing the steps correctly.
How to View Mailbox Emails Using Free Software
This is going to be the easiest way to view the email message. To do this, first, go to the address https://sourceforge.net/projects/mbox-viewer/ by any of the browsers on your PC. Then, download it and extract the Zip file from the directory to where it is saved. After extracting, drag the Mbox view application to the taskbar to pin it on.
Then, click on it, and from the left corner of the navigation-window, click File and choose the Select Folder (or Press F2). Now, browse for the folder in which the Mbox file located. After doing that, you can click any of the emails and can read it.
How to Open Mbox File on Android
It might have happened that your computer is not nearby to your hand, but you have to open a Mbox file to see some emails within that file. But, the Mbox file is not compatible with your android phone. As far as I know, there is no other option left but only the conversion of that Mbox file into PDF file online. Then, the file can be viewed on an android.
The conversion of Mbox to pdf is quite easy in online. By searching in the browser with "Convert Mbox to PDF Online", heads you to the websites. Simply upload the Mbox, or drag the Mbox file to that page or give the URL of the file (they only allow the limited size of the Mbox file), and then click convert and download the resulted file. You can use the PDF in desktops too, with a good PDF viewer.
There are also some apps named Open ERP Mobile, File Viewer for Android, MBOX, etc. to view the mbox file on your phone.
How to Open Mbox File on Mac
If you are a Mac user, you can view your mbox file by importing them in Mac Mail App or in Outlook for Mac.
This isn't a task of hard. Instead, you can do it at ease by doing as I say. So, I am proceeding-
How to Open Mailbox email using Mac Mail App
Open the Mail App from "Applications" on your Mac device.
Now, give a right-click on "File" you will see the drop-down menu. Choose "Import  Mailboxes" from it. Then, don't forget to select "File in MBOX format". You need to click continue to browse for the file, which is saved as .mbox on this device.
Now, choose the desired file to move it, and then all the windows will disappear. Again, land on the Mail app. Click on the Mailboxes, and that will let you see folders on the left side of the screen.
To read the Mbox file, first, choose and then click on that file.
How to Open MBOX File on Outlook for Mac OS
You can also do import a Mbox file in Outlook for Mac just by converting them in PST format. Methods for converting it in the PST format is described above, and also more are readily available on google. By logging in Outlook on your Mac OS, Click File and then Import. To import an Outlook Data File(.pst) in it, choose the data file type and then click Next. Locate the file and click Import. And you are done.
How to Open MBOX File in Gmail
If you want to import the Mbox of one mail account to another, or if you want to import the old Mbox file (which was previously saved on your hard drive), in the meantime, you are versed well in the methods for doing that. You can do it by-
a. Converting mbox to Outlook data format (Mbox to PST conversion)
b. By converting .mbox to .eml (See ''How to Open Mbox File in Outlook from Thunderbird'').
Note. You must need to log in Outlook with an email address before doing the stated steps.
Summing Up
Hopefully, you got quite help reading this. I have tried to show most of the trouble-free processes to open the Mbox file both for windows and Mac.  And also, some automated ways are stated to lessen your time and effort. There are also other ways to import it, you can simply head to it by googling. The most important note for you is that while choosing the third-party software, be aware of the viruses and the malware, choose the most reliable one.