For many people, a laptop's best feature is its portability. Laptops are designed to be small in structural size and light in physical weight, allowing you to carry them around with ease. However, these laptops often conserve space by having smaller screen sizes. This may not be ideal if you are somebody who enjoys working with a larger display.
Fortunately, a lot of the newer laptops have found a successful balance between the weight and the corresponding screen size. These laptops have the best of both worlds, providing a large screen display tucked cozily into a slim physical frame. Lately, this trend is becoming prevalent in the laptop market. Among many modern laptops, the screen size has been optimized to maximize viewability and portability.
Let's explore the laptop market and highlight seven lightweight laptops that have big display screens:
1. ASUS ZenBook 14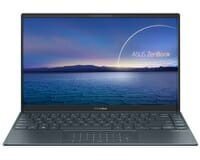 Picture by ASUS
The ASUS ZenBook 14 UX425 is built with portability in mind. This 14-inch laptop only weighs 1.13kg with a thin and compact all-metal design. The laptop maximizes its full HD display by including ultra-slim bezels, which allows for an impressive 90% screen-to-body ratio. You can enjoy beautiful visuals on the large power-efficient display that delivers 400nits of brightness.
In addition to its ergonomic keyboard, the ASUS ZenBook 14 also includes the innovative NumberPad 2.0 feature. This is an integrated numeric keypad with touchscreen functionality. Built with LED-illuminated technology, this keyboard allows you to switch between cursor control and numeric input easily.
2. LG Gram 17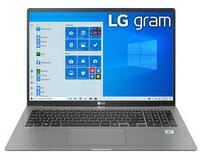 Picture by LG
The LG Gram 17 is a lightweight laptop designed for heavy media use. The laptop is powered by the Intel i7-1065G7 CPU and the Intel Iris Plus GPU. The 17-inch display is bright and colorful, allowing you to work in a clear 16:10 aspect ratio. The laptop also has a wide selection of ports, including multiple USB-A ports, a USB-C port, a MicroSD slot, and an HDMI-out port.
Even with its large display, the LG Gram 17 only weighs 2.98 pounds. This laptop does sacrifice some computing power due to its cooling system, but it's still an excellent option for those who need lightweight machines with big screens.
3. ASUS VivoBook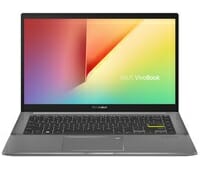 Picture by ASUS
If you need a light laptop with a large screen, the ASUS VivoBook S14 S435 is an excellent option. This laptop features a 14-inch 1920 x 1080 full HD display with an impressive 90% screen-to-body ratio. With its frameless four-sided display, you can enjoy a wide viewing angle of up to 178-degrees. This ultrathin laptop is also highly portable, weighing only 2.86 pounds.
The VivoBook S14 S435 is powered by the Intel Core i7 CPU and the Intel Iris Xe graphics. The laptop has enough power for high-performance gaming without lags or delays. It also comes with a spacious PCle SSD for faster storage capacity.
4. MacBook Air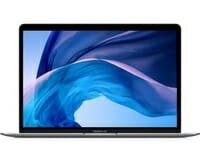 Picture by Apple
Apple's MacBook line is well-known for its sleek design and high level of performance. The new 16-inch MacBook Pro is no exception to Apple's history of lightweight yet powerful machines. The MacBook Pro is an impressive laptop with a 6-core intel i7 CPU and 16GB of RAM.
The 16-inch screen is rated at 500 nits for brightness, and it uses IPS technology to enhance the screen display. While the MacBook Pro is a technically optimized machine, it remains quite portable at 4.3 pounds.
5. ASUS ROG Zephyrus Duo 15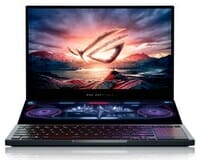 Picture by ASUS
The ASUS ROG Zephyrus Duo 15 features an impressive 15-inch IPS display that fits in a 14-inch chassis. This laptop features a 240Hz refresh rate, 3ms response time, and an 81% screen-to-body ratio for an immersive experience. With this laptop, the display stands out more thanks to the super narrow bezels that measure just 6.2mm on three sides.
The ROG Zephyrus Duo 15 uses Pantone color validation to display superior color accuracy, which makes this laptop suitable for professional editing work. It also uses adaptive sync technology to reduce visual stutter and sync the display's refresh rate with your GPU's frame rate.
This laptop can keep up with any task thanks to the Ryzen 7 CPU and the NVIDIA GeForce RTX 2060 GPU. You can upgrade this laptop to include up to 32GB of RAM, which is ample computing power for video editing, gaming, and even virtual reality.
6. MSI PS42 Prestige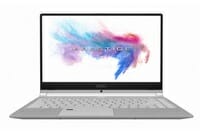 Picture by MSI
MSI is well-known for its Titan laptops, which offer high performance but are heavy machines. However, the PS42 Prestige is an offering from MSI that goes against the norm from their previous releases. The PS42 has a 14-inch display and weighs just 2.6 pounds. This laptop is powered by the Intel i5 CPU and the NVIDIA MX150 GPU.
Like other lightweight laptops with large displays, the 14-inch screen appears bigger thanks to a super slim 5.7mm bezel. The aluminium chassis on this laptop is just 0.63-inches thick, making it a highly portable machine. The MSI PS42 also does a great job at staying cool during high performance with two cooling fans and three separate heat pipes.
7. ASUS ROG Strix G17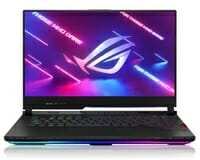 Picture by ASUS
The ROG Strix G17 G713 is a powerful machine with a large 17.3-inch full HD, anti-glare display. Beautiful graphics will appear on this high-refresh display, which allows up to 300Hz and offers tournament-level speeds for gaming enthusiasts. The display also uses Adaptive-Sync technology to reduce screen tearing and minimize stuttering.
If performance is a priority for you, the ROG Strix G17 G713 would be an excellent recommendation. This laptop is powered by the AMD Ryzen processor and the NVIDIA GeForce 30 Series GPU. It is designed to handle video games, media experiences, and resource-intensive programs all at high settings. The level of performance you can get from the ROG Strix G17 will fulfill your personal and professional laptop needs with ease.