PCIe Cable Where Does It Go Generally [Explained]
PCIe cables are generally used to power installed graphics cards and other big, power-hungry expansion cards. PCIe wires link the Power Supply Unit directly to the installed PCIe Expansion Card: Graphics Card.
PCIe cables, in a nutshell, are used to power high-performance graphics cards. The electricity for these cables is drawn straight from the Power Supply Unit (PSU). So, one end of the PCIe cable is connected to the PSU and the other end is hooked into the graphics card's connection.
It can be a bit confusing. So, here in this article, we will go into more detail on where exactly the PCIe cables go.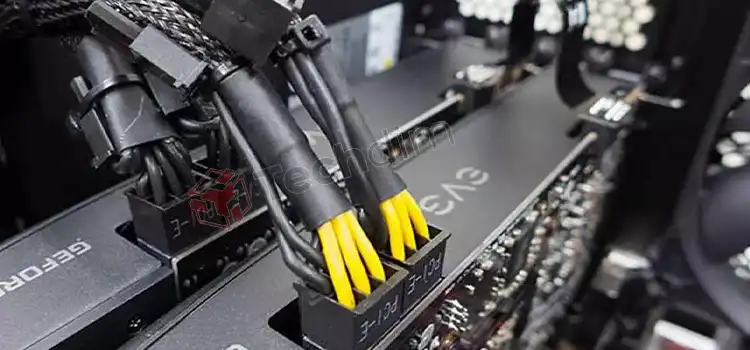 Guide to Know Where Do PCIe Cables Go
As stated before, PCIe cables connect high-end components such as graphics cards to your PSU and motherboard. The PCIe cables provide an extra amount of electricity by connecting the graphics card to the PSU.
A sound card or a network card will only consume electricity from the motherboard. However, certain graphics cards consume a lot of electricity. As a result, PCIe connections are necessary to provide additional power supply from the PSU to the graphics cards.
The graphics card is inserted in a regular PCIe x16 slot, which supplies 75 watts of electricity. This is insufficient for many mid to high-end graphics cards. To handle the power needs of such large and demanding machines, PCIe cables are used.
It is worth noting that some graphics cards do not require the PCIe cable. Mostly mid to high-end graphics use the PCIe cable because the low-end graphics cards can get enough power from the motherboard.
Frequently Asked Questions (FAQs)
Do you connect PCIe to the motherboard?
Yes, a PCIe or PCI express slot connects your computer's "peripheral components" to the motherboard.
Does GPU need 2 PCIe cables?
Yes, two cables can be used. It also works perfectly. However, you won't receive the intended benefit of that design unless you have a power supply with more than one 12V rail for a graphics card to draw power from. When you connect two PCIe power cords from such a PSU, power is drawn from each rail independently.
Can PCIe cable go either way?
You must ensure that the cable is inserted correctly because it can only move in one direction. If your graphics card has several PCIe power connectors, you will almost certainly need to connect a cable to each one otherwise the graphics card will not be able to function.
Can I use a 6-pin PCIe on an 8-pin GPU?
No, because if a 6-pin connector is inserted into an 8-pin slot, the GPU will attempt to pull more power than the cable is rated for, posing a fire risk.
Which end of a PCIe cable goes into the power supply?
The PSU section only connects to the power supply (in one direction), while the 6+2 pin PCIE piece connects to your graphics card. In no other way, shape, or form.
Conclusion
Lastly, keep in mind that PCIe cables should be handled carefully and you absolutely should not mess up the orientation they go in. Otherwise, there are possibilities of short-circuit, and your cable, graphics card, or motherboard can be damaged. We hope that we were able to help you find the answer to where PCie cables go. If you need further assistance, please do not hesitate to contact us in the comment section.
Subscribe

to our newsletter

& plug into

the world of technology