SPDIF Vs USB Which Is Better? | Difference Between them
When it comes to audio transmission, both USB (Universal Serial Bus) and SPDIF (Sony/Philips Digital Interface) uses digital signals, however, they differ in a lot of areas. Both have their own strength and weakness, making it difficult to suggest one solution suitable for all. However, SPDIF offers better interference protection, but USB offers more flexibility.
In this article, we will dive deep into their general characteristics, advantages, and disadvantages in an attempt to help you make a more informed decision about which one is better suited for your audio needs.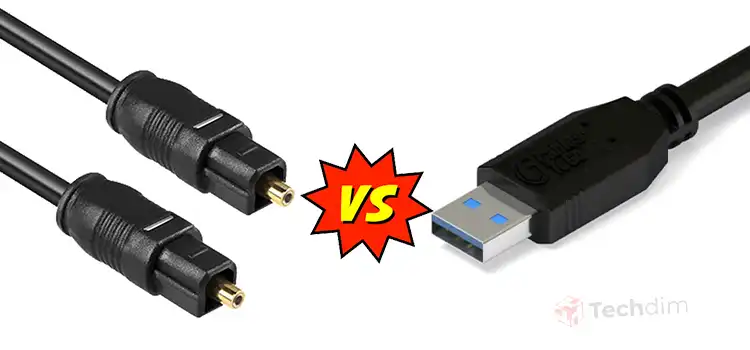 Comparison Between SPDIF and USB for audio transmission
Everything you need to know about SPDIF and USB is explained below –
What's SPDIF?
S/PDIF was developed by Sony and Phillips as an audio solution for both consumer and semi-professional levels. It is an audio transmission format that carries digital audio signals between various devices. It commonly uses a coaxial or optical cable for data transfer, which allows it to transmit stereo or multi-channel audio without any loss in quality. SPDIF has been around for several decades and has proven itself as a reliable option in many audio setups.
Advantages of SPDIF
The following are the advantages of SPDIF over USB:
Lossless Transmission: SPDIF ensures a bit-perfect transfer of digital audio signals, preserving the original quality without any degradation.
Long Cable Runs: When compared to other solutions, SPDIF can handle long cable runs without significant loss of signal quality, making it suitable for larger setups or installations where devices are located far apart.
Wider Compatibility: SPDIF is a standard protocol supported by a wide range of audio devices, including DVD players, soundbars, AV receivers, gaming consoles, smart TVs, and more.
Limitations of SPDIF
SPDIF has limitations in terms of the maximum sample rates and bit depths it can support. It is usually limited to 24-bit/192kHz, which may not satisfy the requirements of many audiophiles.
What's USB?
USB, a common standard for connecting various devices, including audio interfaces, has gained popularity in recent years for transmitting digital audio signals. With advancements in USB technology, such as USB 2.0, USB 3.0, and USB-C, it has become an attractive option for many HQ audio enthusiasts and professionals.
Advantages of USB
Just like the SPDIF, USB comes with its own set of advantages, such as:
High Data Transfer Rates: USB offers high-speed data transfer rates, allowing it to handle high-resolution audio formats and multi-channel audio streams.
Versatility: USB connections are versatile and can power devices while transmitting audio signals. This feature is especially useful for portable audio devices that require a single connection for both power and audio transmission.
Expanded Format Support: USB supports a wider range of audio formats and sample rates compared to SPDIF, making it a suitable choice for those seeking compatibility with a wider variety of high-resolution audio files.
Limitations of USB
Signal Degradation: USB connections may suffer from interference and noise, especially in poorly shielded cables or when connected to devices that generate electromagnetic interference. This can affect the audio signal quality.
Cable Length Limitations: USB cables have a maximum recommended length, typically around five meters. Extending beyond this length might require additional hardware, such as repeaters or active USB cables.
SPDIF vs USB: Which One to Choose
As we've explained earlier, there's no one solution that's fit for all. The choice depends on your specific needs. If you want your audio less susceptible to outer interferences, go with SPDIF. However, if more flexibility is what you need, choose USB, as it supports a wider variety of devices. The actual sound quality depends on the DAC (digital-to-analog converter).
Here's a difference chart between USB and SPDIF for quick reading:
| Characteristics | SPDIF | USB |
| --- | --- | --- |
| Full Name | Sony/Phillips Digital Interface | Universal Serial Bus |
| Cable Types | Coaxial, Optical | USB-A, USB-B, USB-C |
| Data Transfer Rate | Up to 24-bit/192kHz | Up to 32-bit/384kHz (USB 2.0/3.0) |
| Audio Formats | PCM, Dolby Digital, DTS | PCM, DSD, Dolby Digital, DTS |
| Signal Quality | Lossless | Lossless (Dependent on cable quality) |
| Compatibility | Wide range of audio devices | Wide range of audio devices |
| Power Delivery | No power delivery | Can power connected devices. |
| Cable Length Limit | Can handle long cable runs | Recommended up to 5 meters (extendable with additional hardware) |
| Interference Susceptibility | Less susceptible to interference | Susceptible to interference and noise |
FAQs (Frequently Asked Questions and Answers)
Is audio better through USB or optical?
Theoretically, optical connections provide better sound quality with clear and crisp output. however, the actual output largely depends on your DAC and output units.
How many channels can SPDIF carry?
Due to bandwidth limitations, SPDIF can only carry 2 channels of lossless stereo. But if you are fine with compressed audio, it can do 6 or 8 channels (5.1 or 7.1) too.
Why use a USB to SPDIF converter?
If you are facing a timing error with your USB data stream, using a USB to SPDIF converter, you can essentially fix it.
Conclusion:
The choice between SPDIF and USB ultimately depends on your specific audio requirements, setup, and personal preferences. SPDIF excels in providing lossless transmission, wide compatibility, and robustness over longer cable runs. On the other hand, USB offers higher data transfer rates, expanded format support, and versatility, especially when it comes to powering devices.
For those seeking a simple, reliable, and widely compatible audio connection, SPDIF remains a solid choice. However, if you prioritize high-resolution audio, multi-channel support, and the flexibility of a versatile connection, USB may be the more suitable option. Ultimately, both SPDIF and USB have their place in the audio world, and the "better" option depends on your individual needs and preferences.
Subscribe

to our newsletter

& plug into

the world of technology