Between 27 and 32 4K monitors, 32-inch ones are better options considering readability, user interface, picture quality, and other factors.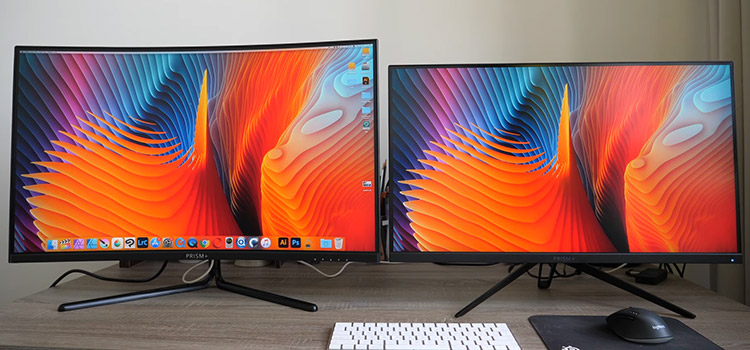 27 vs 32 4K Monitor – Which One?
Going for a 4k monitor in 2022 doesn't seem lavish anymore, as the price range settles down and a wide variety of 4k contents. It may sound tempting to get one if you are a professional content creator or gamer as you'd be able to access impeccable picture quality. However, you might find yourself half-hearted about getting either a 27 or 32 4K monitor as the dilemma is real.
As for 4k 27″, you will need a minimum of 125% scaling where the ideal is 150%. For 32 inches, a 4K image will have a PPI of roughly 137 PPI. There's no huge leap from 27" to 32" as from 24 to 27 inches, but it's definitely far better than a 24-Inch 1080p panel, and a 27-Inch 1440p panel. 
Is 4K Better on 27 or 32-inch?
There are several factors to take into consideration while deciding whether 4K is better on 27 or 32-inch. This even includes the operating system you're using. 
1. Size of the User Interface
For the 27'' monitors, the user interface, (Icons, menu bar, opened tabs) is relatively smaller. You can use the 'Scaling' option to customize the appearance of the user interface to larger or smaller. 
The size of the user interface, (Icons, menu bar, opened tabs) is larger than the 27-inch model.  The user interface reads like that on a like 3840 x 2160 screen.  
2. Picture Quality
27' monitors on the Windows OS provide sharp videos and images with almost no pixels being visible. However, a 32-inch monitor or larger running the Windows OS is more likely to display pixels that are visible to the eyes. Either way, the picture quality is great.
3. Software Performance
Even though the 27" monitors have sharp image quality, it has some zooming-in and resolution inconsistencies in Adobe Photoshop. For 32" monitors, no inconsistencies are noticed while zooming and resolution as well as pristine image equality. 
In Adobe Illustrator the text quality is perfect on 27" monitors. At 100% zoom, you cannot see the full picture. However, in 32" you can see the full picture even at 100% zoom. The text quality is sharp and detailed on 32" monitors too.
4. Programming and Movies
27-inch 4K monitors have a pixel density of 163 PPI, which is a bit less for MacBook Pro. But it should not be much of a problem. For any movies and programming, bigger screens have the upper hand. As 27-inch monitors' DPI will be too tight for 4K, choosing a larger screen is a better option.
Is 4K Worth it on a 27-inch Screen?
Using 4K on a 27" monitor doesn't seem worth it as running with the native resolution of 3840×2160 is way too small on a 27″ monitor. You have to scale the resolution to view the screen better. However, scaling creates issues with some items being too big and some being too small. 4K seems incredibly good if the screen is at least 35 inches. 
For gaming, 27" monitors are almost the right size. But keep in mind that 4k gaming needs a really hefty video card and other configurations.
Should I Get a 27 or 32-inch Monitor?
For 4K, choosing anything above 32" is the wisest decision. To choose between a 27" and a 32" monitor, you should go for a 32" one. However, it depends on your requirements. 27" is a more budget-friendly option. For watching movies or working with multiple tabs at once, a 32" monitor is gonna be better for you.
Upgrade to a 27″ or 32″ 4K monitor now! Immerse yourself in stunning visuals. Choose wisely, but act fast!
Is 32-inch too Small for 4K?
The best monitor size for 4K is 32-inch depending on the setup and positioning of your desktop. 32 inches monitors are perfect for watching movies and programming, especially working with multiple tabs.
To Conclude
Before choosing your 4K monitor, make sure to consider your budget, refresh rate, and adequate space that your desktop setup has for setting up the monitor. Also, it depends on the tasks you're going to do. For regular office work and studying, 27" will work just fine. Choose which one is best for you depending on your preferences.