There are few suitable multimedia players around us and we are quite comfortable with them. But in some cases, we find some issues and at that time we think of the best multimedia player. We think if we could have the best one. We know your concern. So we have come up with a solution for you. In this article, we'll directly put PotPlayer vs VLC Media Player into comparison.
Potplayer and VLC are the most popular multimedia players among all of them. But in between them which one is best? Let's clear the confusion between the most popular multimedia players PotPlayer vs VLC Media Player.  So, vlc or potplayer, which one to choose? We are going to go through their features. Here we go for this investigation.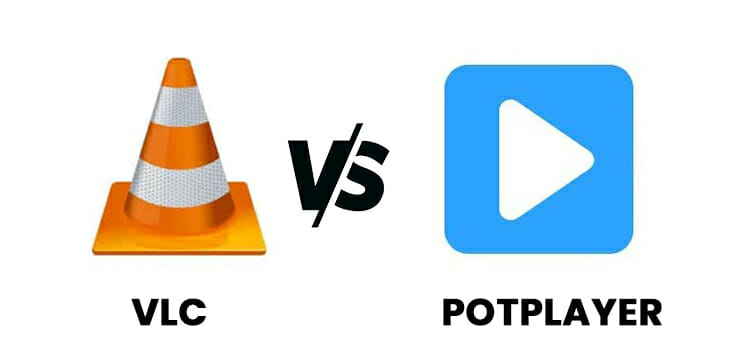 Comparison Between PotPlayer and VLC Media Player
If you look into the main features of these two pot player vs vlc multimedia players, we will come to know that both of them are amazing players. But if you want to choose between them, which one are you are going to take?
PotPlayer has some upgraded features that are not found in VLC. PotPlayer is quite faster than VLC. Again, PotPlayer is more customizable, user friendly. Potplayer beats VLC in some basic aspects also. For example, format support.
| | |
| --- | --- |
| PotPlayer | VLC |
| Has more Video Codecs. | Has less Video Codecs. |
| Has 3D feature. | Don't have 3D feature. |
| Fast loading interface and provides robust customization option. Also provides lot of hotkeys. | Slower loaded interface and provides robust customization option. |
| Can't stream movies online in browser. For streaming, you will need to copy the link and past it into PotPlayer to play the video. | Can stream movies online in browser. |
| Has autoplay feature. | Don't have auto play feature. |
| Can only be used in Windows. | Can be used in Windows, iOS, android. |
Let's go through each feature of these two multimedia players.
1. Video Formats / Media Formats
The majority of video and audio formats can be accessed by the PotPlayer media player. Again, this can access so many codecs which is astonishing. You won't face further hindrance if you download all the codecs. The temporary problem can be solved by downloading the required video codec. The hardware acceleration is good enough to play high-quality videos.
On the other hand, VLC player is great in supporting all video formats like the MKV media file formats, MOV files, SWF files, and VOB files, but not too good with the audio formats. In this area, you may have to struggle if you use VLC player. So, Potplayer wins in terms of comparison of video format supports between Potplayer vs VLC player.
2. 3D Support
There is a piece of cool news about PotPlayer media player. This feature can make it more useful between vlc player vs potplayer. So, is potplayer better than vlc media player? PotPlayer supports 3D video file. By having a pair of virtual reality 3D glasses you can have the experience of enjoying your favorite 3D movie and games in your room without going to the theatre by using this video player.
This cool feature is not available in the VLC video player.
3. User Interface
Is potplayer good enough as a free video player in terms of UI? PotPlayer app has a clean and fast-loading user interface. So this is very friendly to users and users feel very easy to access this. On the other hand, VLC's user interface is a little difficult to understand and is confusing sometimes. Both of them provide different keyboard shortcuts.
4. Software Support Platform
As VLC is old and free media player software in the multimedia players, so it has access to all the platforms from Windows PC to Mac and vlc media player features a lot of things for that. In terms of support, VLC is better than potplayer as well as media player classic and windows media player. In this sector, PotPlayer is not the winner as this is the new one. Plotplayer is only accessible in Windows OS and it doesn't provide any potplayer for mac. So, the Potplayer still now should be called pot player for Windows. That's the drawback of PlotPlayer for now. Though Potplayer supports different codecs and among them, potplayer swf codec is very much used. The codec pack has a good amount of codecs too.
5. Extensibility
You can watch and stream movies directly from the browser through the VLC plugin in Mozilla Firefox. But PotPlayer video player does not have this access as it has to work on the software platform now. But can we say that potplayer is better player than vlc? Let's find out.
6. File Size
The download size of the Pot Player for PC or potplayer exe is 23.5MB and the download size of VLC is 30MB. So you do not have much space and do not want to waste megabytes then you can easily go for PotPlayer.
7. Autoplay
PotPlayer has the autoplay option and so the video playback plays sequentially. You do not need to play every time during playing a playlist of multimedia files. You only need to play once and then one by one the videos will be played just like Netflix.
But in VLC you have to play each time to watch or stream any video media file. But in terms of advertising, potplayer ads will surely irritate you.
Our Verdict
If you are looking for small details in your multimedia player, then you can go for PlotPlayer without a second thought. It can provide even such videos and audio which can not be played by other players like GOM player or MX player. So as you have got a clear idea, you can say PlotPlayer is the best. In the case of Mac, Android, or iOS, you can use VLC for the time being as in these PlotPlayer is not available.
Frequently Asked Questions
Can PotPlayer play 4K?
Yes, you can play 4k videos in PotPlayer very smoothly.
Can VLC play 4K content?
If you are using an older version of VLC, for example, VLC version 2.0 then you will face issues while playing 4k content. But the latest update, version 3.0 allows to play 4k content smoothly. So, if you are using VLC, update the player and enjoy 4k content.
Conclusion
From those above features, it is quite easy to decide which one is better for you for playing media file. PotPlayer! Though it is only available for windows for now, in no time it will be available for other software platforms also. If you are just a simple video watcher or streamer then PlotPlayer is best and VLC is also quite good. So for daily uses, you can pick any of them.