The cyber threat is one of the greatest challenges of the modern world that require lots of resources to solve. To prevent unauthorized access, threats, or security leaks, every year billions of dollars are spent by individuals and organizations to protect their systems. To identify and remove these threats, plenty of antimalware and antivirus software companies provide specialized software solutions worldwide, which aren't cheap and require a considerable amount of money every year. Avast and Avira are two of the most popular choices of cybersecurity software. In this article on Avast vs Avira, we're going to compare them directly to find out which one is a better deal overall.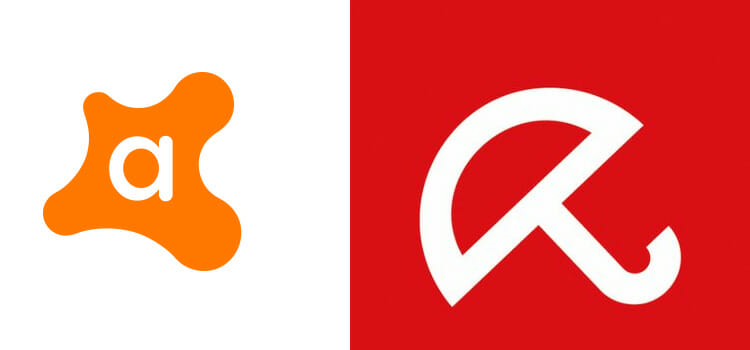 Avast vs Avira
Founded in 1988, the Czech cybersecurity company Avast is now considered the second-largest company on cybersecurity in the world. It boasts a whopping 435 million worldwide users. Avast also acquired AVG Technologies and provides high-tier security solutions for all major platforms.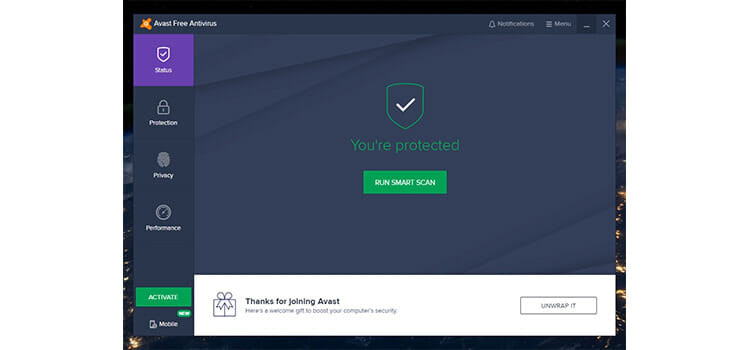 Avira is a German cybersecurity company founded even before Avast, in 1986 but officially came out as a full package in 2006 after development. It boasts 100 million worldwide customers and currently possesses the 6th biggest antivirus shares in the world.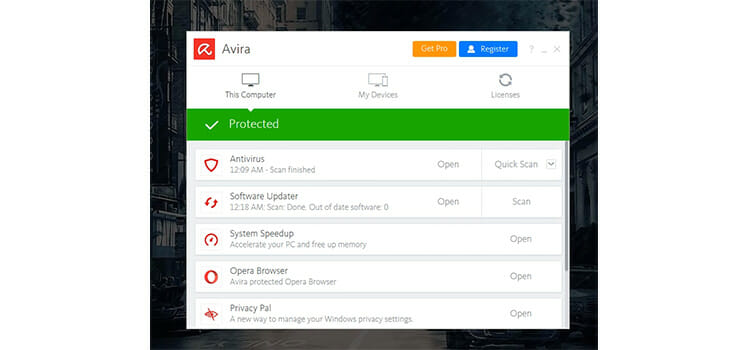 To determine which one's the better package, we'll compare them into categories and find out how they perform.
Avast vs Avira Degree of Protection
This category represents how well Avast vs Avira can handle threats and protect the system on a real-time basis, and it is the most important category for security software. To determine, we'll look at some individual tests and the verdicts of two very prestigious antivirus testing organizations: AV-TEST and AV-Comparatives.
Individual Tests
Here, the AV applications were exposed to numerous malware files and virus files, and their detection and blocking rate was measured. Avast Free antivirus managed to get a 99.36% proactive detection rate against 1713 malware items, which is a great result. At first, some of them got away but Avast deep clean successfully took action and performed a clean sheet. After a restart, no malware presence was detected.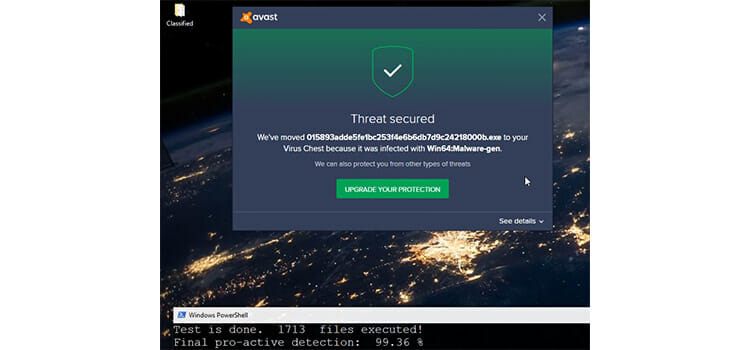 Again, Avast was tested against 56 ransomware files. When all shields were turned on (File, Behavior, Mail, and Web Shield), Avast achieved 100% proactive detection with no misses and was very fast too.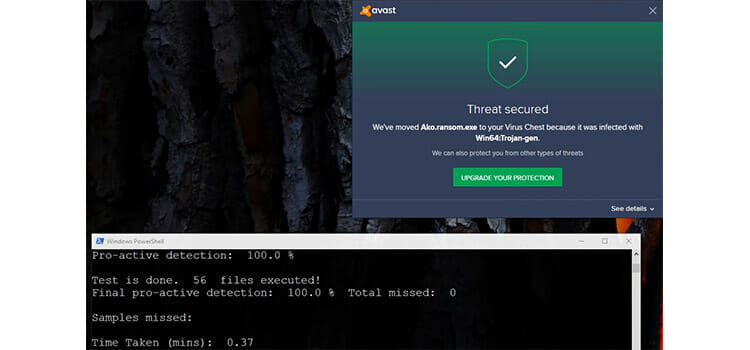 But, when the test was run again with the file shield turned off to check the performance against 0-day ransomware signatures without pre-existing rules, the performance was poor with 33 files missed and the system completely sabotaged.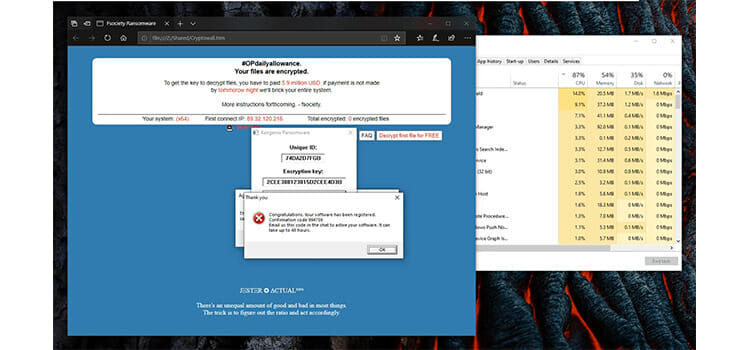 This indicates that Avast is a highly accurate security system for existing malware definitions, but can fail miserably if a new set of malware attacks the system. It couldn't detect the behavior correctly to block them. But overall, it performed great.
As for Avira, it was exposed to 1562 malware items. Avira successfully blocked them and achieved a 99.3% detection rate with 3 missed processes that were executed afterward. After a restart, Avira took action on those processes and the system was clean. However, the test was very slow.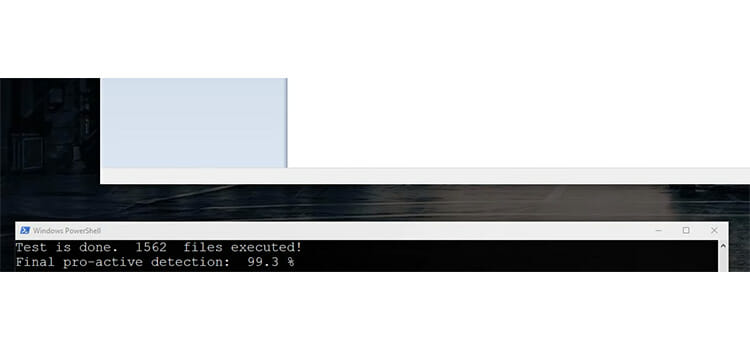 AV-TEST
Avast scored 6 out of 6 in protection, 5.5 in performance, and 6 in usability in the AV-TEST results. It achieved a 100% protection rate against 0-day malware attacks, where the industry average was 98.8%. It is one of the top products in the AV-TEST list of security software.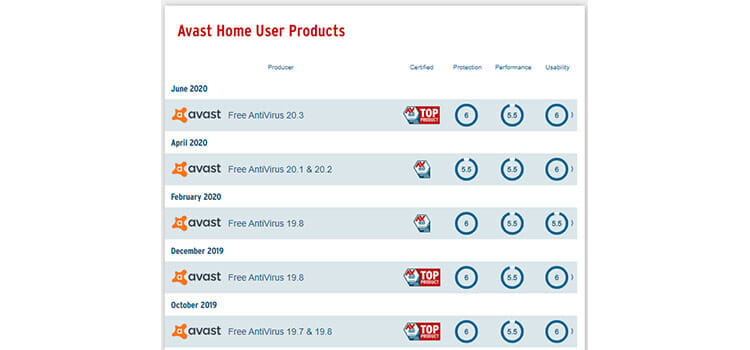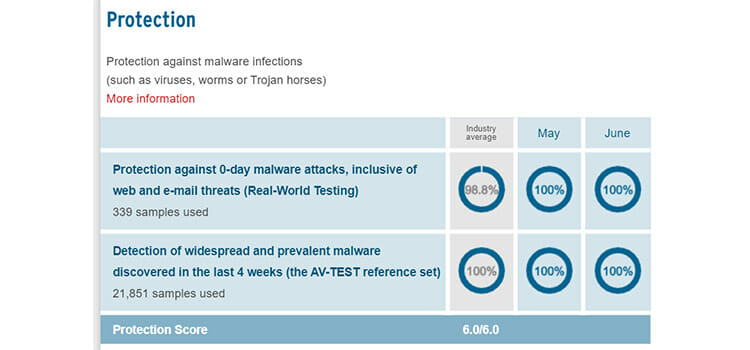 Avira scored 5.5 out of 6 in protection, 6 in performance, and 6 in usability in AV-TEST latest results. It achieved a 98.9% blocking rate against 0-day malware attacks in June. The industry average was 98.8%. So, it was slightly higher than the industry standard. But, Avast beats Avira in this test.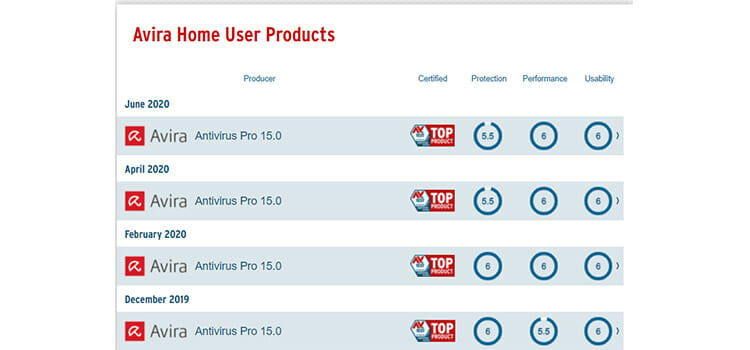 AV-Comparatives
According to the results in May 2020, Avast blocked 99.7% of threats with 0.3% system compromising and 0% user dependence. There were 8 false positives, which isn't ideal. It achieved the highest award for AV-Comparatives, the ADVANCED+, and is currently in 1st place.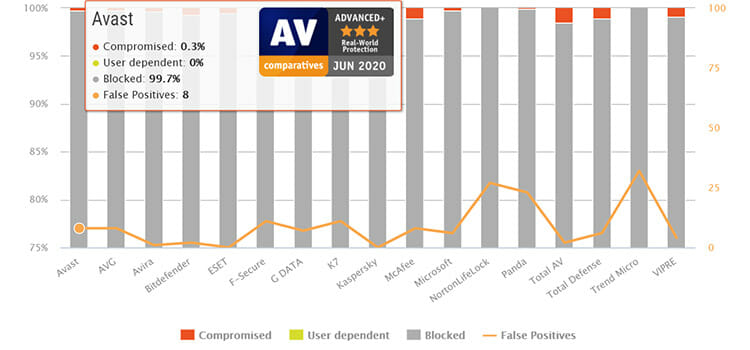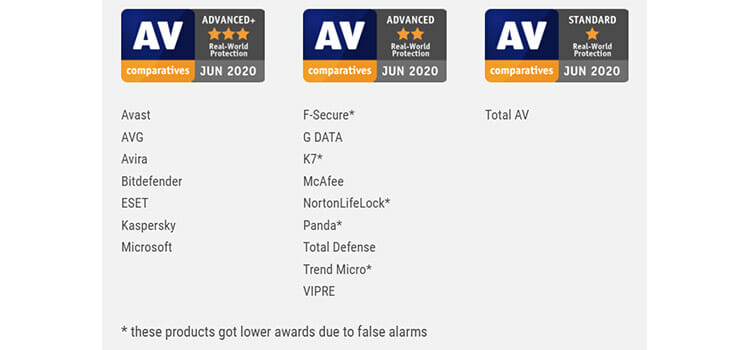 Avira achieved a 99.6% blocking rate with 0.4% compromised and 0% user dependence. It had fewer false positives, only 1. Avira also achieved the highest ADVANCED+ award, as well as GOLD in real-world protection and malware protection. The blocking rate was a bit lower than Avast, but it was quite good.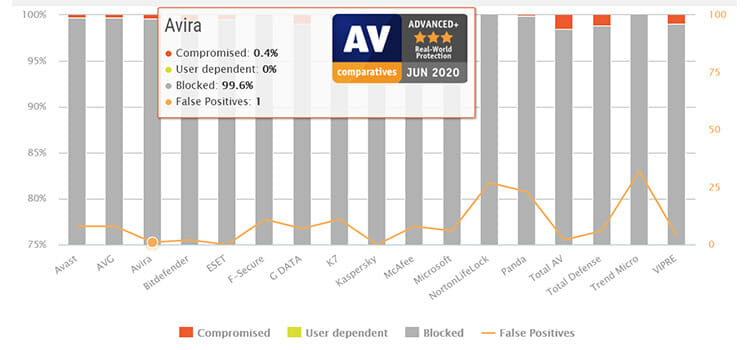 Both of them ensured high-quality protection to the system with great ratings. Overall, Avast is slightly ahead of Avira in terms of detection rate and the ratings are slightly higher too.
Avast vs Avira Impact on Computer Performance
Antivirus software often takes up much of the system resources (CPU resources and RAM usage) while scanning and eliminating threats in the background. This usage rate changes with the execution method of different products.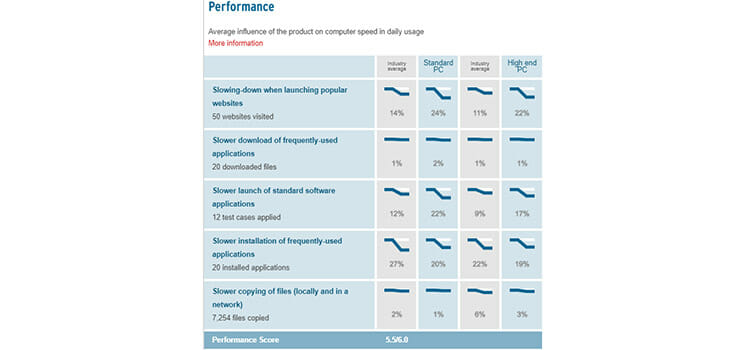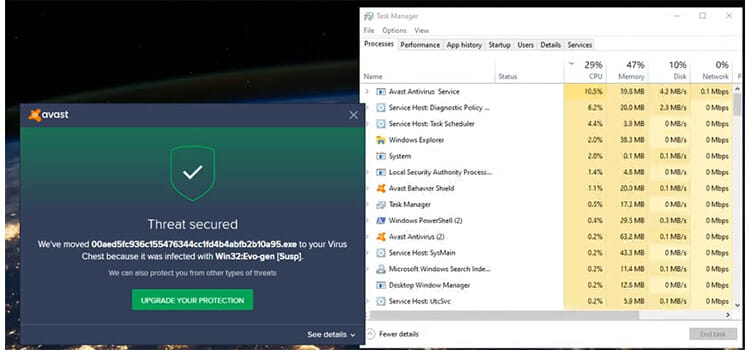 Avast achieved 5.5 out of 6 in the AV-TEST performance impact. It slowed down while installing frequently used apps or copying files. While in the individual test, it consumed 8-15% of CPU with up to 100MB of RAM by 3 different Avast processes. The RAM consumption was considerably high.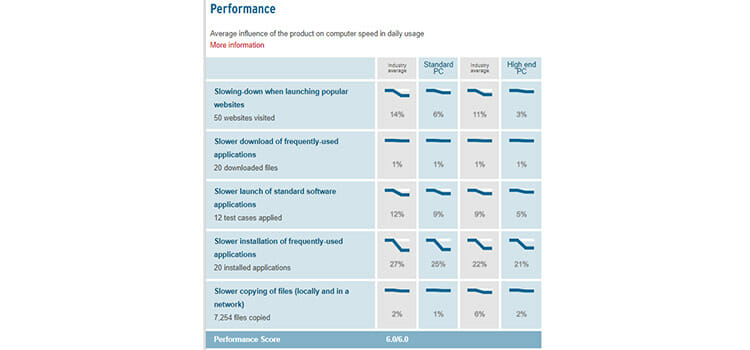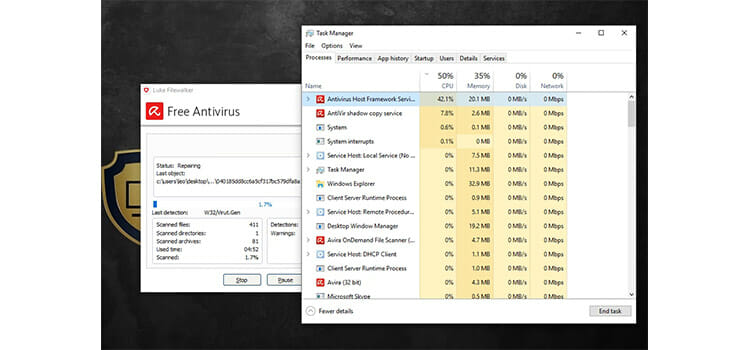 Avira performed slightly better by achieving 6 out of 6 in the performance rating of AV-TEST, mainly because the execution method of Avira is slower than Avast. In the individual tests, the RAM consumption was lower, around 30MB. But the CPU usage spiked often up to 50%.
Overall, Avira took less performance impact on the system while removing threats than Avast, and wins this category.
Price Per Year
Pricing is an important category for security software. It varies with the package and number of devices.
Avira offers a 30-day money-back guarantee with all its products. The baseline product, Avira Antivirus Pro costs 30.99 dollars for 1 device per year. You get better deals for more devices. For 5 devices, it costs 49.99 dollars.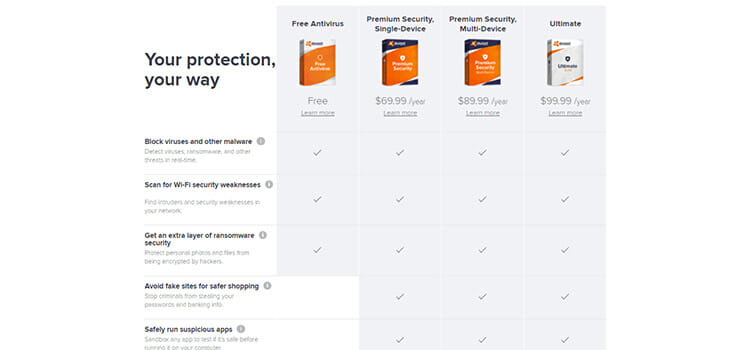 Avira Internet Security costs 40.99 dollars for 1 device, up to 58.99 dollars for 5 devices. Avira Optimization Suite costs 40.99 dollars. The high-end product, Avira Prime costs 64.99 dollars for 5 devices, and only 90.99 dollars for 25 devices, which is great. It also offers a free VPN along with antivirus. Avira Prime is a great cost-effective for a bigger group of users.
Avast baseline product, Avast Premium Security costs 69.99 dollars for a single device. For multi-device, its 89.99 dollars in any platform. Avast Ultimate package costs 99.99 dollars for 1 device and comes with 4 security features along with performance and privacy tools. For businesses, the Small Office Protection package is 139.99 dollars for 10 devices.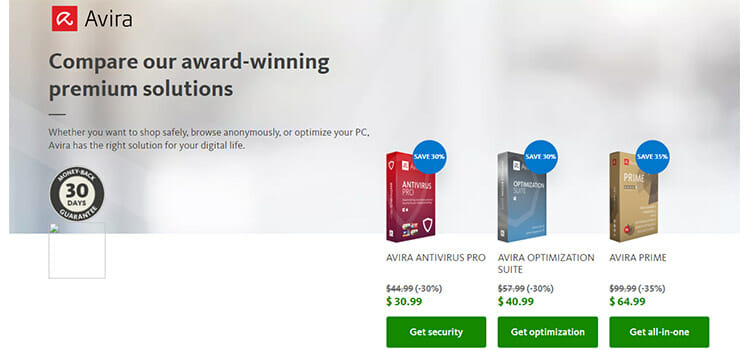 By looking at the numbers, it is clear that Avira costs much less than Avast in its packages. For even 1 device protection, Avast costs much higher than much other security software.
User Interface and Website
The UI of security software determines its usability and ease of access for both general and advanced users who want to dig deep and take control.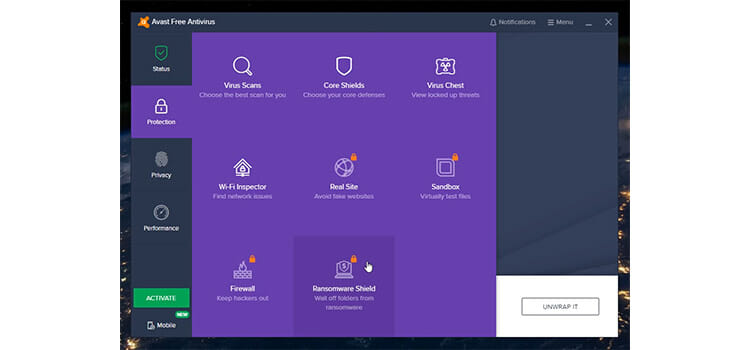 Avira UI had a major update recently and got a clean fresh look. It looks better than the previous versions. It's great for general users, but it doesn't offer much-advanced level settings for selective users. Also, as soon as you can, the old UI pops up. The software doesn't contain any behavior blocker, HIPS module, and other advanced controls, and is heavily reliant on the signatures. However, the Avira website is clean and organized in the products and subscriptions section.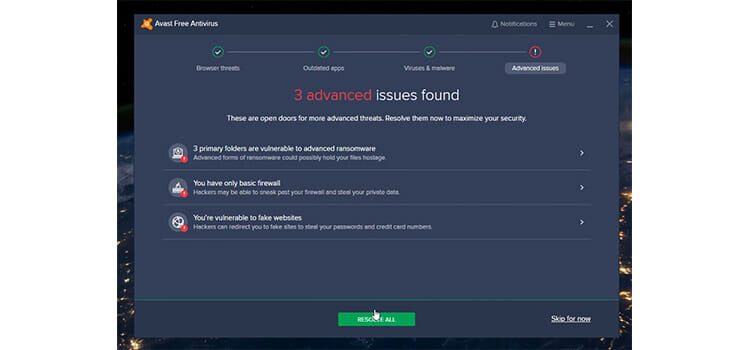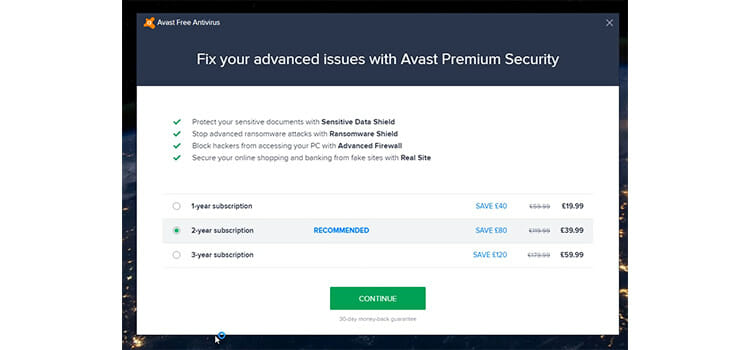 Avast Premium version UI is decently well organized and although looks old, contains necessary advanced features.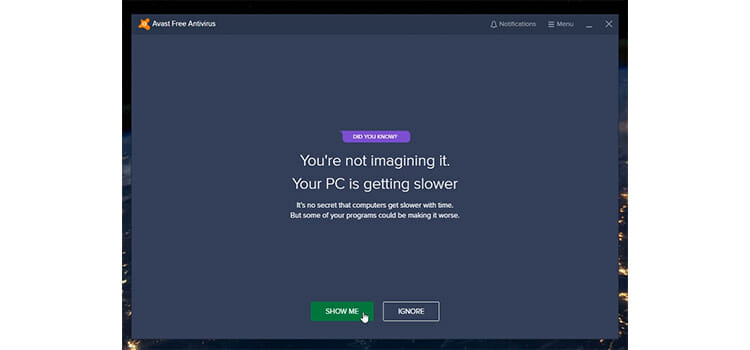 But, the free version is a nightmare. It frequently shows scare tactics to lure users into buying the premium version. A basic scan gives 3 advanced issues that are fake and just another method of getting you to the purchase page.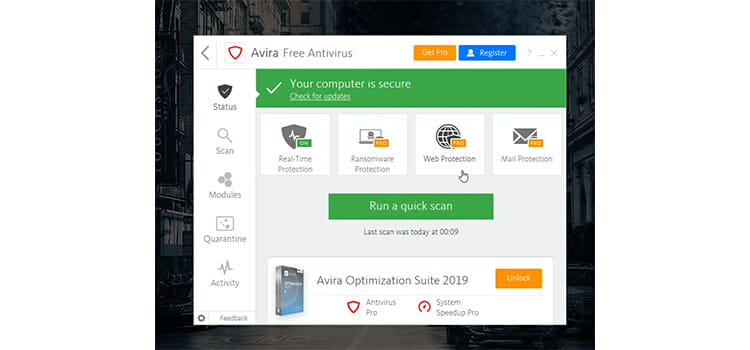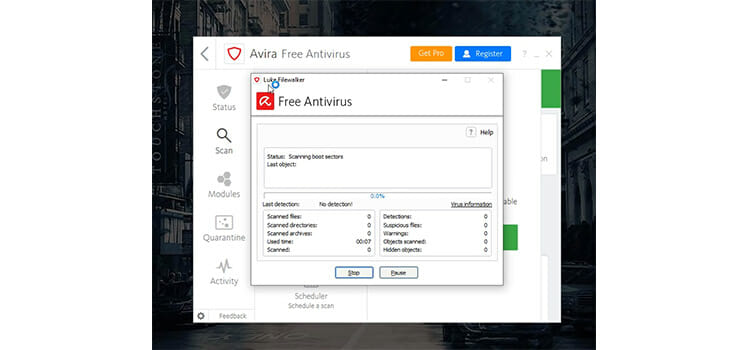 It even flat-out lies about the computer getting slower, and asks for a premium membership. On every issue, if you click "Resolve", it will land you on the same purchase page. Avast website is organized but looks old.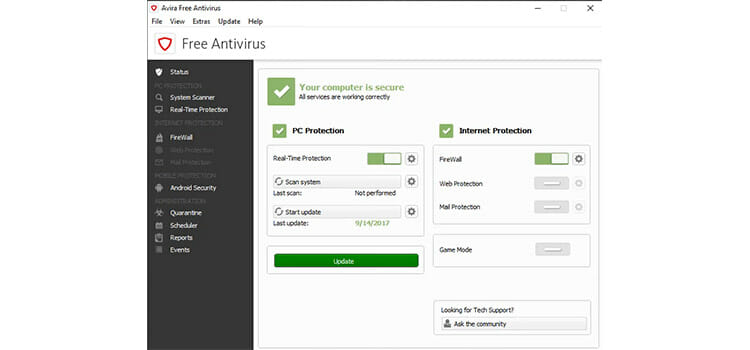 For this particular reason, Avast Free UI is almost unusable and unpolished. Avast Premium UI is ok, but Avira UI is cleaner.
Standalone Software and Features for Different Occasions
Both Avast and Avira come with lots of specialized apps and features for different occasions of needs. Avira Antivirus Plus offers a PUA shield, Firewall, Web Protection, Night Vision, Ad-blocker, Device Scanner, Browser Tracking, Email Protection, and many more features alone, which is great.
Avira Prime contains even more like secure browsing, smartphone security, price comparison tool, password manager, unlimited VPN, privacy optimizer, driver software updater, etc. for businesses, it provides SDK and API security, IoT security, server, email, and client security, threat intelligence and other features.
Avast also provides lots of features and options, but most are standalone paid choices. The password premium (19.99 dollars), driver updater (34.99 dollars), cleanup premium (59.99 dollars), SecureLine VPN (89.99 dollars) are all paid services with considerable purchase fees. Free services include Chrome extensions like the SafePrice (a Chrome extension to compare and save money), and Online Security (another Chrome extension that blocks malware websites and phishing).
In this category, Avira is the clear winner for its huge amount of features and broad services.
Conclusion
In this article on Avast vs Avira, both of them were close. The overall verdict is, Avast is a better and faster-performing security software than Avira, but Avira provides better and broader features, better UI, and slightly less performance impact at a cheaper rate than Avast.