Do you often worry about being spied upon with hidden cameras or other recording devices? Are you afraid that some of your snoopy friends are listening to you? If you are thinking a bug is planted somewhere at your home, it doesn't hurt to check. An anti spy detector can bring peace of your mind by sweeping and detecting such devices. It can save you from any unwanted situation you may face regarding your personal information. In this article, we reviewed some of the best ones and from this, you can find the best anti spy detector that serves your needs.
What Is Anti-Spy Detector?
An anti spy detector is an essential device for those at risk of surveillance especially for them who think he is at the risk of leaking any personal information. It lets you easily scan your home. Any devices that shouldn't be in your home such as hidden cameras, audio recorders and so on that can gather information, you can easily detect with the anti spy detector. There was a time when they were only reserved for law enforcement agencies and military counter-intelligence personnel. Nowadays, with advanced technological development, they are more affordable and common.
An anti spy detector is quite a small device. It comes with a battery that can last for up to 5 hours. One can easily plug in headphones to it, and make it seem to like listening to a radio. When it senses signal emitting from a bug, it lets you know through the alarm. Thus, you can find any potential spying device in your home.
Our Recommended Best Anti Spy Detectors
It is quite difficult to choose the best anti-spy detectors among all the products out there with various features. We gathered some of the best anti-spy detectors and reviewed them according to their specifications and user satisfaction. Some of the detectors serve amazingly for the value and some of them are average. Our recommended best anti-spy detectors:
1. Anti Spy RF Detector Wireless Bug Detector Signal
It can detect wireless camera equipment from 1.2G – 5.8G. It may be a wireless camera or hidden wireless camera. If you are worried about device sensitivity, you can be assured because it is built with an upgraded chipset. It provides more stability and accuracy with strong anti-interference. The manufacturer promises to continuously upgrade the product with up-to-date technology and chipset. It also can detect all of bugs and locators with Mobile 2G/3G/4G Card with a detection range of 1MHz-8GHz and greater than 73 dB.
It is also usable for its multiple functionalities. It can be used to find hidden wireless and wired camera, GPS tracker device, and sense electromagnetic leakage from microwaves. JMDHKK signal detector is a 3 in 1 detector that helps to maintain its various functioning.
One of its attractive features is its 3 detection mode. It is facilitated with RF signal detection and Magnetic Field detection to locate magnet used to mount GPS tracker onto a vehicle. Also, the Camera Lens Finder will help you to find hidden camera lenses.
If you are willing to buy the best anti spy detector suiting your need, you should consider the matter of whether your device is portable or not. In this case, it provides this great feature of being Compact and light-weighted. Its weight is only 150 grams. You can take it anywhere you want and use it according to your needs. 
Moreover, the alarm system is great! It uses sound, light, and vibrations to alert users to the hidden device. With audible buzzer alarm and vibration alarm, it can meet up your need for your travel and stay in a hotel. The alarm sounds according to the proximity of the bug. When it is close enough to the bugging device continuously, signal indicator lights will fully adjust the detection to pinpoint the bugging device and you will be aware of its location.
It also provides a lifetime warranty. Meanwhile, the customer support team will provide lifetime professional support.
However, some users face difficulty in setting the RF frequency range. Slight difficulty users face operating the device is, you should have some knowledge about its detection range.
2. sherry Anti Spy Detector & Camera Finder RF Signal Detector GPS Bug Detector
If you are looking for the newest version of anti spy technology, sherry Anti Spy Detector is here for you with its improved hidden camera finder. It provides stronger anti-jamming, a wider range of detection frequency and higher Sensitivity.
It can detect illegal spying devices such as hidden wireless cameras, GPS trackers, digital recorders, etc. The detection range of this device is 10 square meters for 2.4G wireless camera and 15 square meters for 1.2G wireless camera, which is quite appreciable. Moreover, it works fine for a different level of range of detection. By adjusting The Potentiometer, you can easily adjust its sensitivity and detection range.
This wireless device itself is super sensitive. you will detect all sorts of background noise in the city At the highest setting. It can detect 1.2G to 5.8G wireless hidden camera, monitor, surveillance device, etc. But you'll have to get quite close to avoid background interference.
It can even detect the bug when it is on standby mode. It can also detect 2G,3G,4G mobile phone SIM card bug, GPS locator, car tracker, eavesdropper, etc. As a daily used scanner, it prevents being photographed or shooting videos. 
One of the great features of this product is its RF wireless signal detection. It is equipped with advanced chips. It is designed to locate any transmission devices. It works great for the devices that are within 35 to 40 feet of your location. 
This detector can detect whether there is a magnetic bug installed in your car. It has a detachable antenna so that you can easily detect and locate GPS tracker, pinhole camera and so on.
When it detects the eavesdropping devices or spy cameras, the front LED lamp of the detector will light up and you will know through the vibration and sound alerts. THE LED indicator is of great use.
One of its unique features is, the wireless detector can detect intense radio signals radiation around environments. There may be strong electromagnetic radiation leaks from the household appliances, such as computers, radio television, etc. or abnormal high magnetic field and Sherry Anti Spy Detector can easily detect it.
The product is easy to use and will give you great comfort to have such a professional grade detector. If you travel a lot for work you can take it to your stay at hotels for the peace of mind.
The manufacturer also provides a lifetime product warranty and anytime professional tech support.
Despite all the advantages, some users faced some problems. Sometimes, laptops lost the WiFi signal after connecting with the device. The instruction manual is not as helpful as expected and does not provide operational clarity.
3. Anti Spy Detector, RF Detector & Camera Finder, Bug Detector, Upgraded RF Signal Detector
Among all the products available in the market, it is one of the best anti-spy detectors. It can Check wireless signal patterns, detect pinhole camera and has strong magnetic detection. 
This wireless detector detects signals like mobile phones and GPS. It can also detect wireless hidden camera of 1.2G to 5.8G, mobile phone SIM card bug, GPS locator, car tracker, etc.
There may be a magnetic bug or hidden camera installed on your car, with a detachable antenna. It can detect it without any difficulty. It can also detect intense radio signals radiation.
For detecting pinhole cameras, it uses red light reflection. There is no need to install the antenna for this model.
When it comes to adjusting the sensitivity level to find a bug, it is quite reliable. The product works for multiple signals reacting to a WiFi router, income calls, and even Bluetooth connections.
Its alarm system consists of a sound and light alarm indicator which is accurate and reliable. The closer the detector is to the device, the louder the sound gets and you will know at that moment. It is also extremely small, lightweight and serves great as a trusted companion during traveling.
Its magnetic detection mode can detect strong magnets and detect whether are hidden behind the object. When the antenna is placed and the device is close to a strong magnet, it emits a buzz and a white light at the top of the antenna illumines the suspicious area.
One of the main advantages of this product is, they have a professional technical support team. Whenever you have any problems during the operation, you can contact them directly. It also provides lifetime Product warranty so that any quality problems can be returned free of charge.
However, the device may fail to detect wireless devices locating at close proximity due to operational malfunction.
 4. Anti Spy Detector, Camera Finder, Wireless Bug Hidden Camera Detector
This wireless device protects your privacy with advanced technology and a smart chip. It works great with different monitoring sources, such as wireless camera, magnet, etc. and find them with ease. It has high sensitivity and wide frequency detection range so that it can accurately detect wireless or wired surveillance cameras, GPS locators, and car trackers. It can also detect a 2G/3G/4G mobile phone SIM card bug.
Ths wireless detector is a perfect defender to provide ultra-far detection, ultra-high sensitivity, intelligent analysis, multi-exploration, long working time. Mainly the advantage of these features is, you can detect the bug with ease, wherever it may be placed. This device is made with durable material to provide you a better service.
When it comes to multiple functionalities, this bug-finder provides laser scanning, RF wireless signal detection, and magnetic field signal detection. The detector can be used in anti hidden shot, anti-tracking, anti-listening and so on. 
You can switch between the alarm sound or vibration mode, so you can select your preferred mode of the alarm of the detected source. It is a very interesting device with Its fairly small size. You can carry it easily while traveling.
It is easily controllable through two keys. The alert system includes indicator light, vibration or beep when the suspicious RF wireless signal or magnetic field signal is detected. To scan the invisible wired or wireless camera, The special laser lens and LED laser lamp will help you. 
However, some users complain that the instruction manual does not provide clear guidance for operating the device. Some features like looking for camera lenses may not work sometimes.
5. Innoo Tech Anti Spy Detector & Camera Finder RF Signal Detector
It is an effective signal detector that helps to detect and lock various error signal transmission devices through signal fluctuations. Adopting a more advanced digital receiving mode makes the detection highly sensitive and a wide range of detection to protect your privacy. 
It can detect the presence of strong radio signal radiation around the living and working environment including 2G, 3G, 4G mobile phone SIM card bug, GPS locator. It can also detect 1.2G to 5.8G wireless hidden camera equipment and radio detection device. It has an adjustable threshold for a large range of frequency detection.
The signal detector is an upgraded version of the old G318 at the same price, moreover, it is equipped with a more powerful built-in battery. This upgrade makes it easy to improve working standby time. 
It facilitates new upgraded advanced chip manufacturing technology, product heat dissipation performance, and more powerful quality.
It provides stable performance with an easily controllable function which includes only switch and sensitivity knob. The alarm system with sound and light indicator is also accurate and reliable. Taking the device closer to the RF emission range, you can adjust the sensitivity by locking the signal emission location to find hidden devices.
Sometimes, it may not work properly if the bug is not in its acceptable range. Also, the instruction manual is not of great use.
Best Anti Spy Detector Buying Guide 
Things to keep in consideration before buying an anti spy detector: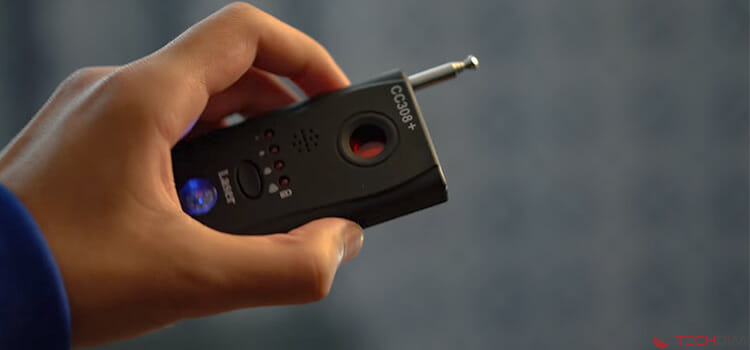 Range of Detection and Sensitivity
To find the bug, an anti-spy detector should be highly sensitive. It should able to track the bug from an acceptable distance. Also, the sensitivity should be adjusted easily to meet the detection range.
Magnetic field detection
You should check whether it supports magnetic field signal detection, which detects and locates GPS tracker precisely. Also, RF wireless signal detection offers great help.
Ease of use and portability
Before buying an anti-spy detector you should look for something lightweight and easily portable. If you are the person who loves traveling and stays at hotels now and then, then this feature is a must checked item for you.
Warranty and servicing facility
Warranty will assure you against defective products and also ensures that you can get a functioning product in exchange for your existing defective product. So you should check if the manufacturer provides a warranty and customer support.
FAQ
 Q: Where can I apply an anti spy detector?
Ans. Mainly, the device is used to detect installed wireless eavesdropper or tracking locator. Moreover, if you can use it to find electromagnetic radiation leakage in household appliances.
 Q: Does anti spy detector detect both wired and wireless cameras?
Ans. Yes, It works for both wired and wireless cameras. You have to use a camera lens finder mode for wired cameras and RF signal detection mode for wireless cameras. Product to product these modes may vary.
Q:  How long is the distance can it detect wireless signals?
Ans. It mainly depends on the strength of the signal. More or less, most of the detectors can detect signals within 40 feet.
Q: Does it find GPS trackers in the car? How?
Ans. Yes, it can find a GPS tracker. To do so, you must find an open place to adjust the sensitivity of the machine. When it senses the tracker signal, it lets you know through the alarm.
Q: How fast I can find a GPS tracker in the car?
Ans. You can find a magnetic suction positioner easily and fast, but if the positioner uses a cell phone card, you'd better drive the car to a place where the cell phone signal is poor. The weaker the signal, the easier to detect.
Conclusion
It is not obvious to be paranoid about electronic devices surrounding us, especially if they can collect and leak personal information illegally. In this situation, an anti spy detector can assure you. Here, we reviewed some of the best anti spy detectors and explained their specifications for the ease of your decision making. For better RF signal detection and Magnetic Field detection,  Anti Spy RF Detector Wireless Bug Detector Signal by JMDHKK is great. Anti Spy Detector, Camera Finder, Wireless Bug Hidden Camera Detector by LONOVE is also quite good with its multiple functionalities. Overall, if you want the best anti spy detector, we recommend sherry Anti Spy Detector & Camera Finder RF Signal Detector GPS Bug Detector for its great usability, a wide range of detection and high sensitivity.