Technology is a huge part of students' lives today. They need it to communicate, do research, write emails and papers, as well as for entertainment. Not to mention, the students of today have grown alongside different technologies, making them tech-savvy and highly informed in the latest trends in the technology world.
Students need to know which one is the appropriate one for their purposes. For example, if someone needs to focus on their graphic design they need to buy the best laptop for graphic design. Like they need to look for the best tablet that serves your purpose for whatever work like emailing, blogging, doing homework, etc.
As a student, you'll need to get many things done for school. A good tablet will make your life much easier by providing you with instant access to a tool you can use to take notes and complete demanding academic works. Not to mention, you can use the tablet to chill awhile after long study sessions and watch a nice movie or your favorite TV series.
Now, you're probably thinking: which tablet should I choose? Most of the choices today are optimized for everyday use, but only a few of them are specifically created to get work done. These act as ordinary tablets and laptops at the same time. With a keyboard connected to them, you can do your homework, write your emails, blogs, and type in your notes.
Are you looking for a tablet? I've narrowed down the choices to the tablets for studying for students for this year.
Top 5 Best Tablets for Studying
Here, we are introducing you to the top 5 tablets for studying
1. Apple iPad Pro
The iPad has been popular since it first came out on the market but right now, its descendant Apple iPad Pro is all the hype among students. This is a stylish powerhouse that captures all the needs of students. Not only does it feature an attractive design, but it also has amazing features and components that only a few other tablets have.
According to Apple, their iPad Pro is 92% faster than other portable notebooks that came out in the past year. This makes it a brutally strong device, powered by their A12X Bionic technology.
Students can choose between the 11-inch and the 12.9-inch display. Both pack amazing pixels and utilize the popular Apple's ProMotion technology. Thanks to this technology, the refresh rate is boosted significantly to around 120Hz.
This means that the new iPad Pro is powerful enough to allow you to perform the most complex actions and multitask without any barriers. It also packs the popular Apple features like the FaceID feature and can be used as an actual cellular device if you insert your SIM.
When you're a student, you'll probably need your tablet very often. You can use it to take notes, perform research for your exemplification essay topics, communicate, read, and whatnot. This can strain most tablets off their power, but when it comes to the iPad Pro, you can expect a lot of raw power. It has Apple's A12X Bionic processor with a neural engine and eight cores. This makes for very speedy machine learning, amazing speed, and great battery life.
Speaking of notes, this tablet supports the 2nd Generation Apple Pencil, which is much easier and more effective than its predecessor. It sticks to the iPad's size and will charge wirelessly when you place it there. This way, you won't have to worry about charging or realize that it's empty when you need to take your notes. With just a tap on the pencil, you can switch between an eraser and a pen.
In terms of storage, there are plenty of options ranging from 64GB to 1TB. However, since this is a rather new innovation, the prices can rise steeply based on the storage you choose. Also, you can get the Apple Pencil which will cost an extra $130, or the Smart Keyboard at around $170.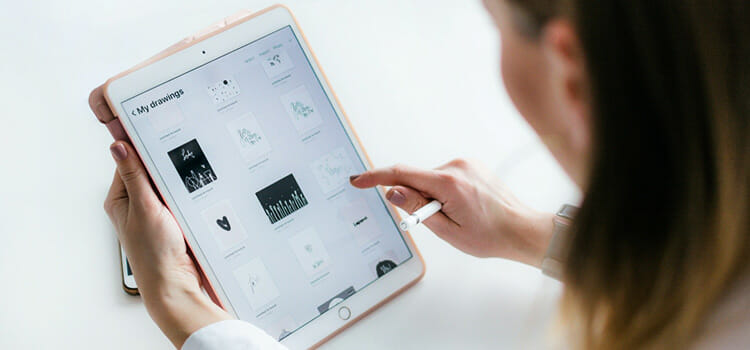 Out of all the options on this list, this tablet is the most costly. If you have around $700 to spend on a tablet, there's nothing that even comes close to the features of this powerhouse, both in terms of performance and usability. But, if you're looking for something more on budget, you should keep reading.
2. Samsung Galaxy Tab S6
If you're more of an Android fan, the Samsung Galaxy Tab S6 is by far the most popular tablet this year. It boasts a gorgeous design and displays with a screen that no other tablet can rival today. To be more, this option supports HDR content, which makes YouTube and Netflix highly accessible to students. And let's face it, students need to rewind very often, so this will come in very handy.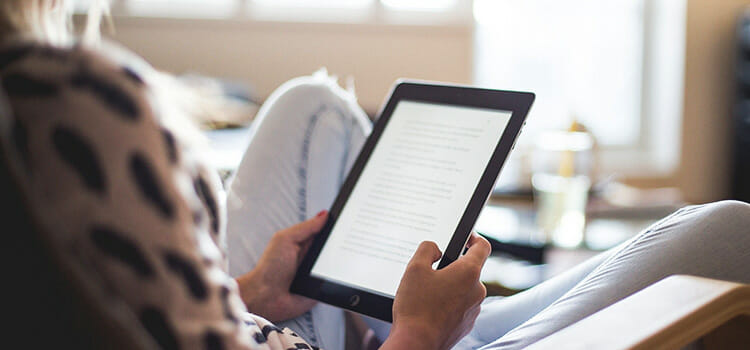 This tablet uses a Qualcomm Snapdragon 855 processor and has 6GB to 8GB of ram with 128GB to 256GB internal storage. Its four speakers are excellent and loud, while the two cameras on the front and the back are great for selfies, video chats, and photography.
For more of a desktop feel, you can always add a Bluetooth mouse. However, since this is one of the prestigious and latest tablets available, you should be prepared to spend a nice sum of money on it.
With similar features and power as its Apple competition, this Android choice has a slightly cheaper cost of around $650.
3. iPad Mini 5
Not all students want to carry around many things including a big tablet. If you're more for a minimalistic tablet, this is the best choice this year. The iPad Mini 5 is pretty much identical to other iPads on the outside, with many improved features on the inside. It has a 7.9-inch display and is great for watching movies, gaming, and reading. The battery life offers around 10 hours, while the tablet has a 7-megapixel camera on the front and an 8-megapixel camera on the back.
The new iPad mini looks just like its predecessor iPad mini 4 on the outside. But, the thing that you need to be looking at is the inside of it. This is a much more powerful tablet, but one that can fit into a pocket. It might not be ideal for watching movies because of its compact size, but it's the lightest wear and practical solution to your academic troubles.
Since this iteration of the iPad mini versions is the smallest of all Apple tablets, it is also significantly cheaper. The price is around $399 compared to the entry-level iPad models which range somewhere between $300 and $330. If you have a more limited budget and cannot afford the previous versions, this is definitely an excellent choice.
You'll be happy to hear that the iPad mini 5 supports the Apple Pencil. This means that you can pull that minor tool out of your pocket at any time and take notes for school. Or, you can even get the Logitech Crayon and explore your artistic side.
4. Fire HD 10
If the prices of the previous options are dreading for you, this will be the ideal choice. The amazing Amazon Fire HD 10 comes at a low price and with many great features. It has an LCD screen with a nice resolution, an impressive battery life, a hands-free Alexa support feature, as well as great viewing angles.
The 10-inch HD IPS LCD screen has an anti-glare coating, which makes it perfect for daily use under the sunlight. Unlike other tablets in this segment, the Fire HD 10 has a full HD resolution of 1920 x 1200 pixels.
Powered by the 2.0 GHz Octa-Core processor, this is a feature-packed tablet at a really affordable cost. It is somewhat weaker than the versions above, but the cost is around $150, which is pretty incomparable in terms of budget.
So, if you've been looking for an ideal everyday tablet on a low budget, this should do the trick for you. It is light wear, perfect for reading and taking notes, and great for binge-watching.
5. Surface Pro 7
Finally, we have the best Microsoft tablet for this year – Surface Pro 7. This is a much-refined version than the previous ones and a great hybrid between a laptop and a tablet. Think of it as a 2-in-1 device. It is the highest-priced tablet in this list but because of its amazing convertible features, students consider it to be a very smart version, both economically and practically.
The Surface Pro 7 costs from $899 to $1100 based on the features you choose. By buying it, you're getting a convertible tablet that also turns into a powerful desktop.
The device sports a high contrast, low glare PixelSense screen, making it amazing for working throughout the day, too. It supports many compatible peripherals for convertible tablets such as surface Dock, Type covers, and the wireless display adaptor.
This option has a great screen with high resolution, attractive design, and many configurations. It has a pixel-packed display and speakers that are ideal for watching movies. It has already been awarded as a convertible laptop and tablet since it was first launched on a global level.
The Surface Pro 7 is powered by 10th Gen Intel Core i5 or i7 processor and packs 8GB of RAM. You can alternatively choose the 16 GB RAM version. The storage is 128 GB SSD-powered, making this tablet faster and stronger than its predecessors.
Conclusion
When given the option to choose between technology, students usually know what they are looking for. But with the immense options for laptops, tablets, and other technology gadgets on the market, it can be hard to make a choice. So, these top 5 best tablets for studying can be a great help to buy the appropriate one.