Can S Pen Charge Wirelessly? What's the Process
Gone are the days when users fumbled with tangled cords, searching for the right charging port. Enter the age of wireless charging, where even a tiny accessory like the S Pen prompts questions like, "Can it even charge wirelessly?"
The answer is, "Yes, it can!" But if you're curious about how this seemingly magical process takes place, why don't you settle in and read on?
In this article, I'll unravel the mysteries of S Pen wireless charging and provide you with a clear understanding of how it all works. So let's get started!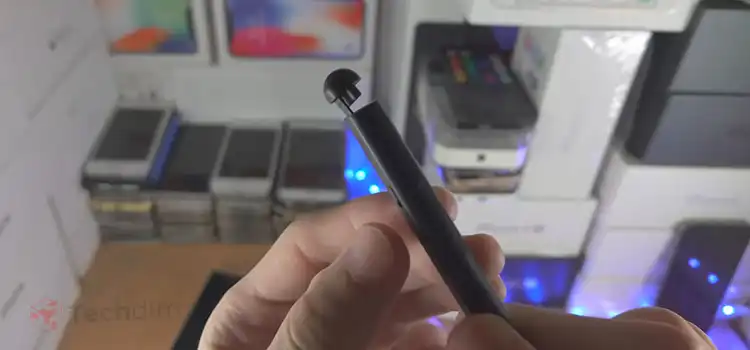 The Charging Process of Samsung S Pen
So, can the S Pen charge wirelessly? The short answer is yes, it can! But how does this magic happen? The S Pen, a slender stylus packed with advanced technology, doesn't rely on traditional charging methods like plugging in a cable. Instead, it harnesses the power of wireless charging to keep itself ready for action.
The S Pen's wireless charging process is efficient and straightforward. When you slide your S Pen into its dedicated slot within your Samsung Galaxy Note device, it automatically begins the charging process. The magic lies in the electromagnetic field created by your device. This field transfers energy to the S Pen, replenishing its battery without any physical connection.
The Technology behind the Wireless Charging of the S Pen
The technology behind the wireless charging of the S Pen is the physical characteristics of electrons. While a lithium-ion battery charges through chemical processes, a supercapacitor utilizes the inherent properties of electrons for its charging mechanism.
Yes, the S Pen and your Samsung Galaxy Note device communicate using electromagnetic resonance (EMR) technology. This tech enables the transfer of energy and data between the device and the S Pen without any physical contact.
EMR is the secret sauce behind the S Pen's wireless charging capabilities. Your device emits an electromagnetic field, and the S Pen has a coil inside that resonates with this field, inducing an electric current. This current is then converted into power to charge the S Pen's internal battery.
How Wireless Charging Works for the S Pen
The real charm of wireless charging for the S Pen is its simplicity. It operates by creating a magnetic field between the coil inside the device and the coil inside the S Pen.
When you insert your S Pen into its slot, the EMR technology does the heavy lifting. It's like a mini power transfer station right in your device. No cords, no hassle.
The S Pen's battery capacity is relatively small, and wireless charging ensures it stays juiced up for your creative and functional needs. You can trust that when you pull out your S Pen, it's ready to work its magic, whether you're sketching, taking notes, or using it as a remote control.
NOTE: It's important to make sure the S Pen is positioned accurately and is fully inserted.
Benefits of Wireless Charging for the S Pen
Now that we've demystified the charging process, let's explore the benefits of wireless charging for the S Pen:
Convenience: No need to fumble with cables. Just slide the S Pen into its slot, and it charges effortlessly.
Efficiency: Wireless charging is quick and efficient, ensuring your S Pen is ready when you are.
Durability: With no physical connectors, there's less wear and tear on the S Pen and your device's charging port.
Seamless Integration: The S Pen and your Samsung Galaxy Note device work together harmoniously, enhancing your user experience.
Eco-Friendly: Wireless charging reduces the need for disposable cables, contributing to a greener environment.
Quick Charging: The S pen gets fully charged quicker than traditional cables. It only takes 40 minutes to charge the S Pen fully.
Challenges and Limitations
While wireless charging for the S Pen has many advantages, it's not without its limitations. Here are some of the challenges you might encounter:
Short Run Time: The S Pen does not get as much charge as a lithium-ion battery. It can run only up to 30 minutes on a full charge. You can press its button up to 200 times and then it will need to be recharged.
Impact on Device's Battery: When the S Pen is fully charged, the device's battery loses its amps. Though it is extremely insignificant, frequently charging the S Pen will deplete your device's battery faster.
Device Compatibility: Wireless charging is specific to Samsung Galaxy Note devices, so it won't work with other smartphones, tablets, or even wireless chargers.
Frequent Recharging: The S Pen's battery is relatively small, so it may need frequent recharging if used extensively. As it is frequently inserted and removed, it can erode over time.
Cost: The technology behind the S Pen's wireless charging can make it a more expensive accessory.
Common Misconceptions
It's time to clear the air on a few common misconceptions surrounding S Pen wireless charging:
Wireless Charger: As Samsung advertises that the S pen supports wireless charging, many users think that they can charge it by simply placing it on a wireless charging pad. But the truth is that you have to insert the pen into the slot in the device to charge it.
Continuous Recharge: Again, many think that it automatically recharges while used near the phone as it supports wireless charging. This is also another misconception and it doesn't work that way. You must have to insert the S Pen into the device unless it won't get recharged wirelessly.
More Questions About S Pen's Wireless Charging
How Much Time Does It Take To Charge The S Pen?
The S Pen typically charges in a matter of minutes, thanks to the efficiency of wireless charging. It only takes 40 minutes to get fully charged. In just a short time, it's ready to assist you with your tasks.
How Long Can It Run on a Single Charge?
The S Pen's runtime on a single charge can vary depending on your usage, but it generally offers several 30 minutes of active use before needing a recharge.
How Much aAh Does the Phone Lose While Charging the S Pen Wirelessly?
The amount of battery your phone loses when charging the S Pen wirelessly is minimal and won't significantly impact your device's overall battery life. The exact amount is 0.5 mAh.
Can You Charge the S Pen Wirelessly on the Wireless Charger?
No, the S Pen's wireless charging technology is specific to the dedicated slot on Samsung Galaxy Note devices. It won't charge on a standard wireless charger.
End Notes
the S Pen's wireless charging capability is a feature that sets Samsung Galaxy Note devices apart, offering a hassle-free and efficient way to keep your S Pen ready for action. The S Pen is not just a stylus; it's a piece of advanced tech that keeps pace with our evolving needs. The wireless charging feature is just the cherry on top. Remember, with great power (or charging capabilities) comes great responsibility. So, take care of that S Pen! If you've got more questions, drop them in the comments below. Cheers to fewer wires and more of, well, everything else! Thanks for reading, and may your S Pen always be charged and ready for your creative adventures!
Subscribe

to our newsletter

& plug into

the world of technology