Windows registry is one of the smartest and simplest hierarchical programs of windows that stores and changes low-level settings of a computer for both user-installed and universal programs. It opens a lot of customizability and troubleshooting possibilities that are simply not possible to execute through the settings app. Editing the Windows registry is a great way to open up numerous possibilities.
Windows registry contains the drivers and windows settings, as well as app settings and security information. To fully utilize the registry, one must learn how to edit the registry. A fairly advanced user can edit the registry step by step after performing the precautions and knowing what is to be done.
Editing the Windows Registry Using the Registry Editor
The most recommended procedure to edit the registry is to use the built-in registry editor from Windows. Here is a catch though, the regedit32.exe doesn't support importing registration entries or .reg files. Windows 2000 or Windows NT 4.0 based computers use regedit32.exe.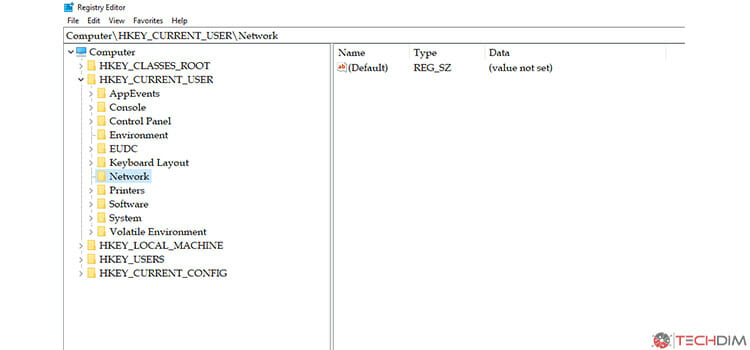 This operation can only be done via the regedit.exe program. Then again regedit32.exe can change some values that regedit.exe can't. For example, REG_EXPAND_SZ or REG_MULTI_SZ values. To work with the registry editor, one must know what can be done and what are the options.
Backing Up and Importing
Before making changes in the registry, the defaults should be backed up so that if problems occur after changing, the process can be undone. At first, launch the registry editor by pressing Windows key+ "R" simultaneously and launching the run. Then type "Regedit" and hit enter. Alternatively searching "Regedit" in Cortana can also launch it. Then allow it to run as administrator by choosing "yes" in the UAC (user account control) prompt.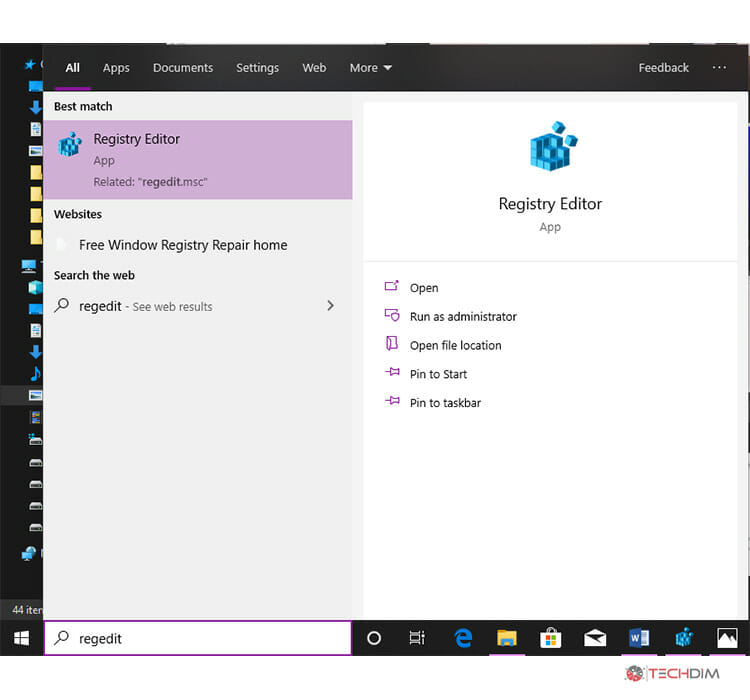 Backing up the registry is very easy. Press the "File" tab on the top left and choose "Export". In the export range menu, choose all or selected branches. The registry entries can be saved as normal ".reg" files or even text files or hive files. Select location and then hit "Save" to back up the registry. Saving the whole registry will take up about 500 megabytes depending on the apps. This .reg file can be easily imported later on by double-clicking it or choose "Import" from the registry editor.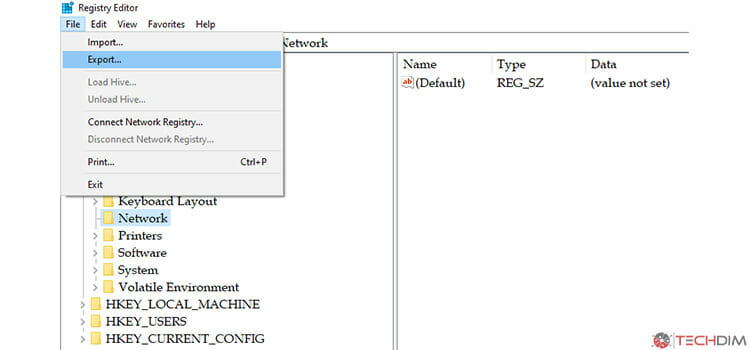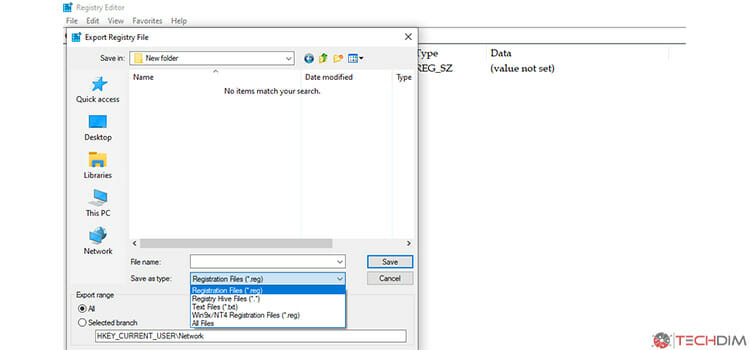 Creating New Registry Files
The common way to create registry entries is to use notepad. After typing the necessary format, it can be saved and renamed with a ".reg" instead of ".txt" to change it from text to registration entry. The structure of a registry file in a notepad is stated:
RegeditVersion
Blank line
[RegistryPath1]

"DataItemName1"="DataType1:DataValue1"
DataItemName2"="DataType2:DataValue2"
Blank line
[RegistryPath2]

"DataItemName3"="DataType3:DataValue3"
Source: https://support.microsoft.com/en-us/help/310516/how-to-add-modify-or-delete-registry-subkeys-and-values-by-using-a-reg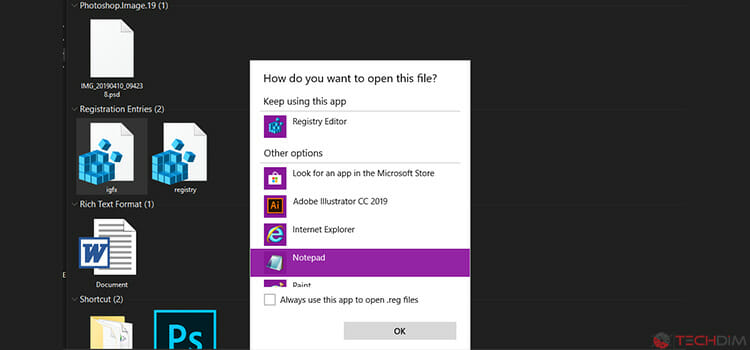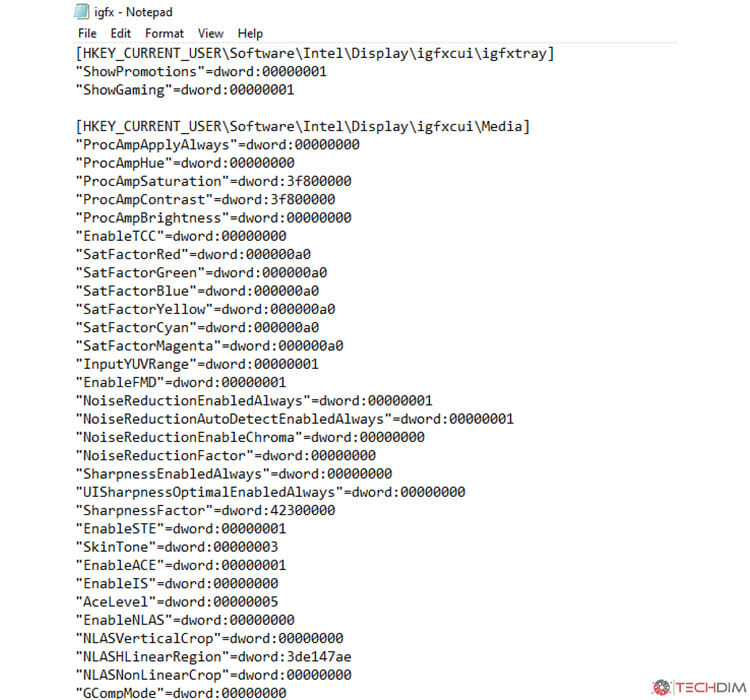 The meanings of the terms used are as stated:
RegeditVersion states the version of the registry editor used. For the early Windows NT 4.0 and Windows 98 users, type in "REGEDIT4" and for the Windows XP, Windows 2000, Windows Server 2003 or later users, type in "Windows Registry Editor Version 5.00".
The blank line is used to start new registry paths like keys and subkeys.
[RegistryPath1] refers to the path of the subkey. It holds the value to be imported and contains a set of square brackets. Each path levels are separated with a backslash. Several paths for the registry can be contained through this method. For example:
[HKEY_CURRENT_USER\Software\Intel\RST]
"DataItemName1" is the name of data that is importing. Windows registry editor adds the data if it doesn't exist. It also overwrites if previous data existed.
"DataType1: is designated for the specific data type for registry value. For example, REG_DWORD, REG_BINARY, REG_MULTI_SZ, REG_EXPAND_SZ, etc. Apart from the REG_DWORD, the other 3 are hexadecimal numbers.
After creating value for a path, more paths can be added followed by a blank line, or the editing can be closed.
Deleting A Registry File
A registry can be deleted by going to the editor, right-clicking on the registry, and selecting delete. To delete a registry key within code, a hyphen (-) is inserted before specifying the registry path. For example:
[HKEY_CURRENT_USER\Software\Intel\RST] is edited to [-HKEY_CURRENT_USER\Software\Intel\RST] to delete it.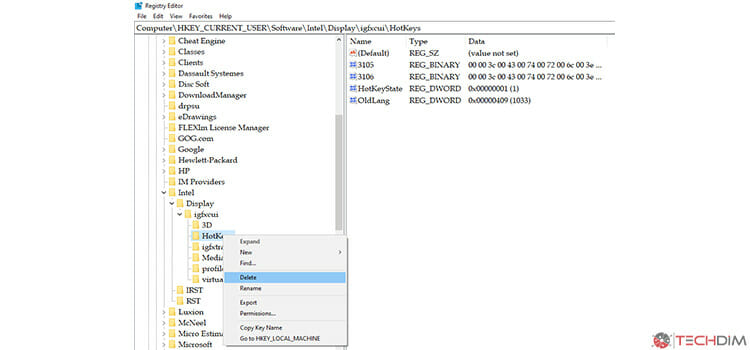 Furthermore, to delete a value within the registry, a hyphen (-) is inserted after the data item name. for example, to delete within [HKEY_CURRENT_USER\Software\Intel\RST], set the value
"Shortcut"=-
To delete the value. But before deleting system values and keys, they should be backed up to avoid future problems.
Cleaning Up Registry
Various software is used on a computer and is uninstalled on a regular basis. Even after uninstalling them, often the registry keys stay intact. This is done to make sure if the same software installed again, it would automatically change its settings according to the last used ones. But as a by-product, the registry becomes heavier with lots of unused and unnecessary registry keys and values. After a virus or malware attack, there might be significant changes in the registry which makes it easier to take over the computer.
The present computers come with smart solutions to these problems and can resolve them automatically but sometimes a registry cleaner can also be a good option. A registry cleaner scans the registry for unused entries which have no use presently, and also harmful entries caused by malware. Then it cleans that registry, free up space, and prepares a better condition for the pc.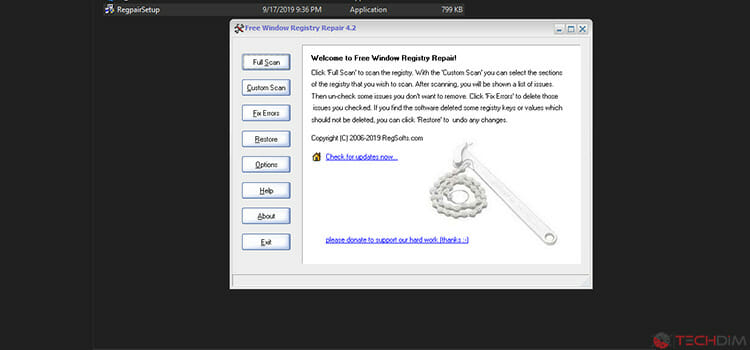 There is much software on the internet that can perform such tasks. One of these can be used to clean up the registry. But always make sure to use trusted apps because a faulty registry cleaner can do more harm than benefitting the computer. Also, make sure to scan the downloaded programs for viruses prior to installing.
Cautions Regarding Editing the Windows Registry
Changing the registry keys and values may bring many solutions but the wrong step can make it a lot difficult. Editing registry is a type of coding, which will not work and can also malfunction if the spellings, syntaxes, or paths are wrong. In some cases, it can do fatal harms too. Always perform a backup before editing the registries.
Conclusion
Editing the Windows registry is an advanced way to access the features that are hidden from normal users. A piece of proper knowledge about the syntaxes and procedures of editing registry can grant innumerable possibilities for a user prior to maintaining cautions. This article covers the basics of how to edit the registry. Different codes are provided on the internet for different purposes.