You currently use Google Calendar to manage all of your personal and professional appointments, job time monitoring, and to-do lists. Although creating a key calendar is convenient, it might not be so because it includes both personal and professional duties. That's because you would need to exchange your schedule with coworkers, and giving them a glimpse at your personal life wouldn't be appropriate. This is why using several Google Calendars for improved compartmentalization is strongly recommended. But how to combine two Google Calendars?
Furthermore, if you have a long list of calendars that your colleagues have posted with you, clicking on each one one by one to see what X or Y is up to will be very inconvenient. Having several calendars open at the same time may be inconvenient, resulting in missing meetings and scheduling conflicts. In your Gmail account, if you get an invitation to an event or conference, it will be linked to the accompanying Google Calendar. What if you have many Gmail accounts and Google calendars? What if you could simply combine several Google Calendars into one? Yes, it is conceivable! The solution is to combine your Google calendars so that you just have to access one website with all of your preparation and scheduling requirements. Allow us to demonstrate how to do it! This article will walk you through the process of merging two Google calendars. What you need to do, you will learn through reading.
Guide Line to Combine Two Google Calendars
There are several ways to combine two Google calendars into one. Here we will go all the possible ways to combine. So go for it.
Using Export & Import Option
You will quickly see all of the activities from various Google calendars without having to click on each one individually.
To combine several Google calendars into a single calendar, follow the steps below:
To begin, pick Settings from the calendar settings wheel on your Google calendar tab.

Then, from the dropdown menu under General, choose Import and export.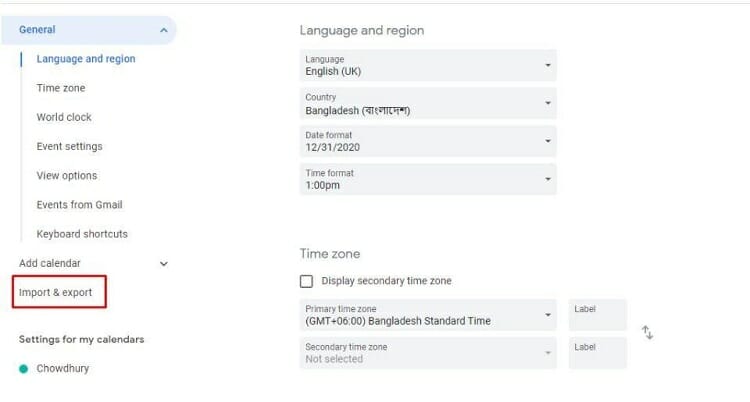 At this stage, you must press the Export icon, which will download a file to your device.
To get the ICS calendar link, you must first extract the zip file.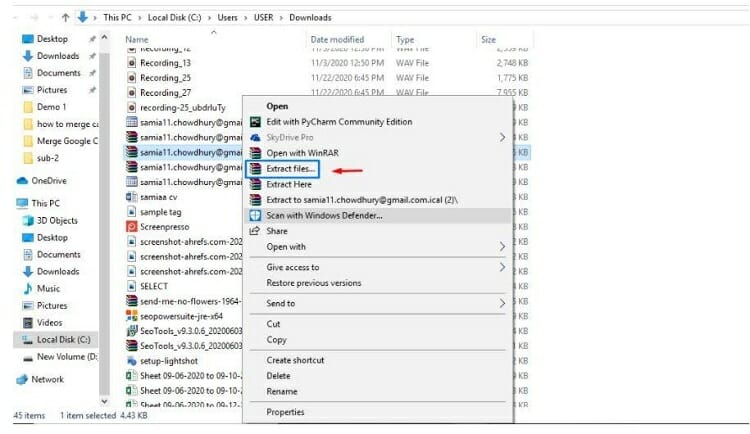 After that, you could build a new Google Calendar account to combine all of the calendars by heading to your Google account and selecting Add another account from the top right corner.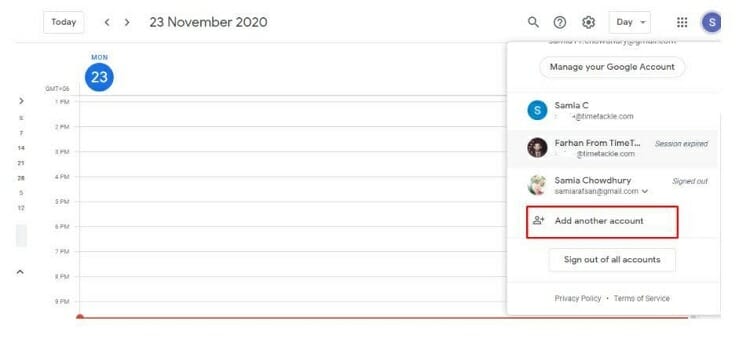 Go to the Configuration wheel on the new calendar, choose the Settings button, and then the Import & export option.
Now, under Import, select Select file from your computer and import all of the calendar files you exported from your computer one by one. All of your calendars will be incorporated into your current calendar, and you will be able to display them in a combined view.
Using 'Subscribe to calendar' Option
If you have a personal Gmail account and a job Gmail account, or numerous accounts you'd like to see in one year, here's how to do it:
In a web browser, sign in to one of your Google calendar profiles.
A column labeled "Other calendars" can be found on the left-hand page. Select 'Subscribe to calendar' from the drop-down menu after clicking the plus sign next to it.

Then, enter the email address for the Gmail account you choose to use in your calendar. This will result in a popup notification stating that you do not have permission to view that calendar. To gain entry, fill out the form. To backup your Gmail emails, follow this link.

Then all you have to do is wait for permission, which is as simple as selecting a connection in an email if you're combining your own calendar. You'll be able to display activities from all Gmail accounts on a single calendar after that.
Public schedules, such as athletic competitions and holidays, may also be added. To do so, repeat the steps above, except instead of selecting "Subscribe to the calendar," choose "Browse calendars of interest." This will show a selection of public calendars from which to select. Simply mark the boxes next to the calendars you choose to link to your account, and these activities will appear on your calendar!
Using Third-Party App/ Zapier
Most of us have at least two Google calendars. This may be your personal Google calendars, job calendars, or a hybrid of the two that you use @gmail.com for your personal life and @domain.com for Google Apps for your company. Managing many Google calendars is really inconvenient because you are the same guy behind the scenes. One choice is to swap the calendars with each other, although this is a very small option. It will only enable you to stack your calendars on top of one another; it will not combine two separate Google calendars. 
So, in this article, we'll show you how to combine two separate Google calendars using a different method that should fit perfectly. So, before we share the method and demonstrate how it works, let's first define our use case and then proceed to set it up. So, here's what we've got. Let's pretend I've got two Google calendars. The first is my job calendar, which I've sent the address [email protected] The second is my own schedule, which I call [email protected] comm. Now, regardless of whether you're using @gmail.com or @domain.com Google Apps IDs, the approach I'll present you in a minute would function. So, let's get into the usage case. All I want to see is whether some new incident occurs.
If an incident is generated in my personal account, I like it to be created in my job account as well, and vice versa. such that regardless of the calendar I'm looking at, I know what's coming up for me, and once I've shared my availability with outside people, they should be able to see whether I'm free or busy at a certain time regardless of whether they're looking at my work calendar or my personal calendar, and for me, it's going to be so easy because rather than you know switching between my work calendar and my personal calendar, I'll be able to see whether I'm free or busy at
I can look at every schedule, whether personal or professional, to see what's coming up next for me. As a result, we'll be relying on Zapier for this approach. If you're not familiar with Zapier, you can learn more about it at zapier.com, but in a nutshell, it's a service that links one program to another via API, and it only has two key features: triggers and behaviour, which allow you to define tiny automation such as if this trigger occurs in application 1.
Now let's get into the process.
Now is the time to customize ZAP and build two new zaps. The first would grab every new event you have in your personal Google Calendar and create the same event in your job calendar, while the second would do the exact reverse.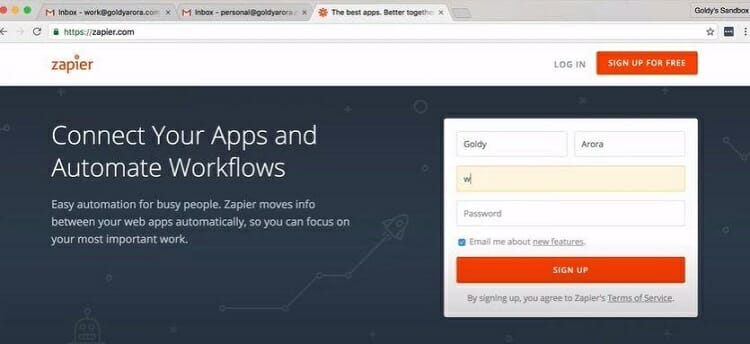 The second would import all recent events from your job account into your personal accounts. So now you realize that every case, regardless of the calendar it was generated on, can be combined on the other one as well. But, there is a catch: if you do this, you can unwittingly construct a loop. As a result, any new occurrence that occurs in your personal life would often occur in your professional life. One is good, so the second zap you have would consider the latest occurrence in your job schedule to be a new one, and you will attempt to build it in your personal account. Fortunately, Zapier has a feature named filters, which I'll teach you in a minute by playing around with. You should be able to interrupt this loop and integrate it without any problems. But, if I understood correctly, that was a brief explanation of the approach. Let's get to configuring it right now.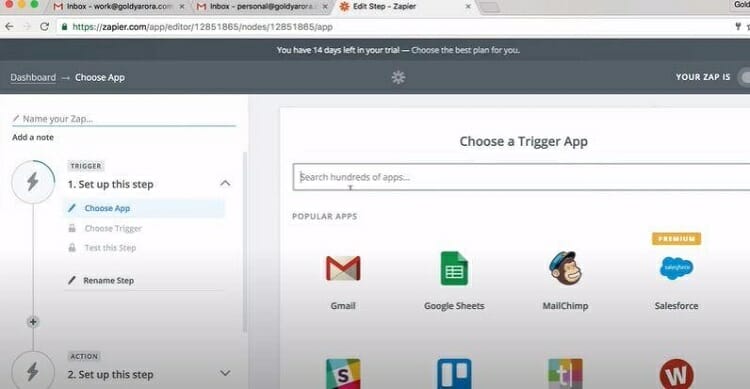 This is zapier.com, by the way. To begin, you must first construct an account. It's ideal if you already have an account. If you don't have it, create one with your work email address, create a simple token, and then sign up.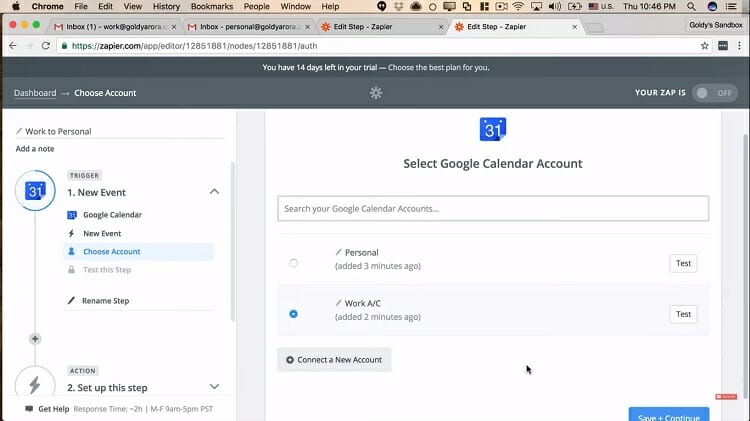 So, once you're in, you'll trigger the first zap, which, as you remember from the previous approach, will produce an event in your job calendar as soon as an event in your personal calendar is located. As a result, the first step is to add your personal Google Calendar account.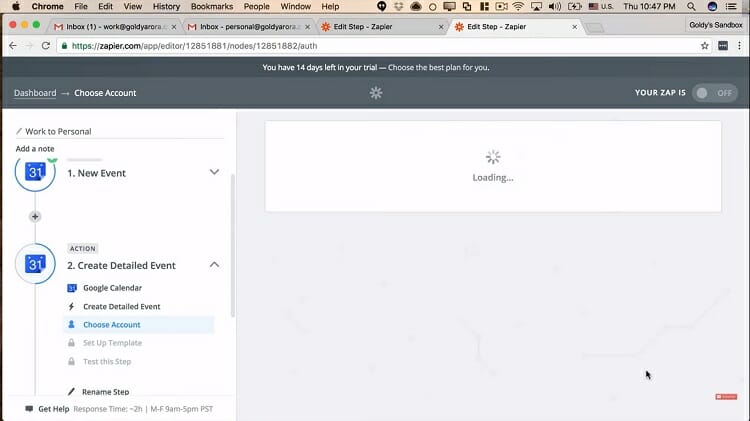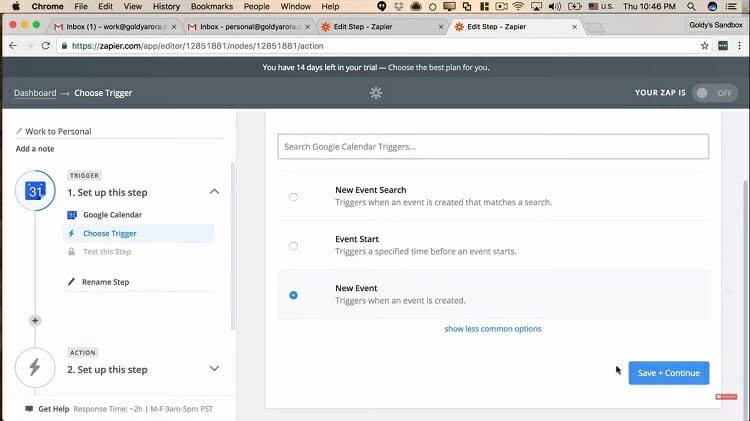 You'll see a new event scan or a new event if you search for calendar Google Calendar at this stage. Why is there a new event? The personal account was only recently established.
You're going to connect the account to a personal account. You may grant the requisite approvals and simply refer to it as a personal matter. As a result, it's simple to spot later. Now, choose Test! It's fine, so hit save and proceed, and Google will tell peers will ask which calendar you want to look at from your private personal calendar.
And you're just going to make this one?
This is the main calendar, which sits beside your personal calendar. Continue now by clicking the button. Zapier has to try it because it claims you can have at least one appointment there so it can do so, but you don't. But you're only going to miss the exam, which is well.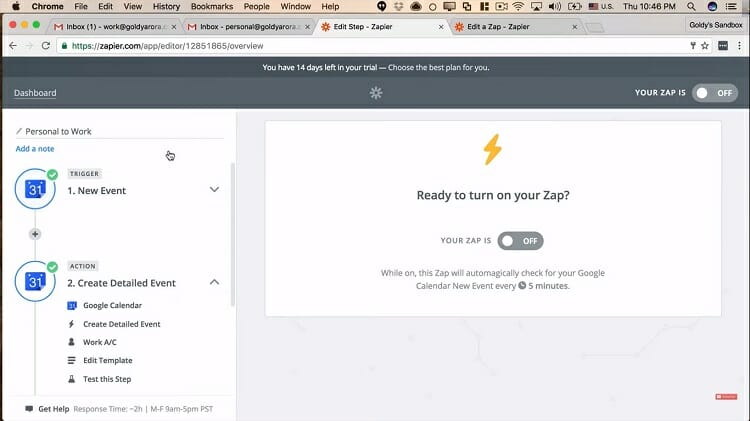 Today, what are you going to do? Build an event on your job schedule. So you're going to bind to your work account this time under operation. So you're going to Google Calendar again, and this time you're going to say "build a comprehensive case," and you're going to add your work account, grant it all of the necessary permissions, and name it "our work account."
Select "test" from the menu. It worked; now press Save and Continue; they appear because an event in your work calendar is being created. It's inquiring about certain specifics, such as what the overview explanation should be, then you'll suggest it should build events in your job calendars, and the main calendar summary would be the summary in your personal calendar. as mentioned in the overview description you'll be plotting the field start and end times, which would be the same overview position as before.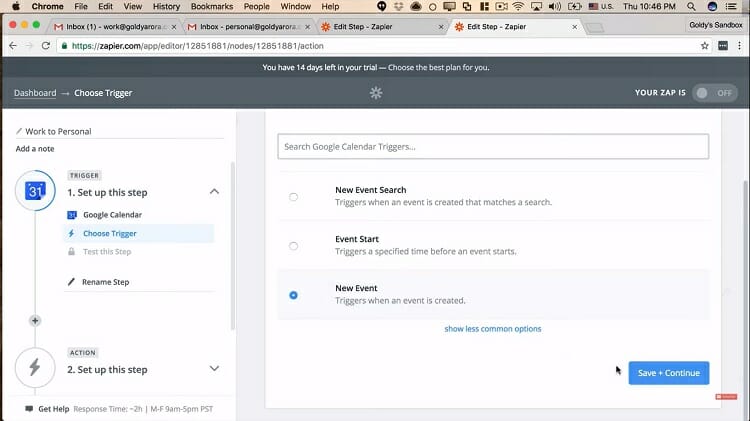 The remaining detail is optional. So you should only ignore it right now, but one thing you can keep in mind is that when you make the ZA.P, it will run, but it will also create a loop as soon as you create the second app. But what you can do is come up with something new that zippier will glance at instead of looping it back and forth.
So all you have to do is mention a snippet, which is a peer you'll add any time a new event is created. As a result, you'll conclude that this one is causing personal to function correctly. So just call it that, and the fragment you'll put in the summary is something like "personal to function." Okay, then you'll simply copy it. So you'll tell proceed now, and the zap will be ready. Because you don't have an appointment, you don't have the required fields yet. That's fine. You'll miss the test and go straight to the next phase, and your zap will be ready in no time. That's for ZAP, by the way.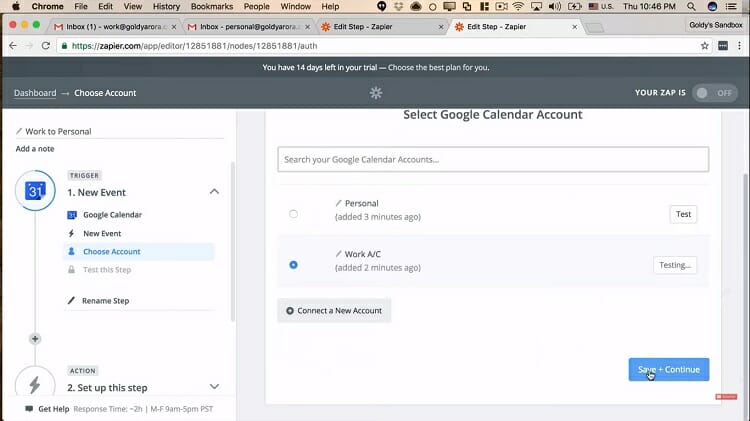 Now let's make another zap that works the opposite way around and creates an occurrence as soon as it refers to your personal calendar from your job calendar. But let's call it personal to function. Okay, that's it. This time, the cause software would be your job calendar. So, let's presume you discover a new event on your job schedule. Then, since you can have several calendars, build an under job calendar to look at the main calendar.
So, under the job schedule, take a peek at the main one you have.
If you don't have an appointment right now, you should miss the tests and resume right now. What's going on here? Create the event in your personal calendar as a first step. So you'll go to your personal calendar and suggest, "This time, build a comprehensive case." If you want to evaluate it, it will be personal, but it is not necessary. However, only to be sure. all right. So now it's up to you to have a peek at it from your perspective.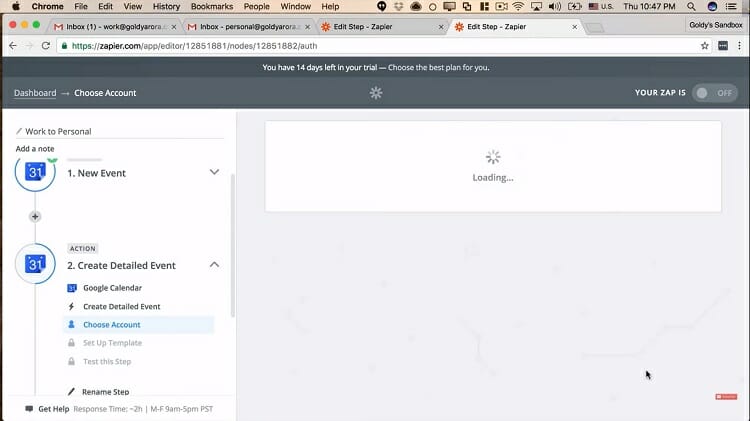 But it'll look at your personal calendar, and then the summary will be the summary from our work account trigger. That would be a place description. The same thing is expected for the start and end dates. As a result, the event starts, and the remainder of the material is optional.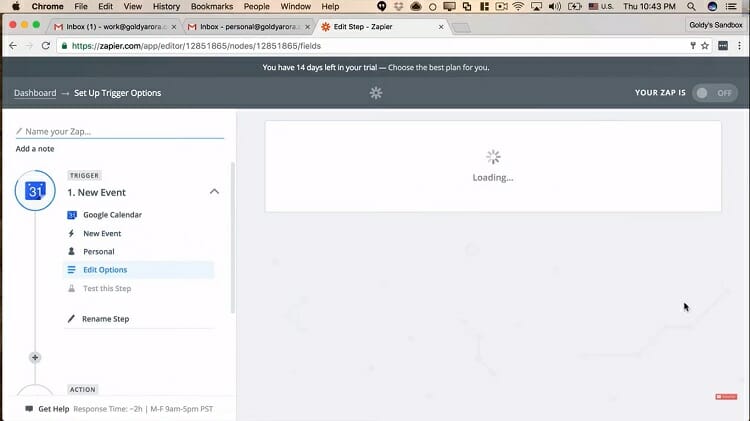 And this time, under the definition, we'll add a specific area, a unique snippet, and we'll call it to work to personal this time. You can insert something there, just make sure it's anything you don't normally put in the definition while creating calendar activities.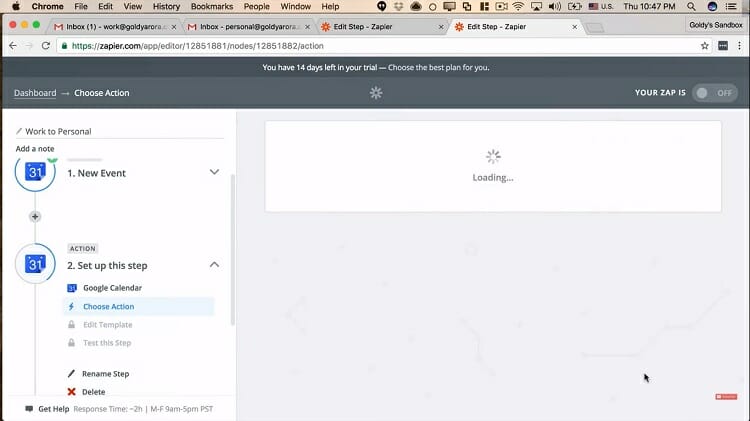 Okay, that's it. So that's it, let's go on, shall we? So, let's keep testing and moving on. As a result, you now have two zaps. One is adding every occurrence included on your personal calendar to your job calendar. The second is that it can add every occurrence that it detects in your work calendar to your personal calendar, however, it will loop. right! As a result, if it creates personal to perform under work, it will discover something different and will continue to build in to personal. You don't want to end this cycle, so you don't need to. But that's what you're going to do.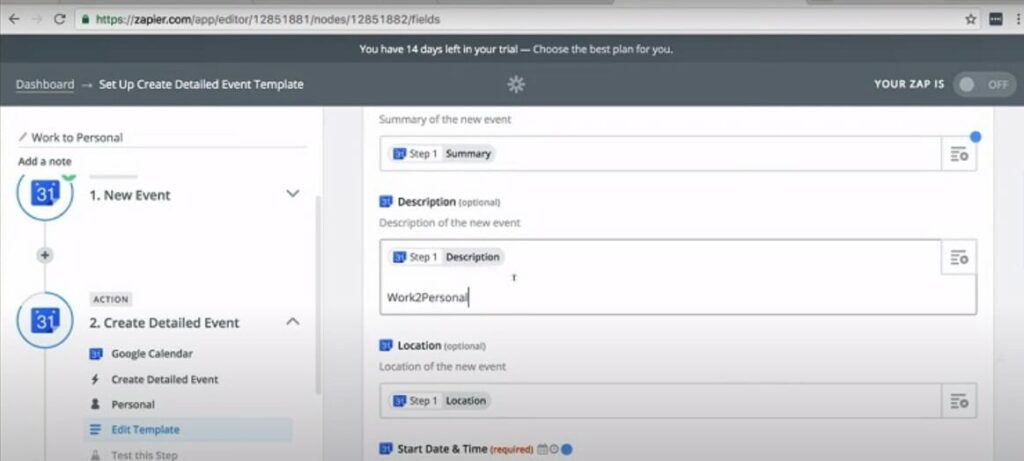 You're saying that in any case it adds from personal to work ZAP should have a personal to work explanation. As a result, you'll copy the snippet. Okay, now go to your job and go to personal, where you can add a filter between your trigger and behavior by clicking this plus button. Tap on select, then you can specify that this action can only be taken if the description event "description" contains the phrase "your event description does not include" or "you can do does not quite fit it depends" as you're putting it. As a result, it must not require any sensitive information in order to function properly.
So, press proceeds, skip it, and let's switch it on so that the zap works properly now. that's fine. Let's return to the other one, this one, and apply the filter. You're going to transfer any stuff from here as well. You didn't just forget what the fragment was. This one was added for you. Okay, that's fine. It was a job that was much too intimate. So now you'll return to where you're working on your projects. In this field trial, you'll apply a filter. It works just like web filtering. They can only manage to do that to establish this if the calendar summary does not have any personal work. It should be saved. Continue to toggle it on after skipping the checks. Okay, have a look at the dashboard. As a result, both of our ZAPs have turned it on.
Conclusion
By applying these procedures you can easily combine two, even more, google calendars into one. For getting these benefits just go step by step. As we know combing two into one is going to erase a lot of problems, so by following these steps you are going to enjoy some extra facilities. Thank you for visiting our article.