How Do We Paraphrase A Paragraph Without Plagiarizing?
Paraphrasing has become very common among students and bloggers, it is an effective approach to restating others' words and ideas in your work.
Students do paraphrasing to complete their academic work and bloggers do paraphrasing to create their blog posts without investing time to think of new ideas and words.
Whether you want to paraphrase a paragraph or an entire article, it is crucial that you do it effectively. However, it is not easy to do effective paraphrasing and not everyone can do proper paraphrasing. 
Ineffective paraphrasing has a high chance of plagiarism which could further lead to severe drawbacks for both students and writers.
This post will help you know how you can paraphrase paragraphs without plagiarizing. We will discuss both manual and automatic ways of paraphrasing paragraphs, you can pick any method you like.
So, make sure you read to the end!
What is Paraphrasing?
Paraphrasing is restating a source's ideas or information using one's own words and style while maintaining the integrity of the original. 
Many people confuse paraphrasing with summarizing, however, an effective paraphrase is not like a summary where you need not repeat all that was said in the original text. 
You can show your knowledge of the source material and your ability to communicate its meaning clearly and effectively by paraphrasing.
Ways: Manually Paraphrasing Paragraphs Without Plagiarism
1. Read the Source Text Until You Get It Completely
An effective paraphrasing that does not contain any plagiarism can not be done if you don't have a complete understanding of the source text.
Therefore, if you want to paraphrase paragraphs first start by reading them. Keep on reading until you clearly understand the context of the source text.
Only then you can paraphrase those paragraphs effectively without plagiarism and that maintains the originality of the ideas.
If the paragraphs are lengthy, it seems difficult to read as a whole, you can read and understand two or three sentences at a time, and in a similar manner, you can read and understand the entire paragraph.
Take a few minutes to understand each sentence, do not just jump to the next sentence, pause to understand what is said in the sentences.
2. Always Start With a Rough Draft
Once you have completely understood the sentences of a paragraph you want to reword, you can now start paraphrasing those sentences.
But, it is a better approach to create a rough draft before you put those paraphrased sentences in the final piece.
Creating a rough draft first will help your paraphrase paragraphs without any plagiarism because on a rough draft you can easily organize your words, even reorganize them if they don't appear appealing to you.
For plagiarism-free paraphrasing, we suggest you write at least two or three paraphrased versions of each sentence this way, you can pick one for your final piece that is more accurate and unique.
3. Use a Variety of Synonyms to Rephrase
If you want to paraphrase paragraphs without plagiarism, a standard approach is to replace specific words in each sentence of the paragraph with their appropriate synonyms. 
For example, replacing 'discrete' with 'individual.'
Using synonyms to rewrite paragraphs will help you maintain the originality of the context and also in unique paraphrasing.
However, you should be aware of what word you are replacing, you should also know the meaning of that word. 
Each word has multiple synonyms therefore, always select one that is the more appropriate fit for the context. 
4. Reformulate the Sentences
For plagiarism-free paraphrasing just replacing certain words in the paragraph with synonyms is not enough. 
You need to take a further approach and try reformulating the sentences of each paragraph. To reconstruct any sentence you can rewrite it from a different point.
For example, you can reformulate the sentence 'Rayan slept in the car due to heavy rainfall' as 'Because of heavy rainfall Rayan slept in the car.'
Or you can simply rewrite the active voice sentences in each paragraph with a passive voice and vice versa. 
You can also combine two or three sentences of the source text into one rephrased sentence, this approach is best to paraphrase any paragraph without plagiarism.
5. Edit and Proofread 
Editing and proofreading prove to be effective strategies for plagiarism-free paraphrasing. You can edit each paragraph right after you are done paraphrasing it or with other paragraphs. 
In editing, you can integrate your paraphrased sentences and paragraphs from the draft into your final piece, you add headings, set font size, style, add visuals, and whatnot.
In proofreading, you have to proofread the final piece for underlying writing mistakes. Check for grammar errors, spelling mistakes, and incorrect punctuation.
Also, compare the final piece with the source text to see if the paraphrased version is providing the exact same context as the original text.
This is how you can manually paraphrase any paragraph without plagiarism.
Now we can discuss the automatic ways for plagiarism-free paraphrasing.
Ways: Automatically Paraphrasing Paragraphs Without Plagiarism
Get a Paraphraser
Automated paraphrasing is done by a rephrase. The paraphrased text generated by online paraphrasing tools is 100% plagiarism-free. 
Because these tools use cutting-edge AI and NLP technologies to paraphrase any text without plagiarism. 
Paraphrasing tools first analyze the source text and after analyzing, they use synonyms to replace particular words in each line, the tools also reconstruct sentences for plagiarism-free paraphrasing.
The tool fixes all the grammatical issues of the original text in the paraphrased version, and also allows users to do custom changes to the paraphrased text.
We can say that the rephrases pretty much automate the process of manual paraphrasing and where manual paraphrasing still has the chances of plagiarism, automatic paraphrasing does not.
Also, the paraphrasing tool is completely free and safe to use for every individual and also does paraphrasing within just a blink of an eye.
A user just needs to copy/paste the source text into a paraphrasing tool and the tool will automatically rewrite the text in a newfound version.
Using a Plagiarism Checker Before Submitting is Important
A plagiarism detector can also aid in plagiarism-free paraphrasing, these tools scan and compare your paraphrased text with billions of sources available online.
If the tool finds any matching source, it will list the source along with highlighting the duplicated sentence or a line.
Using plagiarism checkers will help you both in manual and automatic paraphrasing. If you are not sure whether or not your manually paraphrased text is plagiarism-free, you can simply copy the text and paste it into a plagiarism checker to check for its uniqueness.
Also, if you are not sure about the paraphrased text generated by a paraphrasing tool, you can copy the results of the paraphrasing tool and paste it into a plagiarism detector to see if there's any matching source caught by the tool.
Let's run a plagiarized paragraph through a plagiarism detector and see if it highlights plagiarism:
Original Text: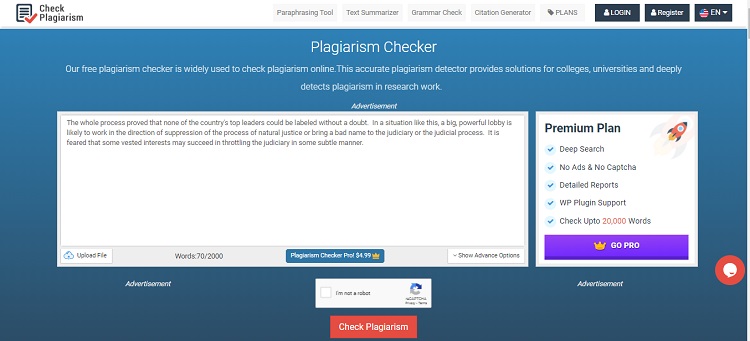 Plagiarism Checker's Result:

Conclusion
Paraphrasing has become a common practice for students, writers, and bloggers however, inaccurate paraphrasing leads to plagiarism which then further leads to severe drawbacks.
Therefore, we always go for proper and effective paraphrasing tactics. In the above sections, we mentioned how you can paraphrase any paragraph without plagiarism.
Whether you prefer manual paraphrasing or automatic, you can find both answers in the above-discussed sections.
So, go and check them out!
Subscribe

to our newsletter

& plug into

the world of technology