For movie previews, launch events, music videos, game feeds, and so much more, YouTube is the go-to video channel. If you don't have access to the internet, you can always stream YouTube videos to your android phone and watch them offline. 
However, downloading the entire playlist is still not supported by YouTube. So how to download a YouTube playlist on Android? You can download an entire playlist or multiple playlists using 3rd party apps.
Let's begin.
How to Download Entire Playlists on Android
As we have mentioned earlier, there are a few methods to accomplish downloading a YouTube playlist on Android. We'll go through them one-by-one.
Turn On Smart Downloads for YouTube Music Apps
Most of the time you need to download an entire playlist for your favorite music. If that's the case with you, YouTube Music has got you covered. It has something called smart downloads.
To enable this, tap on your profile picture located in the top right corner of the YouTube Music app.
Tap on downloads
Then tap on settings (the gear icon)
Scroll down to find Smart downloads, and turn it on.
That's it.
Now, YouTube will automatically download your playlists based on your listening history. Enjoy.
Use Videoder
Videoder is an excellent solution for downloading YouTube videos that were created by Rahul Verma in 2013 when he was still in college. It's been my de-facto tool for downloading videos after some recent changes to boost efficiency and support for playlist downloads.
Videoder is free software that lets you stream YouTube playlist videos in whatever format you like, including Mp3s and other music files.
Since this app isn't accessible on the Play Store, you'll have to download it from your browser. This procedure entails granting permission to your Android to load software from untrusted sources.
The software is free to download from APK Mirror or their website, but they make money by including banner advertisements in the app. However, you can remove advertisements for a one-time charge of $3 by buying Premium Adfree from the Google Play Store.
At first, launch the YouTube application and navigate to the Playlist you want to save. Click the sharing button after you've clicked on the playlist.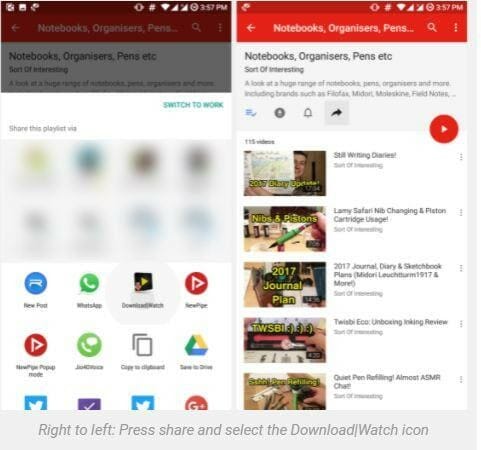 Click the Download/Watch option now (Videoder icon).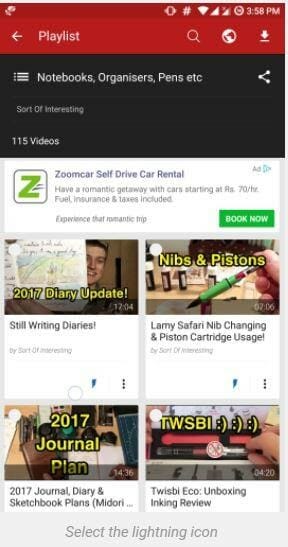 Click the tiny lightning icon below each video thumbnail to pick the quality of the download and begin the download process once you've arrived at the app. To pick several videos at once, click and hold the first video, then move your finger down to select the others, or check the tick box next to each video one by one.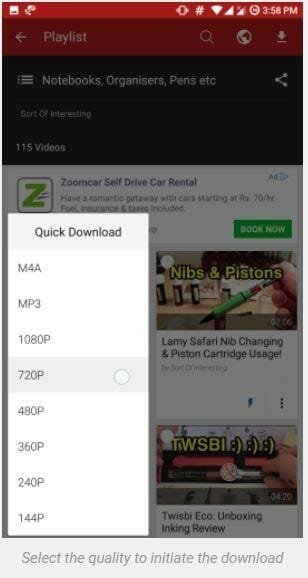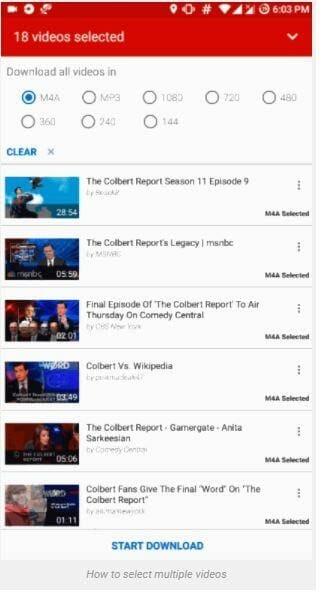 The ability to manually choose from various file formats such as M4A, MP3 audio, and video formats such as 3GP, WebM, and MP4 by displaying the file size of each version is the app's greatest benefit.
You will expand the number of threads for quicker uploading since the software allows multi-threaded downloads. The lack of support for background music backup or PIP is one of the app's biggest flaws.
Use Vidmate
At first, as usual, you have to download Vidmate on your Android phone, then go to your YouTube playlist from the Android app, and press on the sharing icon. Vidmate will show on Screens there, and you can finally click on it to download your playlist!
At this stage, you will get the option of choosing your type/category (mp4).
Frequently Asked Questions and Answers
Does YouTube to MP3 work on Android?
Yes, YouTube to MP3 works both on Android and PC.
How to download YouTube audio on Android without app?
Use a web-based YouTube downloader like Savefrom or Y2Mate, etc.
Conclusion
Hope we were able to help. When you want to download an entire playlist without any hassle, the best way to do it is via the 3rd party apps we've mentioned above. However, for music lovers, we recommend using the smart downloads feature from the official YouTube music app. Thanks for reading.