For movie previews, launch parties, music videos, game feeds, and so many more, YouTube is the go-to video channel. If you don't have access to the internet, you can always stream YouTube videos to your android phone and watch them offline. Are you in need of downloading a YouTube playlist on Android? But you do not get any solution? Then, here is the perfect article for you
Your internet service provider has played you a rough hand at times, and you have a spotty link the majority of the time. Perhaps you'll be traveling shortly and won't have access to enough cell data to view a YouTube course or lecture sequence. Since the YouTube app doesn't allow you to download playlists offline, here's an easy workaround in the form of an Android app that allows you to carry your valuable content with you everywhere you go without relying on an internet connection. You can easily download audio and video from here.
We've discovered a few methods for downloading YouTube videos in bulk. Continue reading this tutorial to learn how to import YouTube playlists.
Methods of Downloading a YouTube Playlist on Android
As we have mentioned earlier, there are a few methods to accomplish downloading a YouTube playlist on Android. So let's get started.
Using YouTube Itself
In the YouTube app, there is an option of downloading a YouTube playlist within the app. This one is really easy and straightforward. But for this purpose, you must sign in to the YouTube app first. There is a limitation in this process and that is its time limit. Whatever you download offline in this app. That will be available offline for only 29 days and after 29 days then you need those downloaded playlists again, you have to again download those playlists.
Now let us get into the procedure step by step.
On your Android, go to YouTube and open it. The red square with the white play button is it. The app drawer is normally where you'll find it.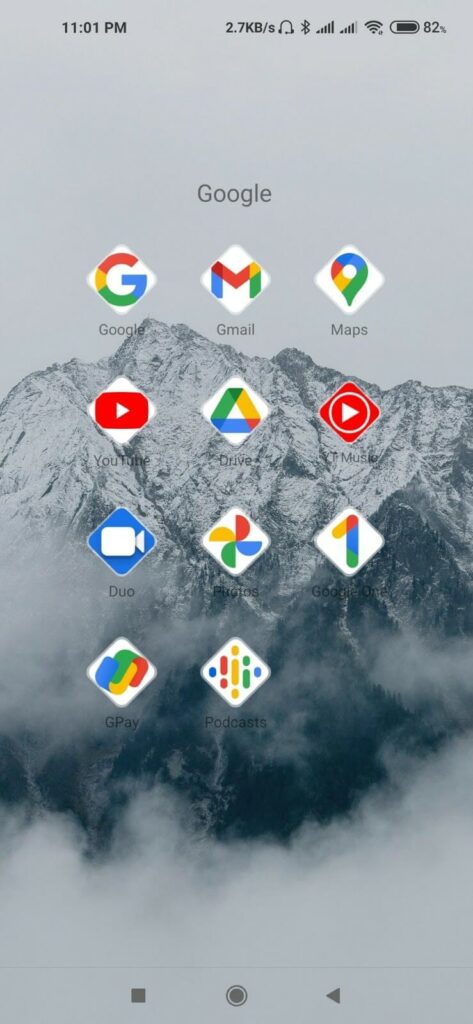 To download, look for a playlist. By clicking the magnifying glass button, you will look for a playlist. Tap Library, then scroll down to the Playlists section to find a playlist you created.
Using Videoder
Videoder [Free, contains ads] is an excellent solution for downloading YouTube videos that were created by Rahul Verma in 2013 when he was still in college. It's been my de-facto tool for downloading videos after some recent changes to boost efficiency and support for playlist downloads.
Videoder is free software that lets you stream YouTube playlist videos in whatever format you like, including Mp3s and other music files.
Since this app isn't accessible on the Play Store, you'll have to download it from your browser. This procedure entails granting permission to your Android to load software from untrusted sources.
The software is free to download from APK Mirror or their website, but they make money by including banner advertisements in the app. However, you can remove advertisements for a one-time charge of $3 by buying Premium Adfree from the Google Play Store.
At first, launch the YouTube application and navigate to the Playlist you want to save. Click the sharing button after you've clicked on the playlist.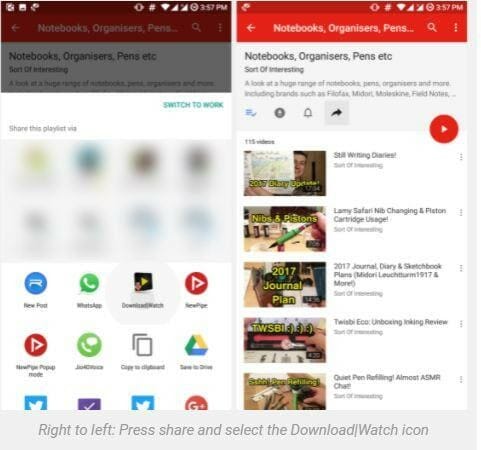 Click the Download/Watch option now (Videoder icon).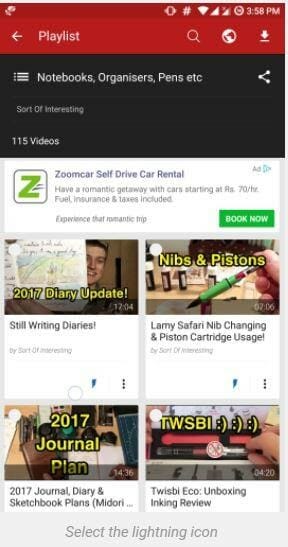 Click the tiny lightning icon below each video thumbnail to pick the quality of the download and begin the download process once you've arrived at the app. To pick several videos at once, click and hold the first video, then move your finger down to select the others, or check the tick box next to each video one by one.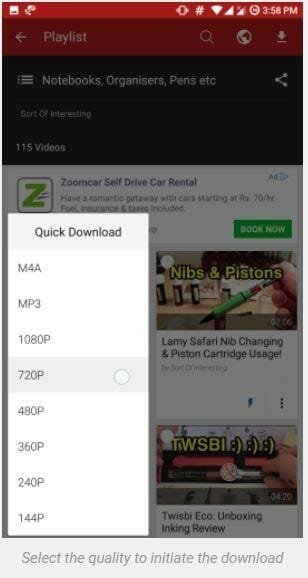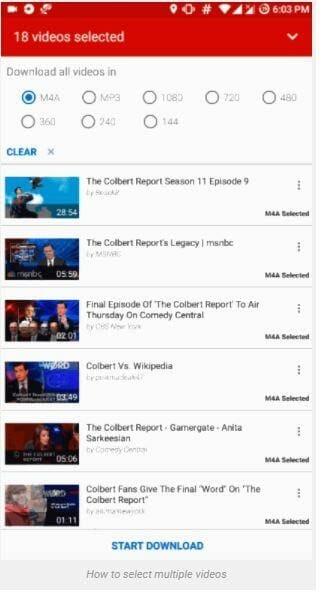 The ability to manually choose from various file formats such as M4A, MP3 audio, and video formats such as 3GP, WebM, and MP4 by displaying the file size of each version is the app's greatest benefit.
You will expand the number of threads for quicker uploading since the software allows multi-threaded downloads. The lack of support for background music backup or PIP is one of the app's biggest flaws.
Using Vidmate
At first, as usual, you have to download Vidmate on your Android phone, then go to your YouTube playlist from the Android app, and press on the sharing icon. Vidmate will show on Screens there, and you can finally click on it to download your playlist!
At this stage, you will get the option of choosing your type/category (mp4).
Conclusion
Thus you can easily download your required playlist of YouTube using the above methods. Hoping you will get the result. Downloading a YouTube playlist is a very easy and useful way nowadays. As downloading the required playlist is a need nowadays, that's why you should lean on any of the methods. We hope that you enjoyed these methods.