Generally speaking, USB Drive Encryption – has now become the talk of the time. Day by day, everyone is getting the fact 'How to Encrypt a USB Drive?'
A USB drive is capable of storing various types of data to provide the functions- data backup and storage, portable program storage, booting disks.
No doubt, USB drives are facing strong competition against the emerging cloud storage services. But users are still in confusion whether should they move on with the new medium or remain in their comfort zone of using only USB drives.
A USB drive with guaranteed security fact is very much essential as serious damage may occur if an envenomed attacker extorts the entire information. So, you must arrange adequate protection for your USB drive to make your files and information survive as long as you want.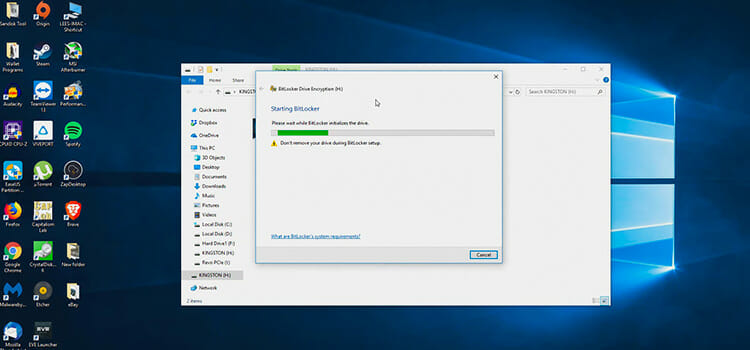 What is a USB Drive?
A USB drive refers to a small solid-state storage drive that is connected to the computer's USB port. This can be of many forms- a flash drive, RAID, disc drive, external hard drive, or any other media plugs into a computer using the USB port.
Typically, a USB flash drive is a sort of data storage device that is rewritable, removable, and smaller than an optical disc. This includes flash memory with an integrated USB interface.
USB drives are like auxiliary storage. They can be used to hold an operating system and boot the computer. They come with symbols and can be encrypted, debugged, or even write-protected.
Moreover, USB drives are used for backup operation and data transfer between computers.
Why USB Drive Encryption is Needed?
To keep your data safe, you need to encrypt the USB drive. Now, some question arises-What is encryption? And what does it work?
Encryption is the method for hindering access to your USB drive either by hardware or software installed on that drive that requires a key or password to unlock. Non-encrypted drives can put you at risk and can lead to other device security threats.
Through loss or theft, if your external drive goes in the wrong hands, then just past encrypted procedures will help to protect the sensitive data of that drive. Also, the prying eyes and third parties won't be able to access the drive or understand the information that drives belonged. Therefore, they would not be able to use the drive for any negative purposes.
How to Encrypt USB Drive on Windows 10?
Before encrypting your USB Drive, we suggest you at first have a clear idea about encoding and encryption. You can encrypt a USB drive in two ways on Windows 10 –
With BitLocker
Without BitLocker
These are described below serially-
What is Bitlocker?
BitLocker is a  kind of encryption feature included with Microsoft Windows versions. It has been designed for the purpose to protect data by providing encryption for entire volumes. 
If you're using Windows 10 Home, you will not be able to use BitLocker. This feature runs only on Windows 10 pro. Truthfully, BitLocker creates a safe environment for drive info while extracting the null effort from your side.
Allover, once BitLocker is set up, you will even forget that it is working behind.
Encryption with Bitlocker
Here are the steps of encryption with BitLocker on Windows 10-
Connect a USB drive.
Go to file explorer and search for your USB.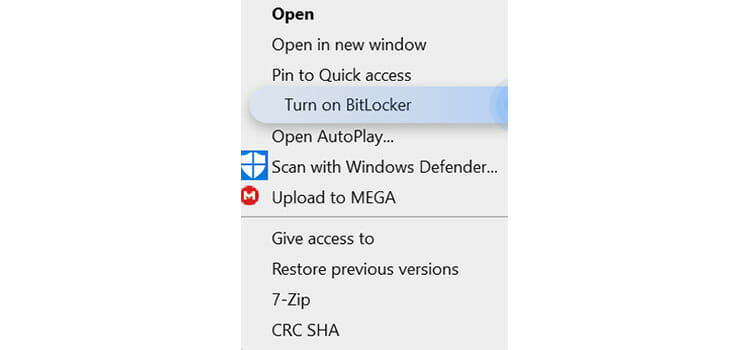 Click right on your drive and choose 'Turn on BitLocker'. Thus, BitLocker will be installed automatically.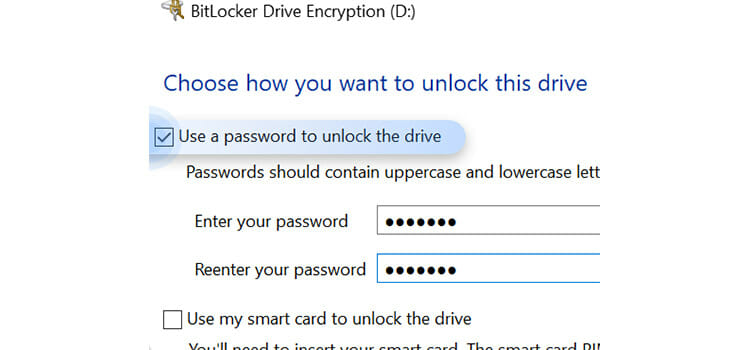 Now, enter a password twice. You can use a smart card also to unlock your drive.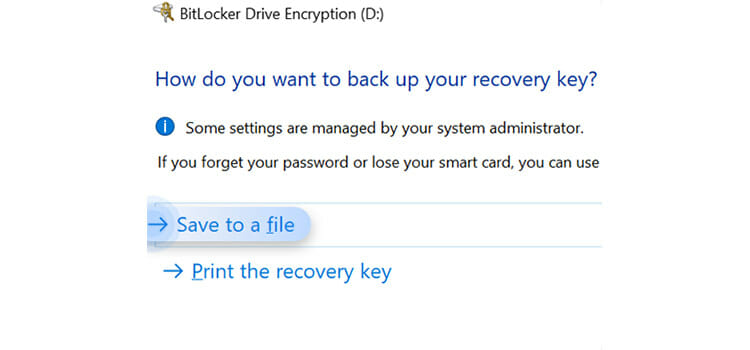 Now, save your recovery key as a file. You can also print it out.
You will need this recovery key if you lose your smart card or password.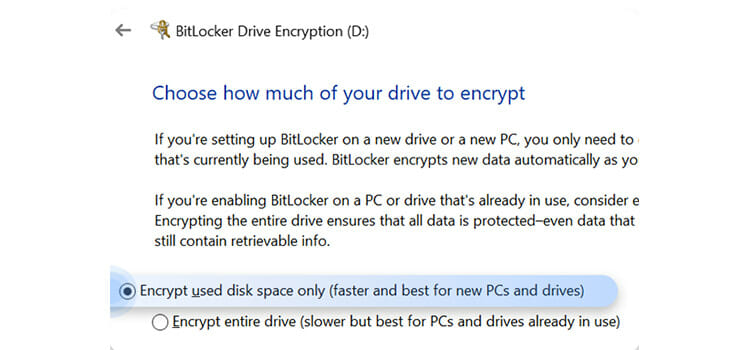 Select 'Encrypt used disk space only' option.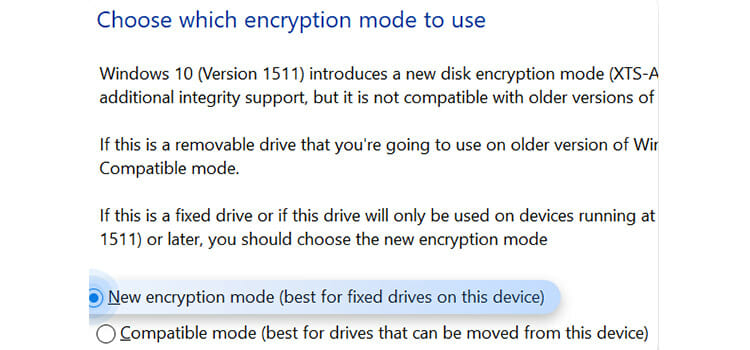 Next, choose the encryption mode by clicking the 'New encryption mode' option.
Now, press 'Start encrypting'. After some time, your USB drive will be fully encrypted.
Protect Specific Files with Bitlocker
You can use BitLocker to secure individual files in your drive. For this, you need to perform some more steps-
Open the desired file on MS Office.
Go to file 'Info'.
Choose 'Encrypt with Password' under the Protect Document.
Now, enter a password twice.
Then, click 'OK'.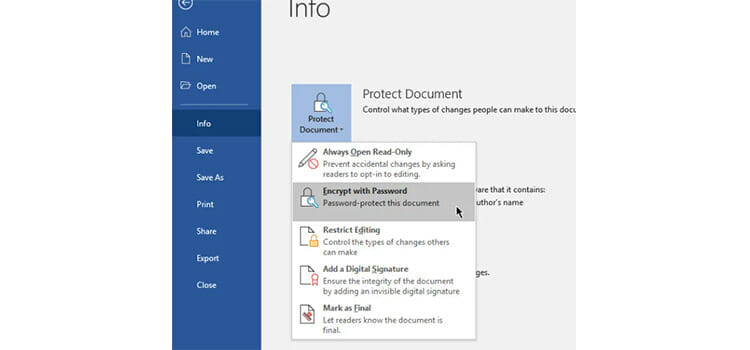 For providing the password you need to follow the steps below-
Confirm the installation of WinZIP on your device.
Click right on the file you want to get compressed.
Choose the 'Add to Archive' option.
Then, turn on the password setting option.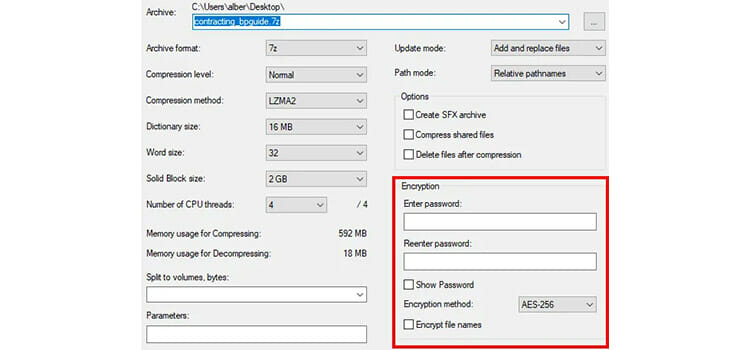 Encryption Without Bitlocker
Steps of encryption without BitLocker on Windows 10 are given here-
 Method 1: VeraCrypt
Download the VeraCrypt encryption tool on windows from its official link.
Opening the set-up file, select the 'install' option.
After the installation process, launch the VeraCrypt.
Select the 'Create Volume' option.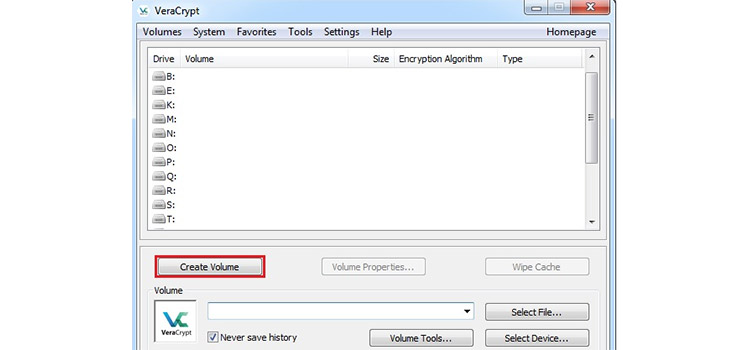 Now, choose 'Select Device'. Select your partition from 'Label' and click 'Next'.
Select 'Create encrypted volume and format it'.  Also, you can select the second option only if you desire to go without formatting.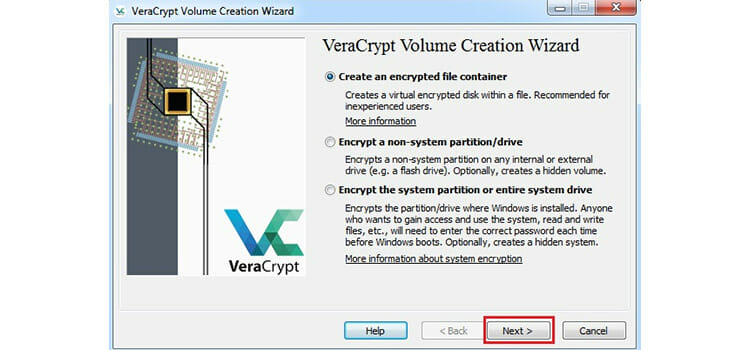 As there are multi types of encryption on VeraCrypt, select 'SHA-256′ for 'Hash algorithm' and 'AES' for the 'Encryption algorithm' to move with the default one.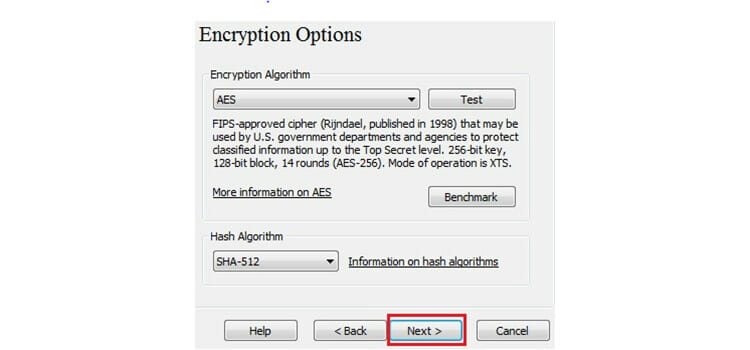 Now, press 'Next' for two times and enter a password under the 'Volume Password' option. And also confirm it by re-entering the password and click 'Next'.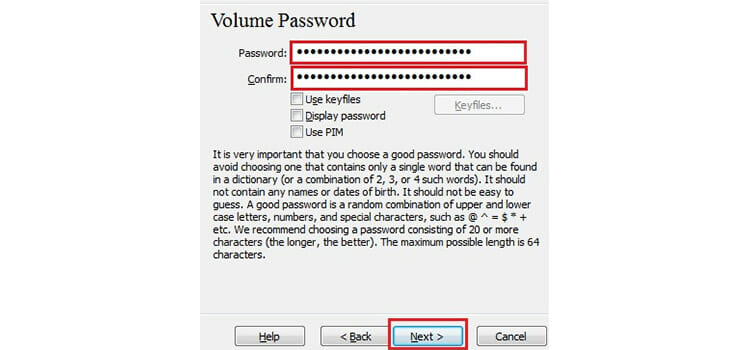 Since, VeraCrypt uses several auto-generated cryptographic keys, simply move around your mouse until the progress bar at down part turns green.
After that, choose the 'Format' option and confirm. Then, the encryption process will begin to roll in and it requires a couple of minutes which depends on drive size and transfer rate.
Method 2: DiskCrypt
Firstly, download & install DiskCryptor. Then, opening up, choose your drive partition and press the 'Encrypt' button.
Select 'none' for wipe mode and 'AES' as an algorithm.
After that, under 'Volume Password', enter your desired password twice.
Moreover, press the 'Generate Keyfile' option.
Save the generated key file to your desired location. Soon, the tool will prompt you to ask whether you wish to use the saved key-file or not.
Then click 'Yes' when the tool will ask if you want to use the saved file or not.
At last, press 'OK' to finalize the encryption process and wait until it gets completed.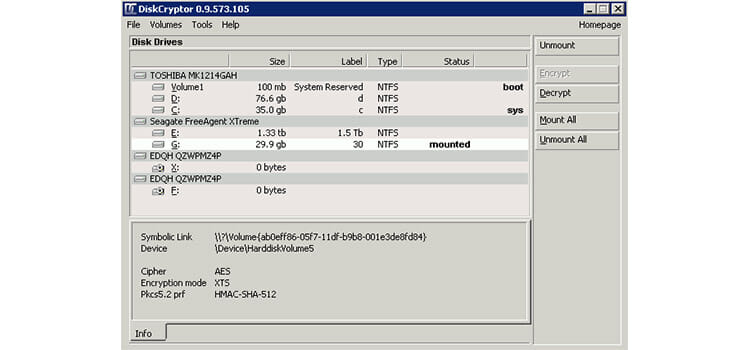 At first, install and launch the software.
Insert your pen drive into your computer and once the drive is detected, choose your's one from the drop-down box. 
Now, select the 'Secure Full Drive'option.
Then, press 'Install' and when prompted enter your username and password.
After that, press 'OK' and it is done.
How to Encrypt USB Drive on Mac
The procedures of encryption on Mac are given below-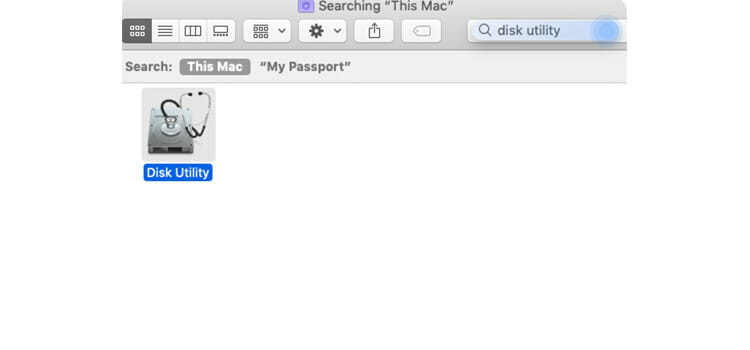 Insert your USB drive and transfer any kind of files in the drive.
Open Finder option and find 'Disk Utility'.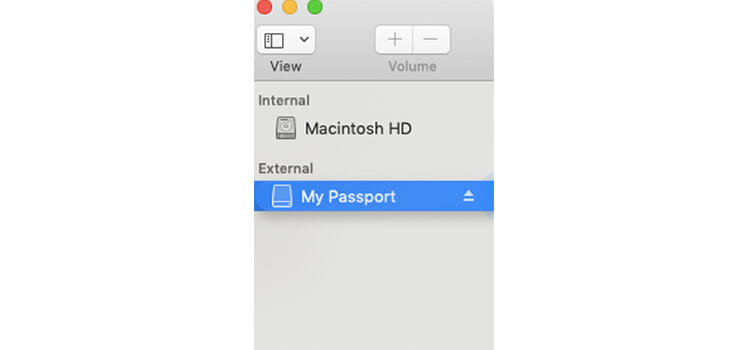 Select your device from the left-hand side list.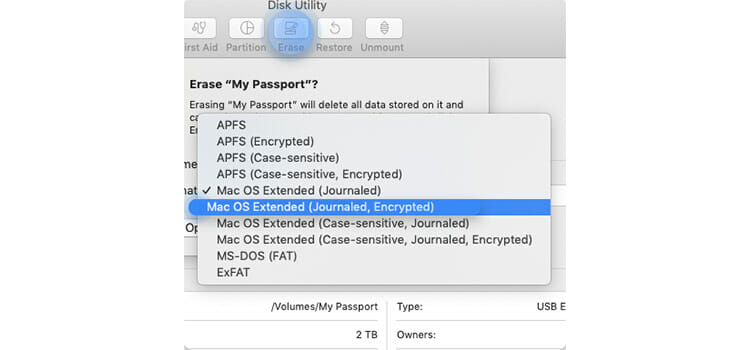 Now, in the format box under the erase-tab,
Select 'Mac OS Extended (Journaled, Encrypted)'.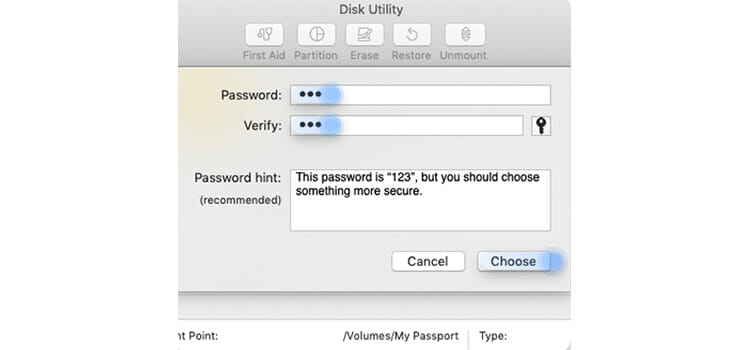 Enter a strong password when a window will prompt asking for a password. Also, reenter the password to verify it.
After that, press the 'Choose' button.
At last, move your encrypted files back onto your drive.
Risks of Using Encrypted USB Drive
About Encryption Backdoor
An encryption system is secure only then when it's been implemented correctly on a drive. If the authors of the software introduce any backdoor or weakness intentionally (a master password), the whole encryption system of the USB drive will get hampered.
It is not possible to check the code for backdoors independently as the source code to BitLocker is not always open for inspection. Even if the code is open for inspection at once, there is no certain guarantee that any backdoor would be dappled.
BitLocker is used on computers running windows when the code gets opened. This means that anyone having the capability of introducing a backdoor into BitLocker can probably introduce a similar something into the windows operating system on the purpose of allotting access to your files anyway.
About Passwords
Since to decrypt an encrypted USB drive all that's needed is the key or password, it deems that the security of the drive is just as strong as the security of the password.
If you write your password or if you are tricked into exposing your password by social activity or if your password is very easily guessable, the belongings of the drive may be compromised.
Also, your password can be termed if you enter it on a computer that is already been sorted and is running a keylogging software that can quickly make copies of files as early as they are encrypted. Be conscious about the fact that never decrypt any confidential files on any public computer.
Moreover, there remains a risk that the store data on your encrypted USB drive could be lost for good whether you forget your password and do not find a clue or hint of recovering it.
More Security Tips
Here are some security tips that should be followed regarding your encrypted USB drive-
If you wish to reuse your drive for some reason, confirm that you have deleted all the data after you have completed your work for security purposes.
Keep your encrypted drive and encryption key apart.
Always conserve an emergency backup decryption key.
If you cannot fix the malfunctioning of your drive, then destroy the drive physically in a way like it cannot be penetrated and amended.
FAQ(Frequently Asked Question)
Q: How to open an encrypted USB?
Ans: At first, type the unlock password and check "Automatically unlock on this PC" and then click 'Unlock'.
Q: When using integral AES hardware encrypted USB if anyone forgets the password, are there any helping hints?
Ans: You can fix up a hint on the password setup screen before. After setup function you just click on the question mark option and you will find the hint of your password.
Q: Does anyone require administrative privileges to use a hardware encrypted USB on a computer running a Windows operating system?
Ans: No admin rights are needed to use a hardware encrypted USB.
Conclusion
Ensuring a better USB drive security should ideally be the most important task. That's why we need to encrypt a USB drive. The information on your drive will be safe from misuse or theft in case it goes through any kind of wrong hands only when the proper degree of encryption will be ensured.
Nowadays, USB Drives have become one of the most precious options for storage space function. Why the security of your USB drives carries a lot of importance, depends on the fact that we carry very sensitive information through these.
As the drives are performing their activities and giving you an easy way of saving information and ample space, so now it's your turn to give the safeguard feedback to the drives by encrypting the content included them.