Almost in all cases, C drive is the main drive where the Windows operating system is installed. All the save files, app data, and temporary files are saved here. As a result, the free space of C drive is an asset needed for the computer to run without problems. But, oftentimes the space allocated for C drive is not enough. The best solution is extending the space of C drive. In this article, we're going to show you how to extend C drive in Windows 10 without formatting or losing any data.
Partitioning and Extending
Partitioning is splitting one physical hard drive or SSD into several different logical drives or volumes. In this case, the operating system will treat these volumes as completely different drives and provides them with their own drive letters.
These can be formatted into different file systems without affecting the other drives. To extend a target drive partition space, we simply shrink another drive and add some of its volumes to the target drive. As Windows has become more flexible in handling these operations throughout the upgrades, we can do this without losing or affecting any data, or formatting.
Ways to Extend C Drive
There are 3 simple ways to do this:
Using the built-in Disk Management tool from Windows.
Using the "diskpart" command in command prompt.
Using 3rd party applications.
Disk Management Tool
Disk Management tool is a built-in Windows application that comes in handy in creating, deleting, formatting, or resizing disk partitions, and manage unallocated spaces. It is a feature of the "Computer Management" application.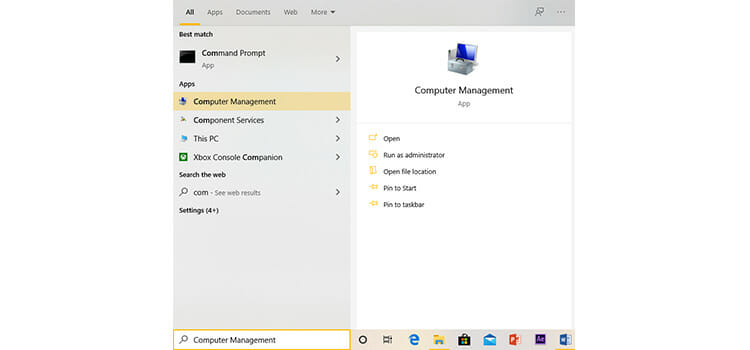 To launch, go to Control Panel> System and Security> Administrative Tools> Computer Management, or simply search for "Computer Management" in the Windows search bar. From it, under the "Storage" drop-down menu, select "Disk Management".
Here you will find all the disk drives enlisted under Disk 0 or Disk 1 segment. The first thing you should see is the colored bars under the list. You should see all your drives (C: D: and others) under the same color for "Primary partition". If so, you can proceed with this tool.
But if you find that C drive is a different color than the other drives, you may need 3rd party software to extend. This is because the C drive is a primary partition while the other drives are logical or extended partitions, and you can't feed the shrunk volume of other drives to your C drive. Like this: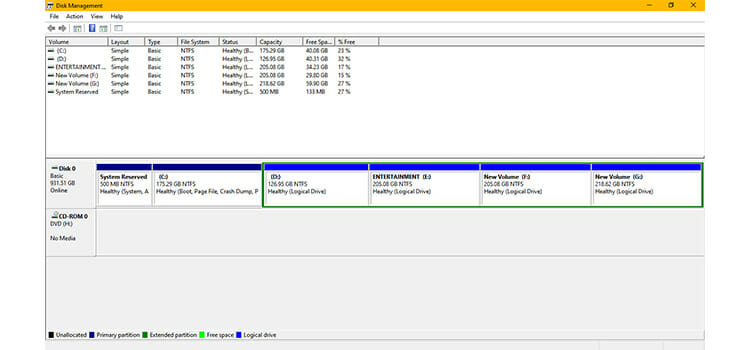 Shrinking Drive Space
Choose one particular drive with enough free space, that you want to shrink. Then right-click on it and select "Shrink volume". A dialog box appears, where you can type in the amount of shrink space in MB. Note that you can only shrink the available free space, not more.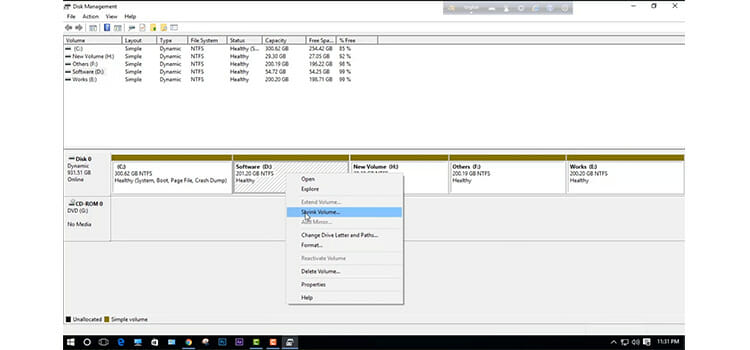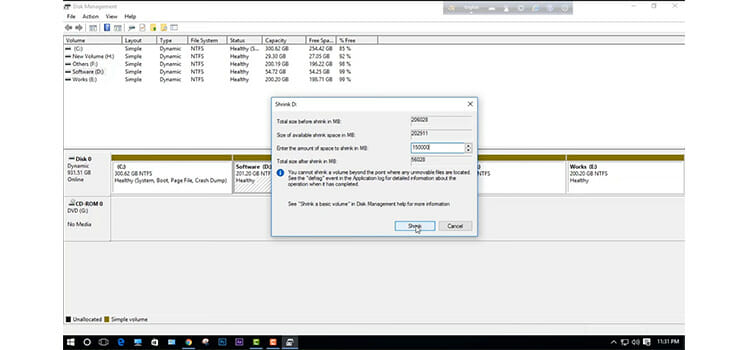 After that, choose Shrink. The selected drive will lose the amount of space specified. You will find a new segment named "Free" or "Unallocated" with the shrunk space.
Converting the Unallocated Space to Free Space
If you find the "Free space" segment, you can skip this. But if you find "Unallocated", you have to convert it into "Free space". To do that, create a new volume with it by right-clicking "Unallocated" and choosing "New simple volume". A dialog box appears. Select "OK" in each step and you'll create a new drive.
Then you'll need to delete that drive by right-clicking and selecting "Delete volume". You'll find that the volume is deleted, leaving the empty space as "Free space".
Extending the C Drive
At this stage, you can easily extend your C drive or any other drive by right-clicking and selecting "Extend Volume". In the dialog box, the amount of extendable volume will be given by default, but you can choose to lower it too. After that, just select "OK" in all steps and your C drive space will be extended.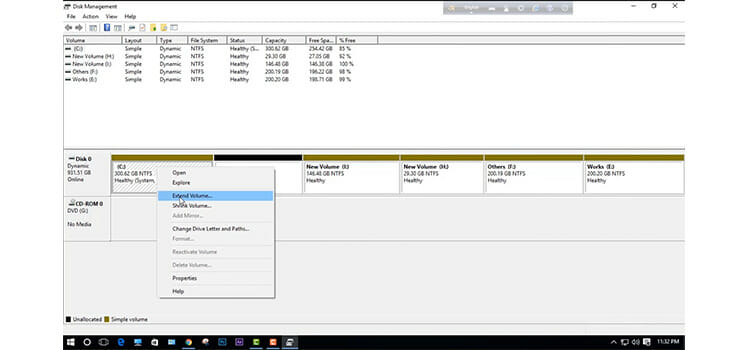 Extend C Drive Using Command Prompt
Another method of expanding, shrinking, or altering drive partitions is using the "Diskpart" command in the command prompt. Launch the command prompt (running as administrator not needed) and type in "diskpart". A confirmation box appears, click on "Yes" and another command box named "C:\Windows\system32\diskpart.exe" appears. You can also simply search for "diskpart" in the search bar.
Inside the new command box, you have to choose your disk. In general, the hard drive is named as Disk 0. Type in "select disk 0" and press enter. The hard disk will be selected.
Now to show all the partitions enlisted, type "list partition" and hit enter. Now you can see all your drive partitions with sizes. To determine which is which, match the size of partitions with the sizes in your File Explorer. For example, Partition 2 is the C drive here.
Now let's assume we'll shrink 2 GB disk space from the D: drive which is Partition 3 here. To do that, type "select partition 3" to select D drive. The "Shrink" command works in "SHRINK DESIRED=x MINIMUM=y" format, where "x" is the desired amount of shrink space in MB, and "y" is the minimum amount of shrink space in MB. If your drive has enough space, it will shrink "x" amount of space in MB, but if you input a higher value of space than your free space, you'll shrink "y" MB.
To shrink 2 GB or 2048 MB space, we can type "SHRINK DESIRED=2048 MINIMUM=1024". It doesn't matter how much input we give in MINIMUM as long as it's less than DESIRED. After inputting, hit enter and we'll get 2GB of disk space shrunk from the D drive.
Now to extend C drive or Partition 2, type "select partition 2", hit enter, and simply type "extend size=2048" and press enter. The C drive will be extended to 2GB space. You can input any amount of free space to extend into C drive or any other drives in this process. Type in "exit" to exit the "diskpart" command box.
Using 3rd Party Applications
On the journey on how to extend C drive in Windows 10, if you can't extend using the previous methods, it's because your C drive is in a different format than the other drives, and to extend it without losing data or Windows setup, you may need to use 3rd party applications like EaseUS Partition Manager, MiniTool Partition Wizard, AOMEI Partition Assistant and many more.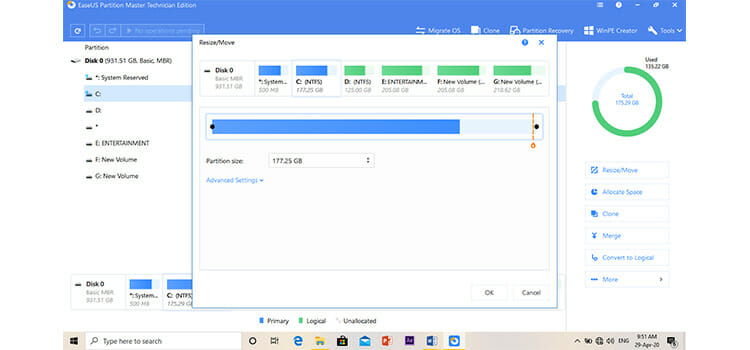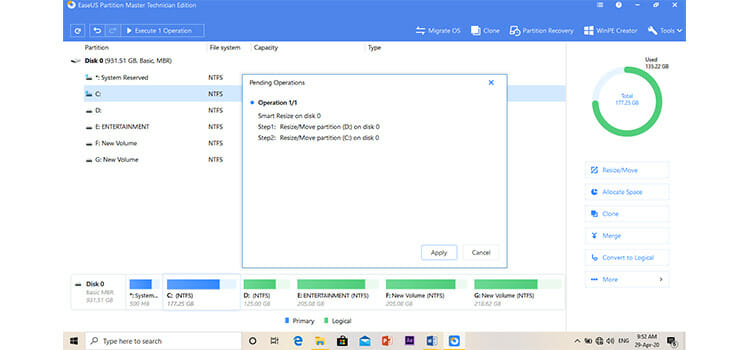 For example, you can use the EaseUS Partition Master to directly drag and resize any drive spaces and extend your C drive. You may need to restart your computer in some cases but your files will be intact. You can also convert any drive to Primary or Logical drives, change drive letters in this software.
Conclusion
In this article, we've shown some easy steps on how to extend C drive in Windows 10 using CMD, disk management tool, or other apps without formatting or losing any data. Extending C drive can be essential as more free space in C drive improves computer performance.