Drivers are the main bridge between the software and hardware in a computer system. An operating system with all the latest updates of drivers will run much more comfortably than that with corrupted or backdated drivers. There are lots of traditional ways to update drivers, but in many cases, users face certain difficulties like not finding the right drivers, driver installation errors, lack of authorization, and many more. In these cases, we have to find and update drivers manually. To do this, there are certain precautions and steps to be taken. In this article, we're going to discuss the exact steps on how to find and update drivers manually.
How to Backup and Restore Drivers
Before attempting to update drivers manually, you should back up your existing drivers into a secured folder so that if you install any wrong instances, you can come back and restore the previous sets of drivers. The best way to do this is to use any 3rd party application. Before this, you should check the drivers whether they are updated or not.
Double Driver is an open-source application that is incredibly effective at doing these tasks. You can back up all your drivers and restore and install them anytime you need. Download and launch this app on your pc as an administrator, then click on the Backup tab. Select "Scan current system".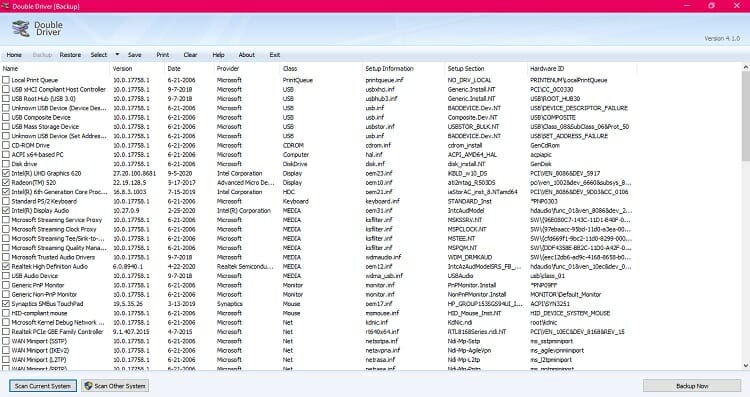 A large list of drivers on your system appears. Select only the drivers you're going to update by clicking on the tick box, and then select "Backup Now" in the bottom-right corner of the software. Now, choose where you want to save the files and the method of saving.
A "Structured folder (default)" is a folder containing all the driver files in the appropriate order. You can locate and install them using their .inf files. A "Compressed (zipped) folder" is the structured folder in compression, which is handy if you want to move the files to a backup device without worrying about losing anything. The "Single file self-extract (executable)" creates an application file that executes itself when entered, and it's the easiest among the three options. Choose and click OK to back up.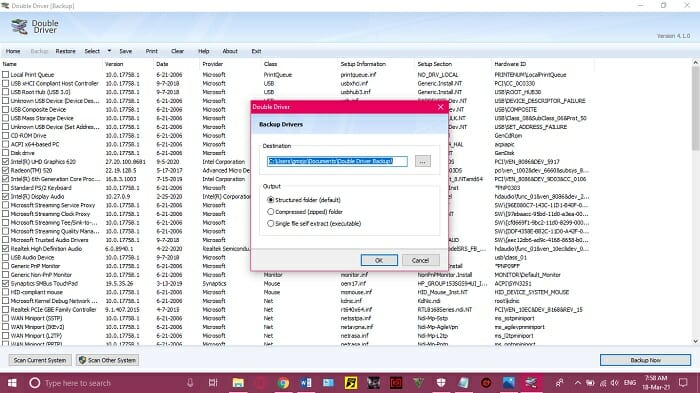 To restore these drivers whenever needed, just go to the "Restore" tab and click on "Locate Backup". Select the appropriate method you backed up your drivers, and click OK. It will install the drivers promptly.
How to Find and Update Drivers Manually
There are various ways to find and update drivers manually. You can update drivers easily in Windows 10. Follow the most suitable steps described here.
Find and Update Drivers Manually Using the Device Manager
The device manager contains the list of all drivers installed or missing. Launch it by pressing the Windows button + X and selecting the "Device Manager" option, or just search on the Windows search bar.
After launching, choose and double-click on the right driver you want to update. A properties tab opens. With an active internet connection, choose "Update Driver", then "Search Automatically for updated driver software" which will search the internet for updated drivers.
Download and Install the Drivers Manually
However, in most cases, you might not get what you want from the Device Manager as it has a much shorter targeted database, in which case you need to update it manually. To do that, download the right driver you need from the internet, preferably from the manufacturer's website where you can identify your system with the serial number of your manufacturer or the windows version. This ensures that you get the most stable drivers of your choice. You can collect drivers in various different ways. Here's what an HP laptop driver website looks like:
For example, the best way to get the most updated Intel UHD Graphics Driver is to go to its website, choose the operating system, and download it. After downloading, go to the downloaded folder, and look for the setup executable .exe file. Double click on it, and follow the installation process like any other software to install it.
After downloading, you can install them using the executable file within your downloaded driver.
If for some reason your Windows won't let you install these drivers, you can do this from the device manager too. After downloading, go to the Device Manager, find the appropriate driver to replace, then go to "Update Driver > Browse my computer for driver software > Let me pick from a list of available drivers on my computer".
Here, click on "Have Disk… > Browse" and locate the .inf file of your driver. Every downloaded driver contains this file which contains the setup information. Search for it within the folders, and select the .inf file, then click OK. Now you can install the driver. Make sure you downloaded the correct sets of drivers, otherwise they might malfunction.
If your drivers aren't compatible, you can always go back and choose "Rollback Driver" under the update option of the Device Manager.
Find and Update Drivers Manually Using 3rd Party Applications
There are many 3rd party software that lets users pick and update the drivers of their choice. For example, Iobit Driver Booster, Driver Easy, Driverpack Identifier, etc. You can check this article for more information.
We'll show the updating process using the Iobit Driver Booster.
This software is a great tool to update drivers and offers a more variety of driver databases. The free version is enough to find and update all drivers, and the pro version offers some other cool features too. Download and install the software, then run it as an administrator.
At the first run, the Driver Booster will ask for thorough scanning of your system. Just let it scan with an internet connection. After scanning, a list of updateable drivers comes up. From here, choose which ones you want to update. The software will download the required drivers and update them as needed. Some driver updates might ask for a reboot.
Iobit offers a much faster download speed in comparison to Driver Easy and others, but they all do the same thing essentially.
Update Drivers Using the Windows Update Feature
This is the easiest and safest method here. It's also less likely to grab the latest drivers of your choice, but it's handy after a Windows setup to quickly get what you needed to get the computer running.
To do this, just search for "Check for updates" on your Windows search bar, enter, and check for updates. Windows will automatically check and download all the required drivers. The problem is, download speed is greatly reduced here, and you won't be able to pick your drivers, rather Windows will download everything at once. But all the drivers will be digitally signed by Microsoft and very stable and safe to use.
For many users, this feature often fails to locate any updates. The possible reason is, Windows update service can be stopped for many reasons. To check if it is stopped and start it, press the Windows button + R and type "services.msc" and run it, locate "Windows update" service, double click on it. You can see if it's disabled or not. If disabled, you can select the "Start" option to start the service again, and startup type to "Automatic" so that it doesn't start again, then click OK. You can also delete Windows update files.
These are some of the best and easiest ways to get the best driver of your choice.
Conclusion
Here, we've discussed the proper steps on how to find and update drivers manually. Follow these methods one by one to get the desired sets of drivers installed on your computer. For any malfunctions, make sure to backup and restore the previous drivers as mentioned.