Your computer can work properly and give a satisfactory performance when it gets the required space. If it doesn't get that space, its performance will be slow down, even crash with applications sometimes. So it is a must to have enough space in your RAM. You can free up RAM in Windows 10.
Random-access memory (RAM) is a storage place for computers where all the short term data are stored. Computers take the required data from RAM to do its work properly. But when RAM gets inadequate space, it can not be able to give and take information frequently. As a result, your computer's performance becomes low. To solve this problem, you have to free some space in RAM.
It is quite necessary to check and free up RAM of your computer when RAM doesn't have adequate space. For this, you can take some steps before it becomes your headache. The solutions are embedded below. Now dig into the solutions to free up RAM in Windows 10, and get rid of the aching.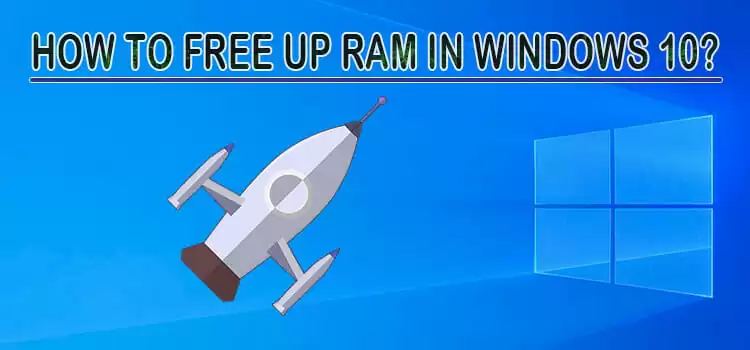 Methods to Free Up RAM in Windows 10
It doesn't seem to be a problem or being a headache for us as long as it doesn't show up to us. Actually, it is not something we should afraid of or think of. But we can be proactive and keep ourselves away from this problem. Even when this problem arises, we can do some simple steps to get rid of this problem smoothly.
Although the RAM size contributes to much of its performance, you can improve it manually. Here you will get two types of solutions regarding RAM usages. One is the proactive deed and another is eradicating the shortage memory problem. First, let's go with the proactive deed.
Restart Your Computer
To free up RAM on Windows 10, you should do this regularly if you frequently use your computer or laptop. This one is a very common solution because it is quite effective.
When you restart your laptop or PC, this work can clean up your RAM and restart your required processes. Though it doesn't increase your RAM's capability, it can clean up the background running processes that are not needed for you. The background processes or apps are busy eating up your memory. So by restarting your laptop you can get back your memory. So try this one.
Update Your Software
As you are a software-oriented hardware user, you must notify the usefulness of updating software. So you should update your software frequently when an update is available. Because older versions can take more memory to work properly. As a result, the performance of your computer will not be up the mark rather slower. So update tour software when you get the availability.
Remove Browser Extensions
The extensions of any browsers are another way of eating up your memory. So remove the unnecessary extensions to make space in your memory.
Clean up Cache
You can regularly clean your cache up because it takes your RAM. But the cache memory is helpful sometimes as it holds information about your browsed pages. So your computer can easily browse those pages easily and that saves your time. But if the pages are not needed more and you are running out of storage, this one needs minimal effort. So give it a try.
Use Different Browsers
Some browsers are good at memory management. So you should use those browsers which use less memory comparatively. So don't go with those browsers which take more space and memory. Chrome, Firefox, etc. are the best at memory management.
Install RAM Cleaner
Since you are quite busy with your work, you may not get that time to manage your computer. Then here is the solution. RAM Cleaner. This type of software is quite safe to disinfect your computer, even can remove unnecessary apps, extensions. This app can also take care of startup programs.
Add RAM on Computer
You may need more memory space but can not delete the information that remains on your computer because they are all important. In this case, you can buy extra RAM for your computer. You can always use this method if you need more memory space. But you must go through the best one and quantity before buying.
Install Antivirus Application
This is a must for any computer for security. Nowadays it becomes quite obvious to get affected by viruses or malware after downloading new applications. These viruses and malware not only affect your computer but also eat up space of RAM. Install a good antivirus app for security.
Now you are going to know the ways of solving the running storage problems. Here you get the effective methods. So let's start.
Check Memory Usages and Clean up Required Processes
Go to the Task Manager by typing in the search box beside your start menu. Ctrl + Shift + Esc is the shortcut to have the task manager quickly. Then a window will open like below.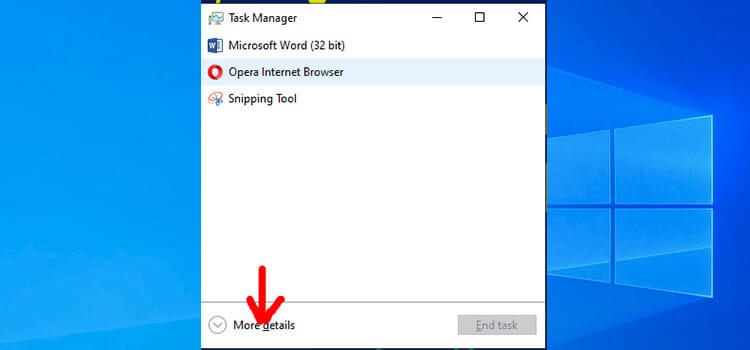 By clicking More details, you will get a window that will show use the usage of memory in your different applications.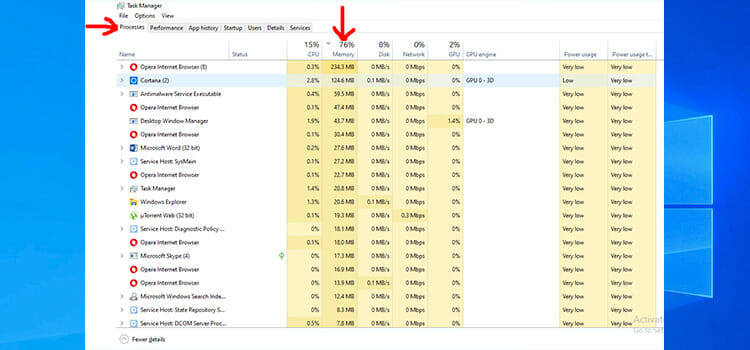 Then in the Processes, you will get the Memory section in which you will get to know how much RAM is used and also know which application uses how much memory to process the system. In the Memory section, the arrangements are in the maximum to minimum sizes.
In the Performance section, you will get more information about the usage of RAM over time. To get the detailed information, you should click Open Section Monitor at the bottom of the window. Then, you will get the information on how much space is free in your RAM. And to know the most usage of RAM application, click the Commit option on the Resource Monitor and sort it. Then, you will know the programs which use the most RAM.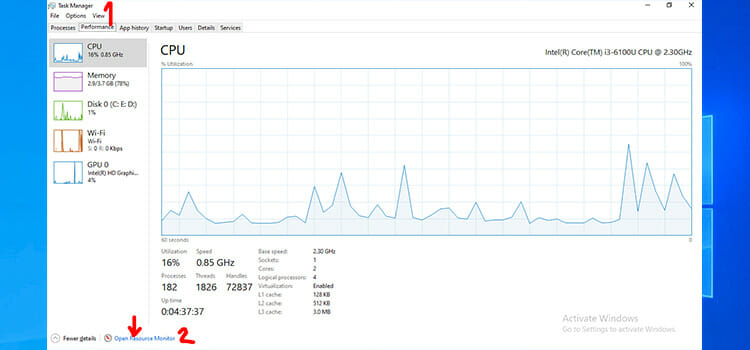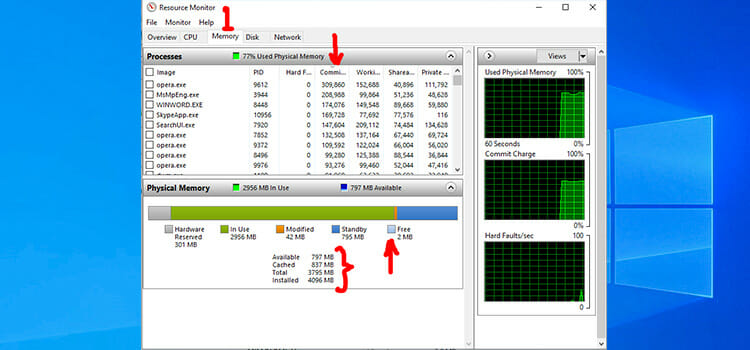 So now you are able to figure out the time taking and memory taking a quantity of each program. After checking out all these, if you find something suspicious you can take action and delete them to make free space.
Disable the Unrequired Startup Programs
At the time of booting up your computer, the startup programs activate themselves and each of them takes a little bit of your RAM. After a certain time, these programs take a quite quantity of memory. All the startup memory is not required at all. So you should remove or disable the unnecessary ones
For this purpose, you have to go to the Task Manager and select the Startup tab.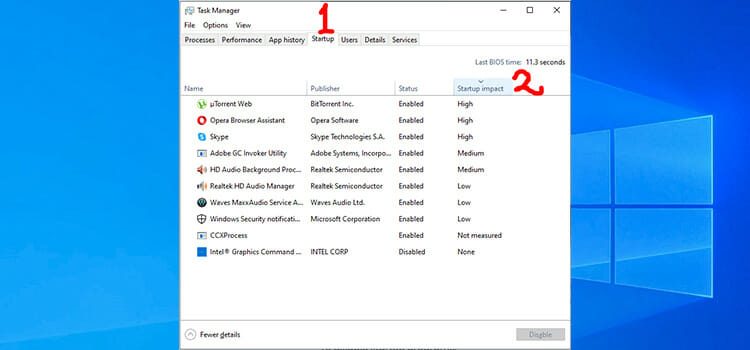 Then, you will get the Startup impact option. Here you will get to know which startup is most used and which one is less. So which one is not required, you can disable that by clicking on the right side of the startup impact. There you will find the disable option. By clicking on that option, you can get rid of that program and get some space in the RAM.
Decrease Visual Effects
As the technologies are improving day by day, there are adding so many visual effects in our computer-like animation, icons, etc.. These effects are not quite necessary for our windows but they take up space of RAM. So when you are running out of storage, you can reduce this effect manually by following the steps.
For this, you have to first go to the File Explorer of your computer. Then, in that window of file explorer, you will get a panel on the left side. In that left panel, you will get the This PC option. You have to right-click on that option and then a small pop-up will appear. You have to select Properties and click on it.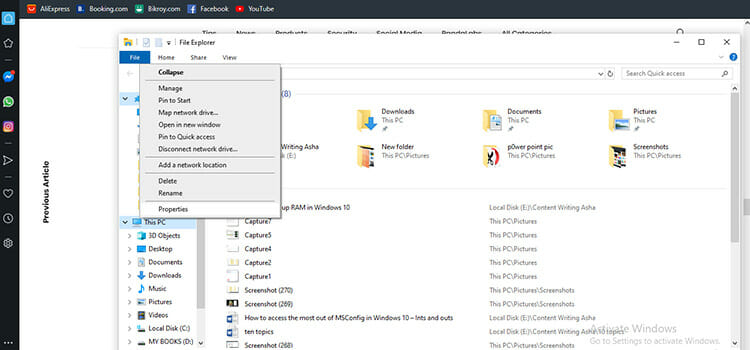 Then you have to select Advanced System Settings and click on it. This one is your second step.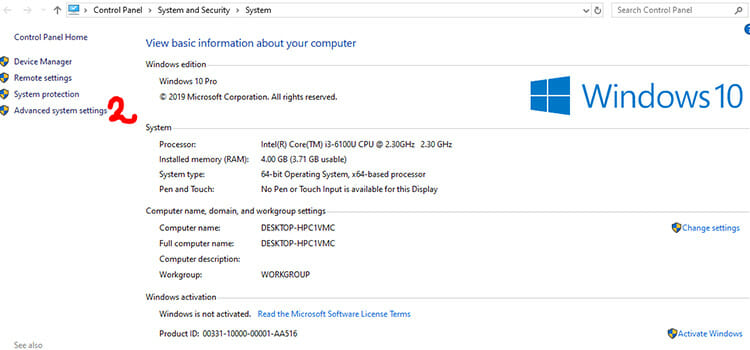 Then a new window appears which will show the Advanced option. After that, you have to click on the Settings option under the performance section.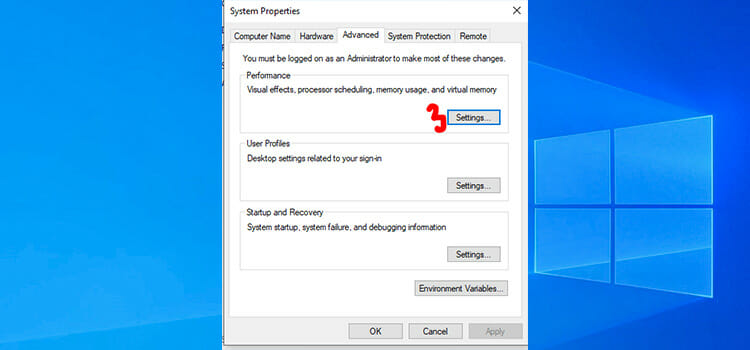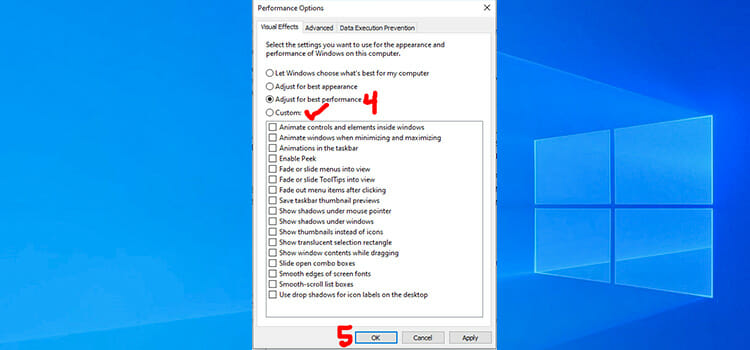 You will get the Visual Effects option where you are asked to select the settings for your computer appearance and performance. By default, the number one option is selected. But as you are facing a lack of space problem, you can choose third or fourth, any option. And after choosing, finally, click on the OK button to apply it properly.
Reduce Using Background Apps
There are some automatic applications on our computers. They run automatically by default. As a result, these background app runs when your computer's power is on and automatically enables you to get notifications and update. So these applications consume some space of your RAM. By stopping some of the applications which are not required for you, you can make space in RAM.
For this, you have to go to the Settings of your computer and then the Privacy option. In the Privacy window, you have to scroll down the left panel and then, you will get the Background Apps option.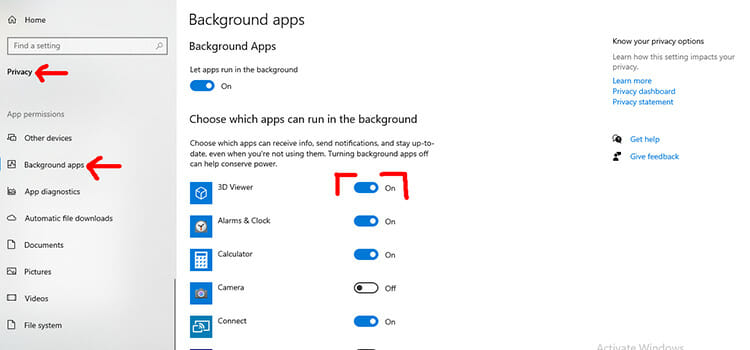 Here you can disable or off any of the applications and make space in your RAM.
Clear PageFiles Before Shut Down
The pagefiles of your computer don't rest or clear up after shutting down your computer. Rather, they remain in the hard drive with some RAM space. So it is necessary to clear the pagefiles before shutting down your computer. Then, you will get some space in your RAM.
For this, you have to type Registry Editor in the start menu search box and then click on it. After that, a box will appear for your consent, you click Yes. A window will appear with five options under the computer. You have to select HKEY_LOCAL_MACHINE.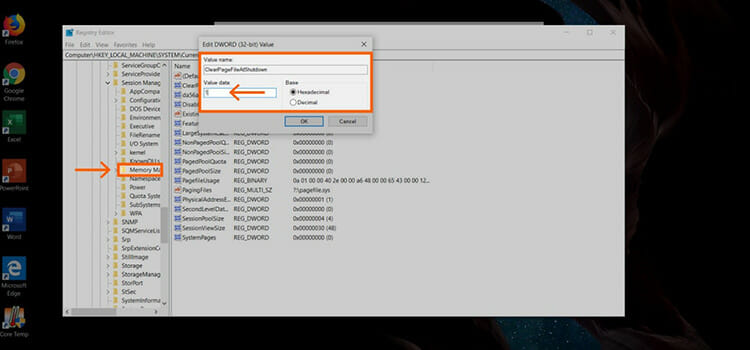 You have to select System and CurrentControlSet respectively. Then, you have to find the Control option and select it. After this, you again have to select Session Manager by scrolling.
Now, you have to search Memory Management and select this. Finally, you have to go for ClearPageFileAtShutdown and type 1 and click OK.
Conclusion
We all want our computers to work efficiently. For this purpose, it is necessary to free up RAM in Windows 10. Then, the performance will be up to the mark. Sometimes, because of lacking space in RAM, we don't get satisfactory performance from our computer. For this, we need more space on RAM. By applying the above methods and ways, you can easily clean up or add space in RAM. So you can try these methods to get rid of this problem quickly. By applying any one or more methods, you don't need to hoard your problem.