After setting up the SSD the main concern of the user is to migrate the operating system or the whole C drive from the old HDD to the recently added SSD for faster and better performance of the computer.
But most often users tend to reinstall windows on the SSD and in this process, all the previous system data and software are lost. Reinstalling them all over again is a painful task.
Today in this article we are going to show you 2 very easy ways to migrate the Windows 10 operating system of your computer from your old HDD to a newly installed SSD without losing your data, software, and other valuable resources.
The whole point of this tutorial is to save you from the pain of reinstalling Windows and other necessary software and drivers.
Preparation and Requirements Before Starting the Migration Process
If your SSD is already formatted and ready to be used then you are good to go. You can skip to the next section. But if it is not formatted correctly then make sure you follow the following steps properly.
Formatting SSD
To format your SSD on Windows 10 follow these steps
Step 1: Press the Windows button on the keyboard and type "Control Panel".
Step 2: Go to "System and Security".
Step 3: Then go to "Administrative Tools". After that go to "Computer Management" and then go to "Disk management".
Step 4: Wait for the disk you want to format to appear and then right-click on it and click "Format".
Step 5: You will now see a dialogue box. In the appearing dialogue box select your preferred "File System". Make sure it is the same as your hard disk drive (HDD) which is usually NTFS and enter the "Allocation Unit Size" and check "Perform a quick format".
Step 6: Now click "OK" and it is done.
After formatting your SSD, now restart the computer and you are almost prepared for the migration process.
Requirements
To perform the migration process mentioned below you need to download this additional software named iSumsoft Cloner
Migrate Your Windows 10 to SSD Without Reinstalling
I am going to show you two different ways to perform the migration. Both of them are very easy to perform. Either of them should work perfectly.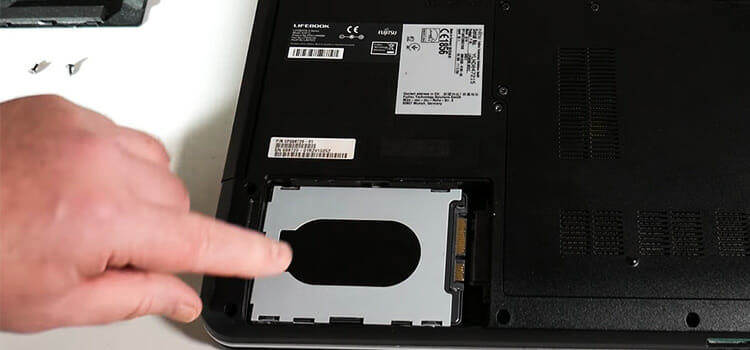 A Little Heads-up
Before starting the migration process on your Windows 10, the SSD drive of yours needs to be formatted properly. If not, you may face some problems and the migration may not be done perfectly which later may cause some issues.
Furthermore, you might want to keep a backup of your operating system, if something goes wrong in the mid-way, you might lose your valuable data and all of this would be for nothing. So, keeping a backup of your C drive and operating system is a safe measurement.
If your operating system drive occupies a larger space than your SSD capacity then you need to delete some unnecessary files and software to free up some space and make your operating system's drive to occupy less space.
Method 1: Direct Copy
Copying is the operating system from your old HDD to the new SSD is a comparatively safe, fast, and easy way to perform the migration.
Unlike regular copying performance, copying the operating system can not be done that simply. It can be done with the software iSumsoft Cloner that I have mentioned earlier.
Step 1: Download and install iSumsoft Cloner.
Step2: Open and launch the iSumsoft Cloner. After launching this software, it will automatically detect all of your active drives on your computer including your Solid-State Drive or SSD, and show them on the screen.
Step 3: Click on the Copy option. You can see it on the pane on the left side of the software window.
Step 4: Then you will see "Select a source target". Go there and select the system partition which is usually the C drive of your HDD. This is the drive on which your operating system is currently installed.
Step 5: After selecting the target source now it is time to set up the destination folder. Go to "Select destination target" and select your SSD partition to which you will migrate or move the operating system from your HDD.
Step 6: Click start and a tips dialogue will pop-up. Click ok and proceed. The copying will start and it will take some time.
Wait till the copying process finishes and you are done.
Step 7: Now restart your computer and access the BIOS settings and set the SSD as your first boot device. Then exit the BIOS Settings and it is done.
Now your computer will perfectly work as it used to work before.
Method 2: Backup and Restore
The previous method was based on a direct copy via the software called iSumsoft Cloner. This is another method to copy your Windows 10 operating system from HDD to SSD without reinstalling. This the backup and restore method using the same software that we have used in the previous method.
Note: This method is a bit complicated and risky compared to the previous method.
In case the first method did not work for you then try this method by following the steps below:
Step 1: Make sure to have a backup of the Windows 10 operating system. Then open and launch iSumsoft Cloner, then click on the Backup option and then select the partition that contains your Windows 10 operating system. Usually, it is the C drive of your hard disk.
Then select a path to save the backup on your computer. Save it on the hard disk so that the backup file does not occupy your limited SSD space.
Then Click Start to start the process. A dialogue box will popup click ok and proceed to start the backup process of your operating system.
Wait for a few minutes until the backup process is finished. You will see a popup saying mission completed.
To make sure the backup is done correctly go to the selected path and you will see a .icg file in the selected location of your hard disk.
Step 2: Now it is time to restore the backup of your operating system to the SDD.
Go to the iSumsoft Cloner and launch the software again. Then select the Restore option from there.
Click Choose and select the backup file you just created in the last step. After that select the SSD partition to which you want to migrate your Windows 10 operating system from "Select the restoration destination".
After that hit "Start" and a dialogue box will pop up. Hit ok and proceed. Wait for a few minutes for the restoring process to be finished.
Step 3: Finally, restart your computer and enter the BIOS settings. Set the volume from the SSD drive to boot your computer.
When it is done, your computer will work perfectly as if nothing happened.
These are two ways to migrate your Windows 10 operating system from your old HDD to a newly installed SSD without reinstalling the whole operating system. Also, you can do a system restore for your Windows OS so that you can always come back to a previous stable state.
Have a great day.