Sometimes we need to work with older content which most often becomes non-compatible with the current platform. SWF files are those kinds of old ones and they cannot be opened and viewed easily in our current browser like chrome. So, how to open SWF files in Chrome and what to do in case we desperately need to work with SWF files? The good news is: there is a way to do it. This post is all about SWF files– what SWF files are, why they have become obsolete, and most importantly, how to open SWF files in the Google Chrome browser.
What is SWF File?
Have you heard about Adobe Flash Player? Yes, it's a bit old-fashioned web platform; but it was quite popular in its time. SWF is the format that is used by the Flash Player to allow vector images and animation videos on the web to be able to show. Thus, most of the short videos and advertisements on various websites that you viewed in the older days were most probably in SWF format.
The full meaning of SWF was changed from Shock Wave Flash to Small Web Format as the ownership was transferred from the Macromedia to Adobe. Why had they changed it? It is because people used to think that SWF files were supposed to open by only Flash software which is not correct. The latter abbreviation is more meaningful because the content's small in nature.
Why have SWF Files Become Obsolete?
Adobe has recently announced that Flash Player will no longer exist on the web platform. As Flash Player stopped working since December 31, 2020, its format, SWF, was also supposed to vanish. However, you still can run SWF files from popular browsers with a few tricks.
Flash videos are always associated with the security threat as these videos are prone to virus and malware attacks. This has led to a significant loss of popularity for Flash videos, animations, and vector graphics, etc.
Moreover, the advent of a better and smarter web-based video format, HTML5, has blown away the old SWF from the market. Even your favorite YouTube uses HTML5 format for video streaming.
Therefore, Adobe has decided not to license Flash Player any more and with it, the SWF format also faces its extinction. But you may still require Flash files and SWF format. Although it is not easy to work with old SWF files, you still can open these files using browsers like chrome, Microsoft edge by following my instruction.
How to Open SWF Files in Chrome?
Before opening SWF files, you have to install Adobe Flash Player and Google Chrome browser in your system. Go to Google and search for these applications. Download and install them for free. But if you have already installed these items, then let's move onto the next segment.
In case you have the earlier version of chrome i.e. haven't updated the browser after 31st December 2020, then Adobe Flash Player should work on your system without any problem. However, I would not recommend this because not updating the browser may cause viruses and malware to attack your system easily. Rather, don't hesitate to update your chrome browser, and still, you can view SWF files by following these simple steps:
Step 1: Open your chrome browser. And on the top-right corner, you can see a dot-dot line where you have to click to navigate to the 'Settings' of your browser.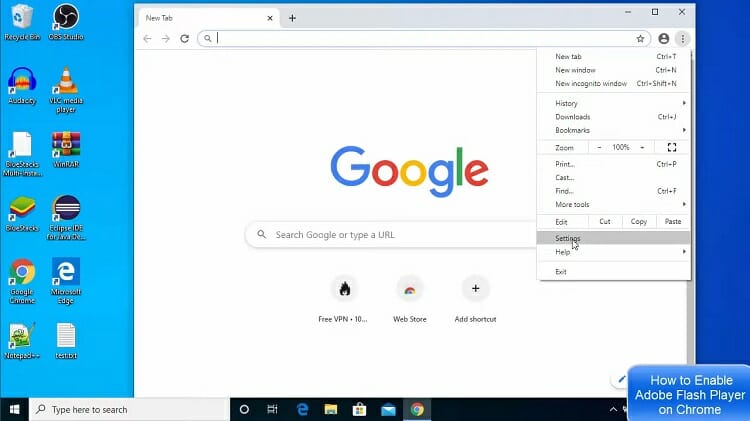 Step 2: On the left side of the Settings menu, you should see 'Privacy and security; click on it, and under this option, there will be 'Site settings'; hit it.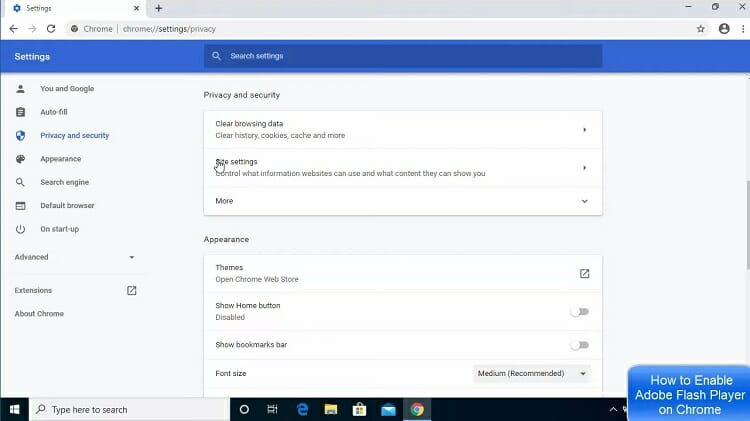 Step 3: Now, move down so that you can find 'Flash'; click here.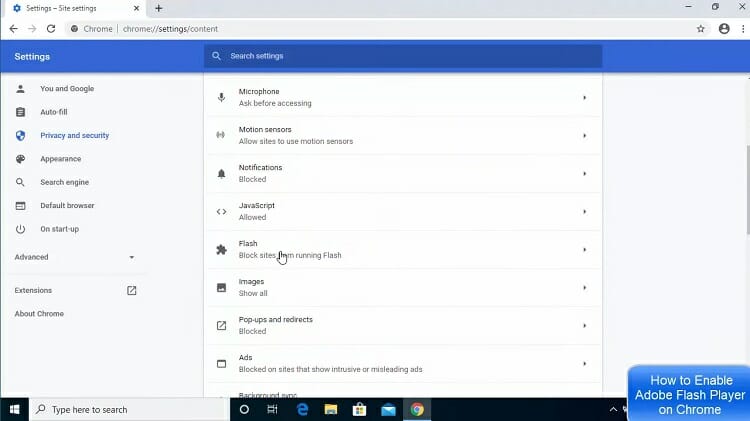 Step 4: You are going to change the Flash settings from blocking Flash sites to allowing them. To do it, tap on the slider to make it 'on' and 'Ask first' text will be visible. So, from now on, whenever you want to open an SWF file, the browser will ask you whether or not to allow the site to open it.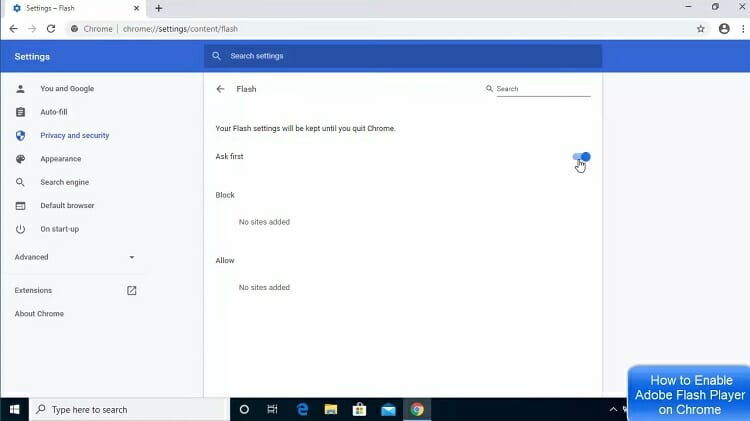 Flash Testing
Now that we have made the necessary change in the settings of the chrome browser, we should check whether SWF files are working or not. Go to Google search bar and search for 'flash test site'.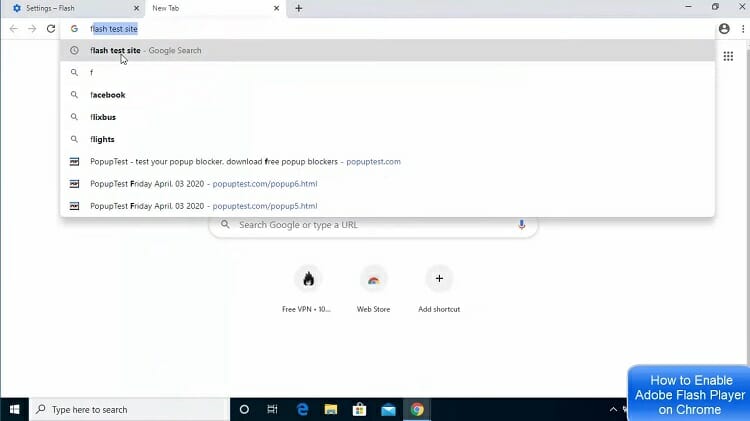 Click on any of the Flash Player Test sites. I prefer www.ultrasounds.com.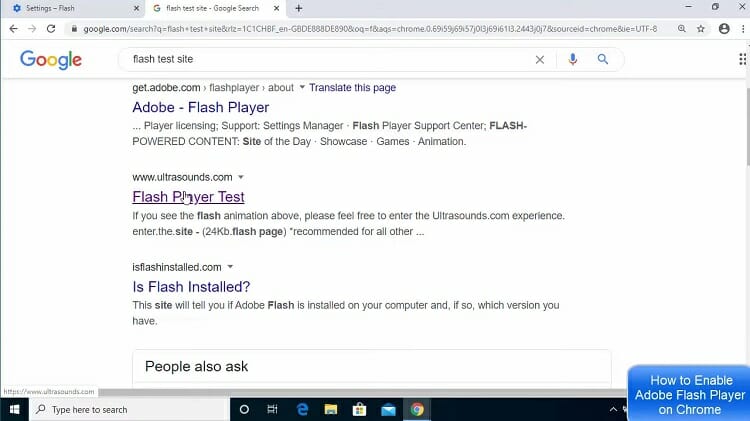 You will find a text on the top of the site asking you to click to enable Adobe Flash Player. Click on it to check this SWF file.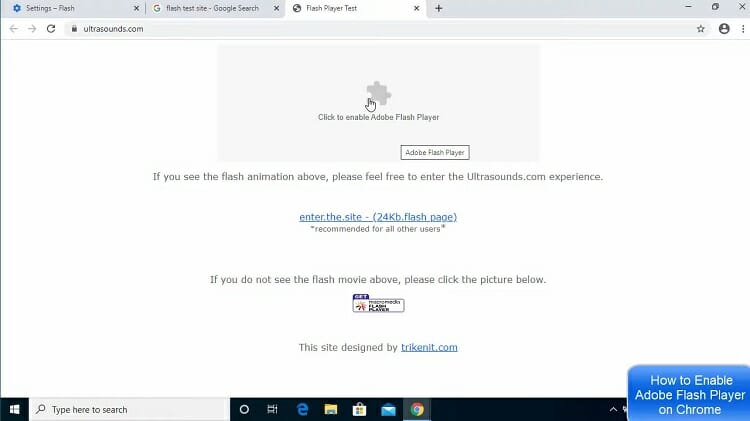 A pop-up box will appear before you asking for permission. Tap on the 'Allow' button.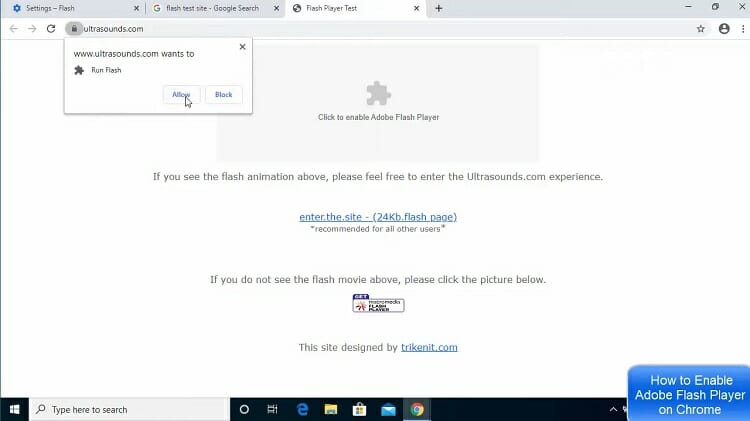 Here we go; the SWF file is opened and you can view the animation text 'Ultrasounds'.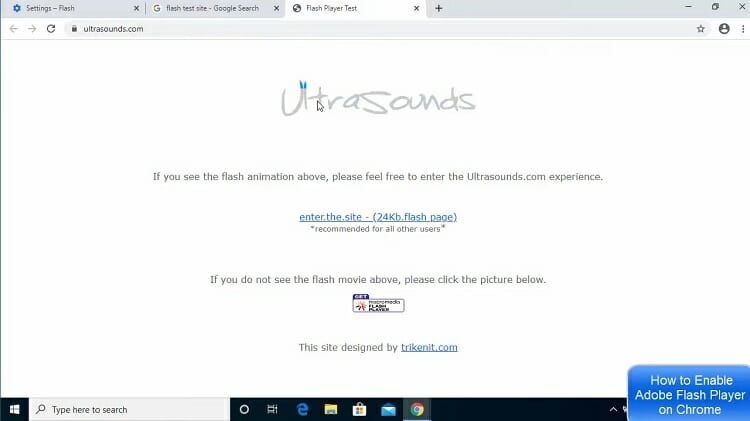 Now, you can go back to the Flash settings option where you should find that the allowed site name has been placed there. You can delete this site in case you do not want to visit again to view SWF files.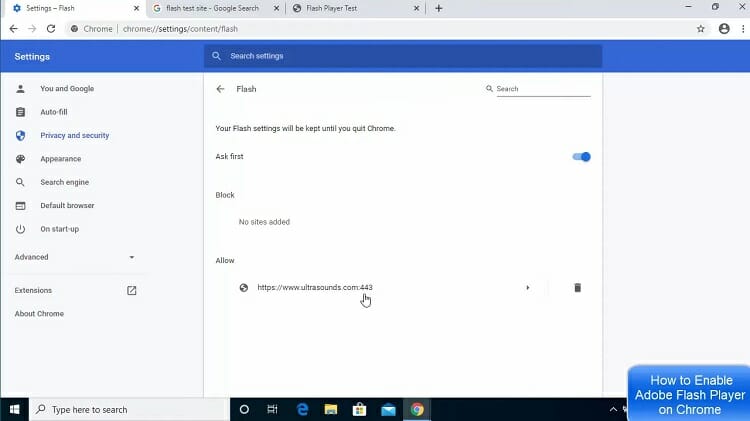 Conclusion
It is always nice to find out some methods to work with older files on newer platforms. SWF files of Adobe Flash Player are still required by many web users and the method shown here should be good enough to open them even in an updated chrome browser. Hopefully, you find the post useful. Thanks for reading.