It's good to see that many of us still love retro games. I used to play a lot of games from Saga Dreamcast but the Saga Dreamcast console has been discontinued decades ago.
If you still have a passion for playing those retro games, then you can play them using the Chankast emulator on your computer.
If you don't know how to install it, then you are just in the right place. This guide will show you how to download and install Chankast and play Saga Dreamcast games on it.
What Is Chankast?
Chankast is a Dreamcast emulator that is the first of its kind. It is used to run commercial games from Saga Dreamcast and is very simple and user-friendly.
Apart from Dreamcast, Chankast supports CMU, LCD, and VMU ROMs. It is a freeware which is launched on May 18, 2005, for the Windows platform.
Though it is designed to run on Windows XP or 2003, it works on Windows 7/8/10 without any problem.
How to Set Up Chankast – Install Chankast
Now, let's come back to how to install this emulator on your computer. The instruction is given below so get a chair and start following the steps to install the Chankast emulator.
Step-1: Check the System Requirements
The first thing you have to do is check the system requirements to run the application. The minimum requirement to run Chankast is:
Pentium 4 (1.6 GHz),
256 GB (RAM),
DC Bios,
Windows XP, 2003, or above,
DirectX (Latest Version),
Decent graphics card
If your computer meets the requirements, then go to the next step.
Step-2: Download Software and Plugins
Now go to the web browser and download the Chankast software. You also need to download DirectX, DC BIOS, input plugins, and Sega Dreamcast ISOs on your computer.
Step-3: Unzip and Install
The downloaded files will be in zip format. You need to extract the files to a folder. Now move files from the plugin folder to the Emulator's folder. After that Find these files: vms.bin, VMSB1.bin, dc_bios.bin, dc_flash.bin. and copy them to the emulator's folder.
Step-4: Configuration
After finishing the above steps, click on "Chankast_alpha_25.exe" and then from the navigation tab, navigate to Plugins > Configure. Then select "Darkman's Dinput 4.0b" on the Input Plugin and click "OK".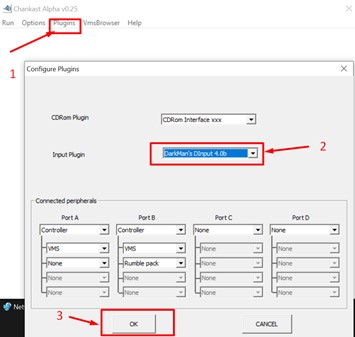 Then you will be taken to the button configuration window. Click "OK" and close the emulator.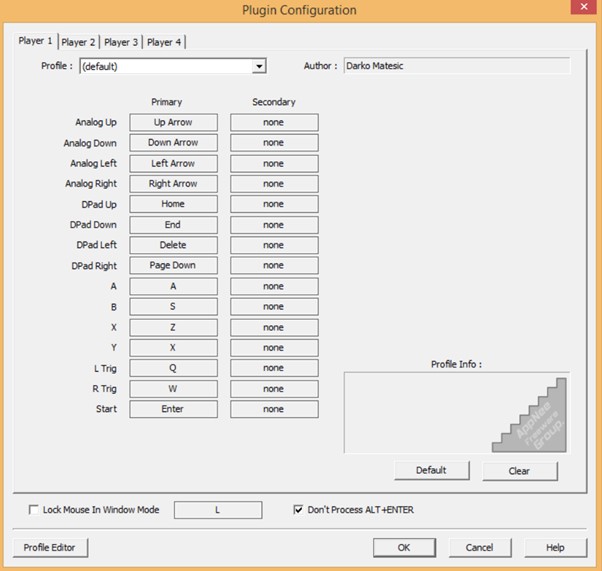 Now, open "vmsbrowser.exe" and Import VMS.BIM file on it.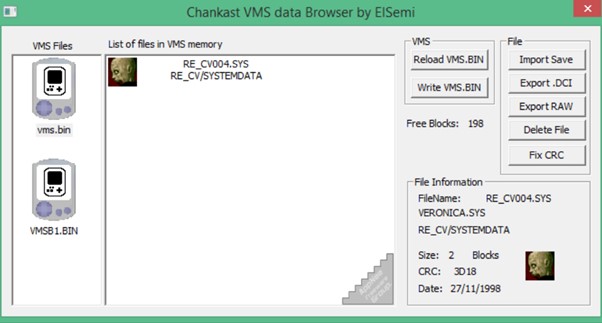 Now let's move to the next article to learn how to play games on the installed emulator.
How To Use Chankast?
At first, mount the games using Daemon tools.
Then, back to the emulator and navigate to Select > Options > Configure Drive.
Now, select the drive with the game.
Click on 'Run' and then click 'Start.' to launch the game.
Frequently Asked Questions
How Do I Get NullDC to Work?
After installing a NullDC, go to Options > Select Plugins and select Input plugin to PuruPuru Dreamcast Controller. Then, navigate to Options > Maple > Port X > Config keys and select Controller Type as Xinput. Now run the NullDC emulator and it will work fine.
What Types of Files Does Dreamcast emulator Use?
The Dreamcast ended decades ago. But there are many emulators such as Chankast, Reicast, Ir-flycast, etc. that play games of Dreamcast. These emulators need Dreamcast ROMs that contain '.cdi', '.chd', '.gdi', and '.zip' files in them.
Which is The Best Emulator for Dreamcast?
There are lots of emulators for Saga Dreamcast. FlyCast is the most popular emulator among them. Chankast is the first emulator that was developed for playing Saga Dreamcast games.
However, you can only run Chankast on Windows XP or the 2003 operating system. So, FlyCast and Reicast is the best emulator for Dreamcast.
How Do I unzip Dreamcast ROMs?
You need to unzip ROMs to run Dreamcast games on an emulator. After downloading the Dreamcast ROM, the format of that file will be '*.rar' or '*.7z'.
Move the file to the emulator's folder and right-click on the file. Then select "Extract here" and your file will be unzipped.
Conclusion
In the end, Chankast is not the perfect emulator in this era of windows 10/11. It was developed for Windows XP so this is normal that you will face problems in the installation process of this emulator. I would recommend you to use a more updated Dreamcast emulator to play SAGA games.
We hope you've learned how to set up Chankast on your computer with the help of this guide. We are looking for your precious opinion and suggestion in our comment box below.