Skype is one of the oldest and most popular applications for video, voice calling, and texting. Skype for business is another software like Skype which is popular for business purposes. We have so many updates. In early, Skype was very easy to use and uninstall. Later Skype is updated. It also links with one of the most popular tech giants or current era Microsoft. For this, we can get many updates and features in our Skype app. But the usage of this app becomes a little difficult. The uninstallation process also becomes not very easy as early. A method is applied to uninstall the app completely from a device. So, how to uninstall Skype completely? Read the whole article.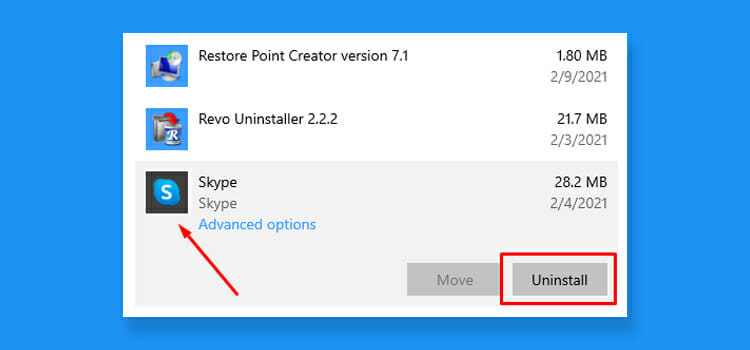 Methods to Uninstall Skype
As skype is now a little bit complex like saving files directory, etc the uninstallation process has several methods unlike traditional uninstalling an application. There are several methods that can help you to uninstall Skype. They are
Using Control Panel
You can uninstall Skype by using the control panel of the PC. The steps are described below.
At first, you have to click on the Windows icon which is the bottom left of the screen. Also, you can press the Windows icon on the keyboard.
You may find the Skype app on the left side. If you don't find it you can type Skype on the bottom search place, or on the Cortana. Then you can press 'Enter'. The Skype app will appear then.
Then you have to right-click on the 'Skype' app. A drag-down menu will appear.
You have to select 'Uninstall' from the menu.
After that Control Panel will be opened on the screen.
In this, you have to find the 'Skype' app by scrolling.
Then you have to double click on the app. A pop-up box will appear. In this, you have to confirm to delete it.
For this, you have to select 'Yes' on the screen.
2. Using Settings option
Every PC has a 'Settings' option. You can use it to uninstall 'Skype' from the PC. To do this you have to follow the following steps.
At first you have to click on the Windows icon and select 'Settings' icon.
Then a screen will appear. You can select 'Apps and features' from the screen.
You have to find Skype and double tap on the app.
Then you can select 'Uninstall'.
3. Using PowerShell
You have to search Windows PowerShell in the search box.
You have to right-click on the application and a drag menu will appear. You have to select 'Run as administration' from them.
A screen will appear. You have to type Get-AppxPackage *Microsoft.SkypeApp* | Remove-AppxPackage on this.
Then you can press 'Enter'.
In Skype, You can connect with your friends or clients via Skype. You can also video call, message, or join a meeting on Skype. The calls you made can be recorded easily. You can also block some annoying person. The message you sent can be deleted by following some easy steps.
Conclusion
Skype is a video conferencing app like the Hughesnet app. The methods which are discussed are the easy ones to uninstall the Skype app. You can choose any of the methods to uninstall Skype from the PC just like uninstalling an app like other apps. Sometimes without using the proper method the app does not fully uninstall from the device. So using any of the methods can solve the problem. If you are interested, you can read how you can reduce background noise on a microphone. After reading the whole article, you know for sure how to uninstall Skype completely from your computer. Know more about how you can stop Skype from starting automatically from here. You can read more about removing Skype for Business from your computer.