How to Update Graphics Driver for Maximum Performance in 2023
Want to update the graphics driver for your personal computer and configure it for maximum performance? However, still don't know how to do it without creating any problems. Then I hope this article is enough to fulfill your need. Go ahead and read the whole article carefully it may help you.
The first thing there rises a critical question, and that is "Why you should update the graphics driver?" The Answer can describe as; The Graphics drivers are hardware-based drivers. It means that these types of drivers are the bits of software that Windows uses to interface with your Personal Computer's hardware. Device manufacturers develop these drivers and update them periodically. A backdated graphics card can cause issues like screen flickering.
In every update, they fix some errors or bugs that create problems to run the graphics elements while playing games or High Definition (HD) movies and you can gather drivers straight from the manufacturer of your devices. Manufacturers who develop the drivers also submit drivers to Microsoft for trial and signing the drivers after updating, and a windows user recommends different versions of drivers from Microsoft through Windows Update. You may need not to update drivers, but if any of the drivers from the list is not working, then you may update it by windows suggestion. Then you can update your Graphics drivers without any hesitation.
Identify the Graphics Card and All Information about It
Checking your graphics card info can help you troubleshoot odd visual behaviors. There are several ways to find out the info about The installed Graphics card, but the easiest and straightforward method is to Run the "DirectX Diagnostic Tool."
For Windows 10 do as follows:
 Click Start Menu and go to "Cortana."
Write "Run" and click on the Run Desktop app.
In the Open Combo-box, type "dxdiag" (Don't put quotation marks while typing), and then click OK or press "Enter."
there may appear or not a confirmation message if it comes then click "Yes."
Then the "DirectX Diagnostic Tool" opens. Left-Click on the "Display" tab.
The Display tab shows All information about your internal Graphics Card.
If you Own an External Graphics card, then the "Render" tab shows the information about it.
In the Device block, You will see the name and video memory size of your graphics card. In the Drivers Section, it shows the model and ID number of your card. Both blocks also carry more information about Graphics cards both internal and external.
There are other ways to find or Identify the Manufacturer, Model, and ID of a Dedicated Graphics Card.
For AMD Radeon Graphics Card
Right-click on a free space on the Windows desktop then click on AMD Radeon Settings From the menu to launch the AMD Radeon Setting.
 Click "System" which locates in the top right corner in the AMD Radeon Settings.
Here you will see the Graphics Chipset information, model, Device ID of the graphics card.
For NVIDIA Graphics Card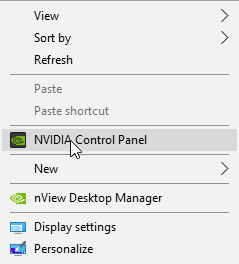 Right-click on a free space on the whole desktop then click on "NVIDIA Control Panel" From the Menu to open the "NVIDIA Control Panel."
Click the left button of the mouse in the bottom left-hand corner where the System Information link appears. It opens the System Information dialog box.
The window shows two parts. The left section lists all of the NVIDIA Graphics Processing Units currently installed in your Personal Computer under Items. The right section contains detailed information about your Graphics Processing Unit(GPU) including the display driver version, manufacturer, and driver ID currently installed, the size video memory onboard, the BIOS version of your GPU, and more other information.
Keep in mind that If your NVIDIA or AMD Graphics Card is inside of your laptop and they have no drivers or if the drivers are not working correctly, you will naturally not be able to see the NVIDIA or AMD Control Panel nowhere.
Another way to check that your PC has already had Graphics Drivers or not, and to ensure that it is functioning or not, the model and the Identity of the Graphics Processing Unit Card may be found using the "Device Manager."
Follow the Steps Below
 Click the Start button and go to "Cortana."( Cortana is only for Windows 10)
 Type Device Manager in the Cortana Search field or write "devmgmt.msc" without the quotation marks by using the Run desktop app.
Click the 'OK' or press the 'Enter' button from the keyboard.
 Expand 'Display adapters'
The Model number of both integrated and dedicated Graphics Card will appear under 'display adapters.'
Note that if you are using an external Graphics Card in your Desktop PC then the manufacturer logo, name, model and all specifications should be printed on the packaging of the product.
Windows 10 Issue to Update Graphics Driver
If you are using Windows 10, then Windows automatically makes a list of the latest drivers then downloads and installs it for you. In the creator update of Windows 10, Microsoft is much stricter about driver update though previous OS versions like Windows 7 and 8 allow driver updates via Windows Update. All those update procedures occur automatically, and you need not do anything about this if and only if the automatic update turned off manually.
If you want to upgrade Windows 7/8 to Windows 10, You may read this- How to upgrade windows 7 to windows 10
Sometimes "Windows update." overwrites an available newer version over an older version though you install your hardware drivers from CD which came with the product. However, Windows 10 is intelligent enough not to overwrite the Graphics Drivers because overwriting may cause a new problem while gaming or Graphics related works. Windows 10 has a built-in driver update utility, so it is not necessary to worry about update the problem while you are running Windows 10 on your Personal computer.
Use the Control Panel of your Graphics Driver to check the version no which is installed now on your PC and you also can download the latest drivers from the panel. Manufactures like NVIDIA, AMD Radeon, and even Intel HD Graphics provide control panels that automatically test and check an option to download and install the most recent Graphics Driver for your PC. You only have to open the Graphics Control Panel whichever is on your laptop or personal computer.
The manufacturer's website is the best source for downloading the latest Graphics Driver package for Graphics hardware. I will suggest you not to rely on the CD (Compact Disk) always which comes with the product. If you are a game lover and play High Definition games on your PC, then you should rely on the manufacturer's website to update the Graphics software. In every update, they add new game compatibility and fixes errors in the previous version. After all, these updates are actually for those who play PC games.
Manually Update Graphics Driver
Though Windows 10 updates drivers automatically, it is vital to know how to update it manually especially for backdated OS users.
Using Device Manager: just follow the steps(this method also works in Windows 10)
Open Device Manager by pressing Win+X (Windows key + X key) at the same time and mouse left-clicking 'Device Manager.'
In the Device Manager window, expand categories and pinpoint the Graphics device that you want to update the driver. As, if you desire to download Graphics drivers, find this tool under the "Display adapters" category. Then right-click on the Graphics Adaptor name and select Update Driver.
There will appear a pop-up window. You will see two options, but you should only click on "Browse My Computer" for driver software where you saved the driver software.
Mouse left-Click on "Browse" to detect the location of the pre-downloaded driver file that may have an executable format. As an alternative, you can copy and paste only the location address into the box.
Clicking on the Next button Installer will install the driver.
Some Free Driver Updater Tools that will easily download and update your hardware's drivers with one click.
Note that this free or paid driver updater software makes it easy for you to keep your all drivers updated automatically. Use one from the list above, and you would not need to handle "Device Manager" so much If it is not then you will need to find the exact driver from your hardware maker yourself. One of that software will do the rest if you only install and you have an internet connection of average speed.
Setting the Graphics Card to Maximum Performance:
When adaptive performance is not working correctly, there is usually a driver issue or an incompatibility with a game or a particular game setting. Then you can adjust the Graphics card setting to the maximum performance.
For NVIDIA Graphics Card
The "Maximum Performance" option will improve the performance of the Graphics cards in specific applications when the Graphics Processing Unit is throttling the clock speeds improperly.
To adjust this setting just follow the steps below;
Mouse right-click on anywhere free space of the Windows desktop and open "NVIDIA Control Panel."
 Mouse hover on and click the "Manage 3D settings" category from the left side
Click on the Power management mode and then select "Prefer Maximum Performance." from the drop-down Combo-box.
Then click the "Apply" button.
Finally, Restart the windows to apply the changes that we did.
For AMD Radeon Graphics Card
 Right-click on a free space on the Windows desktop then click on AMD Radeon Settings From the menu to launch the AMD Radeon Setting Panel.
Then click Preferences from the bottom-left corner of the Radeon setting panel.
Click Radeon Additional settings, and it will appear another setting panel.
From the left side Expand Power then select Powerplay and Set both "Plugged In" and "Battery" to Maximum Performance then Click on "Apply."
Again from the left panel select 'Switchable Graphics Application Monitor.'
In Switchable Graphics Global setting adjust Plugged In and Battery to Maximum Performance from both drop-down box then click Apply.
Final Words
Updating the graphics driver can settle or find a solution to display issues in High Definition games, Videos, and Adobe applications like Photoshop or Illustrator. Updating the graphics driver can also solve stability issues in this type of desktop application.
In most cases, Display issues include the following improvements but they are not limited to only these points.
 A black, grey, or transparent area come into sight instead of the expected video or image while playing games or Graphics related works.
 Menus, Sub-panels, or other interface pages and dialog boxes remain still on the monitor screen after moving, dragging, or closing them in place of disappearing instantly.
 Menu Transitions and icons do not work or appear slower than they expected.
These Graphical anomalies can solve entirely after the Graphics Card driver updates.
Subscribe

to our newsletter

& plug into

the world of technology