You would have noticed very often that your computer with long time usage gets slow because of the overloading of many junk files, temporary unnecessary program components, and temporary internet files; also there is also an issue of not being able to delete a program that should be deleted. In the rescue and solutions for all these problems, there comes the CCleaner. That's why it's important to know how to use CCleaner. If you don't know it, relax, you will know everything about CCleaner.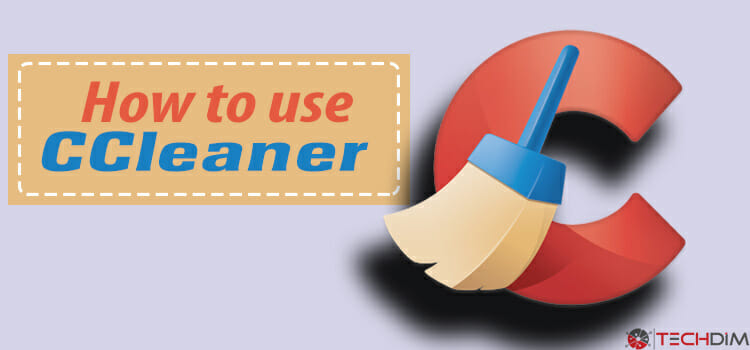 What is CCleaner
CCleaner is a software product from Piriform that usually has the facility of registry organization as well as an optimization by deleting or removing the program components those are previously installed and unnecessary, i.e. the temporary and junk files of independent Web browsers and other applications. The software also helps users to eliminate cookies or small files or other needless files that slow device performance.
Moreover, the software protects your identity and privacy by cleaning your browsing history as well as the temporary internet files, and allow you to use the Internet more confidently and to be less affected to identity theft.
The Abilities and Limitations of CCleaner
CCleaner is very effective software to work with. But it has certain abilities, and like all the good things in the world, it can't do everything.  Piriform, the maker of CCleaner has described what it can do and what it can't.
What CCleaner Can Do
It protects your Web browsing privacy by deleting passwords and other temporary Internet files so that nobody will be able to see where you've been and what you are up to. Moreover, CCleaner Professional can also automatically or on-demand delete browser tracks whenever you close your Internet browser.
It protects your privacy for many of the Windows applications by discarding the information about files and folders which you've accessed using the applications.
It discards the traces or any small existence of the documents you've deleted already.
It can clean up the windows registry by removing the information that's no longer needed.
It lets you specify the Windows startup programs and thus reduces the memory load and speeds up the boot process by many times.
It can easily uninstall even those programs which Windows usually doesn't allow to uninstall.
You can manage your cookies by using it.
You can recover hard drive space by finding the duplicate files and discarding them with the help of CCleaner.
What CCleaner Can't-Do
For using CCleaner, firstly you have to download and install the software.
How to Use CCleaner
There are four sections on the left side.
Cleaner
Registry
Tools
Options

Again there are two tabs at the top.
Before Running – Think Twice
You have to know exactly that whatever you want to delete is needed or unnecessary for your future usage. You don't want to delete a program or file that is important or necessary for your computer. So check and think twice what you want to delete.
CCleaner clears many of the things by default. However, you actually should reconsider clearing your browser caches. Browser caches are those temporary files that your browser stores on your system to speed up the browsing in the future. When you will visit a site again in the future, the site will load faster if images and the files are cached on your system. If you clear these, it will definitely free up some space and increase your browsing privacy, but doing cache cleanings frequently might slow down your web browsing.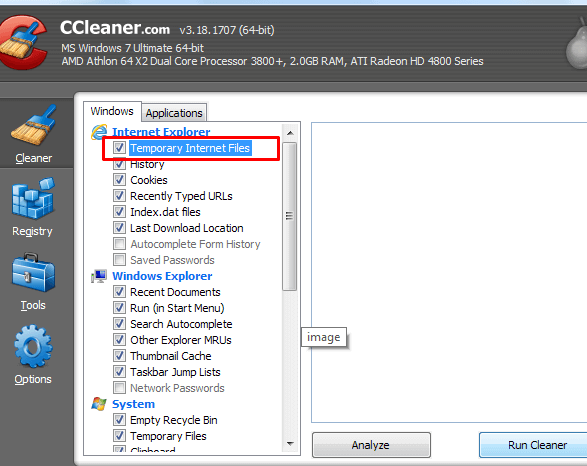 Again, in CCleaner, many options clear most-recently-used lists in Windows and other programs also. As a matter of fact, usually, these lists don't take up much space, but probably might be the privacy concerns. I would suggest, if there's a most-recently-used list you rely on, you should uncheck it. And please don't forget to do this.
Check/Uncheck from the list of applications
You must to what program or files you want to clean or delete. Be very careful when you are checking a program for cleaning. Uncheck the applications and programs that you need and are not unnecessary. It's very important, so be careful while doing it. Don't click on Run Cleaner until you are 120% sure.
Whitelist Important Cookies
CCleaner usually clears all cookies by its default setting, but I suppose that you might want to keep some of them. CCleaner can help you with the whitelisting of your important cookies.
To keep the cookies untouched, open the Cookies panel in the Options section.
Now have a right-click in the Cookies panel, choose and click the option Intelligent Scan. CCleaner will scan it in a way that it will add Google, Hotmail, and Yahoo Mail cookies to your whitelist automatically.
You'll probably want to add some other particular cookies to the whitelist also. For that, locate the specific site cookie in the list, select it and click the right arrow button to add it to your whitelist. And CCleaner will leave your favorite cookie alone and won't delete it.
Registry Cleaner
Be careful, if you are going to use the Registry option. I would personally recommend not to use it if you are not an advanced user. The Windows registry usually contains thousands of entries; logically if you might be able to remove a few hundred, it won't increase your PC performance. Registry cleaners sometimes might accidentally remove your computer's important registry values, which is very risky at times. So this is a risky option with very little reward.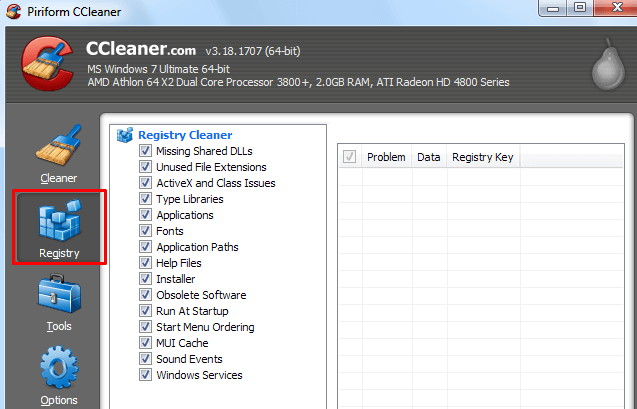 However, if you do run the registry cleaner still, please make sure that you back up all the changes you make. Fortunately, you can restore the deleted registry entries from the backup file if any problem arises at some time.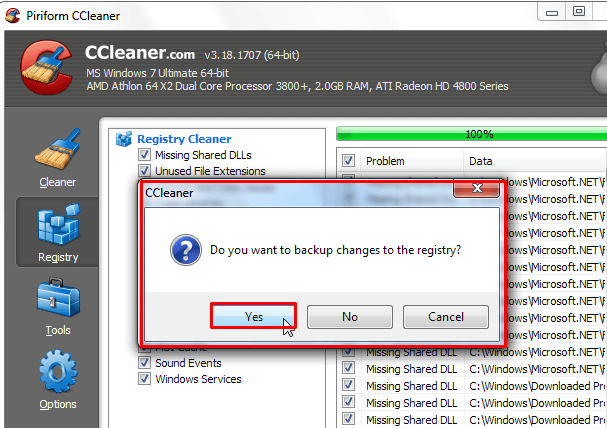 Manage Startup Program
When at times you install a program, it is possible that it will set itself often in such a way that it starts each and every time you start your Windows. This might be a terrible pain sometimes because when many programs will start that way, it means that it will take longer for Windows to start and the memory used ultimately will slow your PC. And it's not the case that every program has to start automatically in that way. You can decide to let some of the programs to do so. However, for the rest, CCleaner gives you a way to stop them.
There is a Startup panel in the Tool section of CCleaner which allows you to disable the opted unnecessary startup programs. Select the particular program and disable to stop it. You should use disable than using delete. However, you can re-enable the program any time you want.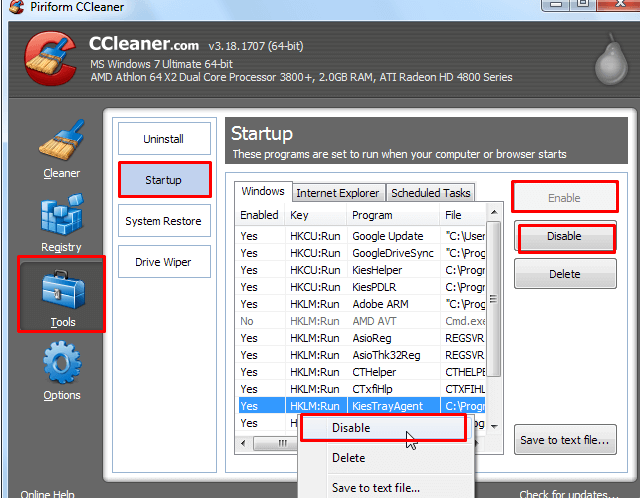 Wipe Drive
When you usually delete a file in your windows or in your operating system, it doesn't really wipe out the file or data from your hard disk. Instead, the reference to the data or the pointers to the files is deleted. As a result, in a tricky way, the operating system marks the location of the file as free space. This means, with the help of some right recovery software, someone could reconstruct or recover all, or maybe some parts of files that you've deleted. Therefore, when privacy and security reasons are concerned, you can wipe the free areas of your hard disk by CCleaner so that deleted files can't be recovered ever again.
Wiping the drive can be done in two ways.
It can wipe automatically while usual cleaning. You have to just check the Wipe Free space while cleaning in the Windows tab.
You can wipe the drive also using Drive Wiper Tool. Select Tools and then Drive Wiper. Then wipe the drive.
Delete securely
Through CCleaner, you can delete files securely and effectively by using the Drive Cleaner tool on individual files. However, keep it in your mind that this is slower than the usual deletion of the files. For, the operating systems don't delete files securely by default. That's why if you're concerned about privacy; you can enable this option from the Settings tab in the Options section.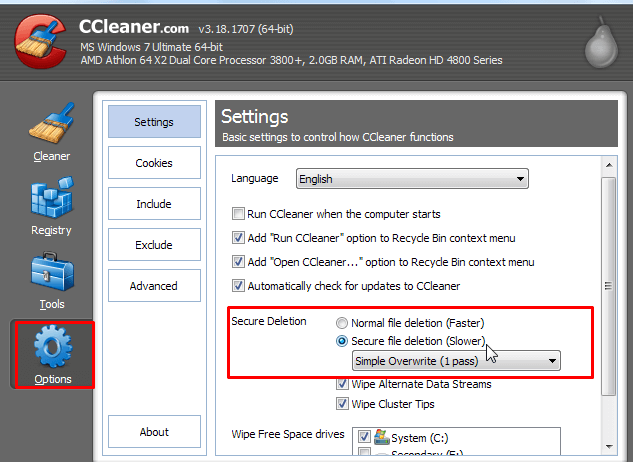 Include Custom file
Sometimes you might want to use a program that isn't included in the application list of CCleaner, or maybe you have a temporary file directory that you want to be cleared regularly, by choice, you can easily specify custom folders and the opted files in CCleaner. CCleaner will perform its job by deleting these files and will make these folders empty when you will run it.
To add a custom folder or file-
Click on the Options section, open the Include tab and use the options.
Please be careful when you are using this feature of adding folders or files. For, this is an option for advanced users and you might add important files and lose them maybe accidentally.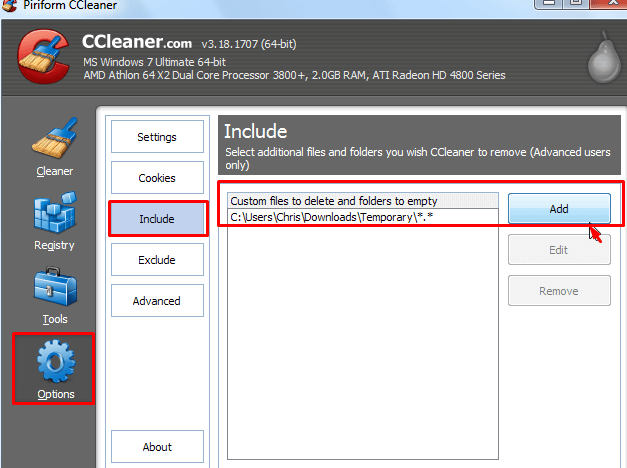 Bear in your mind, if you add an inclusion using Include option, you have to opt the Custom Files and Folders and check the box. If you don't enable the Custom Files and Folders, the inclusion won't work.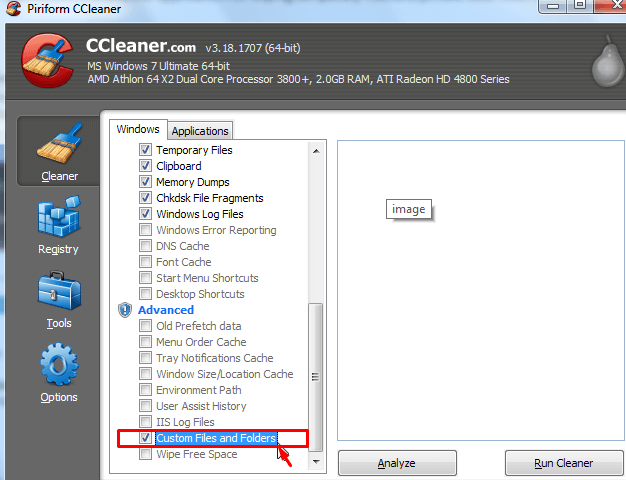 Exclude custom file
If CCleaner deletes something that you don't want to delete, conversely to the inclusion, you can add the exclusion in the Options section with ease. You can exclude drive or folder or file or registry key, i. e. anything you want. Moreover, you can restrict the exclusion also to some particular file extensions.
Manage Installed Programs
CCleaner can uninstall or delete or rename a program.
Completely uninstalling: In CCleaner, the tools option includes the Uninstall panel, which lists your installed programs. This panel includes more features than the default Windows. Most interestingly, you can easily rename or delete the entries.  The changes you make here will also appear in the Windows Control Panel.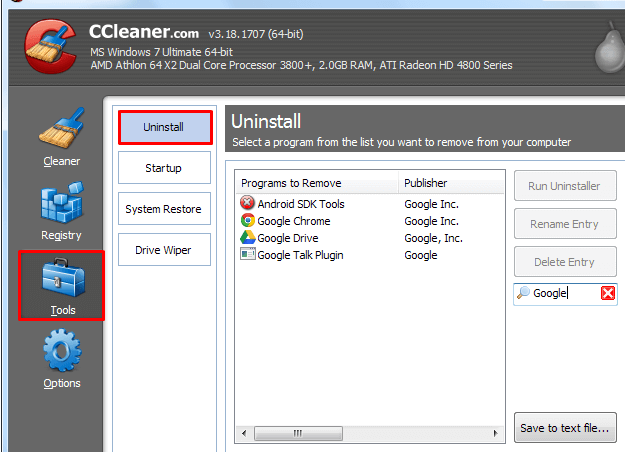 Summing up
CCleaner is a very useful software to make your PC burden free of different junk files and unnecessary files, folders. But you should know exactly how to use CCleaner. Before running it, be very clear on what you want to delete and what you don't. You can't use CCleaner as a speed improvement tool. Sometimes it might speed up your computer though. Use it as you want but effectively.
That will be all for now. Thank you.