How To Use ChatGPT Video Insights AI Plugin (Easy Guide to Install and User)
YouTube is a great tool for learning. There are tens of thousands of informative and educational videos uploaded to the platform every day. However, consuming all that video can be time-consuming, so much so that it can be impossible for a busy individual. Also, in a platform that's meant for entertainment, staying focused can be difficult too.
That's where ChatGPT Video Insights can come in handy. It's a ChatGPT plugin that can extract videos from YouTube. You can extract metadata, summary, or even the full video script with it. This will eliminate the need to watch every lengthy video from start to end to get the zest of it. So, how to use the ChatGPT Video Insights plugin? Well, that's what we have described in this article, so read on.
Using ChatGPT Video Insights Plugin
Using the ChatGPT Video Insights plugin is simple. You just use conversational prompts, like you usually do with ChatGPT. However, learning how to prompt it effectively can come in handy, especially if you value productivity and want to get a lot done in a short amount of time.
You can ask the ChatGPT Video Insights plugin to summarize a video for you if you want to get the zest of a long video without watching it entirely. To get an even more precise summary, you can ask it to use bullet points to highlight important parts. Also, you can ask it to provide the summary for a specific age group, if you want an easy summary that kids can understand.
You can also ask the ChatGPT Video Insights plugin to come up with the definitions that are provided in the video. It can be especially helpful if you are working on a research project.
The ChatGPT Video Insights plugin can also help you with your learning by arranging different tests. For that, ask the ChatGPT Video Insights plugin to come up with simple questions, multiple choice questions, or any other sorts of questions from a YouTube video.
Even if you are not satisfied with the information provided in the video and want to learn more on that particular topic, you can ask it to come up with additional resources based on the topics discussed in the YouTube video.
Installing the Plugin
Here's a step-by-step guide on how to install the plugin:
Step 1: Enable Plugin Access for ChatGPT Plus by going to your profile icon, selecting settings, and turning on the "Plugins" option in the Beta Features section.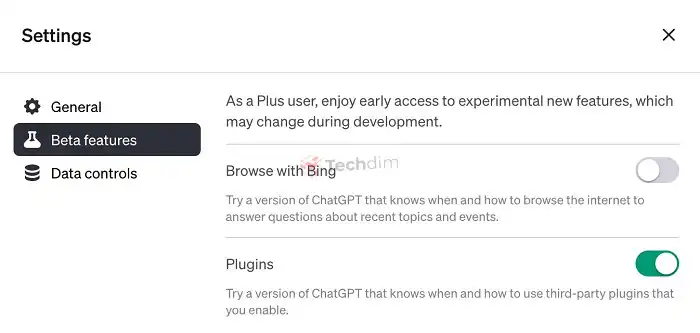 Step 2: Switch to the GPT-4 with the Plugins model on the chat interface.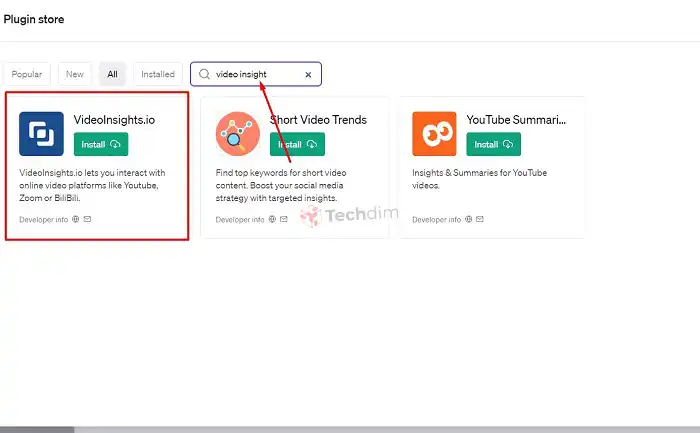 Step 3: Install the " Video Insights " Plugin from the Plugin Store by searching for it and clicking "Install."
Step 4: Write your video prompt in the chat interface.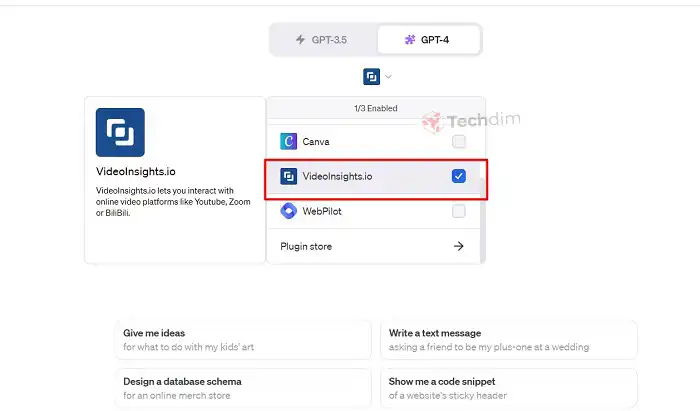 Step 5: Wait for the " Video Insights " plugin to come up with a restaurant based on your prompt.
People Also Ask
Can you send videos to ChatGPT?
To upload files on ChatGPT using the code interpreter. It can be audio, video, text, documents, databases, or coding files.
What AI tool summarizes YouTube videos?
Apart from Video Insight, you can also use YoutubeDigest, a Chrome plugin to summarize YouTube videos for you.
End Notes 
ChatGPT is meant to be used as a generative language model that can increase and aid with your productivity. However, it lagged in the video department. With the launch of plugins like Video Insight, it's no longer the case. You can use ChatGPT to extract all sorts of videos in any manner you want with this plugin. Also, it can generate almost any sort of text from the video using the plugin. Use one of the prompts from above or come up with your own according to your needs. 
Subscribe

to our newsletter

& plug into

the world of technology