How To Use ChatGPT VoxScript AI Plugin (Simple Guide)
VoxScript is a ChatGPT plugin that can act kind of like your personal assistant. It can help you fetch information from the internet, be it a YouTube video or the latest stock or crypto news. It can use real-time search to search and find information with Google or DuckDuck Go.
Here in this article, we will explain how to install and use the plugin so that you can understand what the plugin is capable of and what you can expect from it. Also, we will explain how to prompt it perfectly. So, let's start.
What's ChatGPT Plugin?
The VoxScript ChatGPT Plugin is like an extra tool that can make GPT do more things. It helps users find stuff on YouTube, get financial data, and search on Google. This tool lets GPT interact with other websites and get information from them, which is useful in many ways.
For example, if someone wants to find something on YouTube, they can use this plugin to look for the words people say in videos. This helps find specific things in videos.
Also, it helps people who invest money or study finance because they can use it to get stock prices and financial news from different places.
And, it helps with finding things on Google. If someone wants to learn about a topic, they can use this tool to find articles and stuff online about it.
Using ChatGPT VoxScript Plugin
With the VoxScript ChatGPT Plugin installed, users can do various tasks. The most common one is summarizing YouTube transcripts, which they can ask for by saying, "Make a summary of the script of this video [the video's link]."
Or, "Fetch the script of this YouTube video "
You can also use it to find specific videos on YouTube like this, "Get the top 10 videos from YouTube about why EVs are doing more harm than good"
Users can search for real-time and past stock prices, currencies, and more for financial data. They can also find articles and news on these topics in the chat.
"Find the latest stock prices in the U.S."
Installing the VoxScript Plugin makes ChatGPT even more powerful. You can use it as a search engine and a YouTube assistant.
Installing the ChatGPT VoxScript Plugin
Here's how to install the VoxScript plugin in ChatGPT:
Subscribe to ChatGPT Plus and log in to your ChatGPT account.
On the ChatGPT home screen, select the GPT-4 model from the dropdown menu and then click on the Plugins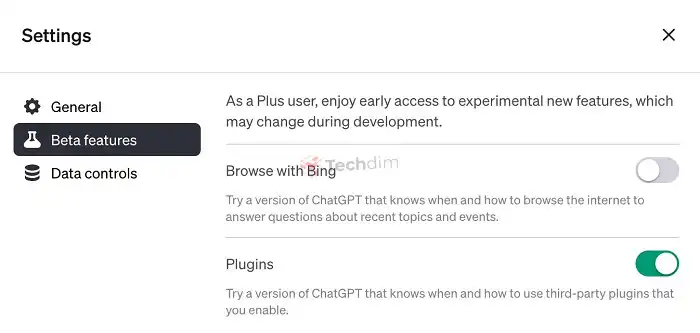 From the dropdown menu, go to the Plugin Store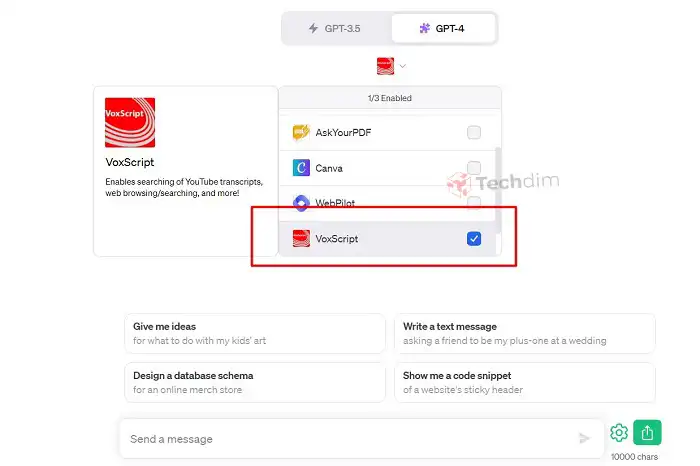 Now search for the VoxScript plugin
When you find it, click on Install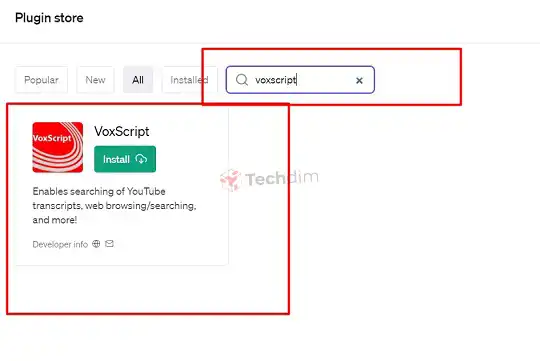 Now go back to the ChatGPT home screen, open the same dropdown menu, and tick the Speak checkbox to enable it.
That's it. You can now start prompting ChatGPT with one of the prompts we've described above.
To Sum Up 
Apart from the things we've described above, VoxScript can also help you learn things if you prompt it to extract information from an educational video. The same goes for music search, lyric extracting, and learning music as well. Make sure to come up with creative prompts to explore its full potential.
Subscribe

to our newsletter

& plug into

the world of technology