When building a PC, choosing the right RAM is an important thing. There you'll find different RAMs from different brands. Among the RAM seller brands, one of the well-known brands is the T-Force which is a sub-gaming brand of TeamGroup.
Are you willing to buy a high-end budget RAM? Then the RAM from the T Force will be the right one for you because they are known as the budget-friendly high-end RAM provider. Now, you may be wondering, is the T-Force RAM worth buying? In short, yes, they are good RAM.
In today's article, we're with the explanation of why T Force RAMs are good. To find out the facts, be with us till the end. So, without any ado, let's begin!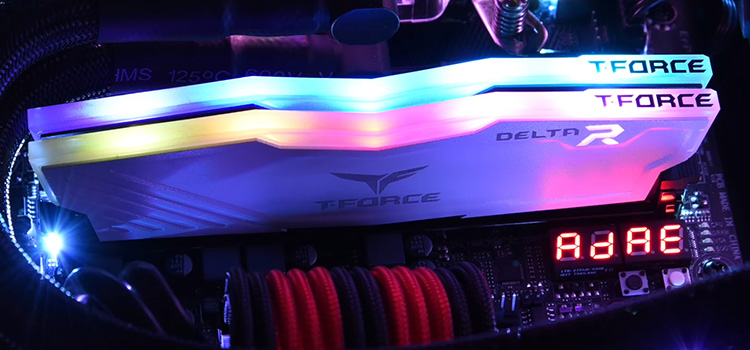 Why T-Force RAM is Good?
While you're choosing RAM for your PC, the first thing you'll target is the speed it has. But nowadays, RAM with a higher speed cost too much and sometimes it's hard to find a perfect RAM in your budget. To pull out of this situation, the T-Force is offering users budget-friendly RAM with higher speed.
Providing at a low cost is a plus point of the T-Force brand. There are other key features too that make T-Force RAM good.
1. Build Quality
When you're looking for a budget-friendly RAM, you won't get a good build quality there. But the build quality of T-Force RAM is good regarding its price. When you're looking for RGB RAM you'll find many out there.
The build quality of T-Force RGB is quite good compared to other RAM providers' brands. You won't notice any hotspots or RGB diffusers in T-Force RAM's RGB.
2. Overclocking
When it comes to overclocking, in this case, T-Force RAM won't dissatisfy you. Most of the T-Force RAM supports the O.C. profile. O.C. profile allows you to overclock RAM components with a single click. You'll don't need to navigate into the BIOS to change the settings for overclocking anymore.
Also, some RAM like XTREEM ARGB DDR4 RAM has a 10-layer PCB board which allows for enhancing your system's performance and stability. For example, you can easily overclock a 3200hz RAM to 3660hz without any performance drop and stability issues.
3. Provide Higher Performance with Lower Power Consumption
Another notable thing about T-Force RAM is it can provide higher performance with lower power consumption. For example, the T-Force XTREEM ARGB DDR4 RAM's working voltage is 1.5V but it can provide higher performance at 1.2V. You will find this feature rarely in other RAM manufacturers.
4. Supports XMP and Has Compatibility
The T-Force RAM supports XMP which means you can just attach it to your motherboard and navigate into the BIOS and enable the XMP then you are good to use the RAM. You won't need to do the other things to make it usable in your system.
Also, it has a great compatibility feature. You can use this RAM with both AMD and Intel chipsets.
5. QVL Approved RAM
You can use T-Force RAM with mainstream motherboards without any issues. It's compatible with them. And it is verified by the QVL. So, you can put your worry aside and use the T-Force RAM easily.
6. Compatible with Multiple Lighting Software
The T-Force RAM is compatible with multiple lightning software. You can use the GIGABYTE RGB Fusion, ASRock Polychrome, etc. lighting software to create unique colors in RGB. So here you'll also get a vast option.
So, when you are getting all of these features and a great performance from a budget-friendly RAM then there should be no confusion about whether T-Force RAM is good or not. You can easily justify them now.
FAQs (Frequently Asked Questions)
Is the T Force Vulcan Z good?
Yes, it is a good RAM to buy. You can have a better performance at an affordable price.
Is Team T-Force Delta good?
Yes, it is. It comes with a DDR5 version. And when you'll look for other DDR5 RAMs, some of them have latency disadvantages. But here, the T-Force Delta has overcome this issue and besides this, it provides impressive performance.
Who makes T-Force?
Basically, T-Force is a gaming sub-brand of Team Group. The Team Group was founded by Danny Hsia in Taiwan back in 1997.
Conclusion
Lastly, if you're looking for a budget-friendly RAM with better performance then T-Force RAM can be the right one for you. Though they are not that much old in the RAM-selling market you can trust them as they are providing a lifetime warranty for their products.
Also, if you see the reviews of the users, you'll find the RAM good there too. That's all for today. If you have any further queries, let us know in the comment box. Gracias!