Running a power cycle or performing a factory reset usually does the trick with a Proscan TV that won't turn on. In worse cases, there might be a power shortage, a defective power adapter, or a broken outlet. And depending on whichever is malfunctioning, you can get a replacement on the aftermarket.
Nevertheless, the issue might be worse than anticipated, such as an internal failure or damaged components. In that case, you'll have to consider the remaining warranty and decide whether or not to contact Proscan repair services.
Why Is My Proscan TV Not Turning On?
If your Proscan 32-inch won't turn on, the most probable reasons are as follows.
1. Shortage of Power
Chances are your Proscan 32-inch is not getting the amount of power it requires to operate hassle-free. The culprit can be a faulty power transmitter that fails to provide the TV with an adequate flow of electricity.
2. Faulty Power Adapter
Power adapters are responsible for AC to DC conversions as well as wattage maintenance. So, your Proscan won't turn on if its power adapter somehow becomes faulty. And if you keep trying to power it on, you'll only increase its chance of getting damaged severely.
3. Damaged AC Outlet
Power outlets are also prone to damage due to loose connections, short circuits, or overloading. Perhaps, there is a blown-out fuse, or the outlet itself might get burned out. A faulty power outlet or malfunctioning power strip means there won't be any power supply to the TV.
4. Broken Remote
This one may seem too obvious, but the batteries inside your remote might just have died. That said, you cannot ignore the fact that your remote might break too. However, there's often something that blocks out the signal from your remote to the TV.
5. Faulty Components
Like any other electronic device, TVs are prone to hardware malfunctions. So, you might be dealing with defective components inside your Proscan 32-inch TV.
How to Fix the 'Proscan 32-Inch TV Won't Turn On' Issue
We recommend checking for a valid warranty before diving into the techniques you can adopt to fix the issues with your Proscan TV. The warranty typically ranges between one to three years and will cover the repair service or replacement required.
With that out of the way, try the methods below to see if you can turn on your TV.
1. Run a Power Cycle
Running a power cycle is like resetting the TV, more or less. However, unlike a factory reset, it only clears everything from the device cache. As a result, temporary glitches in the system get resolved.
Switch the TV off and remove the power cord from the power outlet. Also, confirm that no external devices like speakers, DVD players, or cable boxes are connected. Stand by for a few minutes for the residual power to exit.
Now, try to turn on the TV again after connecting everything back. If that goes smoothly, you already have your problem fixed.
Otherwise, the problem might be with the surge protector if you have been using one. You can confirm that by directly plugging the power cord into a power outlet. The TV turned on while doing so means you need a new surge protector.
2. Factory Reset
If running a power cycle had no impact on the current situation of your TV, perhaps a factory reset can help. 
Where's the Reset Button on My Proscan TV
Most Proscan TVs come with a built-in reset button usually found close to the control panel. However, the green accent button is tiny compared to what you might be used to. Besides, it looks more like a pin-sized opening. Hence, you'll need something like a straightened paper clip to press it.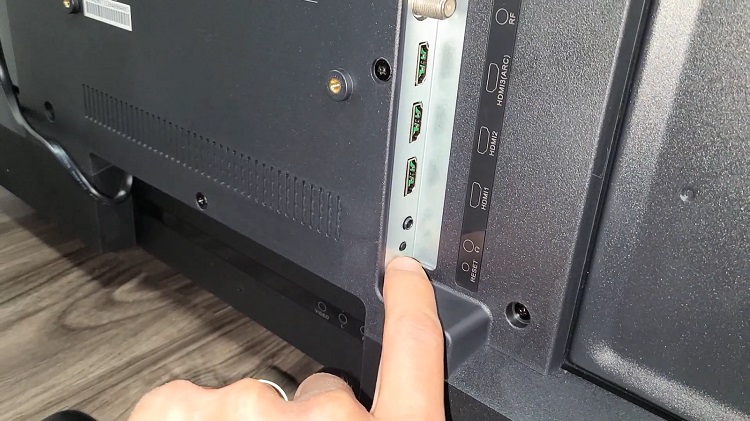 Once you find the reset button try putting the pin in place. Press and hold it for up to 15 seconds for the factory reset process to kick in. Allow the TV a few minutes before it can revert to the factory settings. After that, try to turn on the device to see if that worked.
3. Replace the Power Adapter
The problem with power adapters is that it is hard to tell if they went off service. Unless you have another similar TV lying around, there's no way to tell.
However, if the Proscan 32-inch is not receiving any power despite the power outlet functioning, the adapter is most likely broken. In that case, you have no option but to find a replacement for it.
Bonus Tip: How Do I Get My Proscan TV to Work?
Unless there's an internal issue with the TV, the below tricks should work.
Change the Power Source
Power outlets can become faulty over time, preventing appliances from turning on. The same holds for the outlet your Proscan 32-inch is currently using.
So, switch the position of the TV so it can plug into a different power outlet. Also, avoid using power strips throughout the switching process. That way, you'll know for sure if the problem was with the power source all this time. Plus, the new outlet should let your TV play your favorite shows uninterrupted.
Troubleshoot Your Remote
Replace the batteries of your remote with new ones to see if that helps. If not, try to establish a connection from the remote to the TV with no obstacles in between. And if that also fails, check your remote with another device to see if it is okay. Get a new remote if the existing one proves no longer useful.
Final Words
If your Proscan 32-inch TV still won't turn on after trying all the above methods, it probably has internal issues. Hardware issues like blown fuses require professional care. Therefore, consider contacting the official repair service of Proscan or a repair shop in case the warranty is void.