While creating digital content, voiceovers, or attending online meetings, the sound quality of voice recording has to be clear and sharp. No other issue hampers the quality of these recordings more than having interferences and background noises. In this tutorial, we're going to discuss how to reduce background noise on the mic, for different devices and scenarios.
Causes of Background Noise
Essentially, every microphone device picks up some amount of noise along the way. These might originate from environment sounds since your recording environment can't be completely soundless. Another big reason for the noise is interference. You can often use good amplifiers to deal with this, but that may not be suited for every occasion.
Microphones contain magnets and obviously, there are electric setups, thus mics are sensitive to electromagnetic waves. So, wireless interference from nearby devices can hamper or alter recording data and cause noises. There may be lots of sources of such interference around you, like TVs, cellphones, power sources, etc.
You can also encounter noises due to issues within your microphone itself. Good quality mics can be hefty in price, but they are generally shielded well to prevent unwanted interferences. Moreover, your audio driver software or recording app can also cause problems. Like these, there might be various causes that can result in noisy recordings, which can degrade your presentation-quality, video acceptance, and unrecognized phrases by a voice translator.
How to Reduce Background Noise On Mic | Software Tricks
Here, we will discuss some software tricks and steps to minimize noises, without having to change or alter microphone setups.
On Windows Platform
Windows OS has built-in systems to prevent noises while recording. These can be accessed in Windows 7 or higher versions. Open Control Panel from the Start. While in "View by category", go to Hardware and Sound> Sound (In "Large icons" or "Small icons", you can directly find and go to Sound).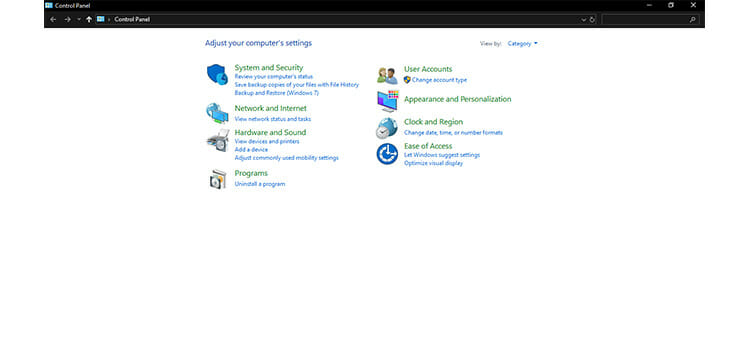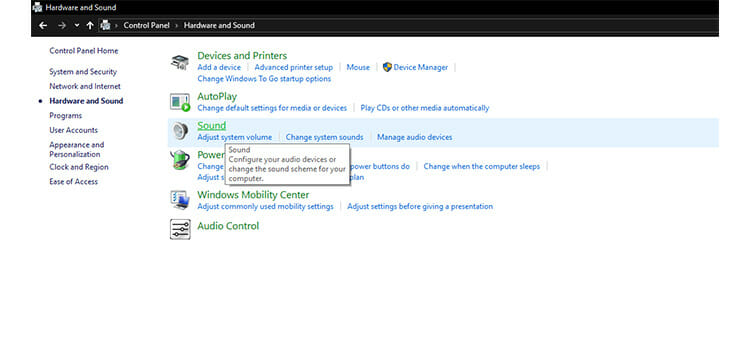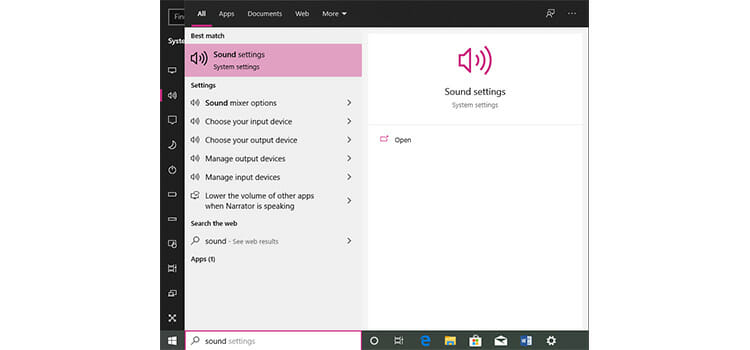 Alternatively, you can search for Sound Settings in the search bar, and choose Sound control panel within the settings. The Sound dialog box appears, where you can change your audio input-output preferences.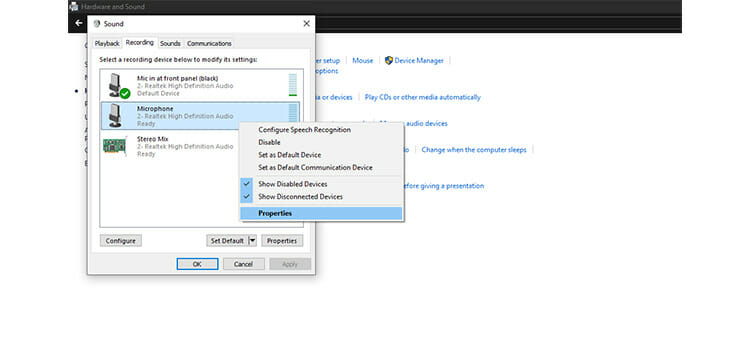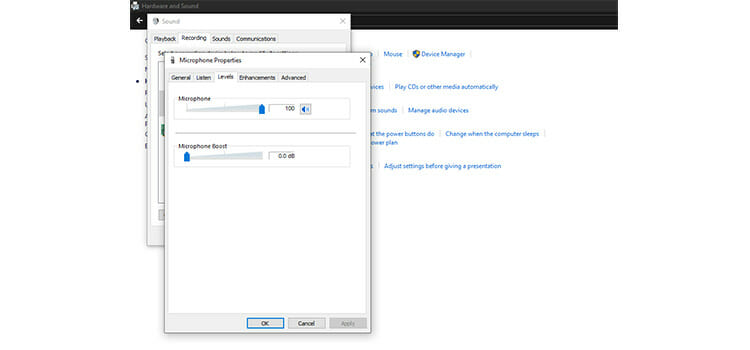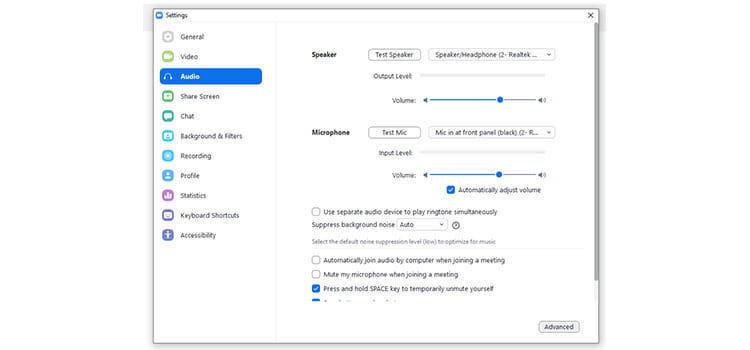 Here in the Recording tab, select your microphone, and go to its Properties by right-clicking or from the menu.
Inside the Recording tab, go to the Levels tab. You can find the microphone boost option. Set the Microphone boost to 0.00dB, and Microphone to 100 for enhanced and sensitive recording.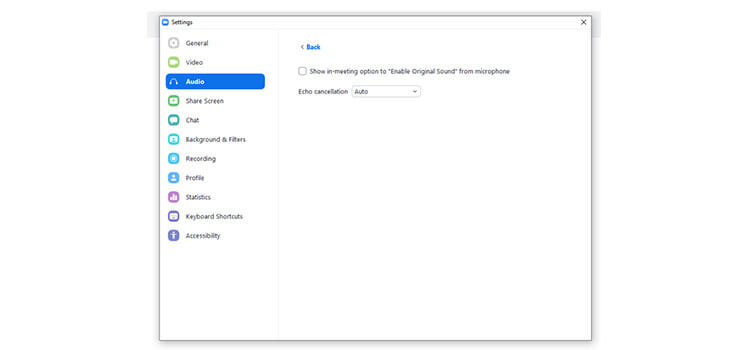 Go to the Enhancements tab. Here, you will likely find the Acoustic Echo Cancellation and Noise Suppression menu. Tick these menus to enable them. Then press OK. Now you can go back to the recorder and test your audio input to see changes. The noises should be minimized.
If the issue was caused by the software, these simple tweaks might eliminate them and result in a clearer and spontaneous recording quality. Additionally, you should use better quality and high rated software for audio editing purposes. For example, Adobe Audition, Adobe Media Encoder, Audacity, etc. are some of the best software used worldwide for audio editing, along with many open source free software, and they are very useful to separate and reduce noise from a recording.
If you're in an online meeting with someone, the app that you're using (for example, Google Meet, Skype, Microsoft Teams, Zoom, etc.) generally has its own built-in noise reduction settings which you can use to maximize your input quality.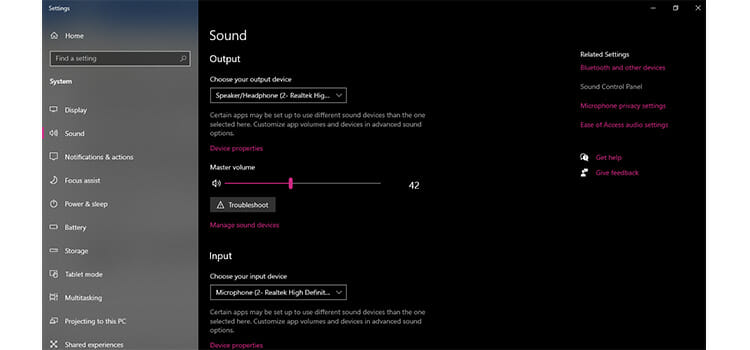 On Mac OS
In Apple devices, the issue is rarer but can be caused to a certain degree. There's an easy fix for this. Mac OS has a built-in Ambient noise reduction tool found in System Preferences> Sound Preferences. In the tool, turn it on by checking the box if it was empty, and then scroll the level to find your desired balance between noise and core sound.
How to Reduce Background Noise On Mic | Hardware Tricks
If the issue is still present, there might be some hardware orientations or settings that can cause such problems. You can follow these simple tricks to get better results while recording through headsets or microphones:
Wireless interference is one of the biggest causes of background noise, which occurs due to interfering audio signals with other electromagnetic signals or waves. It's a good practice to keep any power source or other unrelated devices like TVs, other phones, etc. away from the mic to minimize interference.
If you're recording through a laptop, you can unplug the charger and run on battery power to reduce interference a bit. The same goes for mobile phones. You shouldn't record while charging your phone because charging flow can distort recording too!
It is best to record in a room with as low sound as possible. Environmental noises like traffic, ceiling fan, TV, etc. can be picked up by recorder as noises. To minimize wind sound, you can close all the doors of your room to create a better environment.
A relatively low-cost middle-class headset or earphones come with the same quality of the microphone. No matter what you do to prevent noises, a low-quality microphone will always give lower results. So, for the professional recording, you should invest in better quality standalone microphones.
If a high-quality microphone still doesn't meet your expectations, you can invest in a full microphone setup with amplifiers, windshields, and shock mounts. These can be found in any good instrument shops and after proper setup, they can significantly increase audio quality while reducing breathing sounds, noises, and distortions to a minimum.
To prevent noise from your computer's power adaptor, you can buy specialized grounded adaptors that can discharge any unwanted potential gathered by your charger, and thus prevent noises.
It is very important to keep your audio cables away from other power cables and keep the cable setup clean to have the best results. While connecting headphones, plug them in firmly and into the right microphone port.
By following these steps towards your expectation or need, you can significantly reduce your background noise issue on the mic.
Conclusion
In this article, we've briefly discussed how to reduce background noise on the mic. If you have a specific issue with your setup, you can find it and fix using the steps given, or you can apply all of them for the best overall results on your microphone performance. Fortunately, most of the noising issue can be fixed easily without any additional costs.