SCART Vs Composite Connector | An Analog Video Connection Comparison
SCART and composite are two popular analog video connection standards that have been widely used in the past. These two connection standards are almost forgotten as digital connections like HDMI have already replaced them.
However, SCART and composite connectors are still being used on older audiovisual equipment. If you are working with any older device that supports analog connection and doesn't know the differences between SCART and composite, then this article is just for you.
In this article, we have provided a comprehensive comparison between SCART and composite video connections and highlighted their features, advantages, and limitations. So, without any further talk, let's compare them.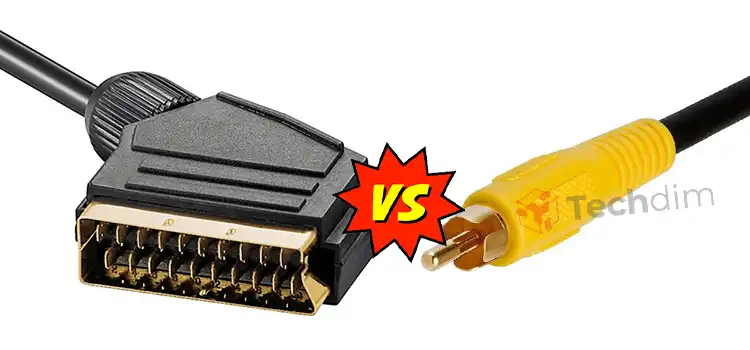 SCART: A Versatile European Standard
SCART is a French acronym for "Syndicat des Constructeurs d'Appareils Radiorécepteurs et Téléviseurs" which translates to "Radio and Television Receiver Manufacturers' Association". It was first introduced in France in 1974 and became the popular standard video connector in Europe in a short time.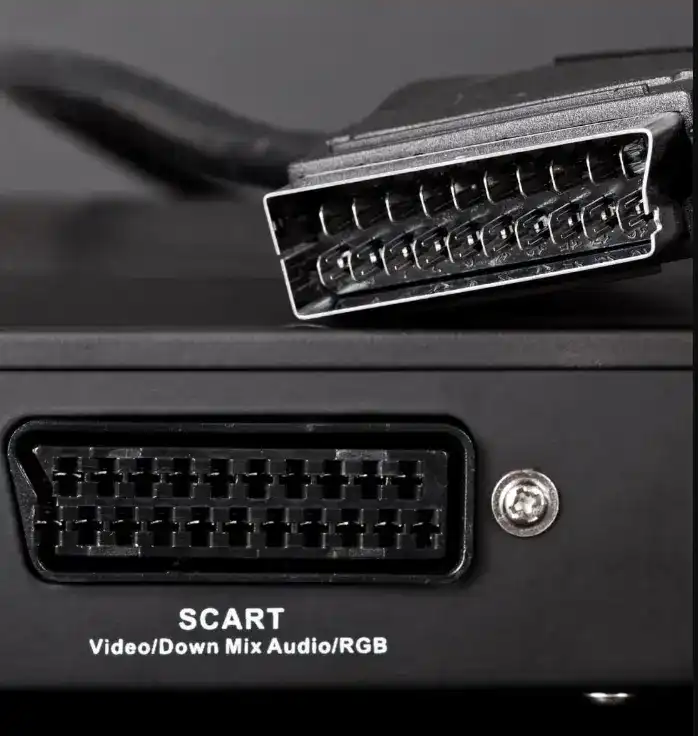 It is basically a 21-pin video connector that carries a variety of signals including S-video, Composite video, and RGB video. However, it is a more versatile connector than composite and is compatible with a wider range of devices. It is used to connect two electronic devices such as a television and a Video Cassette Recorder (VCR) or a DVD player.
Composite: The Basic Analog Video Connection
Composite is the basic standard of analog video connection that can transmit all video information into a single signal. It transmits luminance (brightness) and chrominance (color) for a video signal. As a result, the video quality transmitted by the composite transmitter is lower than SCART.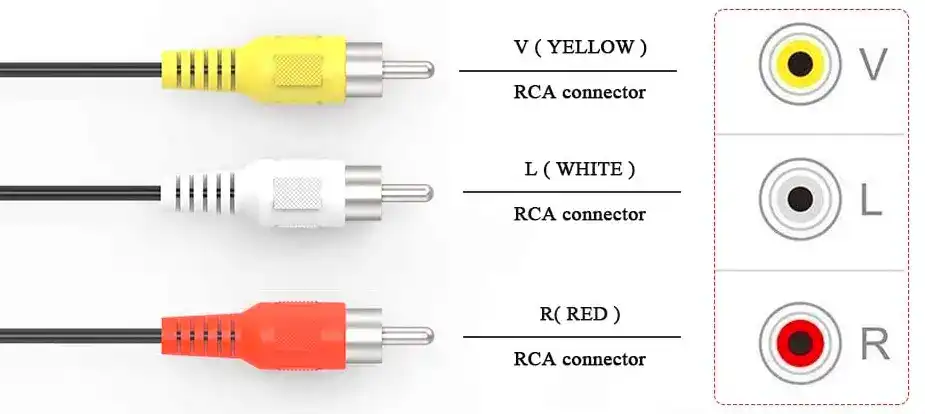 The composite cable contains the RCA connectors where the yellow jack represents the video signal and the white/red jack represents the audio signals. It is the least expensive type of video connector that is compatible with most devices that have video input.
Differences Between SCART and Composite Analog Video Connection
Though SCART and composite both are types of video connectors used in older audio-visual equipment, there are some differences between them. Let's check the differences between SCART and composite below:
| | | |
| --- | --- | --- |
| Features | SCART | Composite |
| Connectors | Uses a single connector that carries video, audio, and other auxiliary signals. | Uses RCA connectors to carry video and audio signals. |
| Number of pins | 21 | 3 |
| Video Quality | Higher | Lower |
| Audio Quality | Higher | Lower |
| Compatibility | Compatible with older devices like VCRs, DVD players, and game consoles. | Widely compatible with various audio/video devices, including older and newer equipment. |
According to the above table, SCART uses a 21-pin connector, while composite video cables typically utilize RCA connectors, with yellow representing video and white/red for audio.
SCART provides superior video quality due to its ability to transmit RGB signals, offering better color reproduction. In contrast, composite video is limited in terms of resolution and color fidelity, resulting in lower video quality.
Again, SCART supports stereo audio and can carry higher-quality audio signals. In contrast, composite video typically provides basic mono audio.
Another difference is that SCART separates video and audio signals which reduces interference and improves the signal quality. On the other hand, composite video combines video and audio signals into a single cable, which can cause interference.
You can watch this video to identify the visual differences between SCART and composite connection.
SCART Vs Composite – Which One Is Better?
Based on the signal quality, SCART is better than a Composite connection as it can transmit RGB (red, green, blue) signals. SCART is also suitable for preserving reduced image quality when connecting devices that support RGB output, such as certain game consoles and older video players.
Though composite connection offers lower resolution and color fidelity compared to SCART, it remains widely compatible with various modern audiovisual devices.
While SCART connection isn't supported widely on modern devices, the composite connection is suitable for both modern devices and many older TVs and video equipment, including VCRs, camcorders, and gaming consoles. So, from this point, the composite connection is better.
FAQs (Frequently Asked Questions and Answers)
What Are the Advantages Of SCART?
The SCART interface can accommodate various analog transmission signals, including Composite Video, S-Video, and RGB. The main advantage of SCRAT is that it separates audio and video signals which results in less interference and improved signal quality.
Can I Convert Composite To SCART?
Yes, the composite to SCART adapter is available on the market to convert the composite signal into a SCART signal. 
What Is the Maximum Length Of SCART?
Without amplification, the estimated maximum length for a SCART cable is approximately 10 to 15 meters. But you can use longer cables using amplification.
Can I Convert HDMI To SCART?
Yes, you can convert HDMI to SCART using an adapter named Maplin HDMI to SCART adapter. It will allow you to connect devices such as a Set-Top Box or DVD player, to a TV with a SCART port using an HDMI cable. It supports HDMI 1080p 60Hz input and provides a SCART composite output signal for video playback.
Conclusion
When dealing with older equipment that requires analog connections, understanding the differences between SCART and composite can help you choose the appropriate solution. However, whether you should use SCART or composite connection depends on which connection is supported by the device. But we hope this article will help you identify the key differences between them.
Subscribe

to our newsletter

& plug into

the world of technology