A motherboard or system board is the control center of communication in a computer through which all other peripherals and external hardware components connect to the computer. The level of performance of any computer directly depends on the types of motherboards, their parts, and their quality. 
Picking an appropriate type of motherboard compatible with other components of your computer is not that easy task as there are different types of motherboards available.
To make a wise decision you have to first know different types and sizes of motherboards. Once you learn completely, you can repair the basic hardware problems of your motherboard. So, this article will guide you to learn about the upgrading journey of motherboards from the '80s to the present.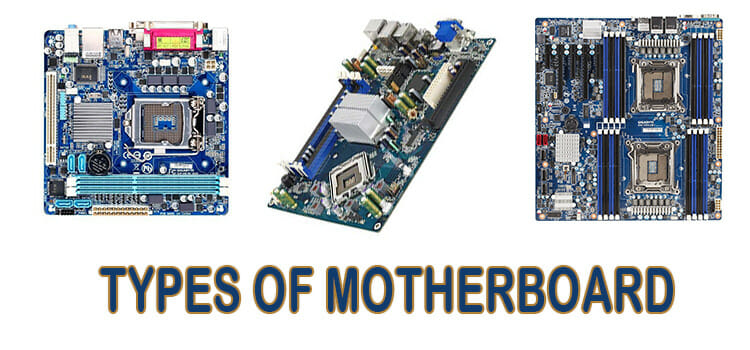 Different Types of Motherboards
After the invention of the first-ever motherboard "Planar" in 1981 by IBM, various sizes and versions of motherboards were introduced with the advancement of technology. Modern Intel processors go through LGA or other bases. Here we will study in detail about different versions of motherboards based on the logic design, functionality, components, sizes, and power supply connector placement to show you a clear difference between them.
XT Motherboard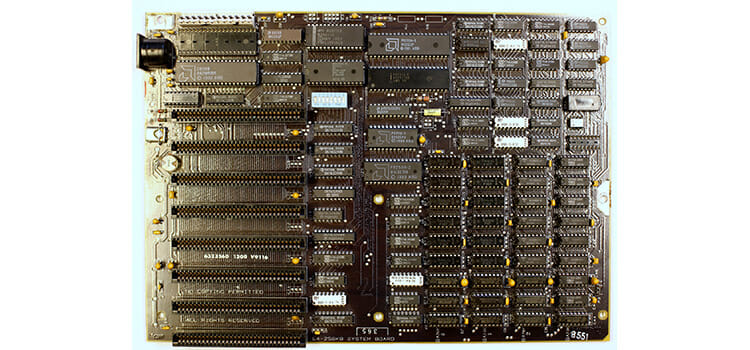 XT (Extended Motherboard) is a traditional slot type logic board introduced first in 1983 by IBM. It had DIMM slots, 12 connector pins, ISA RAM expansion slots, and a processor along with low insertion force. To use more features there are some expansion slots to add-ons cards. P-1, P-2, P-3, and P-4 processors are examples of XT motherboards.
AT Motherboards
AT (Advanced Technology) motherboards are the oldest version of motherboards. These were introduced by IBM in 1984. they were used in 286/386 or 486 computers. It lasted for a long time, from the introduction of Pentium p5 to Pentium 2. P-III Processors are an example of AT motherboards.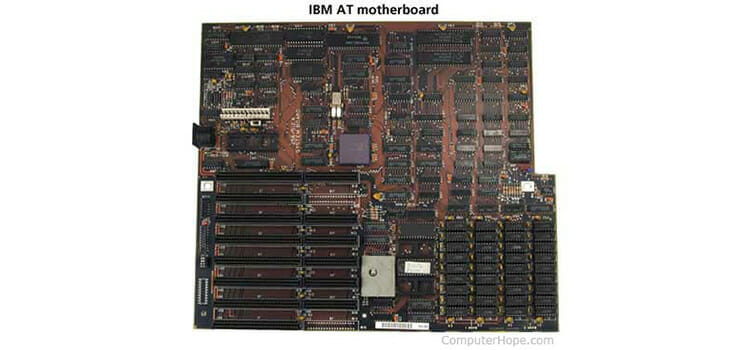 These logic boards have dimensions of about 13.8×12 inches. Thus, they are not compatible with mini desktops or mini power cases and are unsuitable for new drivers to install, service, and upgrade for their huge size and shape. This form factor was based on the layout and dimension of the motherboard.
There are two advanced technology power connectors with 6 pins in each. These power connectors are hard to be identified and thus hard to connect to use. This type of motherboard features 20 pin connectors, SD-RAM slots, PGA sockets for CPU, Serial mouse connector, Keyboard connector, PCI, and ISA expansion slots.
Baby AT Motherboards
Baby AT motherboards was invented in 1987 by IBM. It was featured with PGA processor sockets, DDR and SD RAM slots, PCI and ISA expansion slots, 12 and 20 power connector pins with DIN keyboard port, and a serial mouse port. These are the more compact version of AT motherboards. Precise examples of this motherboard are Pentium-3 and Pentium-4 and they are still available.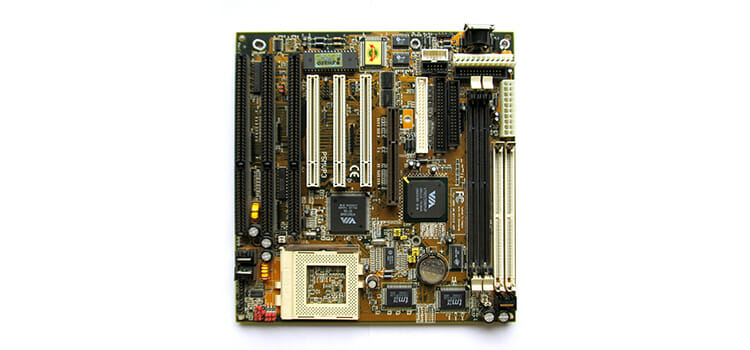 To interfere with longer bus cards CPU socket is mounted in accordance. There is a restriction that prevails over peripheral card installation. Jumbling of ribbon cables results from the connection of i/o ports near the floppy drive.
LPX Motherboards
LPX (Low Profile Extension) Motherboards was first featured by 1987 by Western Digital. The standard dimension of LPX is 13 inches in depth and 9 inches in width hence occupies much less place. Here input and output ports are built in the backside of the board. This type of motherboard is mostly seen in desktop PCs.
For placing some more slots for video, serial, parallel, and PS/2 ports, here riser cards are used. But this resulted in a demerit that airflow is not good enough in this motherboard. Users can also get some extra functions while using extension cards parallel to the LPX board.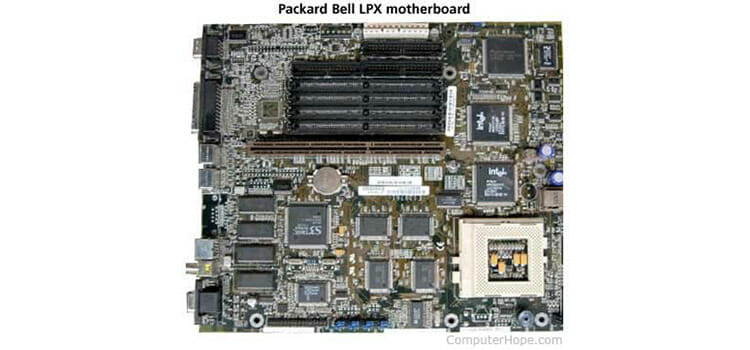 The parallel expansion slots are limited to 2 or 3 as the case is slimmer. Some of them had a connection with the PCI bus instead of the AGP slot. Also, this is a little difficult to update or repair. Eventually, this LPX motherboard faded and NLX was invented.
ATX Motherboards
ATX (Advanced Technology Extended) motherboard is bigger than micro ATX but smaller than E-ATX in dimension. The standard size of the board is 12×9.6 inches.  It is an improved version of the previous AT motherboard with upgraded layout and dimension solving the space issue.
Intel manufactured the ATX motherboard first in 1995 ruling the PC hardware industry and still, they are available. It allows easy upgrade and interchangeability of connected parts. From gaming to productivity, they can meet almost every requirement.
It features larger storage and memory support with SATA ports and other storage device ports, superior overlocking, high-end CPUs with MPGA CPU socket, greater cooling with fan headers for chassis fans, and custom liquid coolers.
It has PCI-Ex 16 slots to handle multiple graphics cards. It also features several PCI, ISA, and AGP expansion slots, IDE connectors, 12-20 pin connectors, more than 4 DIMM slots for RAM, and extra slots on the backplates. There is a new power supply mounting configuration and it supports current or future i/o peripherals.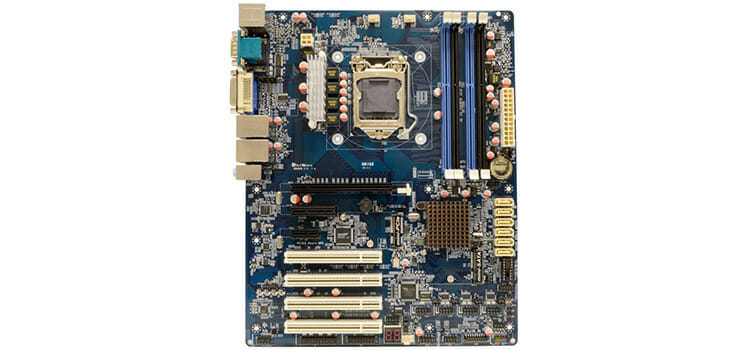 To allow full-length add-in cards, the processor is built away from expansion slots. There is a wider space between expansion slots to provide graphics card cooling. It is manufactured to accommodate huge heatsinks and has more power phases. Example of use is Dual-core, Core 2 Duo, Core 2 Quad, P2, P3 or P4 processors, Quad-Core i3, i5, and i7 processors.
Micro ATX Motherboards
Micro ATX has a dimension of 9.6×9.6 inches and so is a little smaller version of ATX and larger than ITX motherboards. They were first introduced in December 1997 and are better because of their small size with more ports and slots.
This provides PCI or expansion slot up to 4. It features 2 or 4×DIMM slots, 1 or 3×PCI-Ex 16 slots. These motherboards are designed with bigger heat sinks, more fan headers, more storage, and greater VRM section. Micro ATX board is designed to support more integrated peripherals and is backward compatible.
Furthermore, this motherboard supports Accelerated graphics ports for higher graphics performance requires less power supply. This type of motherboards is pretty cost-effective than ATX motherboards.
Flex-ATX Motherboards
The flex-ATX motherboard was first brought in the market by Intel in 2000. This motherboard was popular for most personal computers for their compact size and advanced technology. This was the smaller subset of Micro ATX and also was low in cost.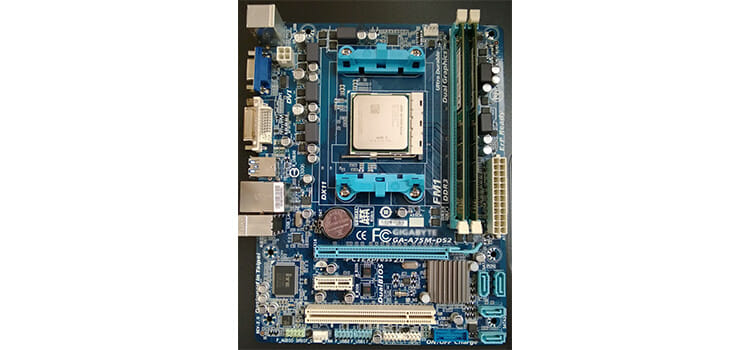 It is flexible enough to support custom cases and to manufacture logic board design. The fame of Flex ATX motherboards faded eventually.
BTX Motherboard
BTX (Balanced Technology Extended) motherboard was introduced to take the place of ATX motherboard and was proposed by Intel in 2003. There is CPU right next to the intake fan and front of the case and the chipset is in line with the CPU. Thus, it is designed to decrease heat with better airflow and power needs.
BTX motherboard was introduced with a low-profile, better thermal design, and structural design. The memory slots are relocated at the edge of the logic board. The graphics card is installed on a riser card or vertically. Also, there is reduced latency between the north and south bridge and it is designed with rear side i/o controller.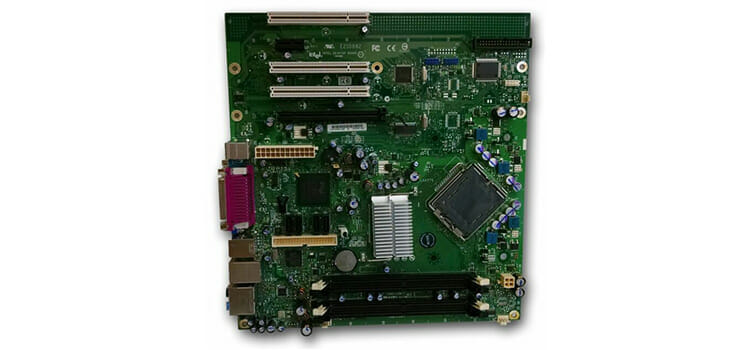 Here expansion slots contain switched sides and there are 7 slots. This type of motherboard is broadly used in MPC, Gateway Inc, and DELL. When scaling and thermal issues were found with Pentium 4, further development of BTX was canceled in 2006 by Intel to work on lower-power CPUs.
Pico BTX Motherboard
Pico BTX motherboard is designed to share a common top half one or two expansion slots. This small size of motherboard is featured for riser card or half-height applications.  They are considered to be digital lines.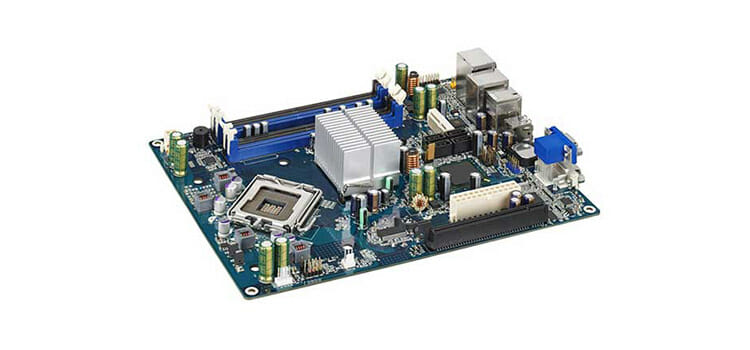 Mini ITX Motherboard
Mini ITX Motherboard was invented by VIA Technologies in 2001. It is designed for lower power consumption with a fan-less cooling system. As a result, they are capable of better cooling. For this, they are compatible with home theater PC systems or systems where fan noise is not desired.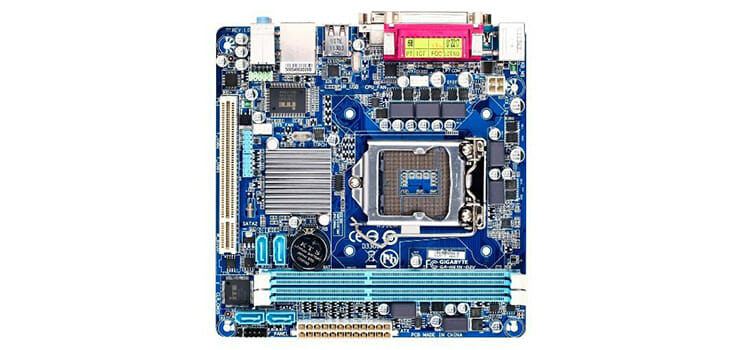 Interesting thing is, it can be used in any cases designed for many other motherboards. it is a 6.7×6.7 inches motherboard which takes a smaller place than other conventional motherboards.
These are implemented hugely in the SFF computer system. Here the backplate and expansion slot is mounted in the same place. Often this is designed with riser cards or two-slot riser cards. It is featured with a 33 MHz 5V 32-bit PCI slot and one expansion slot.
E-ATX Motherboards
E-ATX Motherboards is an extended version of the ATX motherboard and is not commonly used among people. It is specially used for gaming purposes and high-end stuff like video processing or rendering where serious horsepower is required as it is loaded with many features.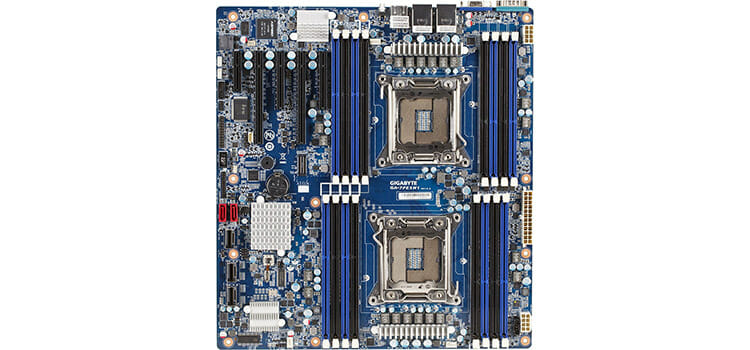 It is manufactured with huge memory and CPU cores. Also, it allows up to 128 GB RAM to be installed. The sound cards, inbuilt wi-fi, powerful VRM for overlocking and troubleshooting feature makes this motherboard advantageous to use.
Moreover, the greater dimension of 12×10.9 inches is the result of increased DIMM slots and so require larger space. It consists of 16 PCI-EX slots, more than 4 8×DIMM slots for RAM. It allows three to four graphics cards and has USB 3.0 and USB 3.1.
Final Words
When you are planning on buying a motherboard that is adaptable with other units of pc, it is very important to study different types of motherboards. Some of them are smaller in dimension, some have lower power consumption, some are highly featured with large storage or RAM for gaming, some contain greater cooling system and some have a large number of slots for extra functionality. 
In this article, we have discussed so far different types of motherboards so that you can visualize the advancement of motherboards and compare them to decide which type is the better option for your pc.